Looking for a low calorie cocktail (or mocktail) to celebrate the holiday season with? Then I present to you this no added sugar Pomsettia: a blend of 100% pomegranate juice, club soda, and vodka (or not!) to celebrate the holiday season with!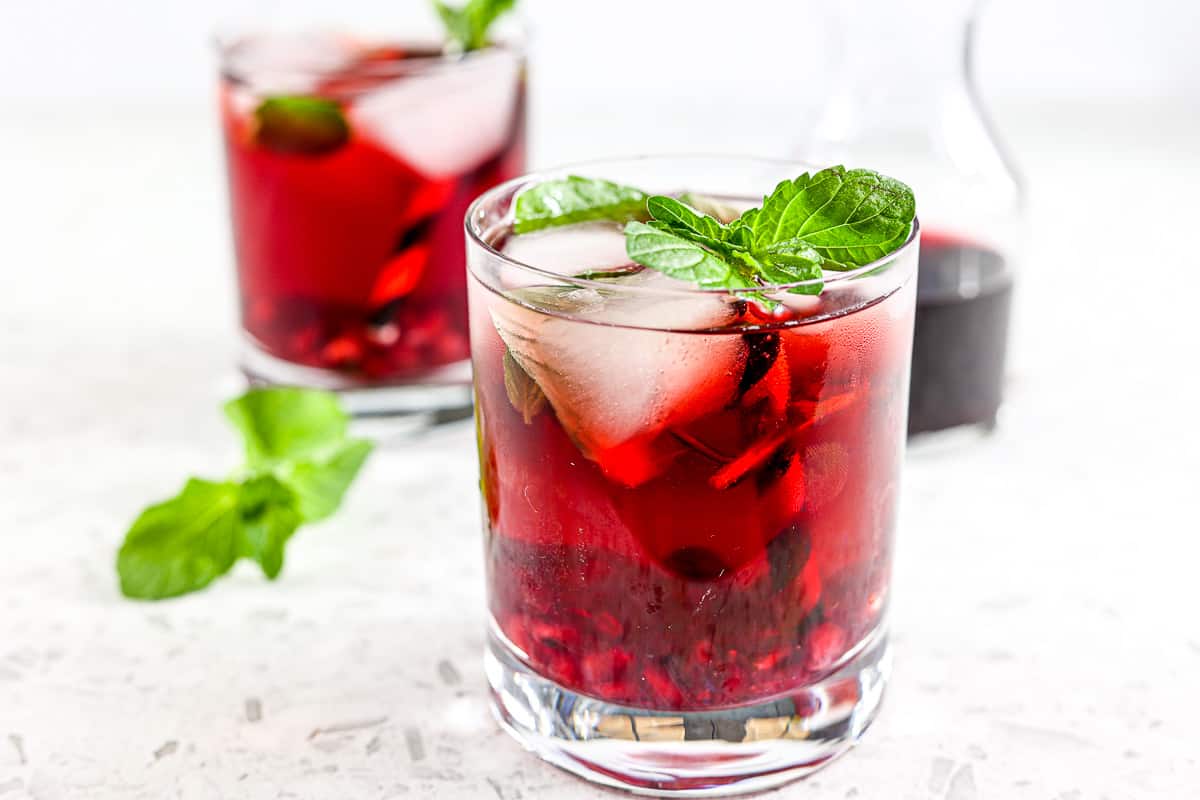 Jump to:
Why you Need to Make this Low Calorie Vodka Drink
Is your mouth watering?
Mine is too and I've been enjoying this beauty for days now!
The beauty of a Pomsettia is very simple actually, it's made with ingredients you can PRONOUNCE!
Yep, no fancy shmancy liquors that we most likely don't have in our liquor cabinet.
And, hold the phone, it's also the feature holiday cocktail in the December issue of Self Magazine this year!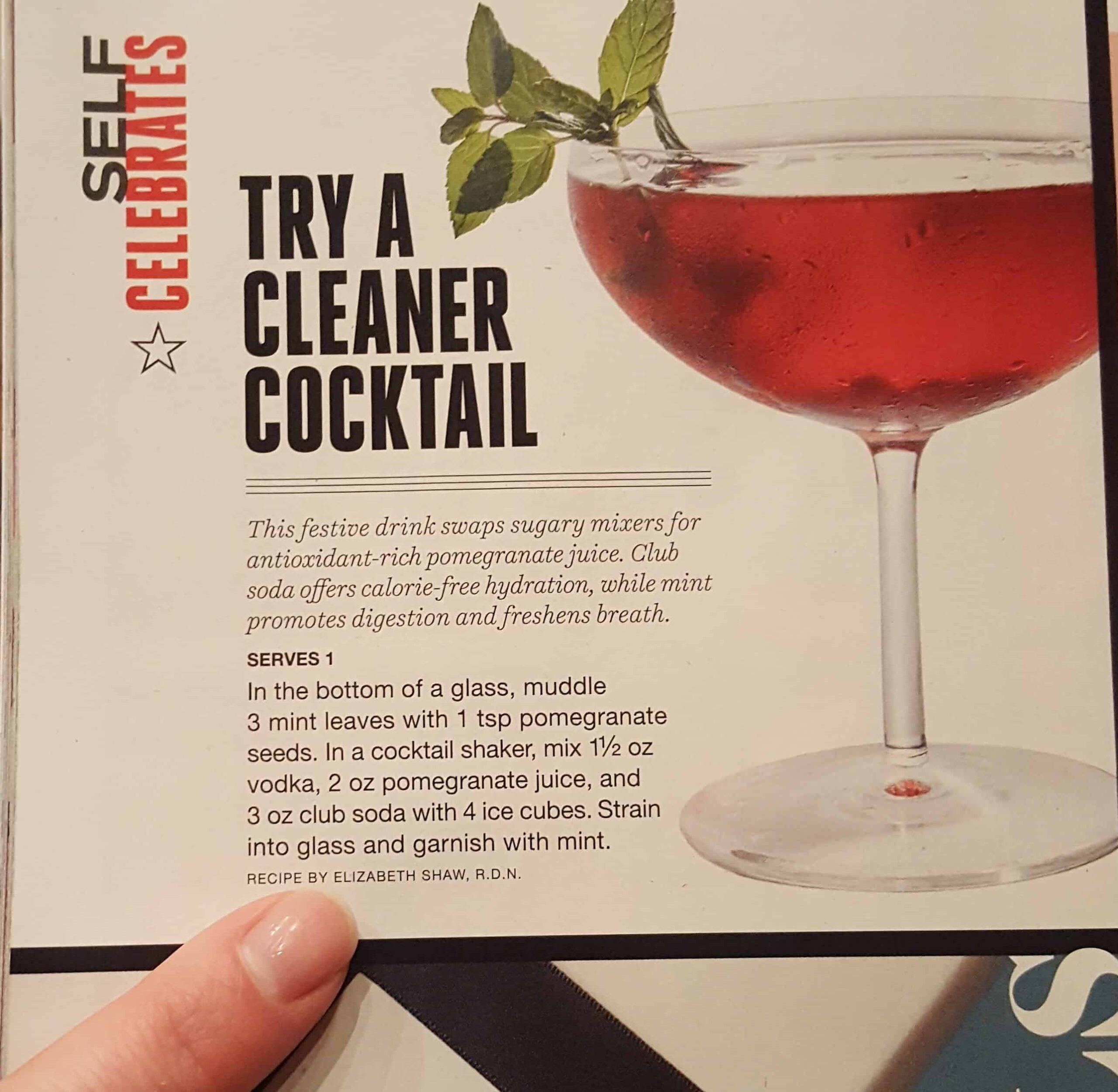 I'm still pinching myself looking at this! It has always been a dream to be featured in a national magazine, and it finally came true! Big thanks to the staff of SELF for making this happen!
Now, onto this cocktail (or mocktail)!
What you Need to Make this Easy Cocktail with Vodka (or Not!)
Pomsettia Cocktail Version
1.5 ounces vodka
2 ounces 100% pomegranate juice
3 ounces club soda
4 ice cubes
4 mint leaves
2 teaspoons pomegranate arils
Pomsettia Mocktail Version
2 ounces 100% pomegranate juice
4.5 ounces club soda (or sparkling water)
4 ice cubes
4 mint leaves
2 teaspoons pomegranate arils
Oh shoot! I almost forgot the secret ingredient that saves the day in any of the creations on this site… LOVE!
Ingredient Tips
Pomegranate Juice: Any 100% fruit juice (preferably seasonal, like cranberry) will work in this recipe, just watch out for added sugars!
Pomegranate Arils: For an quick option, purchase ready-to-eat pomegranate arils from your refrigerated for frozen sections of the grocery store. Alternatively, to harvest your own arils from fresh pomegranate, check the FAQ below for a detailed how-to!
Seltzer/club soda: These carbonated beverages do not include any added sugars or sodium. Do not swap for tonic which does contain sodium!
Ingredient Swaps
Vodka: If you're not a vodka person but want to make this a cocktail, try gin!
Sparkling water/club soda: Flavored sparkling waters, like a cranberry or cherry, are BIG hits with the mocktail version in my house.
How to Make this Healthy Cocktail
Literally, just pour and shake and enjoy your Pomsettia!
Watch this video if you don't believe me!
Recipe Notes + Expert Tips
Frozen fruit (like wild berries) also adds a bit more sweetness. Subsequently, this drink stays low in calories by avoiding added sugars and can double as the ice!
Don't have a cocktail shaker? No problem! A mason jar is an easy swap or even two pint glasses. Alternatively, you can simply add all of your ingredients to your planned serving glass and give them a spirited stir!

On that note, if making for a crowd, simply multiply the recipe 4-6x! Add ice to a large pitcher and layer in the ingredients. Give it a stir and serve!

Looking for other ways to use pomegranate? Try my Vegan Broccoli Salad, Pomegranate Apple Smoothie with Butternut Squash, or simply sprinkle arils over yogurt or ice cream for a fruity/floral twist!
FAQs for this Pomsettia Holiday Cocktail with Vodka
How do you remove the seeds/arils from a pomegranate?
While slightly labor intensive, extracting the seeds yourself is very rewarding and gives you an appreciation for what it takes to enjoy pomegranate's splendor (and is a fun sernsory activity to do with kiddos!)

Fill a large mixing bowl with cool water. Rinse the outside of your pomegranate and with a large kitchen knife, slice into quarters, halving through the stamen end (the top that pokes out) and then cutting again.

One quarter at a time, submerge the pomegranate into your water-filled bowl. Gently, but firmly, rub your thumbs along the arils to release from the white pith. A few may break, but don't worry! If needed, break the pith apart into smaller pieces.

Keep going until all of the arils are released! They will sink to the bottom of the bowl while the pith floats. As you go, keep removing the pith to make more room for your hands.

Once all quarters are done, skim off the top of the water to remove any floating pith pieces and strain the arils. All done!
What does pomegranate taste like?
If you've never had fresh pomegranate before, I highly recommend giving the arils a try! Sweet, slightly tart, and with floral notes, pomegranate has a complex flavor and is so very addicting (not to mention they're chock full of nutrients, fiber, and even some protein!)

Oftentimes, you'll see pomegranate paired with other fruits like blueberries or cherries. It's important to note that a little goes a long way with pomegranate as it's higher in natural sugars than other fruits. If you enjoy those fruits, definitely give pomegranate a try!
How can I enjoy alcohol with health in mind?
I mention this in my Spicy Skinny Margarita Recipe, but it bears repeating!

As per the CDC, moderate drinking means limiting intake of alcohol to 2 drinks or less in a day for men and 1 drink or less in a day for women. This is not due to body size but the variance between sexes in how alcohol is metabolized. One drink would be 1.5 ounces or a "shot" of 80-proof (40% alcohol content) distilled spirit. When it comes to alcohol, and food for that matter, be sure to choose something that is delicious and satisfying so that it can be included as part of your lifestyle, if you so choose, and enjoy responsibly!
Other Healthier Holiday Recipes (and Ideas!) you May Enjoy
If you try this recipe, would you please do me a favor and leave a star rating in the recipe box and/or comment below! This helps immensely in Google to continue delivering high quality content to you. And please be sure to tag and share what you made with me on social, I love seeing your creations! You can find me here: Instagram – Facebook – Pinterest!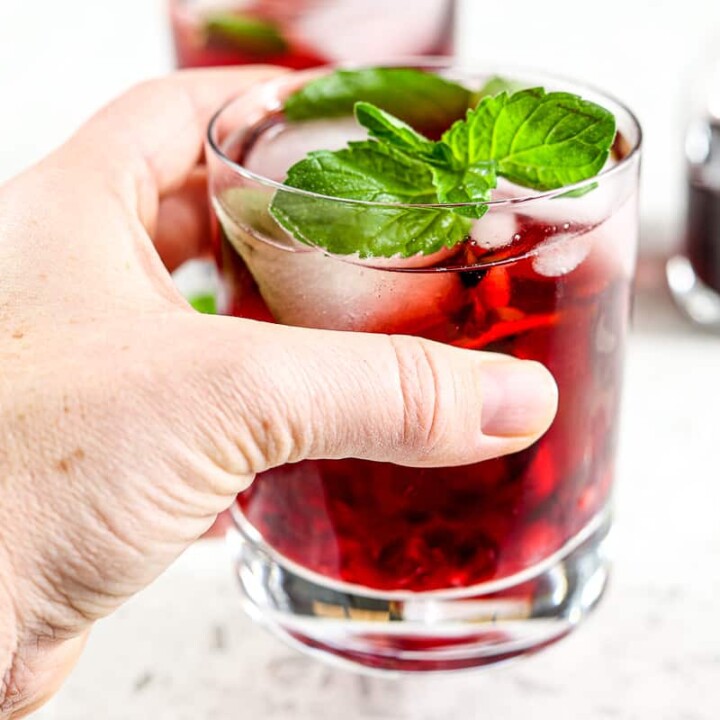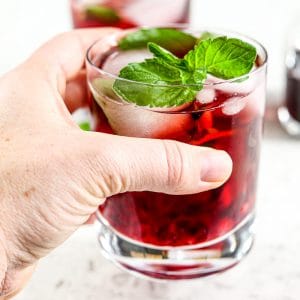 Pomsettia – Skinny Vodka Cocktail
Pomsettia- the latest and greatest skinny vodka cocktail (or mocktail) to ring in the holiday season.
Print
Pin
Share by Email
Ingredients
1.5

ounces

vodka

2

ounces

100% pomegranate juice

3

ounces

club soda

4

ice cubes

4

mint leaves

2

teaspoons

pomegranate arils
Instructions
In a cocktail shaker (or a mason jar with a lid), mix vodka, pomegranate juice, and club soda with ice.

In the bottom of a festive glass, muddle 3 mint leaves with 1 teaspoon pomegranate arils.

Strain Pomsettia mixture into the glass and garnish with a mint leaf and pomegranate arils, if desired.
Notes
For the mocktail version, omit vodka and add 1.5 oz more of club soda or flavored sparkling water.
Nutrition Per Serving
Calories:
139
kcal
|
Carbohydrates:
9
g
|
Sodium:
27
mg
|
Potassium:
121
mg
|
Sugar:
8
g
|
Vitamin A:
170
IU
|
Vitamin C:
2.3
mg
|
Iron:
0.2
mg
Want more Shaw Kitchen recipes? Then sign up here for my 5 Day Stress-Free Meal Plan delivered straight to your inbox!