Healthy Baked Cinnamon Rolls with Kahlua Date Filling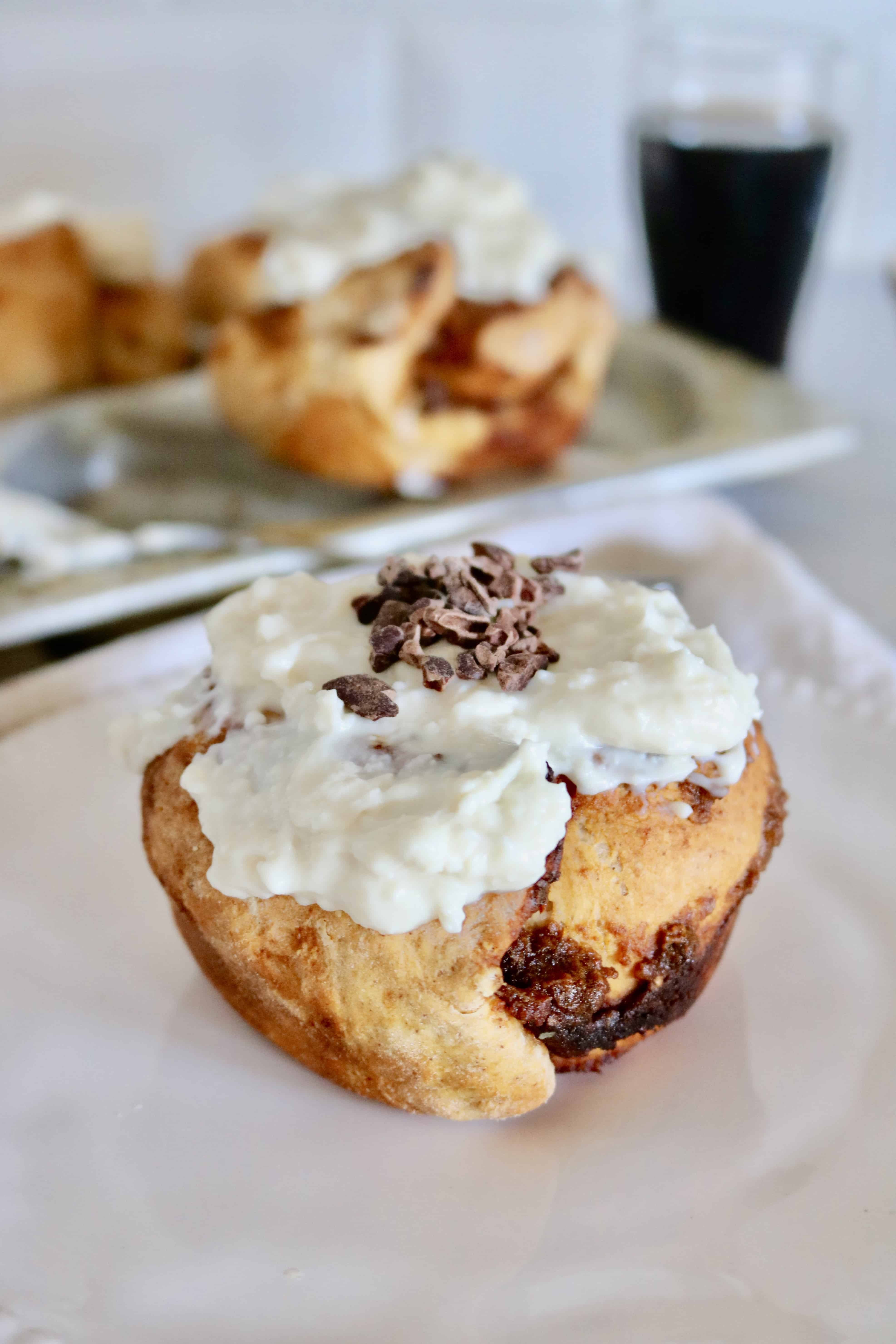 Shut the front door!
Did I really just say, "Healthy Baked Cinnamon Rolls with Kahlua Date Filling" ?!
Why, yes, yes I did!
I can't tell you how much I love Kahlua, sweet treats and baking.
Truly, those three things make me happy.
After realizing February 27th is National Kahlua Day (and Pancake Sundays birthday), I knew I had to come up with something FANTASTIC!
Enter – Healthy Baked Cinnamon Rolls with Kahlua Date Filling!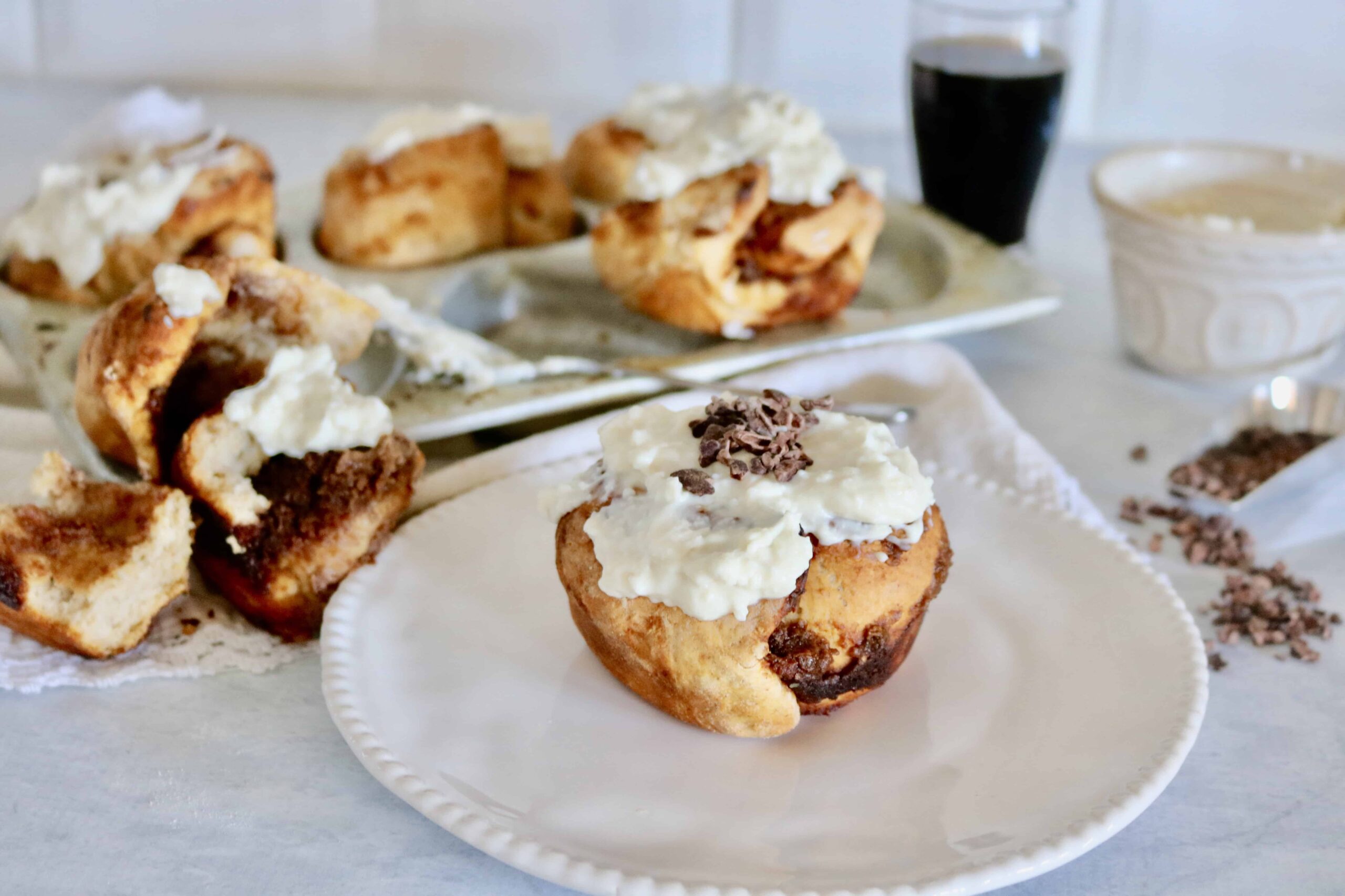 So, I'm going to say these beauties are healthyish.
They're better for you than those GINORMOUS but delicious cinnamon rolls you see at the mall because they are average sized (not mini, because let's be real, no one wants a mini common roll.)
And, the big kicker, I sweetened them with cinnamon, DATES and Kahlua! 
Just look at that filling— let's all say it together, #NOMNOMNOM!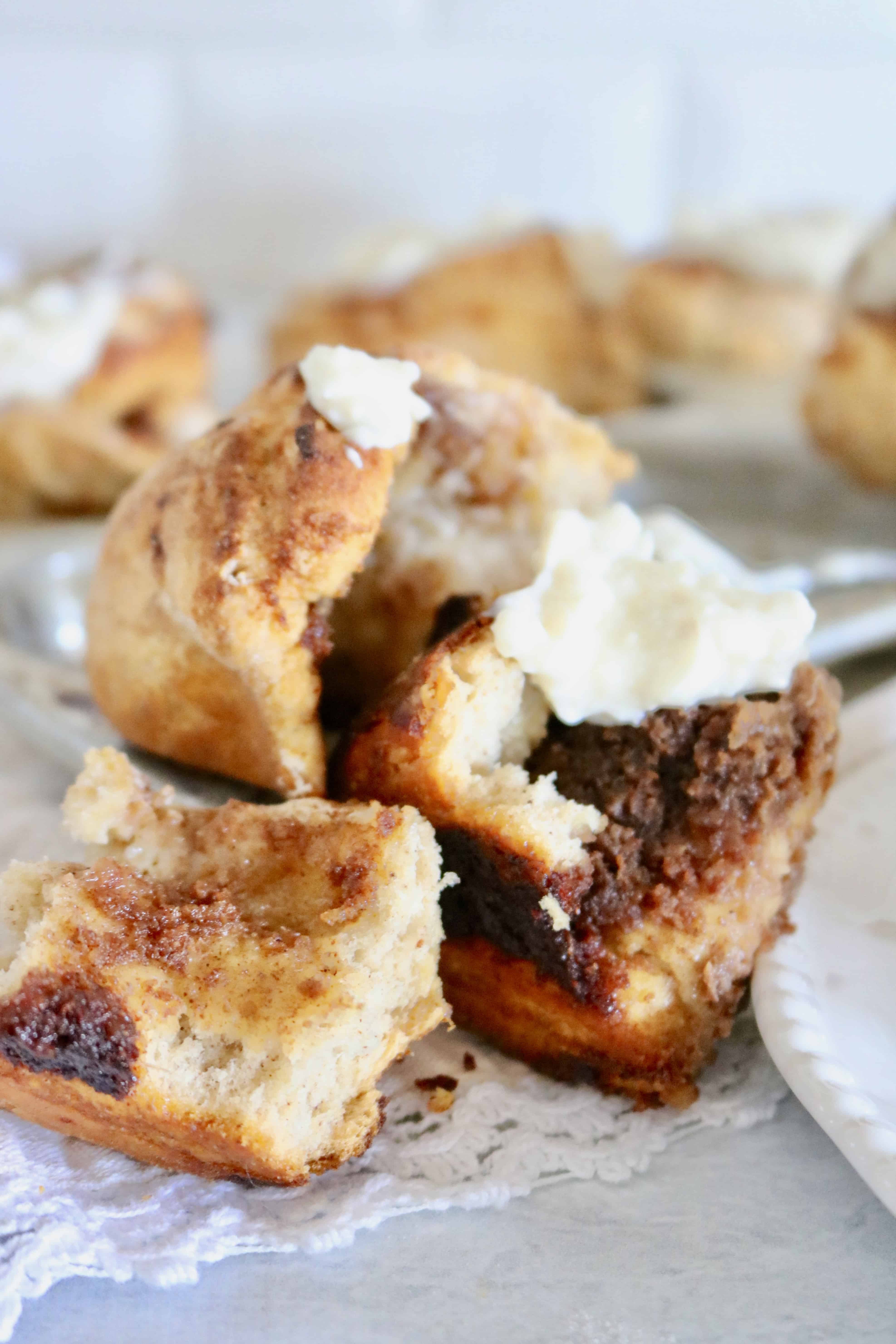 In my book, no Healthy Cinnamon Roll is complete without a thick slab of frosting!
My friends over at Kite Hill sent me some samples of their new cream cheese made with almonds and let me just say- WOW!
This was the perfect compliment to a light sprinkling of powdered sugar to create a rich, thick and creamy "cream cheese frosting!"
I promise, if you make these, your world will be rocked, your day will be brighter, and you'll move to California and be my neighbor (cough cough) since I hand deliver these to my gracious taste testers!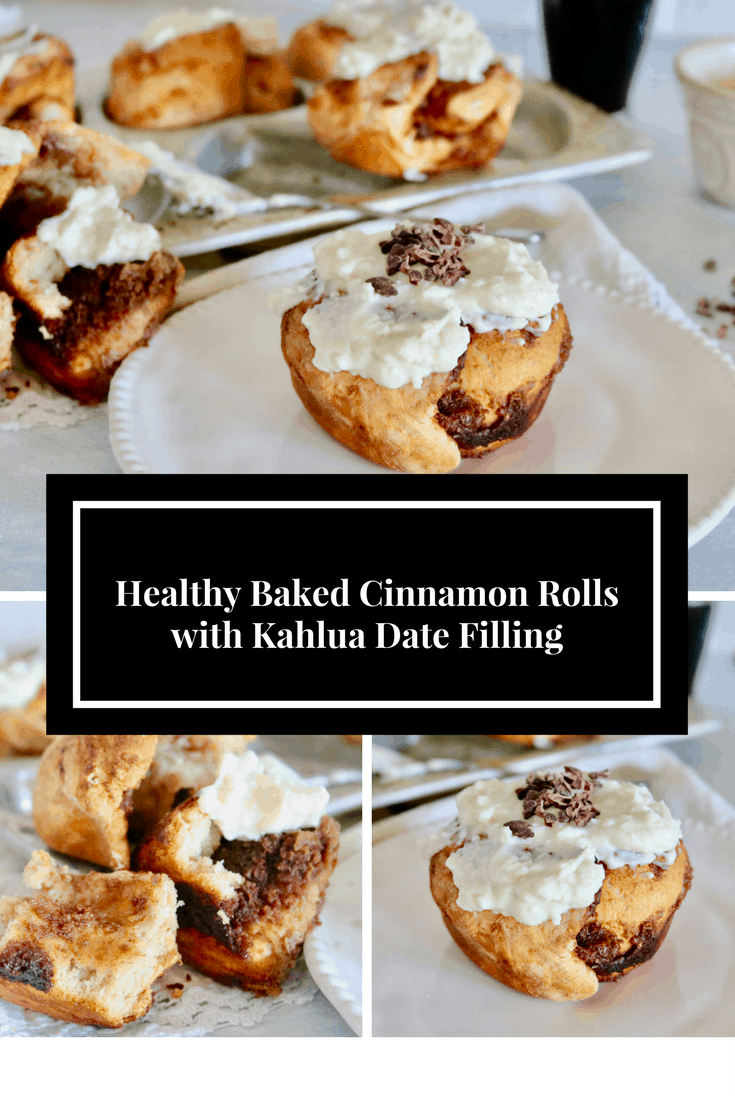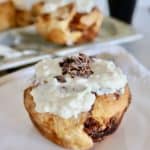 Healthy Baked Cinnamon Rolls with Kahlua Date Filling
Healthy Baked Cinnamon Rolls with Kahlua Date Filling from @shawsimpleswaps Delicious, healthyish and totally worth the time!
Course:
Breakfast, Sweet Treat
Ingredients
2

ounces

Kahlua

or alternative coffee liquor

11

dried dates

about 3/4 cup

1

cup

warm milk of choice

about 110*F

2

teaspoons

yeast

1

teaspoon

cane sugar

2 1/2

cup

bread flour

1/4

teaspoon

kosher salt

3

teaspoons

ground cinnamon

divided

1

teaspoon

vanilla extract

3

tablespoons

light vegan butter

1/4

cup

softened cream cheese

2

teaspoons

powdered sugar
Instructions
Combine Kahlua and dates in a jar and let soak minimum of two hours.

While soaking, prepare the dough.

Heat 1 cup of milk in a microwave safe dish for 35 seconds.

Remove and add 2 teaspoons yeast with 1 teaspoon cane sugar and whisk together.

Let sit for 3 to 5 minutes.

In a large bowl, add bread flour, kosher salt, and 2 teaspoons of cinnamon. Whisk together and create a well.

Add in the warm milk and slowly stir together with a wooden spoon. Batter should begin to hold together after about 3 minutes, but, note, you may need to gently combine with your hands.

Spray a clean bowl with cooking spray and place dough inside. Cover with a damp towel and let rise in a warm spot for up to 2 hours.

When ready to bake, preheat oven to 375*F.

Punch down dough by literally punching it! Then, remove and let rest on a floured surface for 5 minutes.

While resting, make the filling. Process the Kahlua and dates in a blender or food processor to create a paste. Add in the vanilla and the remaining 1 teaspoon of ground cinnamon. Process another 10 seconds. Set aside.

Begin to roll out the dough now on the floured surface.

Gently push down dough and begin to roll into a large rectangle using your rolling pin. Be sure to flip dough to help you roll it out without ripping. You may also need to and a little extra flour so it doesn't stick!

Once you get the dough to about 1/2-1/4-inch thick, slather 2 tablespoons of butter in the center.

Evenly distribute the date paste over the butter.

Roll the dough tightly until you have a long, rectangle formed.

Using a sharp knife, cut the dough into 6 to 8 rolls.

Spray with non-stick spray a pie tin or small oven safe container, then gently place cut rolls on it.

Using the last tablespoon of butter, lightly spread a dollop on top of each roll.

Bake for 26 minutes, or until lightly browned on top.

Remove and let cool on a wired rack in the pan.

While cooling, mix cream cheese with powdered sugar.

Top each roll with a dollop of cream cheese frosting and enjoy!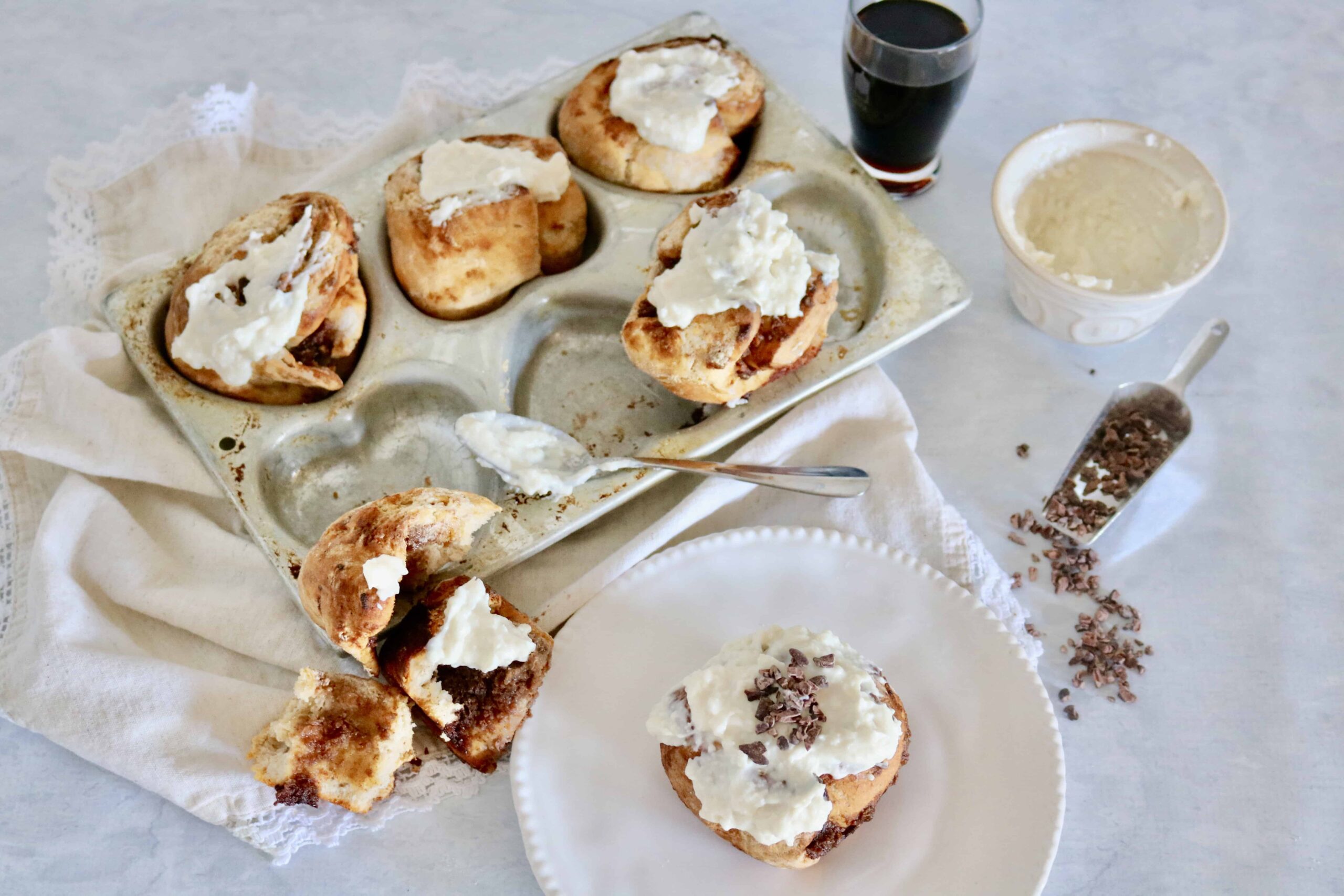 Now, tell me, what's your favorite cinnamon roll?! 
PS- Don't forget, if you're tight on time, you can surely whip up these 5 minute cinnamon roll bites instead!