Baked Fried Rice with Veggies – Gluten Free + Vegetarian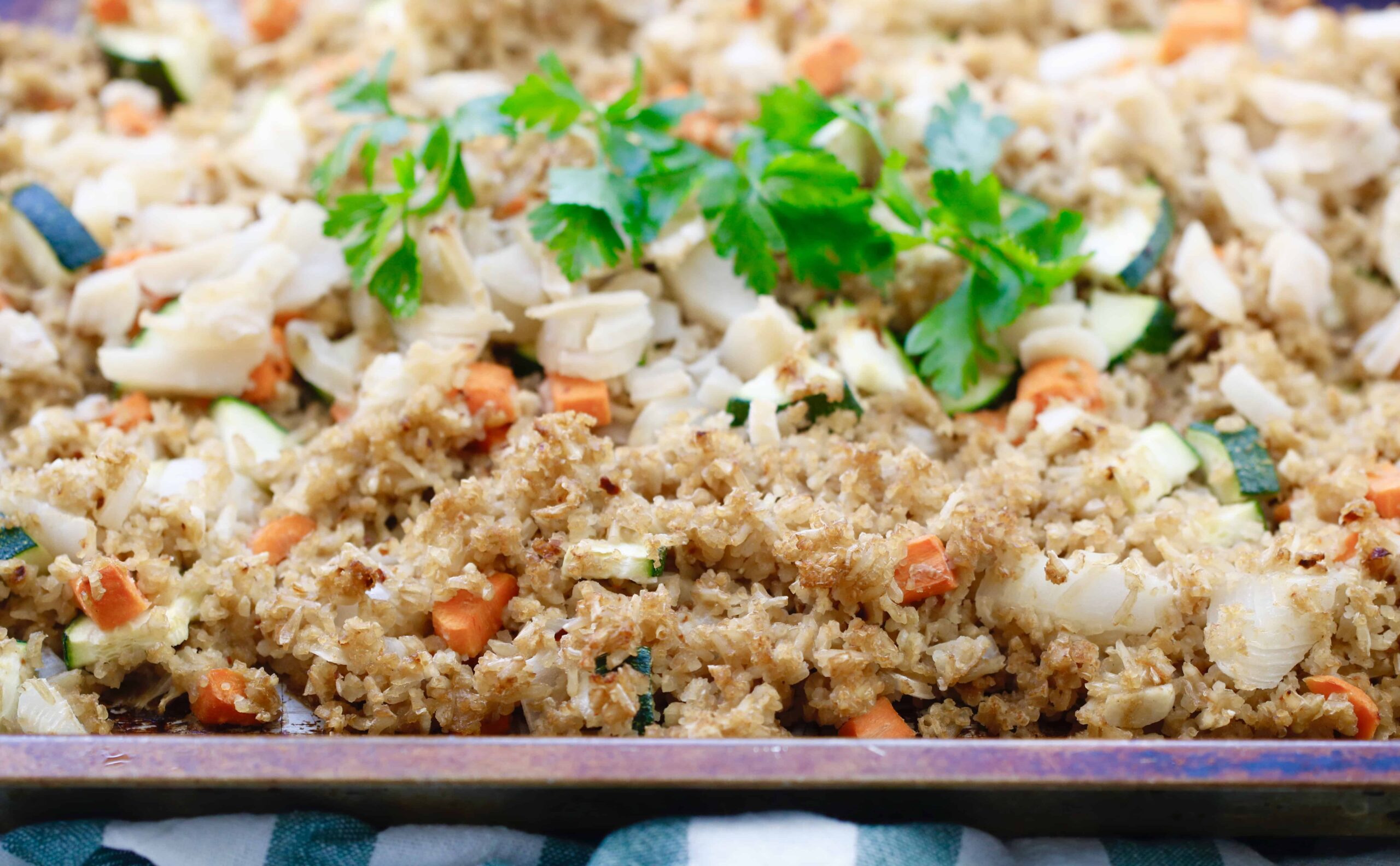 If you're asking yourself did she really just say BAKED fried rice, yes, yes I did!
I wish I had an arsenal of sheet pan dinners because I know it's so trendy, but truth be told this is one of my first experiments with the sheet pan style of meal prep!
But, trust me. This Baked Fried Rice with Veggies was worth the wait!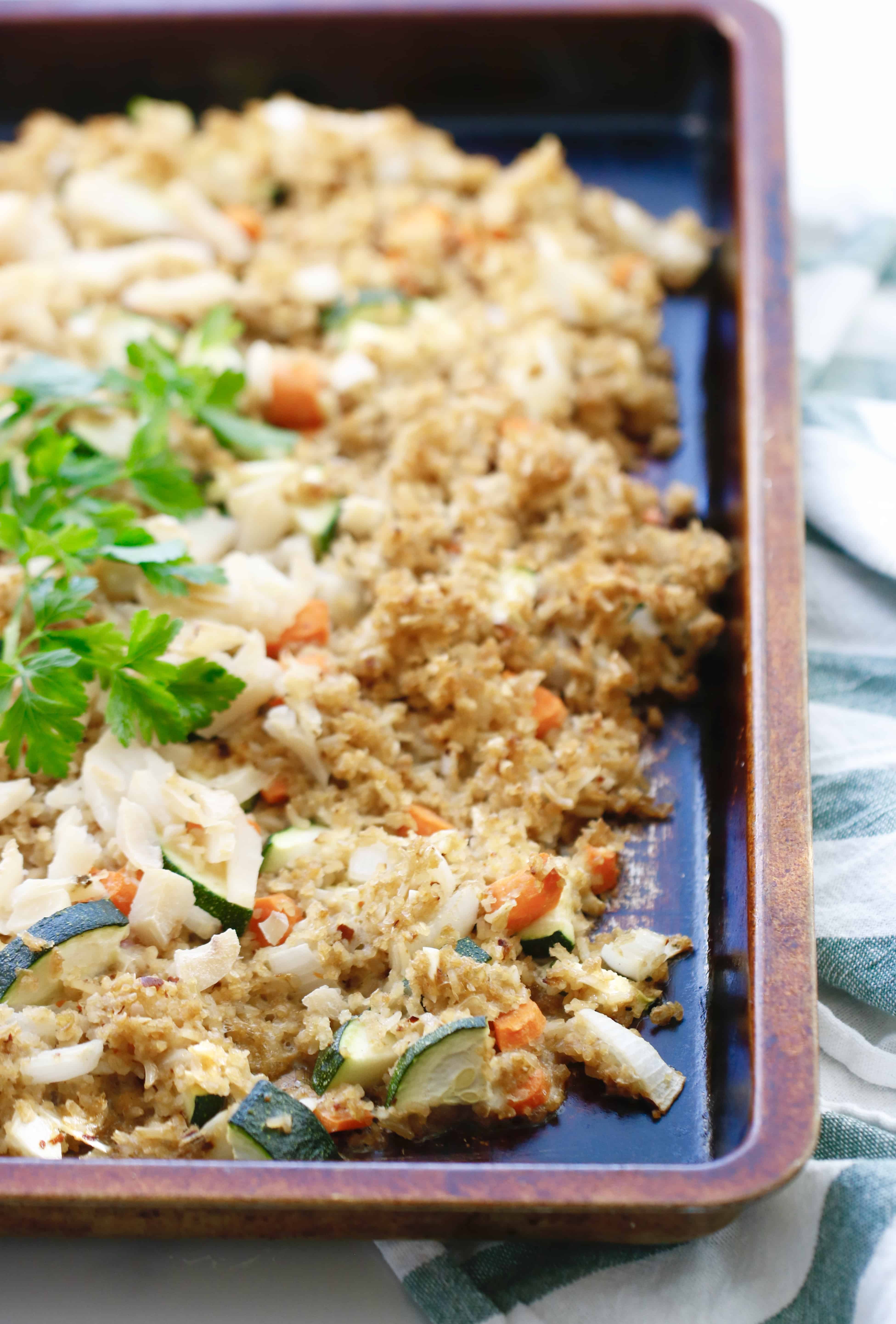 The true secret to this recipe is in the stirring of the rice every 15 minutes. This helps to ensure the even "fried" crunch throughout the entire dish!
While this is great on its own, you can amp up the protein and turn it into a main meal by topping it with grilled chicken, slow cooked pork, meatballs, salmon, the possibilities are endless!
Last but not least, this dish is a cinch to make! Just watch, I even made a video to show you how this sheet pan dinner comes together in no time!
If you're on the fence, don't worry!
Get your bearings first with one of the 50+ sheet pan recipes below and we'll venture down this road Friday night— no need to order in!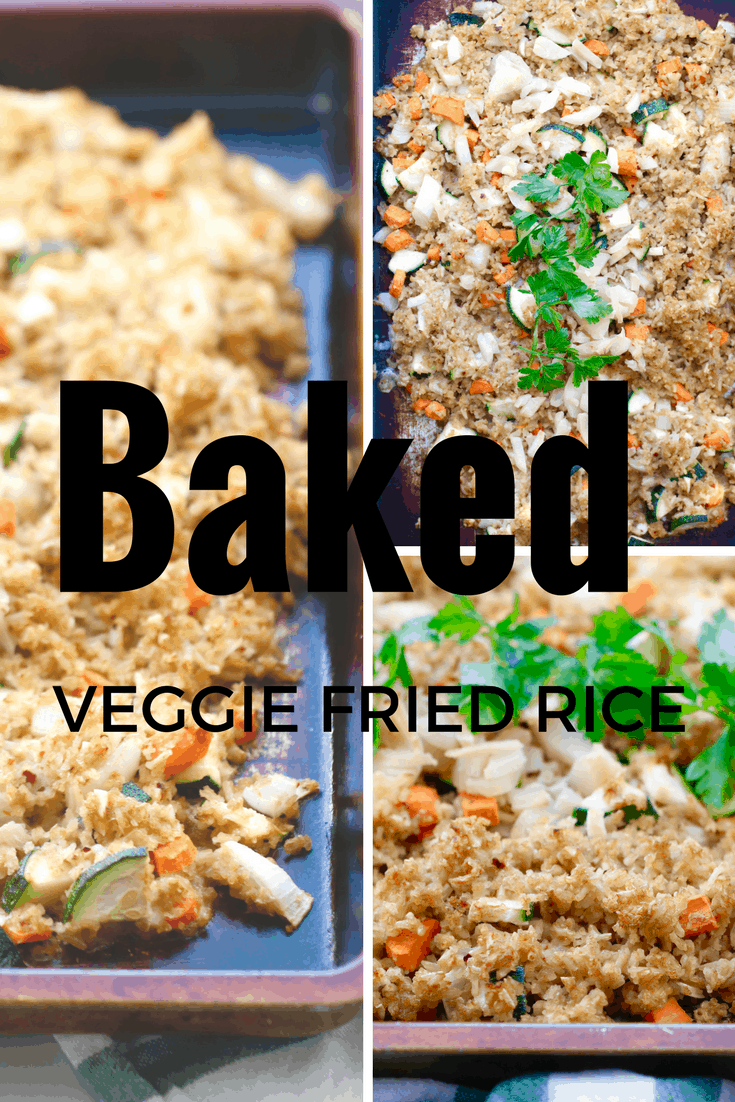 Baked Fried Rice with Veggies – Gluten Free + Vegetarian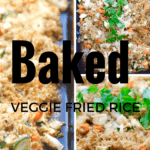 Looking for a sheet pan meal you haven't tried before? Look no further than this Baked Veggie Brown Fried Rice! @shawsimpleswaps
4 cups cooked brown rice
1/2 small onion (chopped)
1 cup chopped carrots
1 medium zucchini (chopped)
2 cloves garlic (minced)
2 tablespoons sesame oil (or oil of choice)
3 tablespoons soy sauce (use a GF variety if gluten intolerant)
1 tablespoon rice vinegar
1 teaspoon ground ginger
1 teaspoon crushed red pepper flakes
2 medium eggs (whisked)
8 ounces can water chestnuts (chopped)
1/4 cup chopped nut of choice (optional)
Preheat oven to 325*F.
In a large bowl, combined rice, onions, carrots, zucchini, garlic, oil, soy sauce, vinegar, spices and eggs. Combine until all rice is coated in the soy sauce mixture.
Spray a large rimmed baking sheet with cooking spray.
Spread rice mixture evenly over the pan.
Top with water chestnuts and bake for 45 minutes, stirring every 15 minutes to ensure the entire rice mixture gets crispy.
Remove from oven and top with desired nut/seed of choice.
Let's chat!
What's your FAVORITE go to sheet pan recipe?