Do you have you're own little kitchen helper? This post is for you then! Learn how to get them active in the kitchen and excited to cook with you!
Yep, this month (as well as each and every month of the year) you can have a few more of these cute little kitchen helper hands in the kitchen!
To highlight the role everyone plays in ensuring a healthy future for our nation's children, the Academy of Nutrition and Dietetics and its Foundation celebrate Kids Eat Right Month™ each August.
Kids Eat Right Month focuses on the importance of healthful eating and active lifestyles for children and families, featuring expert advice from registered dietitian nutritionists to help families shop smart, cook healthy and eat right.
Why support Kids Eat Right with Kitchen Helpers?!
Why not?!
Plus, my good friend Sara Haas is a chef and a mom to a wonderful little one. She's also a past Academy of Nutrition and Dietetics Spokesperson who is 100% invested in encouraging families to get in the kitchen with their kids!
Thus, when Sara decided to do a blog brigade to promote Kids Eat Right, I told her I would join the fun.
How to cook with those kitchen helpers?
First off, you have to look at this infographic! It's filled with helpful information that really touches on age appropriate recipes and is a great way to remember some of those food safety basics!


I told you, this is the daddy of resources from the Academy of Nutrition and Dietetics! I highly encourage you to check this out and see what new tips and tricks you can pick up!
What tips do you have for moms wanting to get their kids involved in cooking?
While this graphic may seem like kids should start getting involved in the kitchen after 3 years old, that is certainly not the case!
As you know, I've had Hayden in the kitchen pretty much since the day she was born. Whether I was wearing her in a wrap or laying her in the center on her Dock-a-Tot, I was determined to let her know the kitchen could be her safe place, too!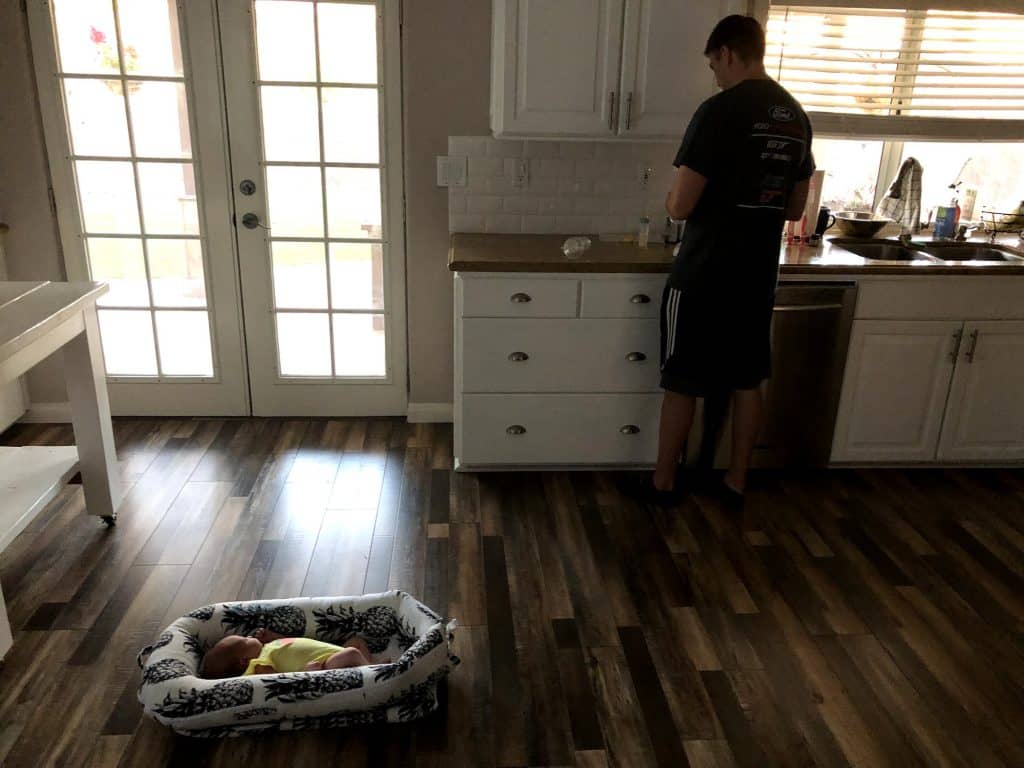 To help you feel a bit more comfortable getting your little one's involved in cooking, here are a few tips to encourage those kitchen helpers!
Read menus with them when you go out.

Even if their under one, they are still a sponge and enjoy hearing your voice! Enticing their curiosity young will help excite them when you ask them for help recreating that dish you had out!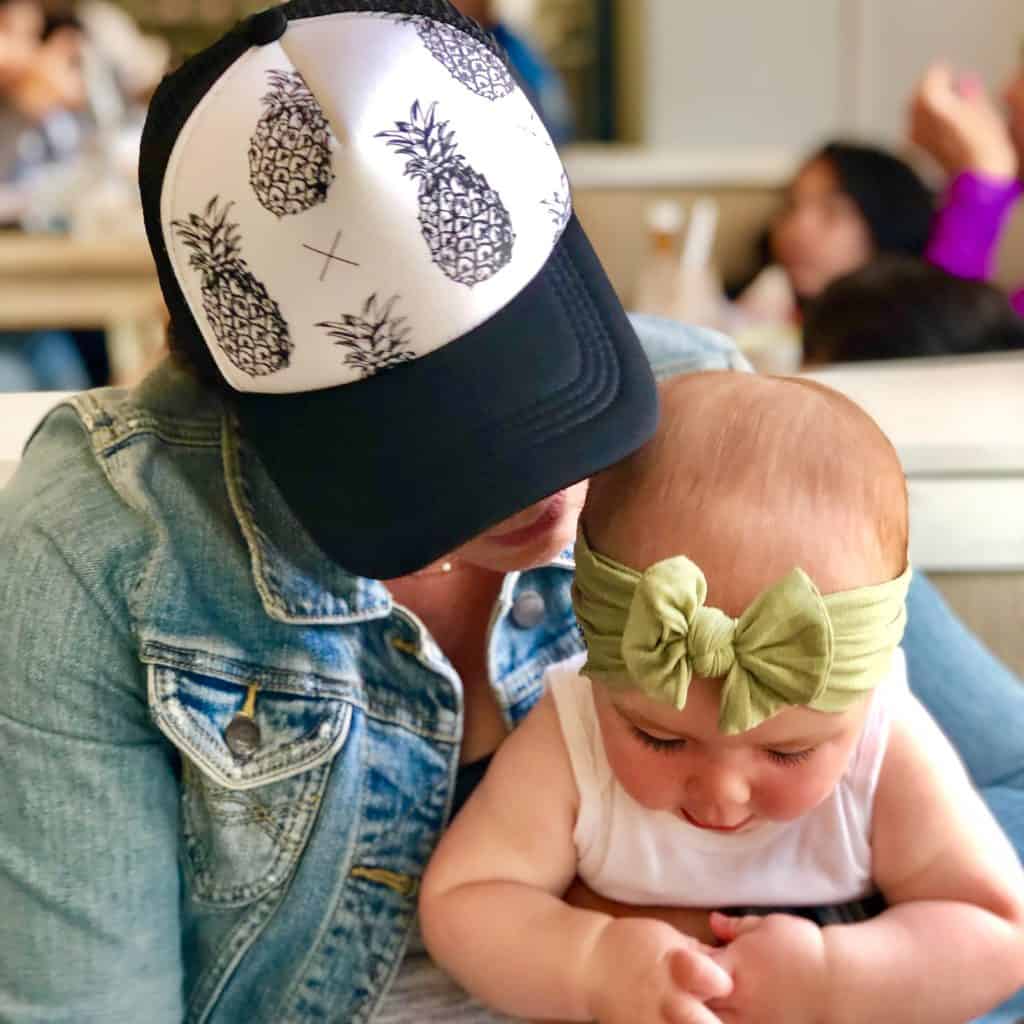 Let them try things.

Raw batter isn't encouraged, but biting into a raw tomato and letting those juices envelop their little chins is a great way to see a smile (or a gag) and remind them to try new things! Taking it a step further and then showing them how that raw tomato is the base for their favorite pasta or pizza is an awesome way for them to see food evolve!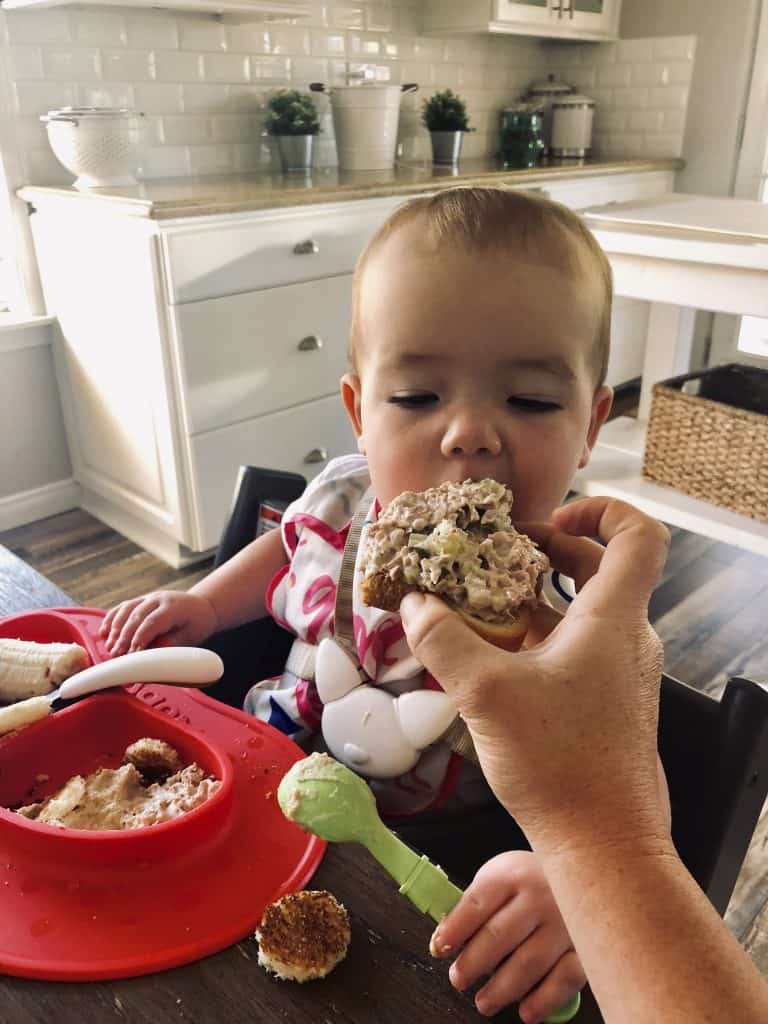 Give them a task.

Does your little one crave independence? Mine too! That's why giving them a small task to help complete the meal or snack you are preparing is huge for building their self confidence and independence!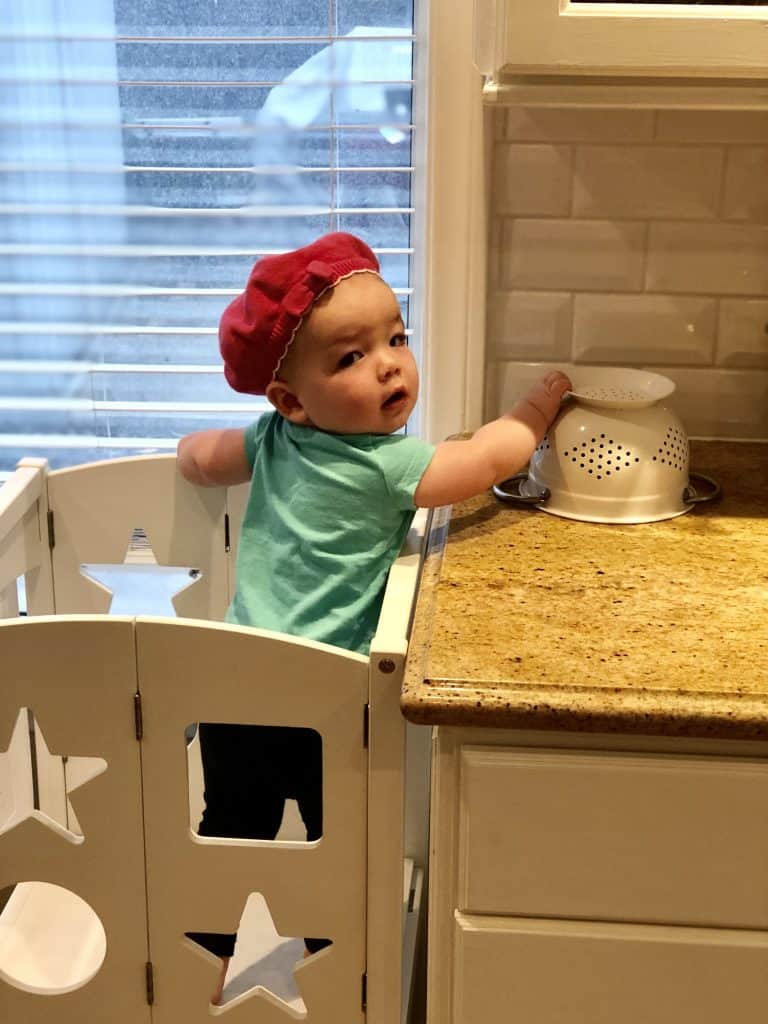 Hayden and I are having are own fun right now in the kitchen (remember that pesto wrap), but I wanted to show you how other moms get their kids in the kitchen too!
So, I enlisted the help of my mom friends who also happen to be RDs to share their best tips, tricks and recipes with you today.
Now, let's jump into those mom blogs out there that I absolutely adore!
First up, Teaspoon of Spice!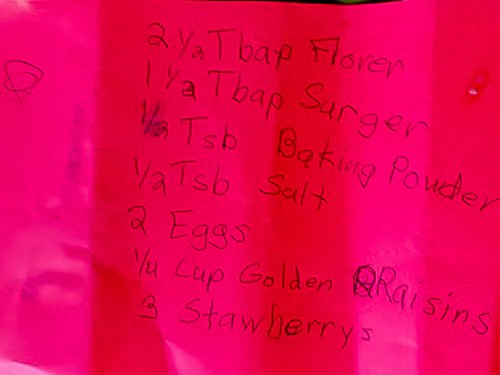 Deanna and Serena run a successful blog and are the queens of Facebook Live! They have great resources to help encourage you to get your kids comfortable in the kitchen! Plus, they'll help you whip up the latest seasonal produce dish made fresh from your CSA boxes!
3 fun ways to get kids cooking
Nesxt, the lovely Jessica Levinson, MS, RDN, CDN!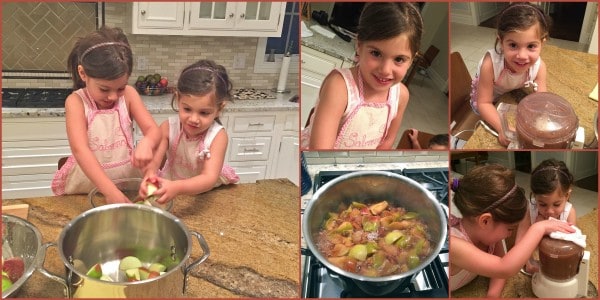 You guys remember Jess, right? She's one of the featured guests for the series we did back in April and she's incredible in the kitchen! Her twin girls know a thing or two about great cooking and they've got a killer homemade applesauce recipe to prove it!
They've also got a few more highlights from their kitchen experiments, too!
Next up, The Foodie Physician!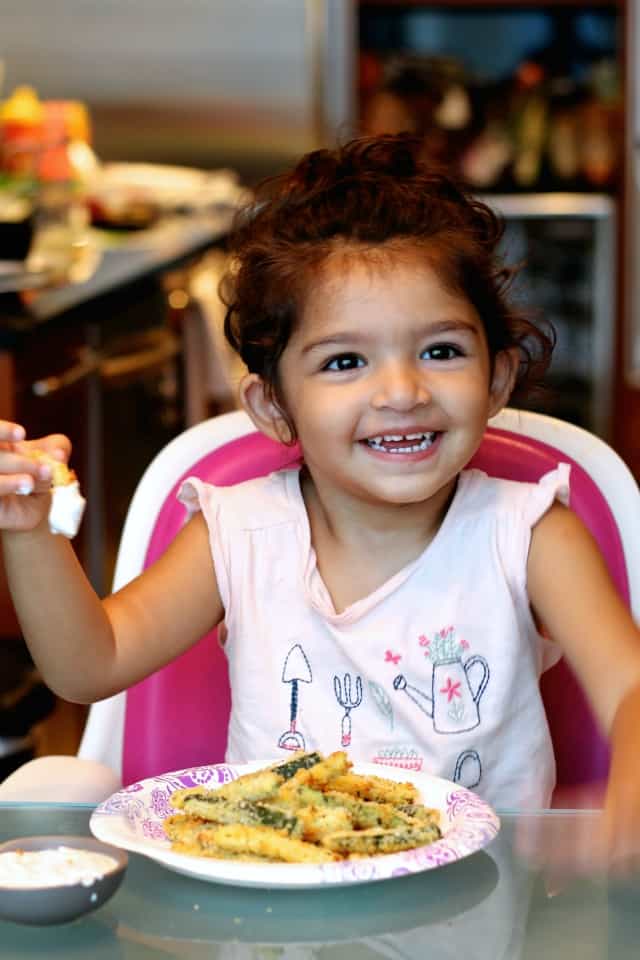 OMG, I know, adorable, right?! Sonali, aka The Foodie Physician, has been over here on the blog a few times!
She's the author of those great cookbooks: The Natural Pregnancy Cookbook & the Natural Baby Food Cookbook! Plus, Sonali likes to get her hands dirty in the kitchen with her sweetheart, Sienna!
Grab the recipe for their Baked Zucchini Fries here!
And last, but certainly not least, The Domestic Dietitian!

Oh my gosh, I can't get enough of these adorable little chefs! Brynn, the mom, dietitian and recipe guru behind The Domestic Dietitian, has a wonderful site that includes some great tips on getting your kids to be comfortable with new foods in the kitchen!
One of her best tips: try a new food with a favorite food! Genius, right?!
And, if you're up for more, I've got a great roundup of KID FRIENDLY recipes creations from a wonderful group of bloggers below!
What are some Breakfast & Snacks to make with your Kitchen Helpers?
Chocolate Chip Pistachio Breakfast Cookies – Key Ingredients
PB and Chocolate Chip Baked Oatmeal – And A Dash of Cinnamon
PS Audra's got a ton more where this came from!
No Bake Trail Mix Bite – Bucket List Tummy
Yogurt Buttons – Lonestar Nutrition
What about some Lunch & Dinner Ideas?
Cucumber Carrot Salad with Sesame Seeds – Making Healthy Choices
Baked Zucchini Cutouts – Lonestar Nutrition
Healthier Chicken Nuggets – The Domestic Dietitian
Don't worry, if you're so excited about all these great resources and can't get through them all right now, be sure to pin this cutie below and you can come back to this a bit later!
For Hayden's favorite kitchen products, check out her storefront here!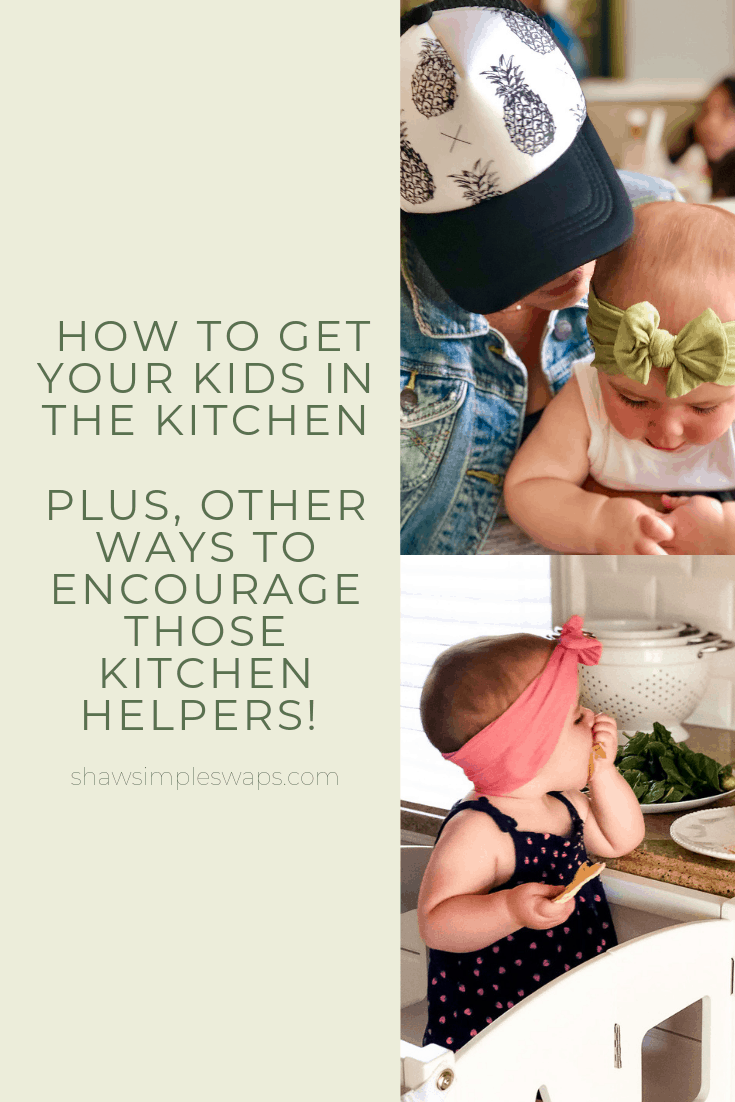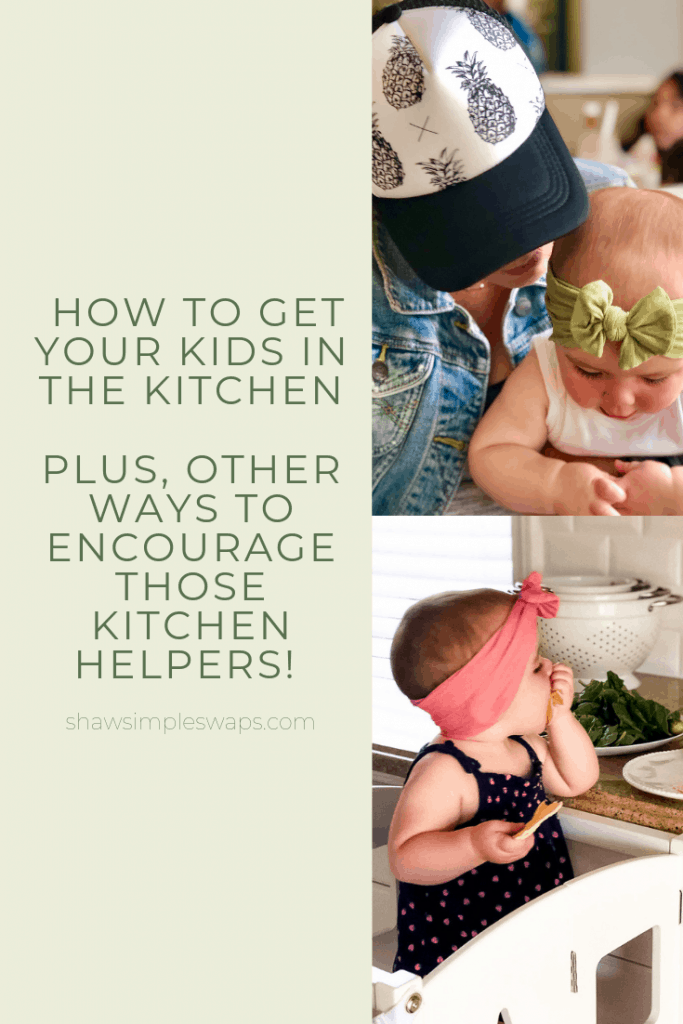 ***Please note I may make a small commission off Amazon if you purchase any items from the affiliate link.