If you've been wondering how to help your child lose weight, then this is the post for you. It provides actionable steps to help you as the parent or caregiver instill healthy practices into your babies for life. The focus is around health; weight loss for kids is not advised.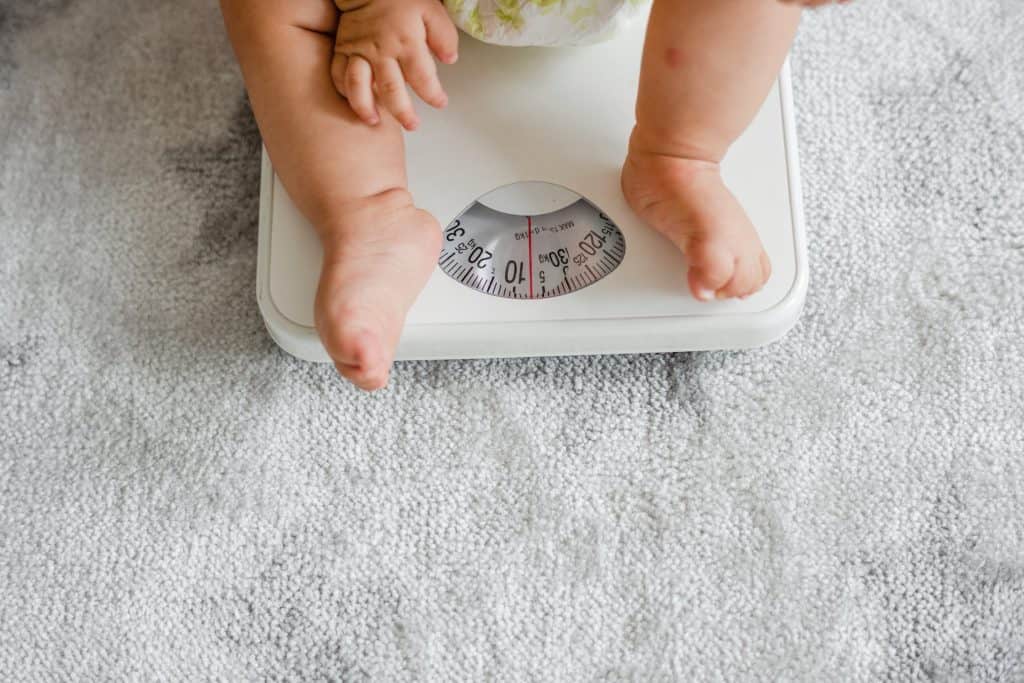 Weight Loss for Kids: Is it safe?
No. I'm not going to sugar coat this for you.
Instilling an unhealthy mentality into a child that insinuates in any shape or form that there is something wrong with their body and that it needs to be changed is unethical and potentially damaging to not only their psychological health but physical health as well.
Let me say it loud and clear,
Promoting weight loss for kids is not safe!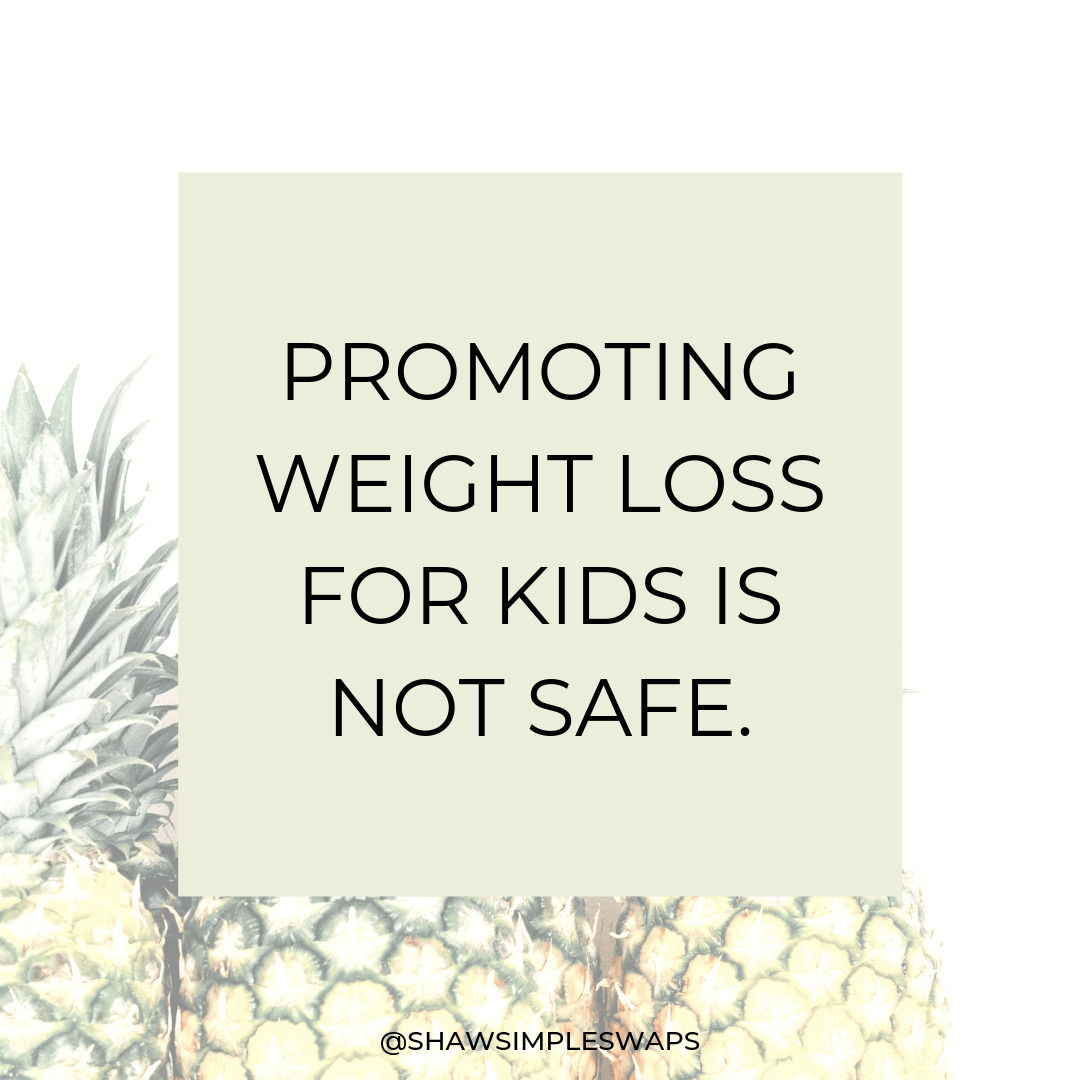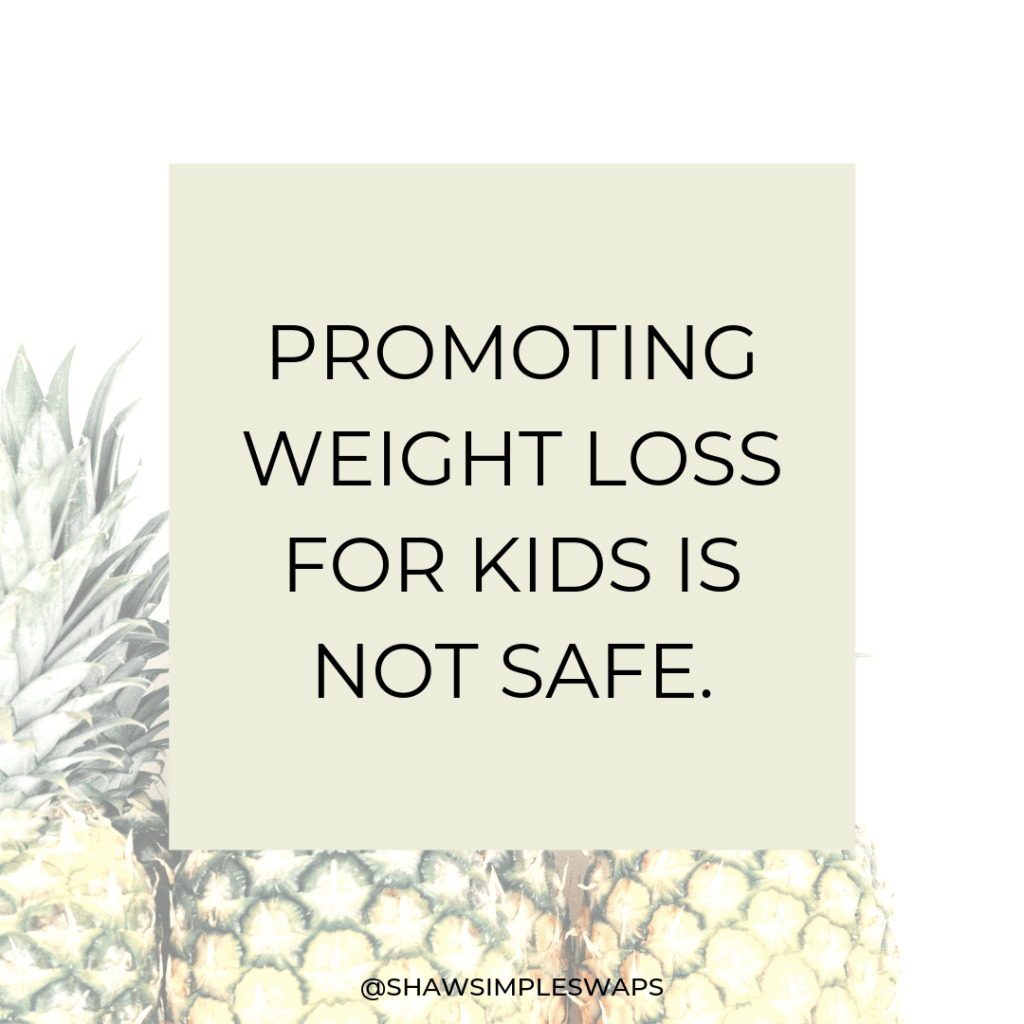 When children begin to think of their weight or body image in a negative way, a very unhealthy relationship with food, physical activity and/or both may form.
While it may be coming from a place of love for your child and wanting to help them learn new habits, focusing on weight instead of healthy behaviors can set up a slippery slope of disordered eating and food obsession from a young age.
Did you know 30 million people in the United States along suffer from an eating disorder?
And, what's even more alarming is that the percentage of adolescents struggling with disorder eating increases with age from 2.4% at 13 years old to 3% at 17 years old.
Its no wonder why the average age of onset of both bulimia nervosa and anorexia nervosa in the US is 18 years old when you consider the age most children are exposed to weight loss and dieting behaviors in the media or even in the home.
Isn't it unhealthy for my child to be overweight?
Let's answer this question by revisiting those early memories from when your kiddo was just born.
I'm willing to bet in that first year of life as you met other moms all of your babies grew and developed at different paces am I right?
Perhaps your little one was a few inches taller, weighed a little more and was higher on the growth charts than his/her best friend.
I'm willing to bet if you ever became concerned about your little ones growth your pediatrician would gently reassure you that as long as the growth chart was following suit those first two years of life your angel was just fine.
It saddens me to realize that somewhere in the time that elapsed from when your baby grew into a teen the weight obsession took on a new form that bred body hatred if you didn't fit a specific mold.
In case you need a quick refresher, puberty happens between ages 8 to 13 in girls and 9 to 14 in boys, meaning their bodies are going through monumental changes to help prepare them for their adolescent years.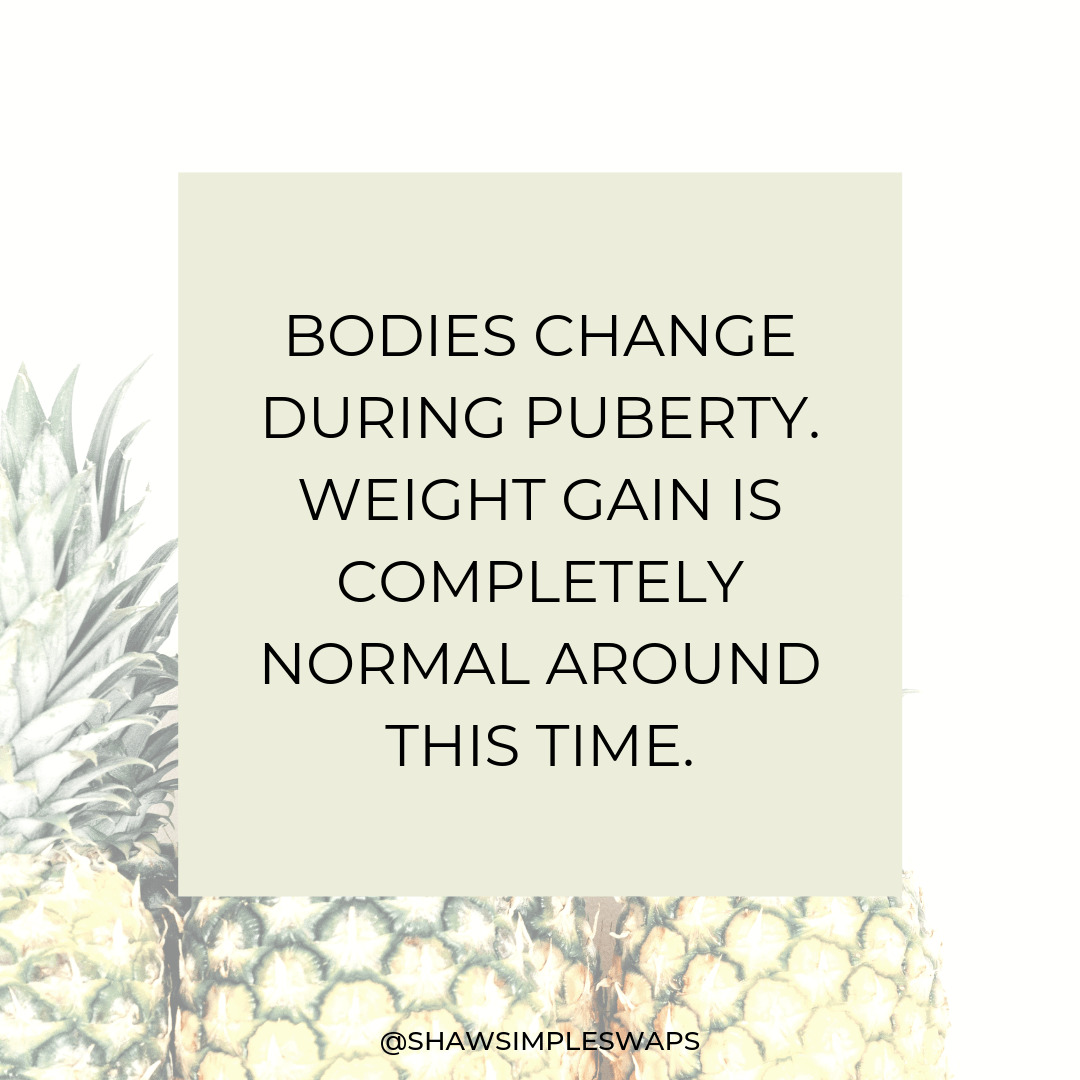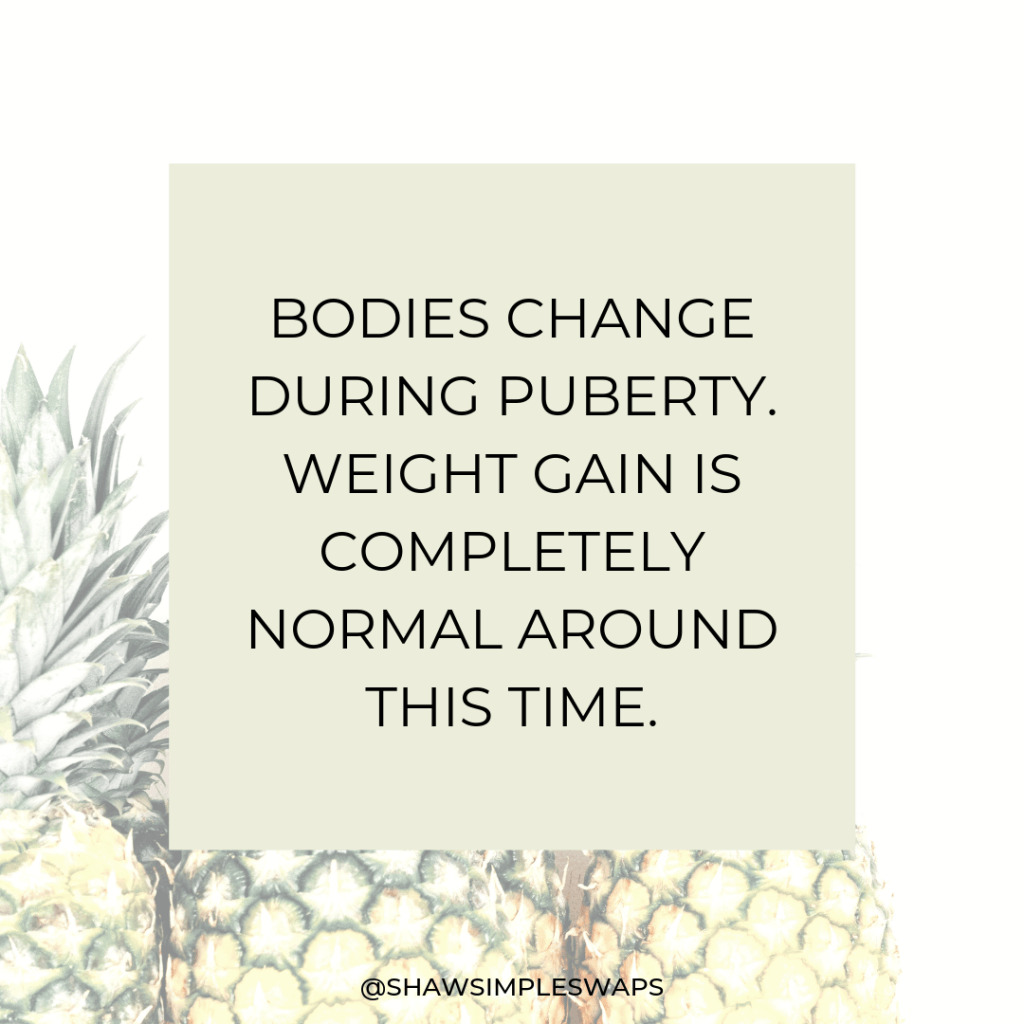 It's natural, even expected, to gain weight during those years as the body learns to mature and function in its adult (yet very childlike at heart) state.
Be it from a health care provider, a family friend, or a bully comment made by classmate, the heightened awareness of a child's weight and body image can create an explosive combo that can lead kids feeling defeated, isolated and alone at this stage.
That combination can only lead to negative, self-destructive behaviors like eating disorders, depression and other potentially life threatening conditions.
So, a long winded answer yet a necessary one to help reassure you that it's completely normal for children to gain weight during the years surround puberty.
Repeating again for the people in the back,
Promoting weight loss for kids is not safe.
How can I help instill healthy habits in my child?
That's a great question! And, truthfully such a healthier approach to addressing health behaviors in your child.
If you want your child to enjoy living a healthy lifestyle you have to lead by example.
No, this doesn't mean running out and buying low-fat everything to show them health equates to eating low-calorie ice cream and stale rice cakes! Instead it means:
Including them in your grocery shopping and meal preparation
Getting them excited to try new foods by encouraging them to help you find new recipes to make, together
Sitting down to eat together as often as possible
Encouraging movement, be it walking the family dog, taking a hike or engaging in a particular sporting activity he/she enjoys
Promoting all foods as equal foods, focusing on how foods make them feel
If this seems challenging that's completely normal. Ask your child how they felt after they helped you make perhaps these Chicken Buffalo Bowls for dinner.
Focusing on how foods make them feel, what energy levels they have after eating, and how satisfied they are great questions that help take the focus away from the traditional connotations of food.
If your mind is racing with "but my child only likes chips and cookies, they will have a hay day if I tell them they are equal to salads and grains", please don't worry because that's completely normal too.
A great way to rephrase this thought with your child is to come up with a list of foods that you are going to try to eat daily. If you have multiple kids who like to compete, make it a game!
Hosting food challenges for exposure in game form can be a really fun way to get your family excited about eating healthy. Plus, it doesn't have to mean cooking multiple meals for mom!
The Build Your Own style of cooking is a great way to try to open your kids eyes to the beauty of all kinds of foods. Check out my post here all about the BYO method!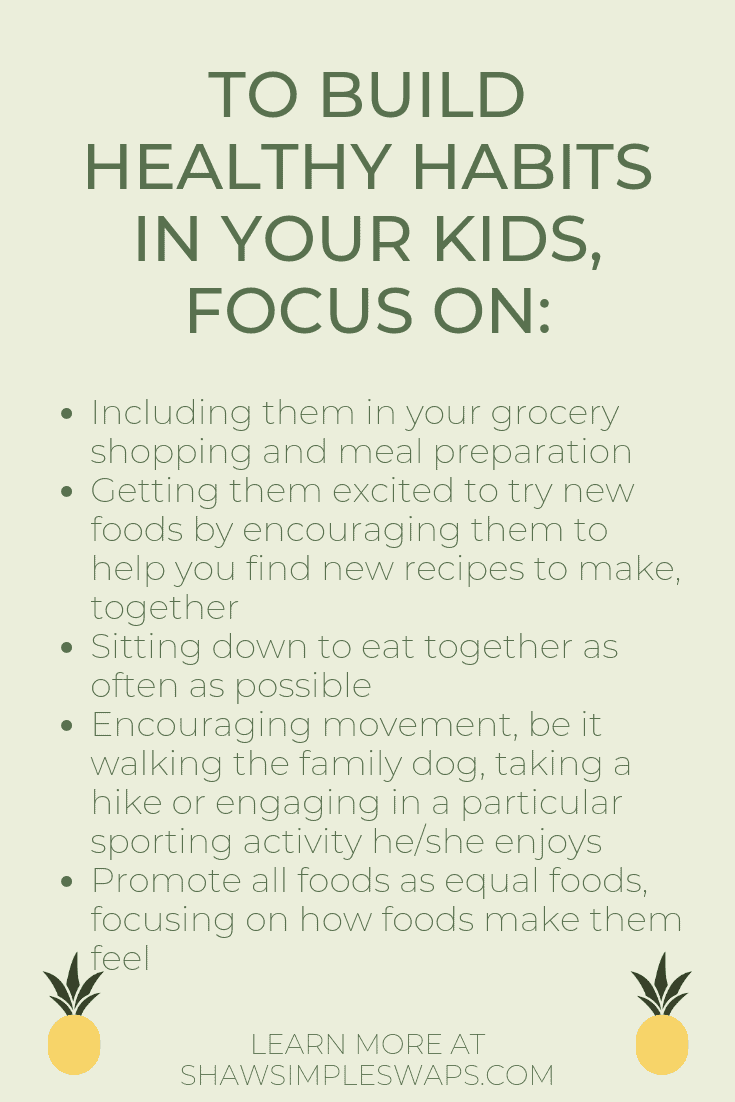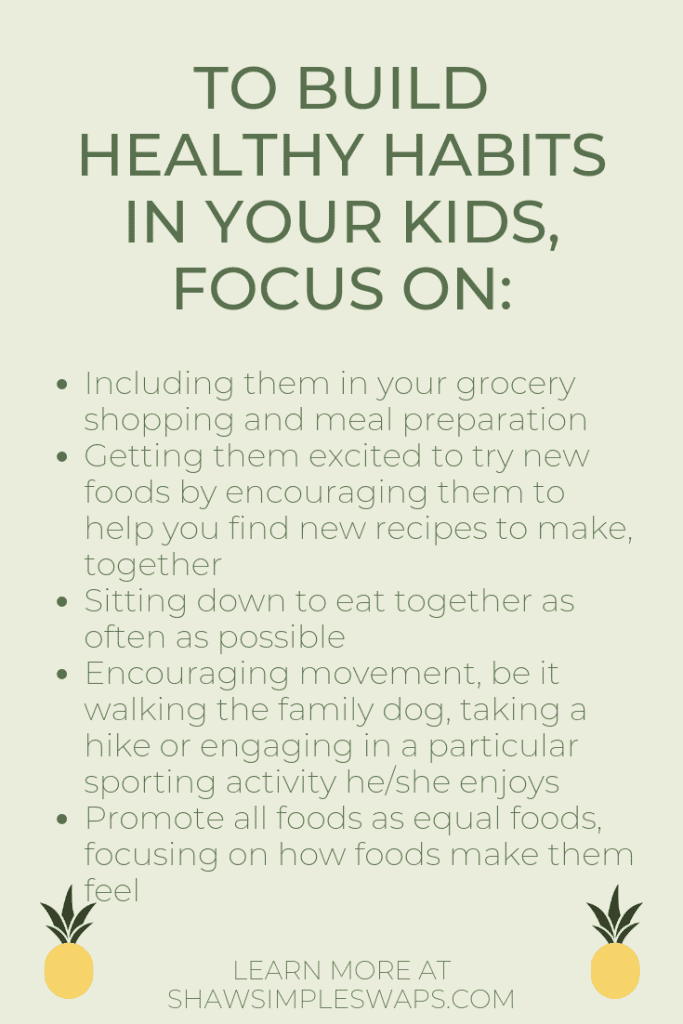 What about an app like Kurbo by Weight Watchers? Is that healthy?
To be honest, I wasn't sure how I would address this question without getting emotional as a mom and a recovered anorexic. I'll do my best to put emotions aside though as I explain why app's like the latest Kurbo by Weight Watchers is not healthy or safe for kids.
Telling a mom (or a kid) pending who is registered and logging on the app that foods are labeled as red, yellow or green creates a distorted connotation with foods.
To give you an example, I signed up for the app myself. I entered the breakfast for my 12 month old: a slice of whole grain toast, a tablespoon of peanut butter and a small banana.
Healthy? Absolutely. Nourishing? No question about that! And to my surprise this is what it was given…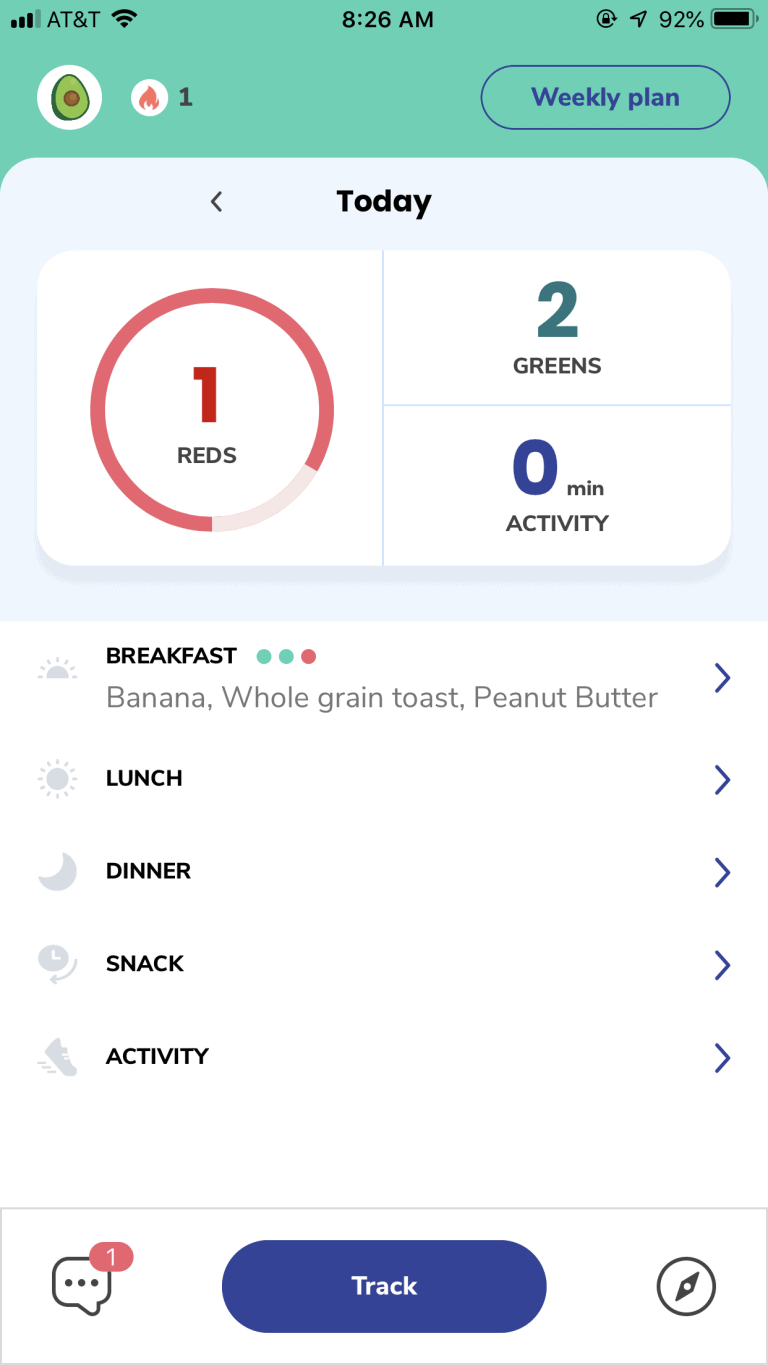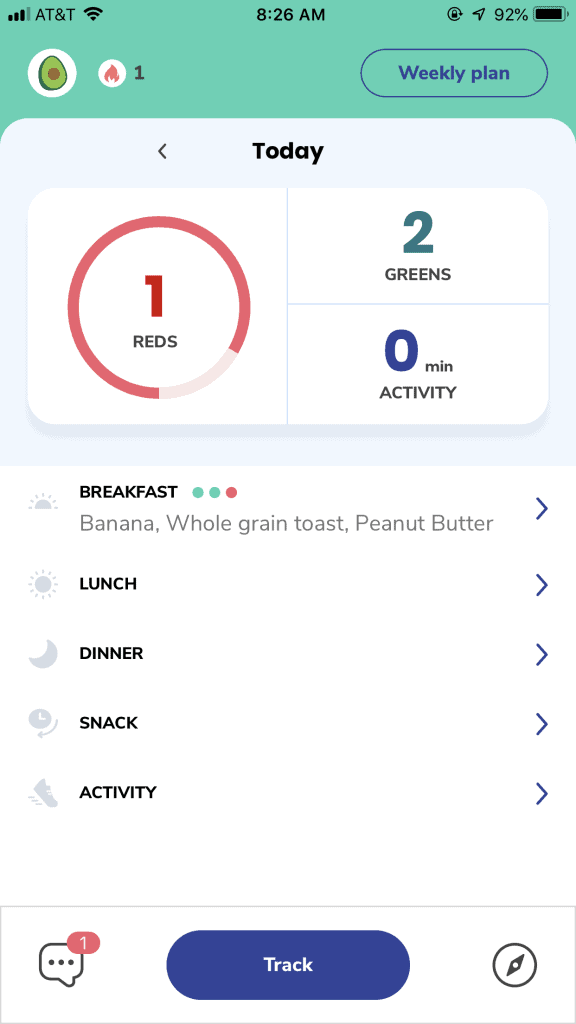 Truthfully when I saw the red I wanted to throw my phone.
Peanut butter, a food filled with healthy fats that provide fullness and have actually shown in prior studies to help with weight management when served as an after school snack, was being labeled as a red, or in other words, "bad" food.
Something had to be wrong with my app. I waited a day before I entered anything and started fresh.
And to my surprise yet again this is what popped up on my screen…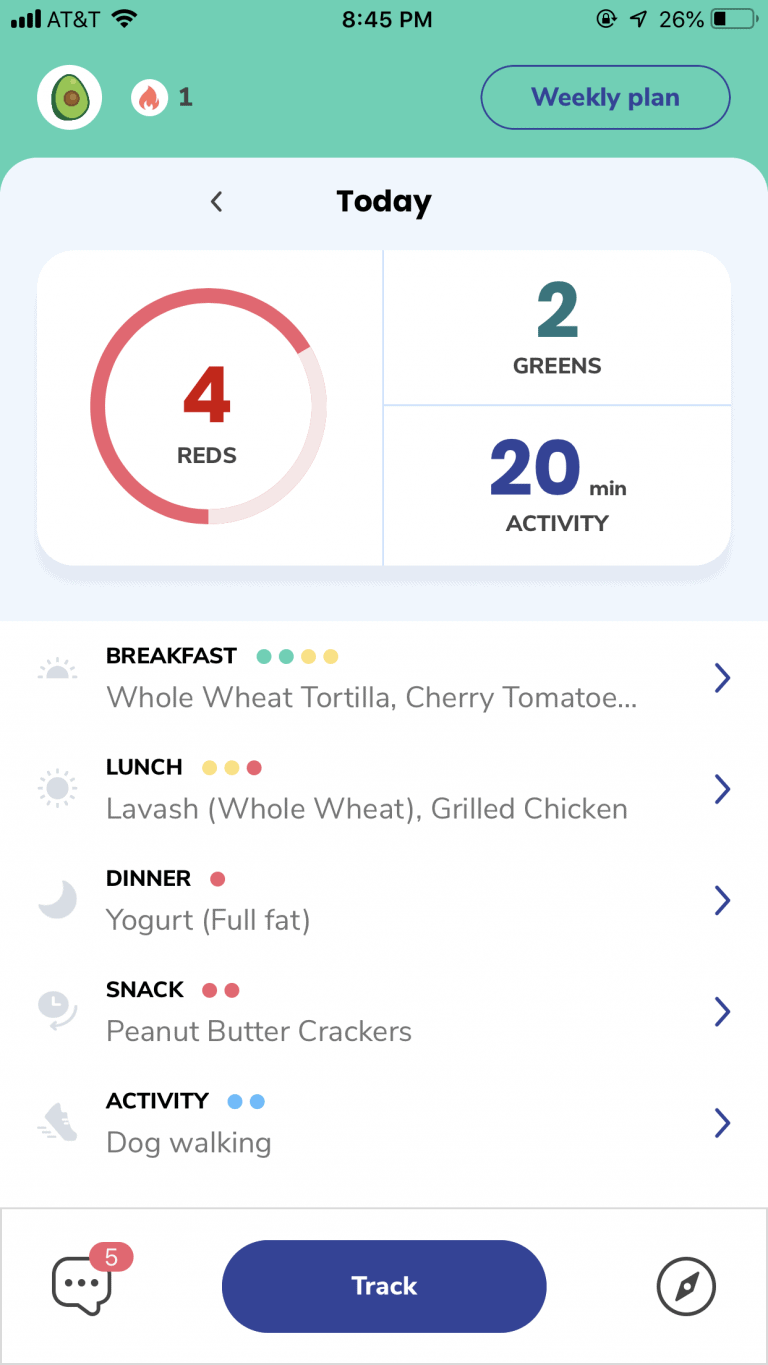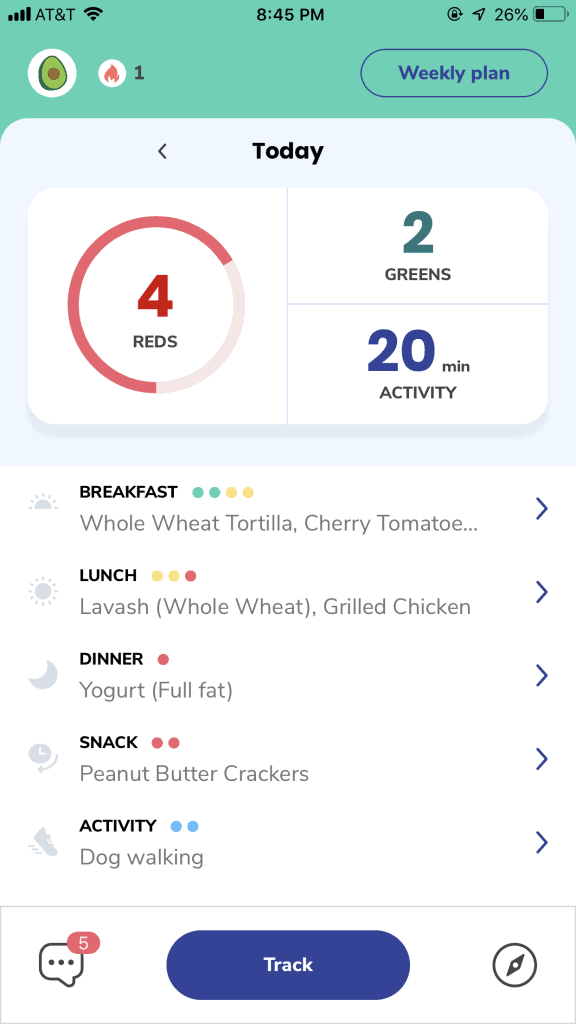 For a hot minute I was convinced I was not only the worst registered dietitian on the planet but also a terrible mother for serving my child 4 red foods in that day.
Thankfully I've got the knowledge and experience to know better about the food choices I provided for my daughter, but then it hit me….
How many mothers are using this app and feeling down about the feeding choices their offering their kids?
If you're reading this and you're one of those mothers who felt defeated about the "poor" choices Kurbo indicated you were feeding your child then please accept this virtual hug.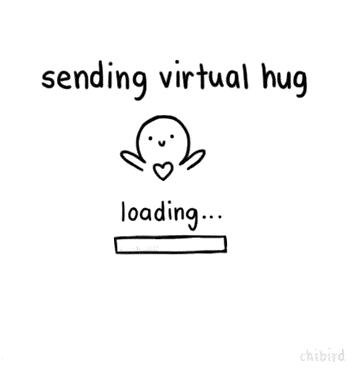 You are doing nothing wrong except loving and helping meet your child's physiological needs.
Where to go from here?
Go give your child a hug. Tell them they are loved. Tell them they are beautifully and wonderfully made. Tell them there is NOTHING wrong with them.
If you're a new mom and still on the feeding journey, I highly recommend Born to Eat and Child of Mind.
And most importantly, invest in helping your child get the help they need to instill those healthy habits if you feel you need some outside help.
Registered dietitian nutritionists' go to school and complete a rigorous internship and are fully qualified to help your precious angel through health behavior change.
I highly recommend googling Nutrition Instincts, Inspired Nutrition, Kim Hoban, Heather Caplan, Kelly Jones and Rachael Hartley, experts in non-weight focused health behavior change!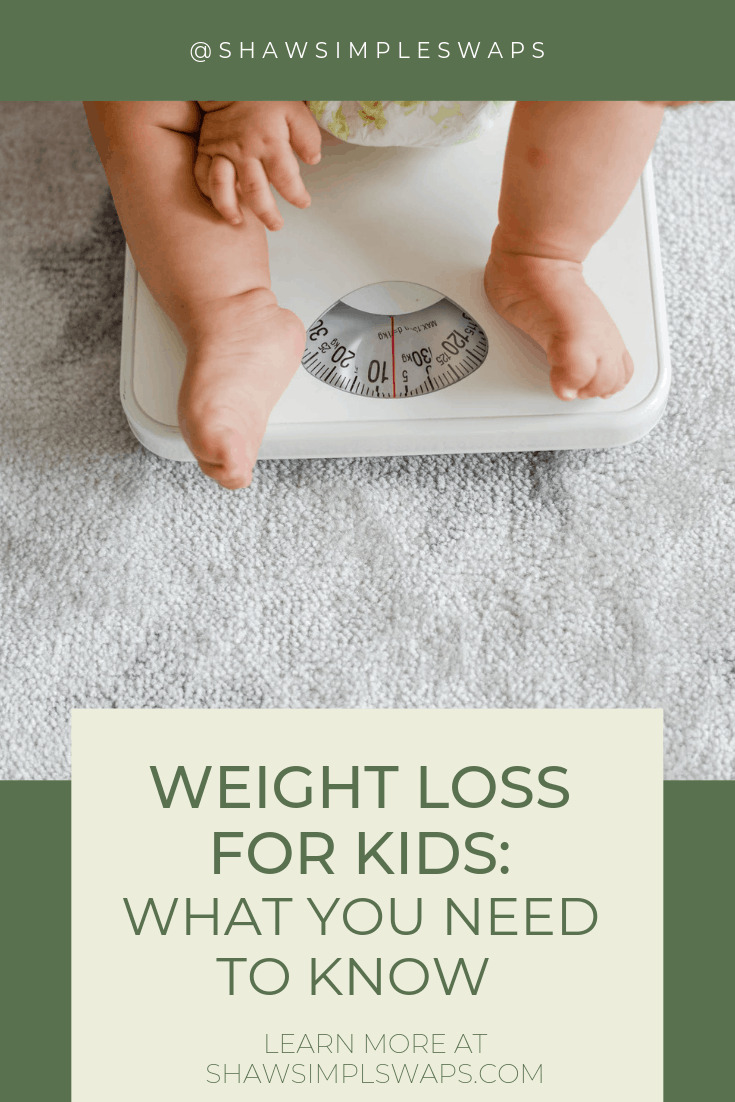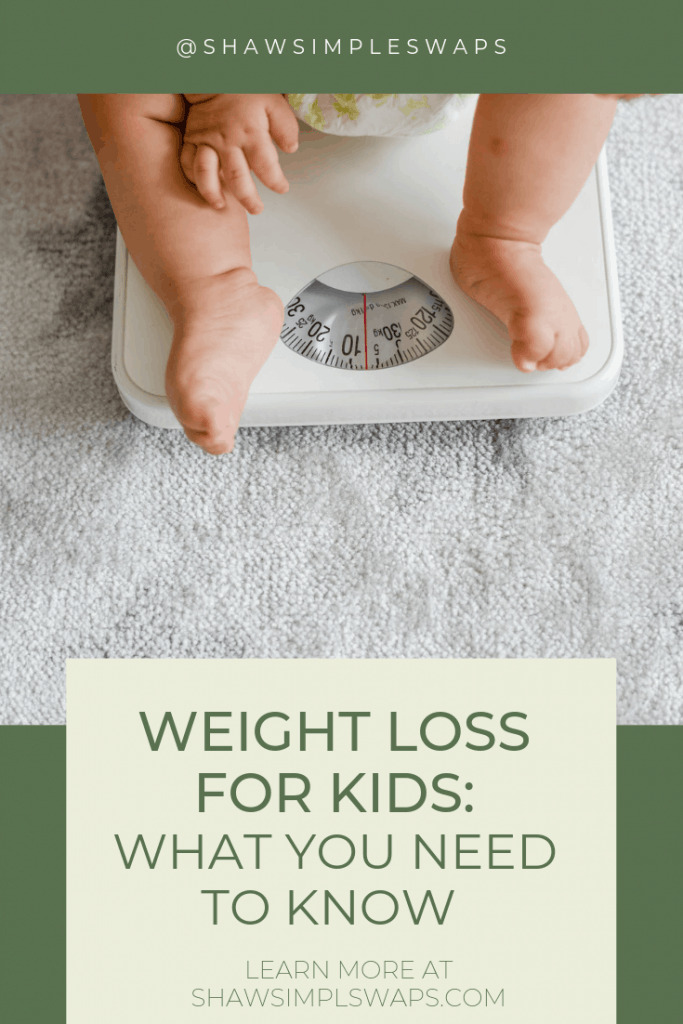 Now, I'd love to hear from you! Feel free to comment below, send me an email or message me on Instagram and let me know what you thought of this post.