Nothing screams comfort like an Open Faced Italian Grilled Cheese with Cauliflower Toast!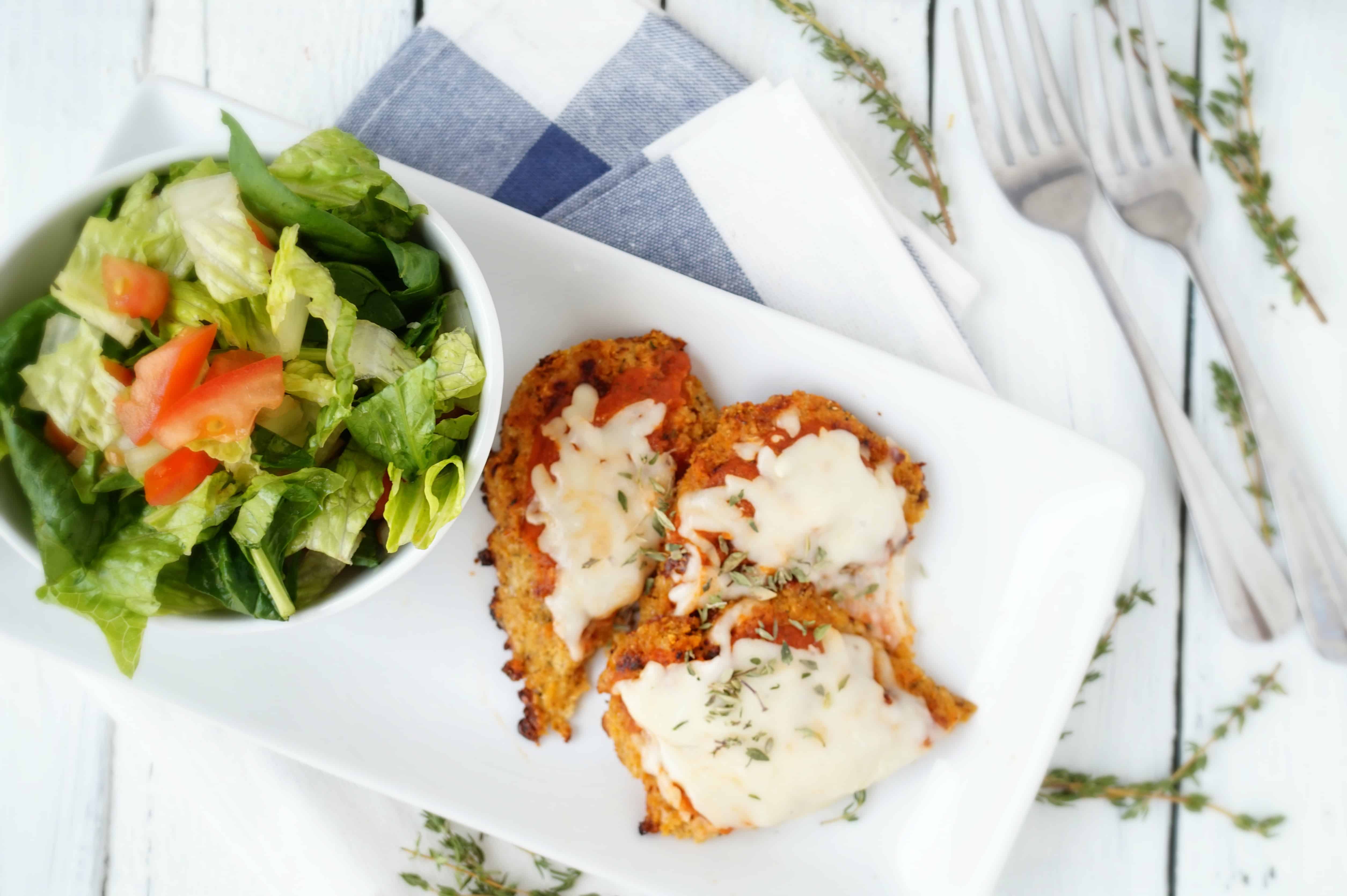 Welcome back to Fertility Friday! In honor of National Grilled Cheese Month, Sara and I decided to launch our Fertility Friday series with a delicious take on the comfort classic.
A little history on me and grilled cheese. As a kid, I asked for this every.single.birthday. Yep, I'm not lying! I remember every year my mom would ask me what I wanted, and my answer was always, "grilled cheese".
"Surprise, surprise" she said, as my sisters would get angry with me that I didn't opt for the opportunity to hit up The Cheesecake Factory or some classy joint on dads dime. You live and learn, but truth be told, I'm more of the plane Jane sister (Marsha-Marsha-Marsha!). It's what makes our tripod the tripod, me being the San Diego beach bum and my sisters the glamorous goddesses of NYC and LA!
Anyways, back to this Open Faced Italian Grilled Cheese with Cauliflower Toast and just why it needs to be on your menu this week. For starters, this recipe is chock full of nutrition. Let me break it down for you.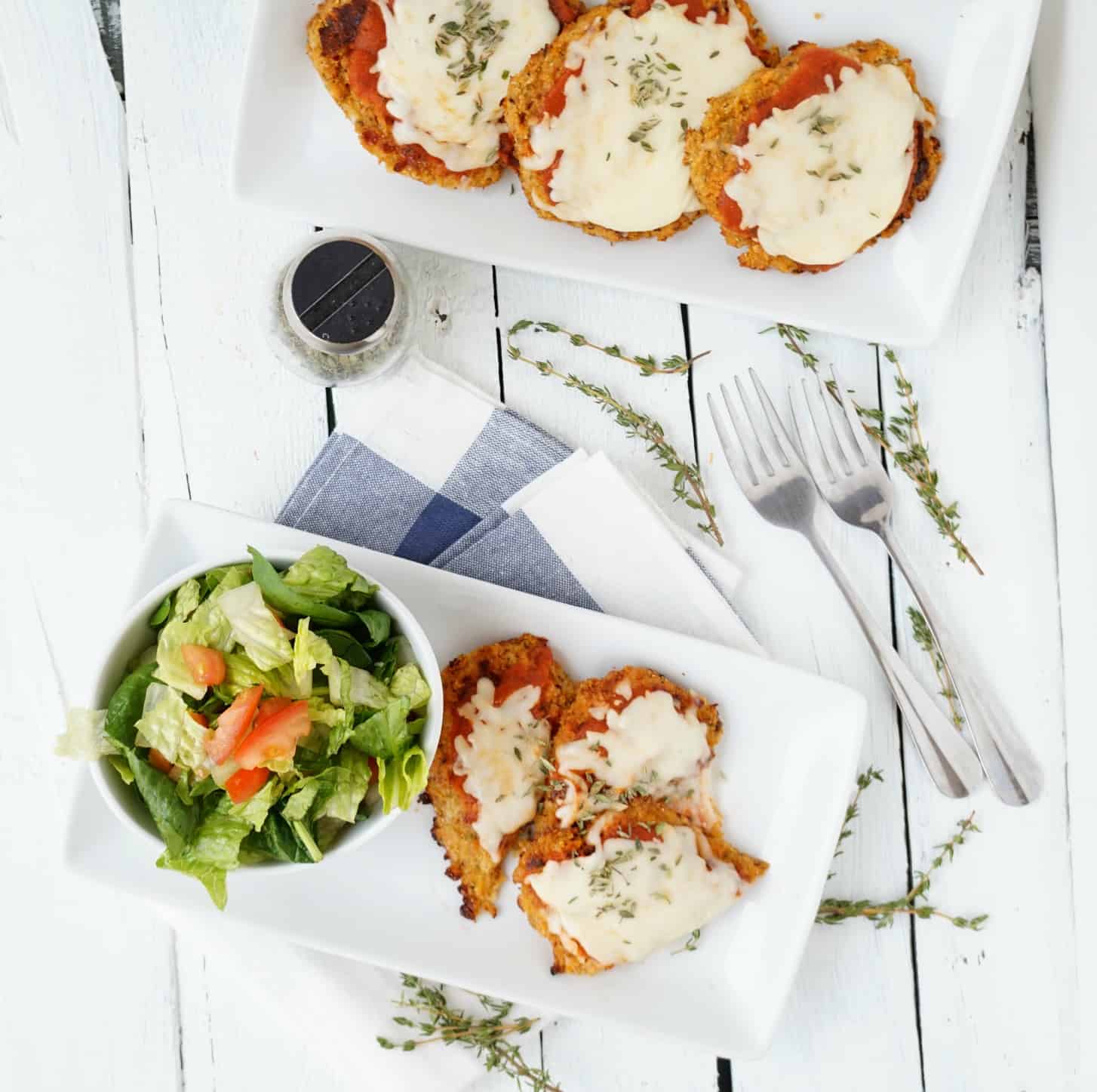 Nutrition 411: Open Faced Italian Grilled Cheese with Cauliflower Toast
Cauliflower

A great super veggie! Once pulsed, you can use this just like a "flour" to make bread, pizza dough and even stir fry rice. It's a great way to sneak vegetables into your families diet.

Fertility focus:

Cauliflower contains folate and vitamin C, both important nutrients that support fetal development. Vitamin C containing foods help to increase absorption of iron, which is a necessary nutrient to prevent anemia, low birth weight, and premature delivery.
Studies have shown women who have a well-balanced diet and focus on increasing their intakes of important nutrients like these may have more favorable chances of achieving conception.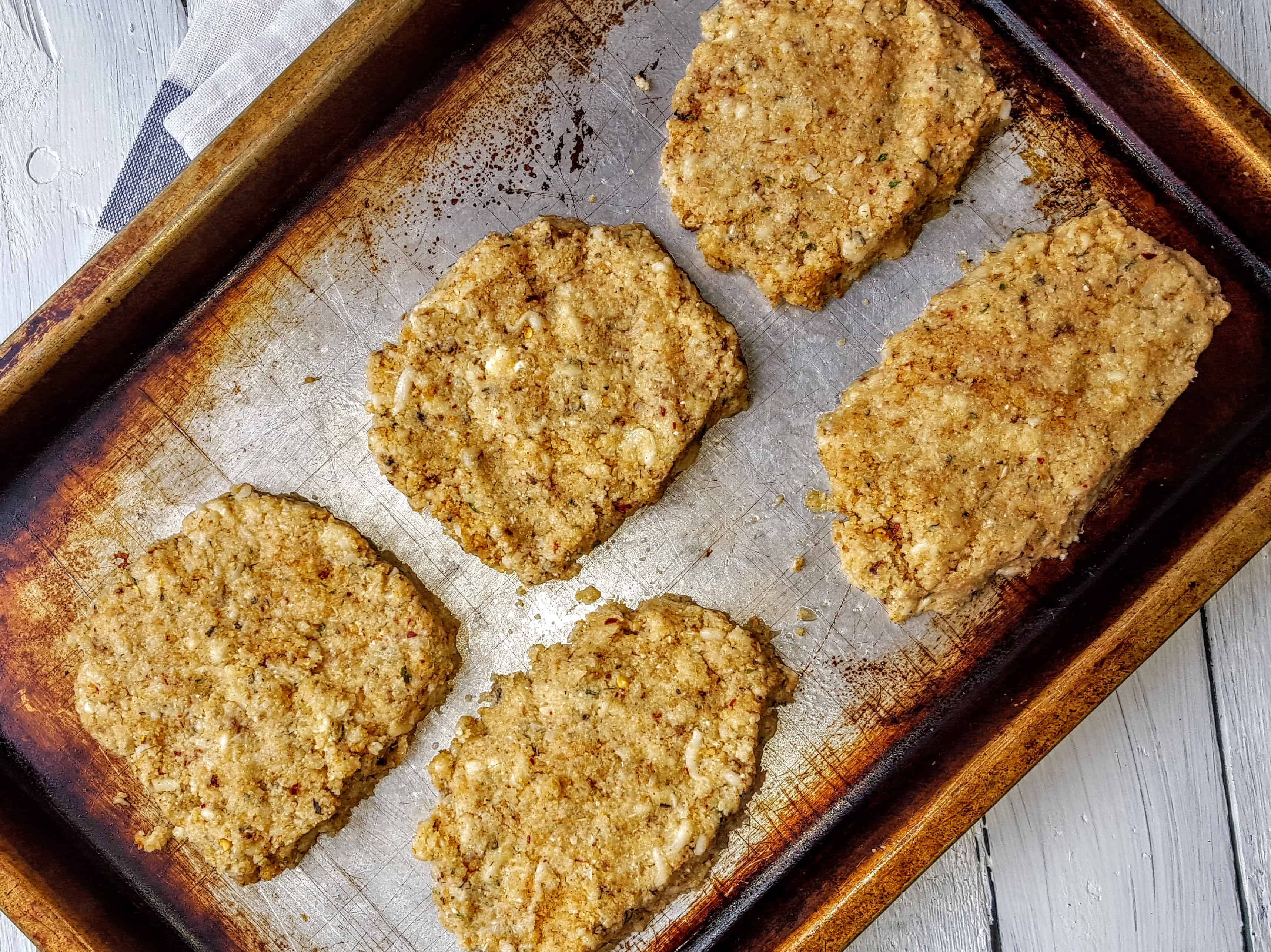 Whole Milk Mozzarella Cheese

Dairy is not the demon it once was believed to be! Cheese is a great way for us to get both water soluble vitamins like niacin, thiamine, riboflavin and vitamin B6, as well as fat soluble vitamins, like vitamin A, D, and E, in our diet. Fat soluble vitamins help increase our absorption of calcium, assist with bone growth and help protect cell membranes.
Fertility Focus:

Research from the Nurses Health Study has shown switching to full fat dairy while trying to conceive is a great way to increase your odds of getting pregnant. When cream is removed in reduced fat and skim milk products, this can alter the sex hormone balance of the milk, which may affect ovulation and conception. Remember though, whole milk products will have more calories. Be conscious of this and plan your meals accordingly to make up for the calorie difference (aka Simple Swap with that cauliflower toast!)

Marinara Sauce

Filled with lycopene, vitamin C and carbohydrates, this stellar sauce is an excellent compliment to the cauliflower cheese mixture that the whole family will enjoy.
Fertility Focus:

Believe it or not, the antioxidant capacity of lycopene has been studied more aggressively as a possible solution to assisting with male infertility caused by sperm membrane lipid peroxidation. While there is a need for longitudinal research on this, I'd say it definitely won't hurt you or your man to beef up your intake of tomatoes right now if you want to make a baby and sperm motility is an issue for you.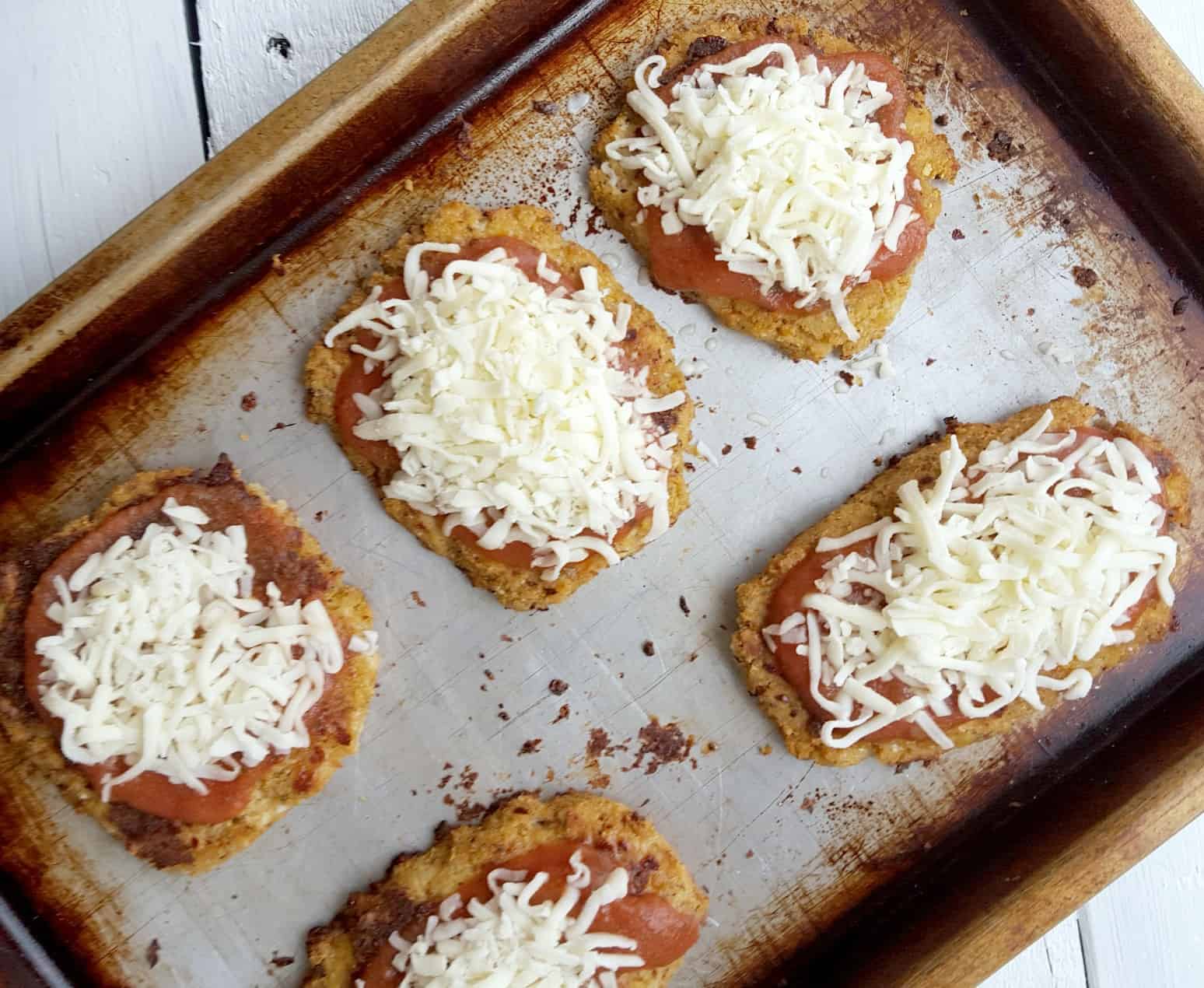 Alright, now you have it! This Open Faced Italian Grilled Cheese with Cauliflower Toast is a win-win for the entire family, something your husband, kids (if your facing second infertility) and long lost friends who stop by for a quick bite can enjoy.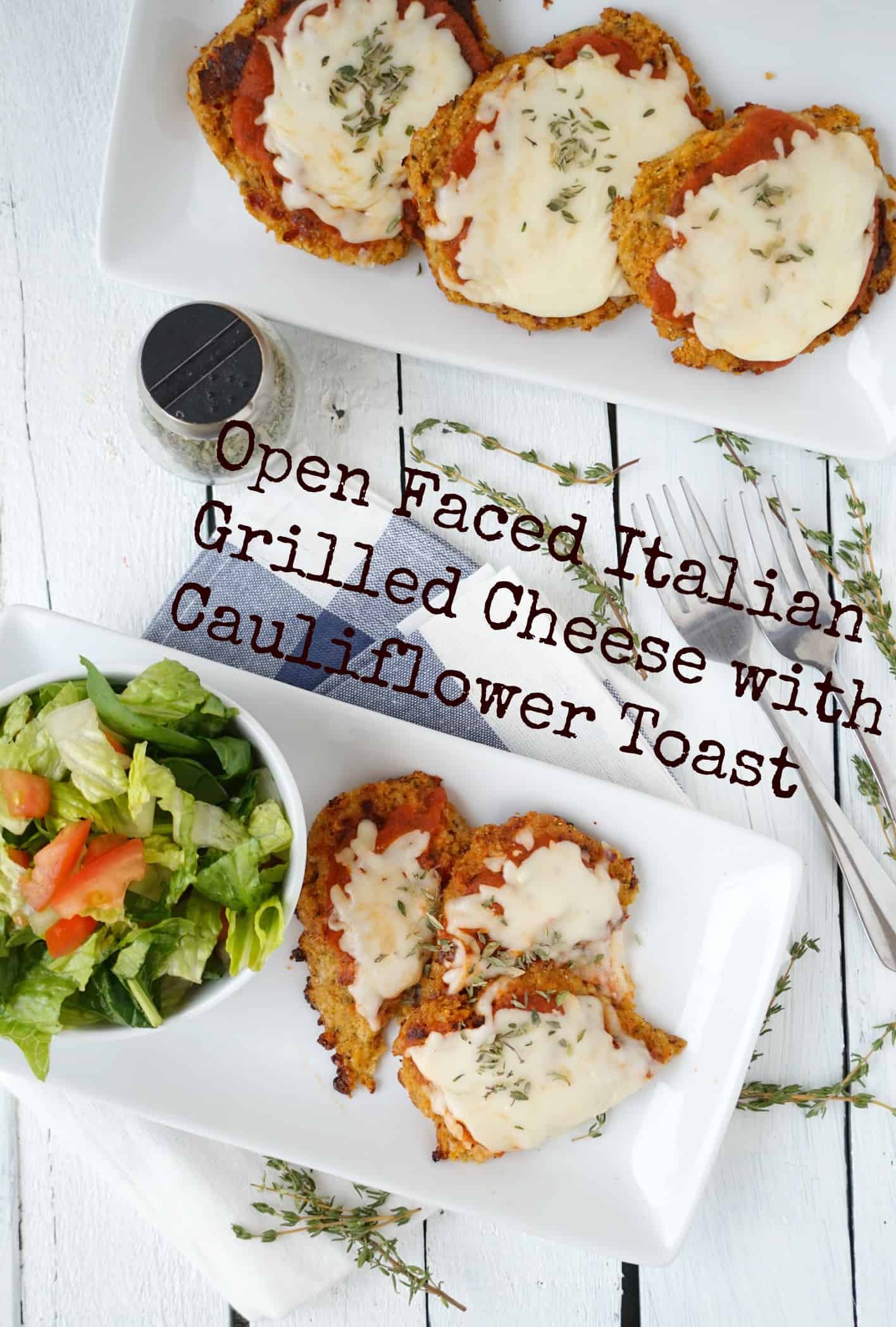 No need to whip up two entrees, instead rest easy knowing your boosting the nutrition of your whole dinner party, while also improving your odds of conception too. That's something I can get on board with, can you?!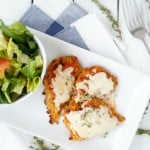 Print
Open Faced Italian Grilled Cheese with Cauliflower Toast
Cheesy, comforting grilled cheese gets a makeover with this Open Faced Italian Grilled Cheese with Cauliflower Toast!
Ingredients
1

head of cauliflower chopped

leaves and steams removed

1

teaspoon

garlic powder

1/2

teaspoon

red pepper flakes

1/2

teaspoon

dried oregano

1/4

teaspoon

dried basil

dash sea salt

2

large eggs

2

tablespoons

grated Parmesan Romano cheese blend

1

cup

of part skim mozzarella cheese

1/4

cup

bread crumbs

I used gluten free

2/3

cup

marinara sauce
Instructions
Preheat oven to 450*F. Line a large baking sheet and spray liberally with nonstick cooking spray. Set aside.

In a food processor, pulse cauliflower florets in small batches until a rice consistency is achieved. Remove rice like cauliflower from food processor in small batches one at a time and place on the baking sheet. Heat for 10-15 minutes to remove excess moisture.

Keep oven on but remove baking sheet and let cool.

In a large bowl, combine garlic powder, red pepper flakes, oregano, basil, salt, eggs, Parmesan Romano cheese, 1/2 cup mozzarella cheese, and bread crumbs. Mix together.

Once cauliflower has cooled, add this to the bowl and mix well.

Line the baking sheet with parchment paper and respray with nonstick oil, liberally.

Portion mixture into 5 toast like squares on the baking sheet.

Bake at 450*F for 15 minutes. Remove and flip, baking for an additional 12 minutes.

Remove tray from oven, place 2 spoonfuls of marinara sauce on each toast and sprinkle remaining mozzarella cheese over the top.

Place back in oven for an additional 3-5 minutes to melt cheese.

Remove once melted and let cool a few minutes.

Enjoy and top with some fresh basil!
Notes
You can use panko bread crumbs too if you don't need a gluten free choice. Also, feel free to jazz it up with your own unique toppings, like bell peppers, onions and fresh tomatoes!
Recipe inspired from Joy Food to Junk Food!
Thanks for stopping by for Fertility Friday! Be sure to visit Sara's blog to see just what the Chef de Cuisine whipped up over on Sara Haas RDN.com! Remember, it's National Infertility Awareness Week this month, #startasking!