Pistachio Turkey Meatballs – Paleo, Gluten Free and 100% Yummy!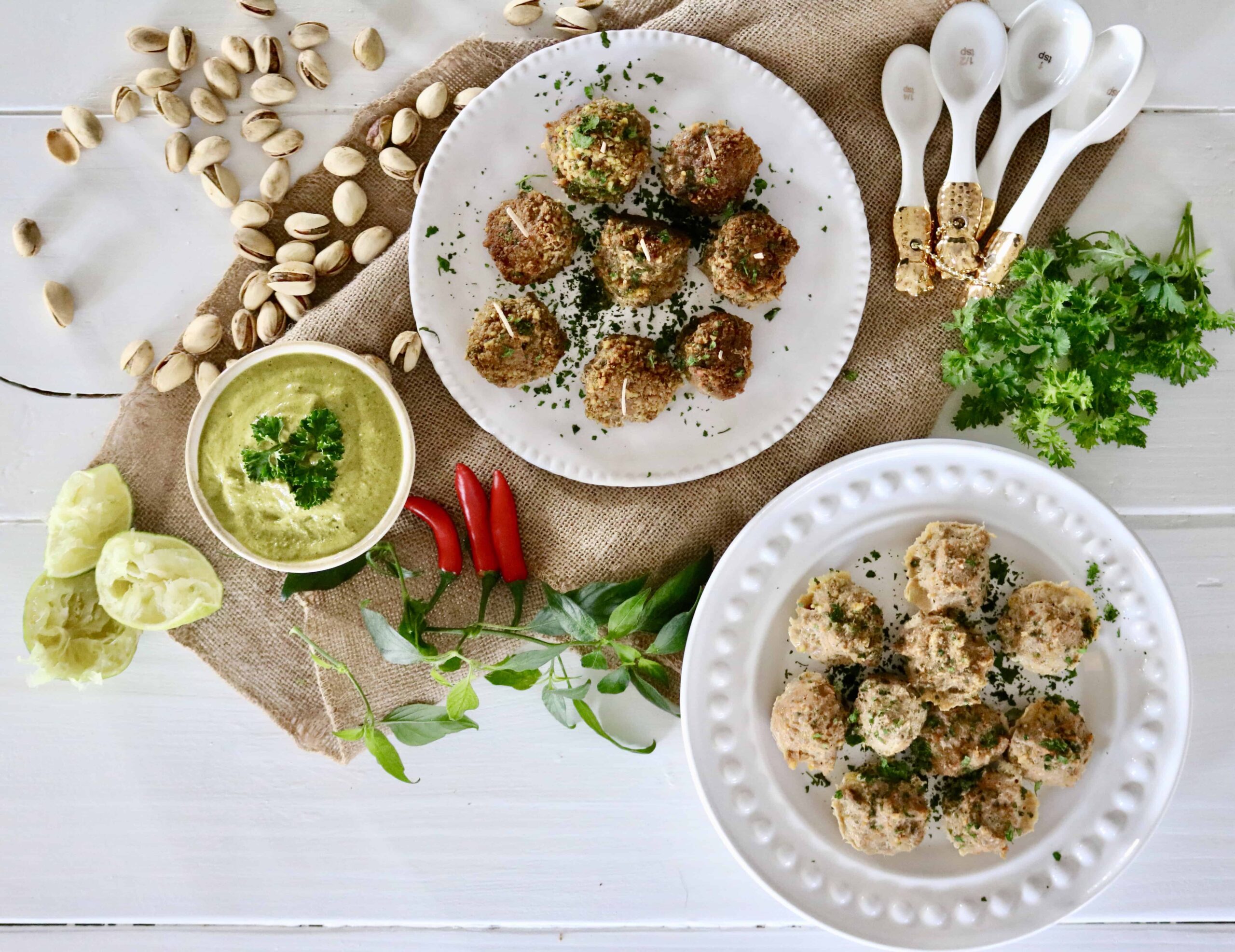 I'm Italian, so it's without question meatballs were a staple growing up.
Though I can't remember a recipe or occasion where we actually made them from scratch, I do remember lots of spaghetti and meatballs at family gatherings.
I know I've seen the assortment of "healthy" meatballs at the store, nicely packaged and frozen for convenience.
I'm going to go out on a limb and say these we're likely what my beautiful Grandma snuck into her sauce.
Truth be told, she was also the lady who would pick up KFC's Cole Slaw for BBQs and claim it as her own!
God, I miss that woman!
Anyways, giving more thought to meatballs and how delicious they truly are, I decided to come up with a meatball all diet types could enjoy.
Enter, these Pistachio Turkey Meatballs!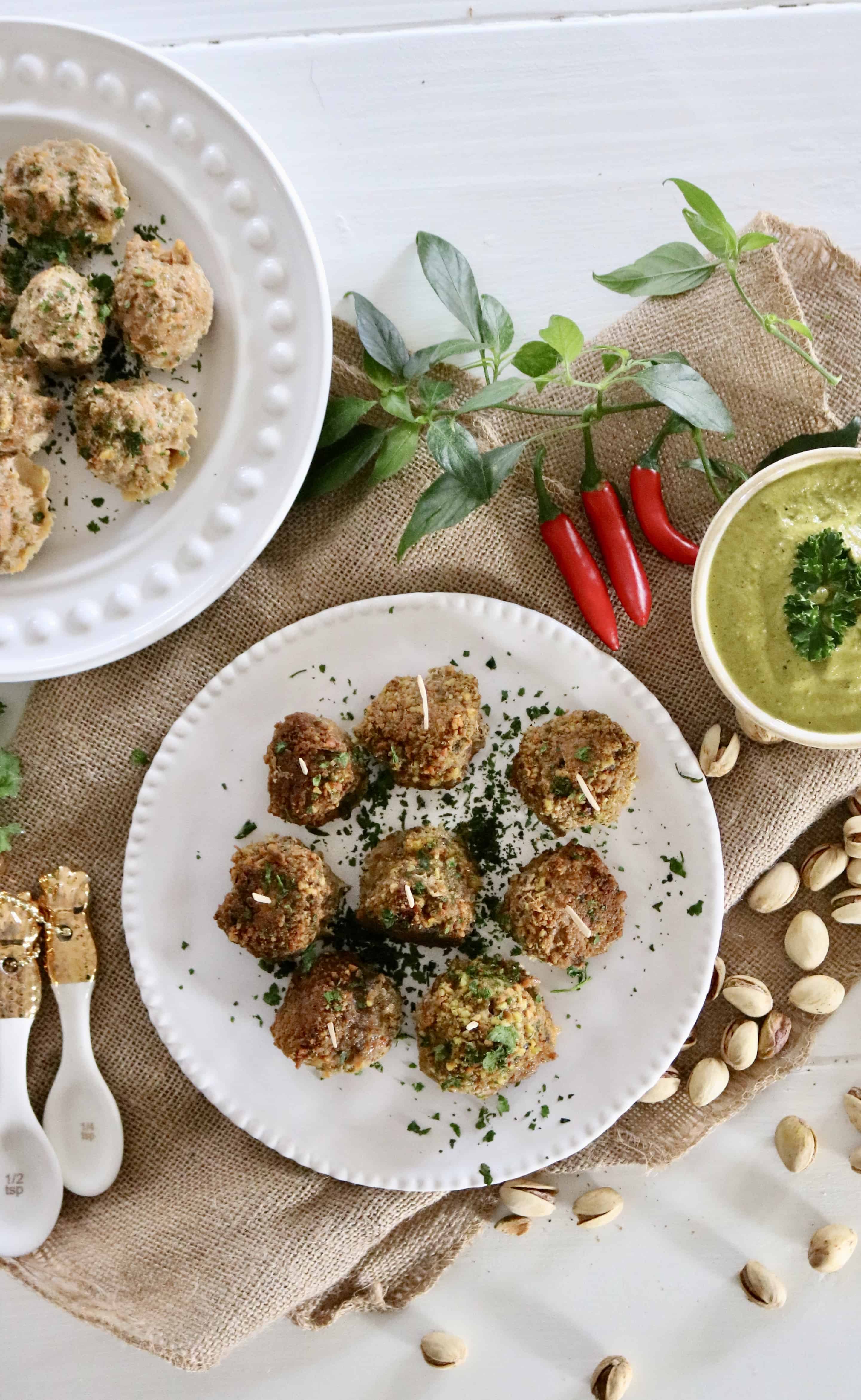 Made with lean ground turkey, seasoned with herbs and spices and held together with an egg and pistachio flour, these babes are your new best friend.
Not only are they gluten free, but they're also paleo approved, meaning my buddies on the whole 30 can enjoy this too!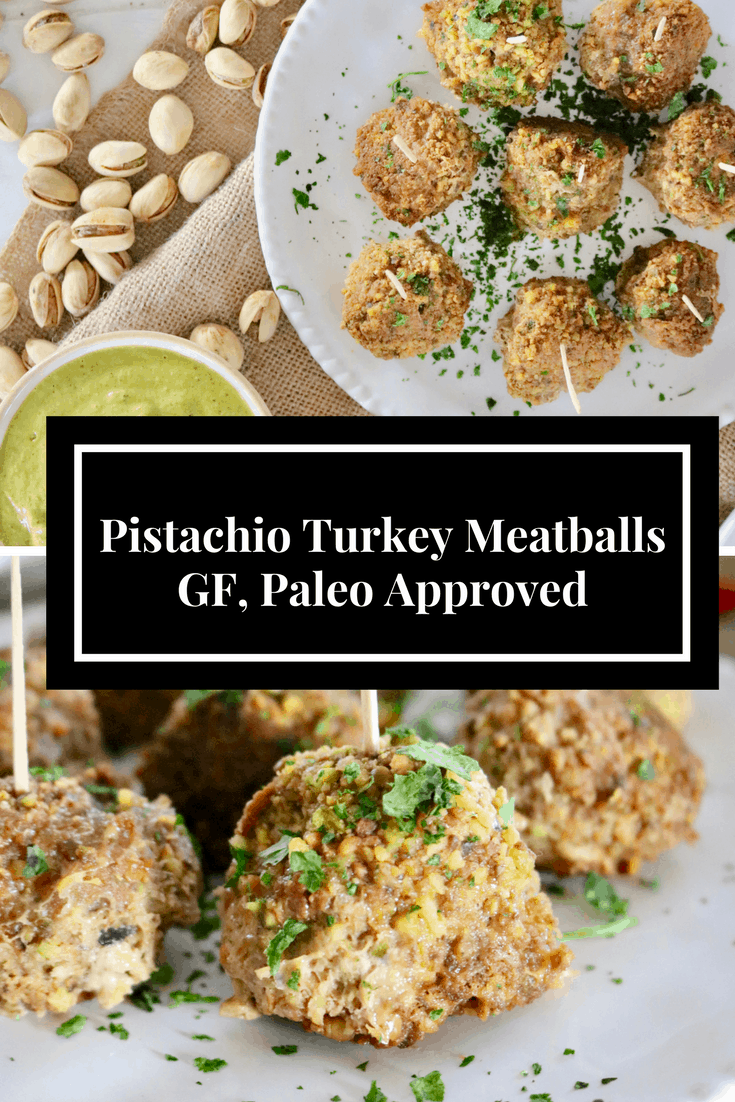 I highly suggest you pair these with the Cilantro Pistachio Pesto sauce as a great appetizer or main meal, the possibilities are endless!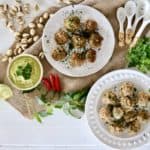 Pistachio Turkey Meatballs
Pistachio Turkey Meatballs- Gluten Free, Paleo and Heart Healthy
Course:
Appetizer, Main Meal
Servings
:
18
-24 meatballs
Ingredients
20

ounces

lean ground turkey

2

teaspoons

fresh chopped cilantro

1

teaspoon

ground chili powder

1/2

teaspoon

ground black pepper

1/4

teaspoon

kosher salt

1

large egg

1 1/3

cups

no shell roasted & salted pistachios, ground

(Wonderful Pistachios)

1/4

cup

olive oil
Instructions
Preheat oven to 350*F.

In a large bowl, combine turkey, spices, the egg and 2/3 cup ground pistachios.

Mix thoroughly.

Portion mixture into 1 ounce balls (roughly 18-24 meatballs will be formed) and lay on a baking sheet lined with parchment paper.

Spray parchment with cooking spray.

Using the remaining 2/3 cup ground pistachios, roll each meatball in the nut flour.

In a 10-inch skillet over medium heat, add 2 tablespoons olive oil.

Gently place half the meatballs in the skillet and cook until crisp on each side, rotating every 30 seconds.

Remove from heat and place back on baking sheet. Repeat process with remaining oil and meatballs.

Place baking sheet in oven and cook meatballs for 15 minutes, or until internal temperature reaches 165*F.

Let cool 5 minutes before serving.

Store in an airtight container for 5 days in the refrigerator or up to 3 months in the freezer.
Recipe Notes
To grind pistachios, place in a food processor or blender for 30 seconds. Coarse consistency should be achieved.
Tell me, do you have a secret "simple swap" that's actually store bought like Grandma? Comment below, I'd love to hear them!