Dukkah – The trendy Egyptian spread that needs to be on your menu!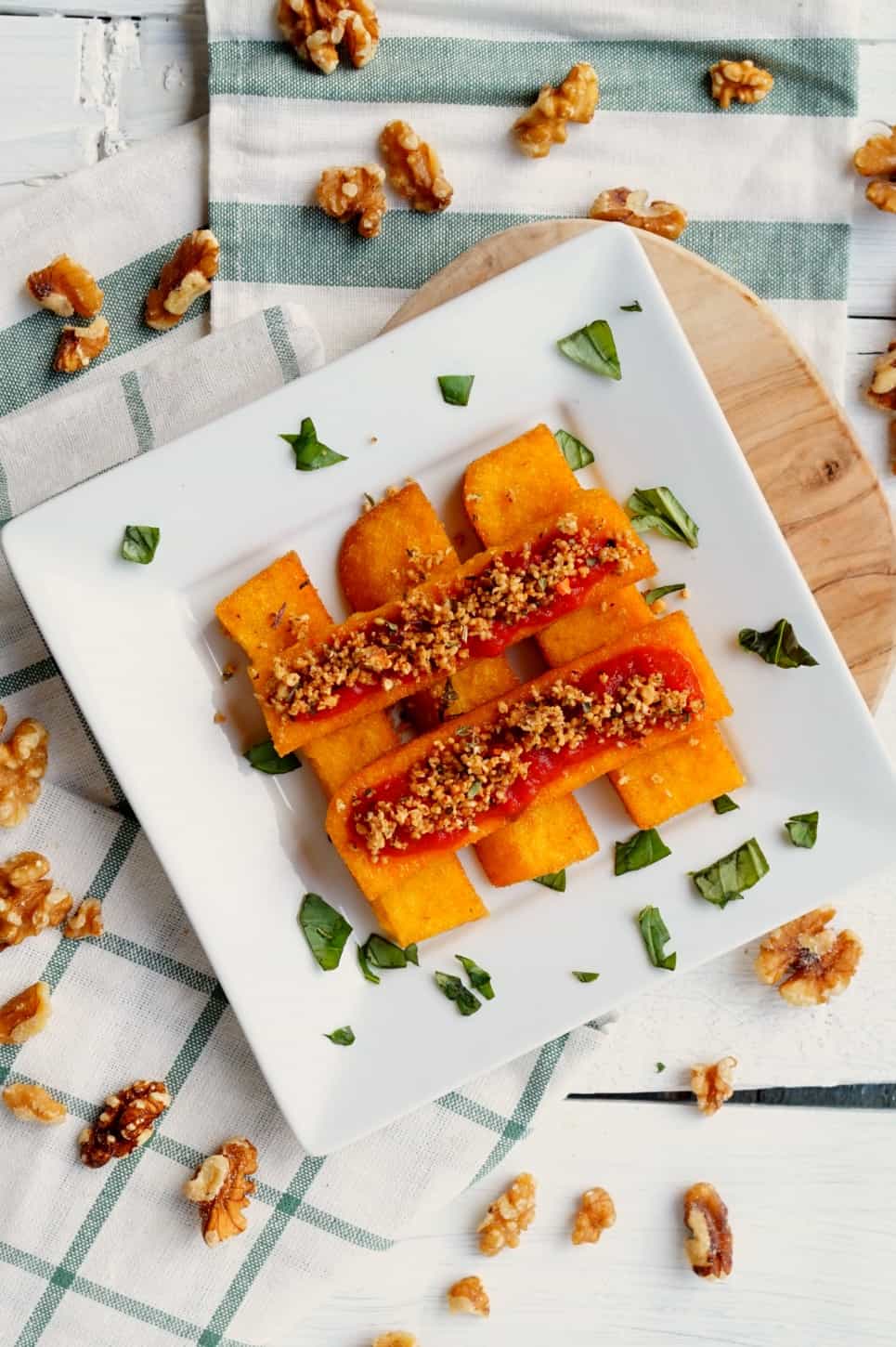 Disclosure: This post is part of a sponsored recipe contest with The Recipe ReDux and California Walnuts. I was sent samples of the product to use in recipe creation and am eligible to win prizes associated with the contest. I was not compensated for my time.
Dukkah- a native Middle Eastern spread made of a combination of ground nuts, seeds and spices, typically served with oil and bread.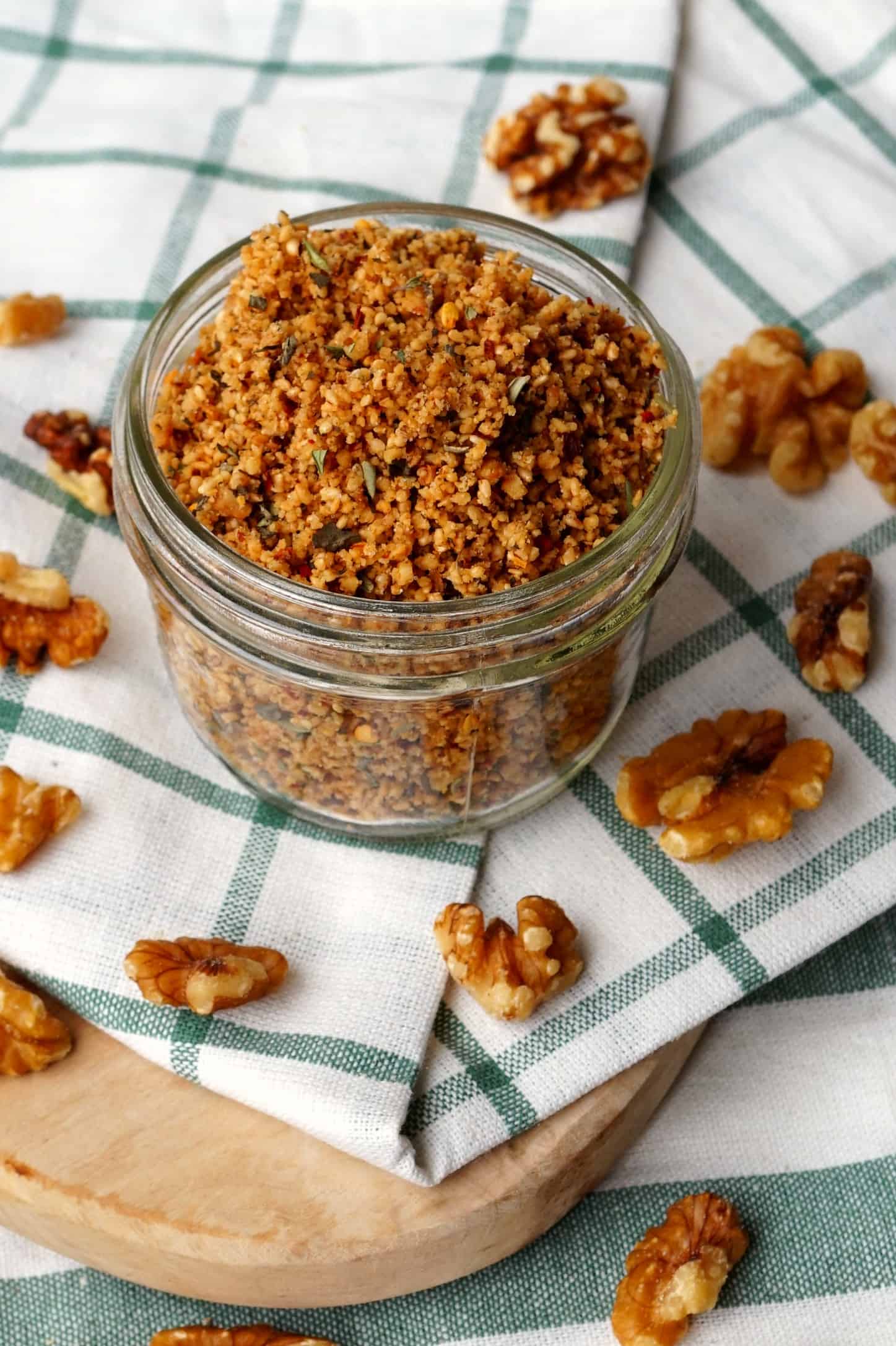 Alright, now that we've defined what Dukkah is, it's time we talk about just WHY this Egyptian staple needs to make an appearance on your menu, stat!
As you can tell from the picture above, this Dukkah is a little different than the one you may have tried at a restaurant. Why? Well, I've decided to pump up the nutrition by incorporating the wonderful walnut into the mix rather than the hazelnut found in conventional recipes.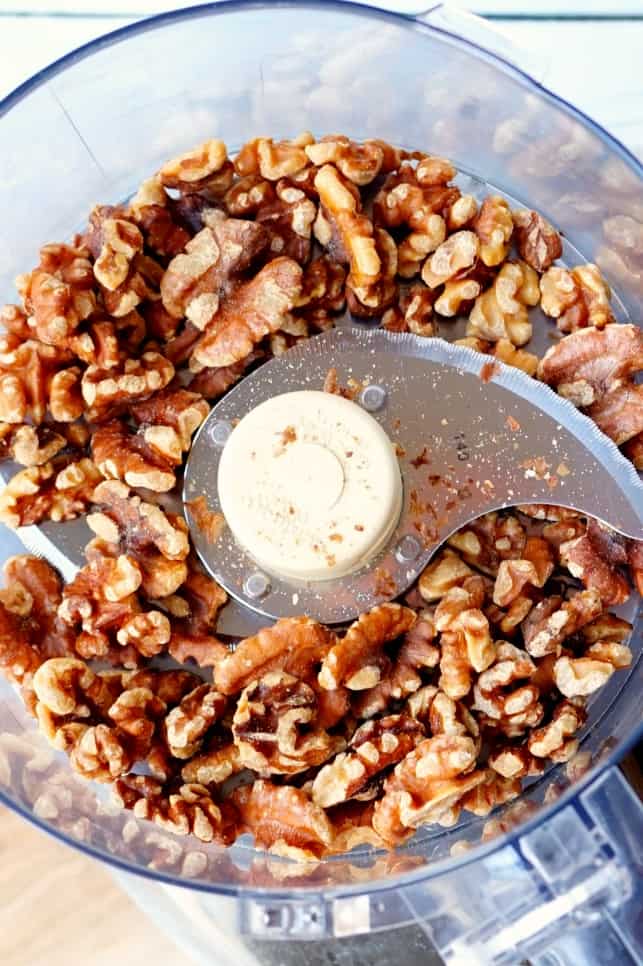 Walnuts are not only a great source at 2.5 grams of omega-3 alpha linolenic essential fatty acids (those stellar nutrients that help keep your ticker strong and cardiovascular profile #onpoint), but also pack in 4 grams of protein and 2 grams of fiber per 1 oz serving. Plus, walnuts are such a versatile ingredient and pair wonderfully with many different foods and flavor profiles. For instance, walnuts are great to incorporate into a morning breakfast muffin, taste phenomenal toasted on top of a summer salad and are drop dead drool worthy when paired in savory dishes like this Dukkah with Italian Herbs over Polenta Fries!
Though some fear the calorie content of the walnut, I am telling you straight from the horse's mouth (why I am a horse, I'm not sure- potential Lizism here) that they are NUTRIENT DENSE powerhouses! Yes, change your thinking and remind yourself it's not the calorie value you should be focusing on, but the nutrient density. Simply put, how much "bang" (nutrients) do you get for your "buck" (intake).
Let's take these Polenta Fries here covered in a nice layer of red bean marinara sauce and doused with a hefty portion of the Dukkah.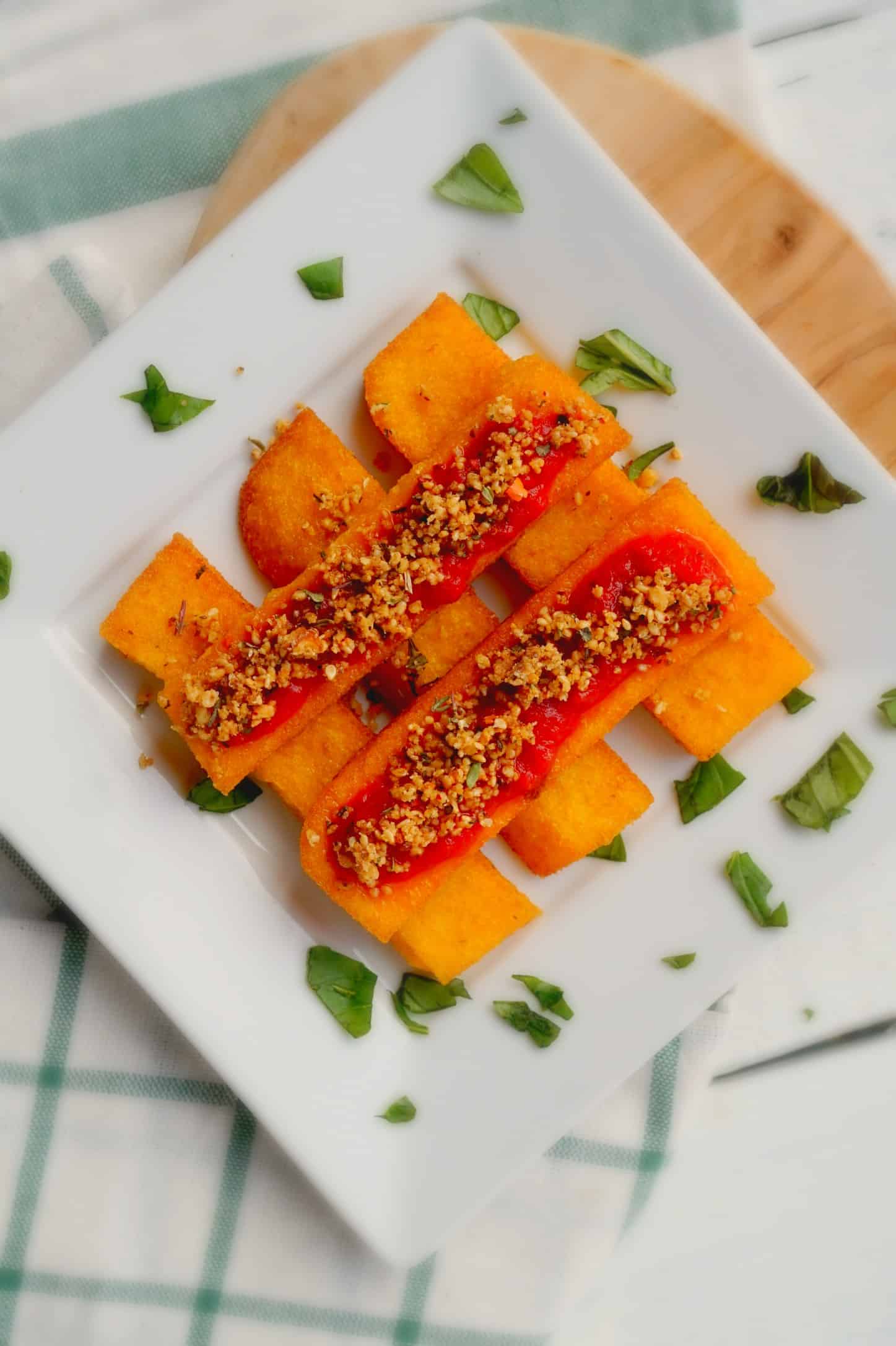 Sure, calorie wise they may rack in per serving at the same value as say a medium French fry with ranch dressing, but nutrient wise, there is no comparison! These Dukkah Polenta Fries have minimal saturated fat, nearly 10 plus grams of fiber and are considered a complete protein source. Bonus- the lycopene from the marinara helps contribute antioxidants to your diet too!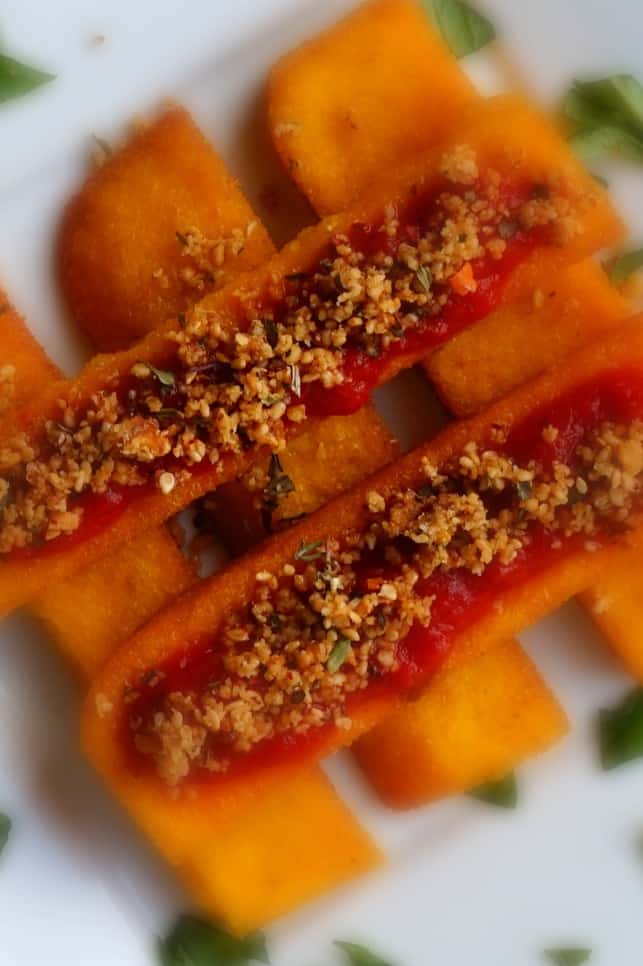 Though I highly recommend the Dukkah paired with the polenta, you can certainly use the Dukkah on a pasta dish, over rice or even mixed with a hummus paired with pita bread; the possibilities are endless!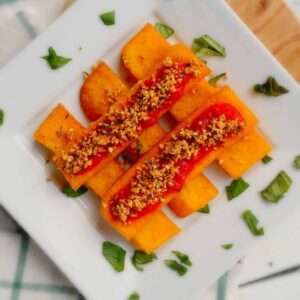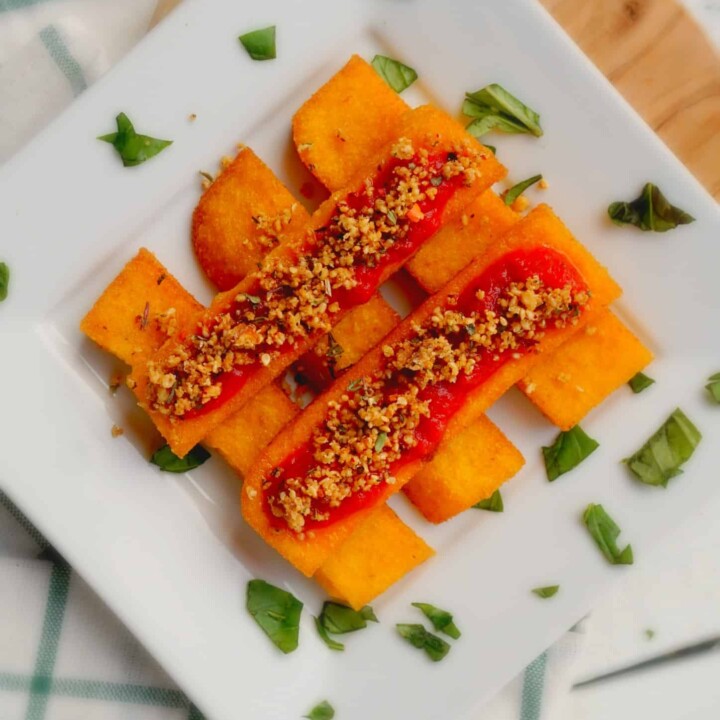 Dukkah with Italian Herbs over Polenta Fries
Dukkah is a Middle Eastern spread that's becoming more popular in menus today for good reason! Dukkah with Italian Herbs over Polenta Fries adds a twist by using heart healthy walnuts to really bring the nutrition home!
Print
Share by Email
Ingredients
Dukkah

1

cup

whole walnuts

1/4

cup

toasted sesame seeds

1

teaspoon

garlic powder

1

teaspoon

dried basil

1

teaspoon

dried oregano

1/2

teaspoon

red pepper flakes

1/4

teaspoon

sea salt

Red Bean Marinara Sauce

2 14.5

oz

can diced tomatoes no salt added

1

cup

cooked red beans

1

teaspoon

garlic powder

1/2

teaspoon

dried basil

1/2

teaspoon

dried oregano

Polenta Fries

1 18-

oz

tube polenta

2

tablespoons

olive oil

*salt to taste

Chopped Basil to garnish
Instructions
Preheat oven to 350*F and place 1 cup walnuts on baking sheet.

Bake for 8-10 minutes. Remove and let cool 5 minutes.

In a food processor, combine walnuts, toasted sesame seeds and spices. Pulse for 1-2 minutes until coarse consistency is achieved. Do not over pulse to create a butter! Set mixture aside in an airtight container.

In the food processor, add diced tomatoes, red beans, garlic powder, basil and oregano. Pulse until smooth, silky consistency is achieved. Set aside in a microwave safe bowl.

Slice precooked polenta into desired shapes. I chose the fries, but you can easily keep circles as well.

Heat the olive oil in a skillet over medium high heat. Place the polenta in the oil and cook for 1-2 minutes per side.

Meanwhile, heat the marinara sauce in the microwave for 60-90 seconds, or until warm.

Once polenta is crisp, remove from skillet and assemble dish.

Place 3 oz polenta, 1/2 cup of marinara sauce and 1/4 cup of Dukkah on a plate. Garnish with chopped basil. Enjoy!
Nutrition Facts
Dukkah with Italian Herbs over Polenta Fries
Amount Per Serving
Calories 224
Calories from Fat 72
% Daily Value*
Fat 8g12%
Sodium 322mg13%
Potassium 444mg13%
Carbohydrates 33g11%
Protein 7g14%
Vitamin A 253IU5%
Vitamin C 11mg13%
Calcium 61mg6%
Iron 3mg17%
* Percent Daily Values are based on a 2000 calorie diet.
Interested in learning other ways to cook with walnuts? Check out the other Recipe ReDux links below!