Chocolate & Nuts… can't think of a better way to celebrate National Nut Day!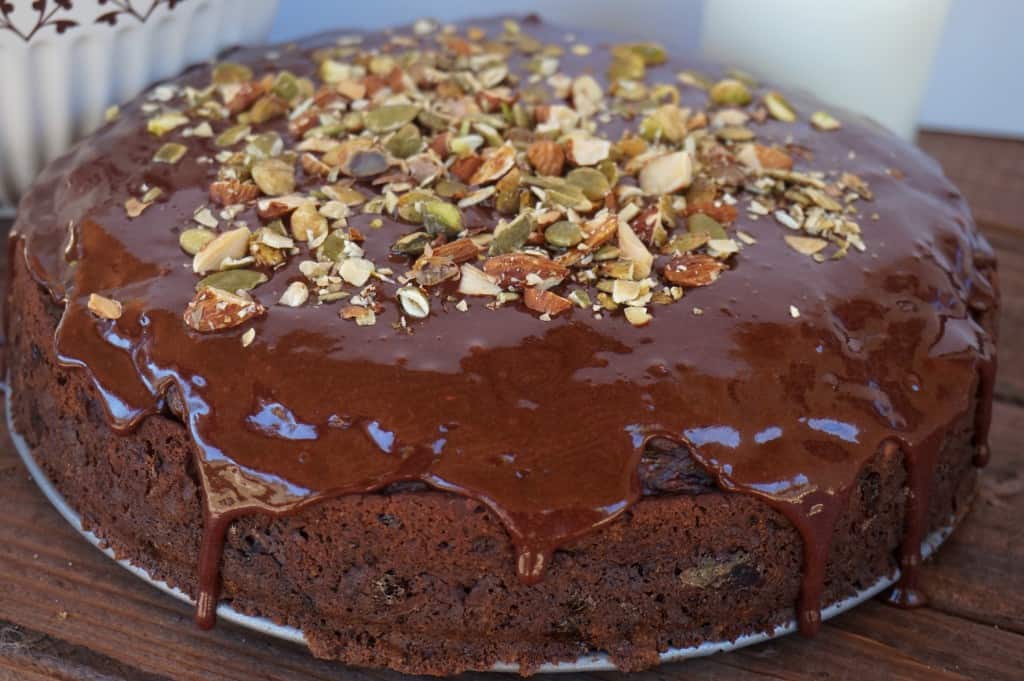 Close your mouth! I know your drooling. Don't worry, honestly, even though I've since eaten this whole cake, my mouth still waters when I see it. I mean come on, Death By Chocolate Cake, the name just gets you excited!
The nice thing about a Death By Chocolate cake like this is that it's filled with real ingredients that provide great flavor to appease your taste buds. Plus, you can rest easy feeding this to the kiddos knowing it contains a hearty dose of fiber filled whole grains, antioxidant boosting dark cocoa and even manages to sneak in an entire vegetable!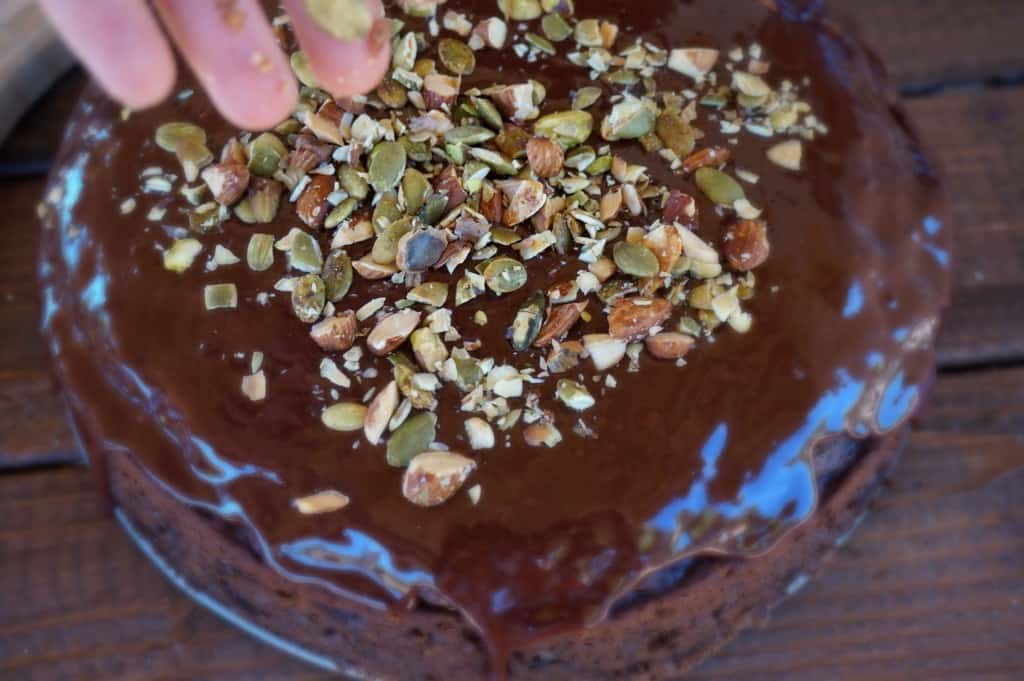 Oh and let's not forget those nuts! Oh, wonderful nuts! I love the texture these provide as well as their dense nutrient profile. Using a variety of your favorites will really take the texture up a notch and leave you feeling pleasantly satisfied.
You can also rest assured knowing this cake is nowhere near the 2750 calories and 54 grams of saturated fat found in its counterpart over at the Claim Jumper. This bad boy caps out at only 310 calories and less than 2 grams of saturated fat!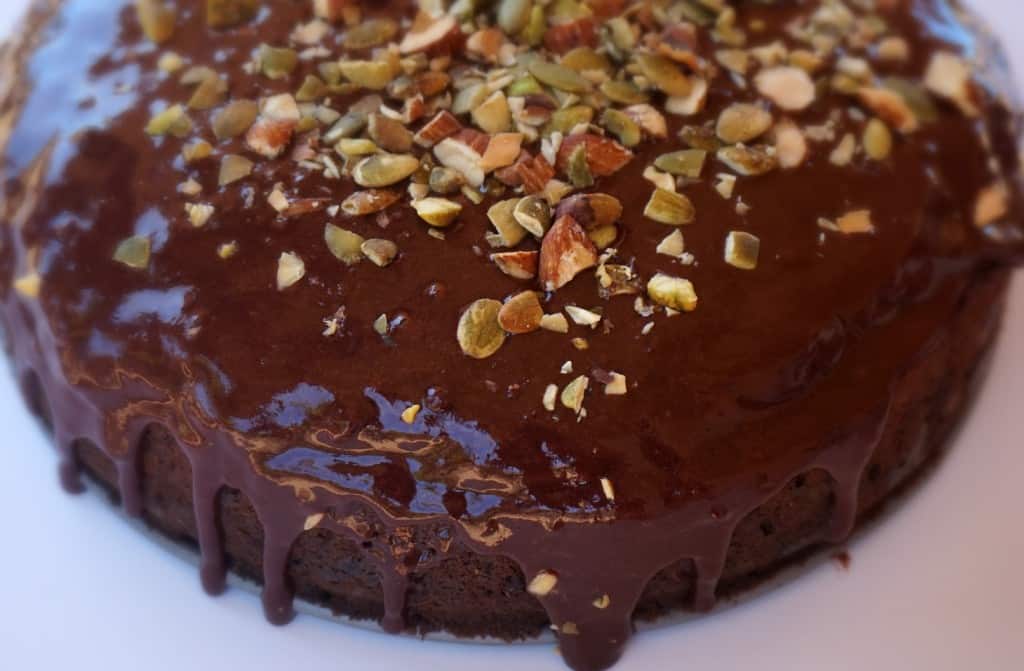 You're welcome. Enjoy!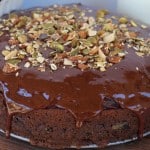 Print
Death By Chocolate Cake
A rich, chocolatey treat filled with love (and a few veggies, too!)
Ingredients
1 ½

cups

1 medium zucchini, 5 ounces approximately zucchini

⅔

cup

whole milk

1

teaspoon

apple cider vinegar

1 ⅔

cups

white whole wheat flour

siftedGF

⅔

cup

cocoa powder

dark for a richer flavor

1 ½

teaspoons

baking soda

½

teaspoon

baking powder

¼

teaspoon

kosher salt

⅔

cup

granulated sugar

⅓

cup

vegetable oil

2

teaspoons

vanilla extract

2

large eggs

Frosting

⅖

ths medium

2 ounces avocado

¼

cup

powdered sugar

2 ½

tablespoons

cocoa powder

dark for a richer flavor

2

tablespoons

whole milk

1

ounce

Roasted Mixed Nuts

page (or alternative nut), chopped
Instructions
Preheat oven to 350°F. Coat an 8-inch spring form pan with cooking spray.

Peel and shred the zucchini into a small bowl. Set aside.

Combine milk and apple cider vinegar in a bowl, set aside for 10 minutes. Combine flour, cocoa powder, baking soda, baking powder and salt in a medium bowl. Set aside.

In a large bowl, add the sugar, oil, vanilla and eggs. Whisk together until thoroughly combined. Add milk and vinegar mixture to the bowl with the sugar and stir. Gently fold in the zucchini. Add remaining flour dry mixture, stirring until combined.

Pour the batter into the prepared pan. Place in the oven and bake for 30 to 35 minutes, or until a toothpick comes out clean from the center.

Remove from oven and let the pan cool on a wire rack.

In a small bowl using a hand mixer on medium speed, blend avocado until smooth. On low speed, mix in the powdered sugar, cocoa powder and milk. Continue to mix until smooth and incorporated. Set aside.

Once cake has cooled, frost cake and garnish with chopped nuts.

Variation: Use an 8 x 8-inch square pan lined with parchment paper. Bake for 25 to 30 minutes, or until wooden pick comes out clean when inserted in the center.

Storage: Place in an airtight container in the refrigerator for up to 2 days. Freezer for up to 4 months.

Kitchen Tip: Avocados are a great alternative in baking to replace butter. They have the creamy, smooth consistency of a butter but are filled with heart healthy fats!
What's your favorite way to snack on nuts? If you prefer the savory route, don't worry, I've got you covered! Try these Roasted Mixed Nuts to satisfy that snack attack.