Craving a Reese's but don't want to drive to the store? Satisfy that sweet tooth with the EASIEST three ingredient Chocolate Cake Mix Cookie Cake!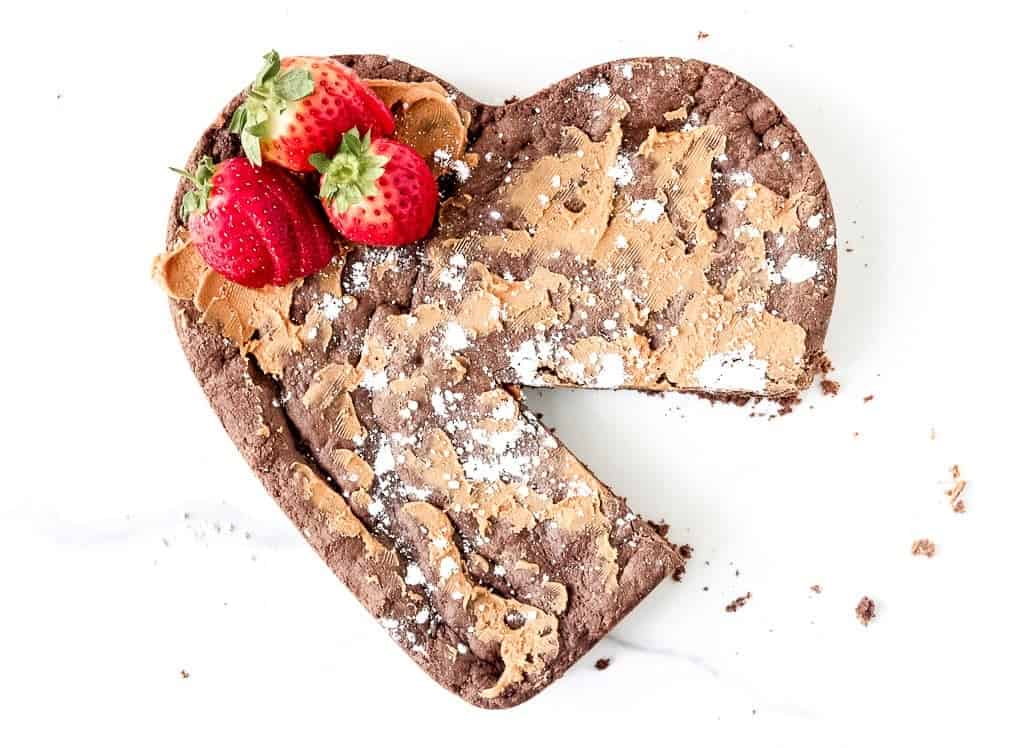 Are you on team simple baked goods?
If your answer is yes, you are my people.
While I love some of my all-time favorite recipes (like these Kahlua Cinnamon Rolls), I don't always have the time to make them.
But, a simple three ingredient cake, that I do!
Using a few simple ingredients, this Chocolate Cake Mix Cookie Cake comes to life!
How can I make this healthier?
Great question!
This recipe is naturally fairly healthy. No, it's not low in sugar or anything like that, but, it is filled with heart-healthy fats from peanut butter (meaning it'll keep you fuller for longer.)
Plus, you can use your preferred cake mix!
For instance, if you prefer a gluten-free diet, I recommend using the LiveGFree ALDI brand of chocolate baking mixes.
More of a purist? Then checkout the Food Stirs line of natural baking mixes.
Point being, you can certainly modify this to your own liking!
While I wouldn't encourage you to nix the eggs (remember, they provide choline in that rich yolk center) to lower the total calories, you may want to consider making your own DIY chocolate cake mix to lower the added sugar which will lower the total calories.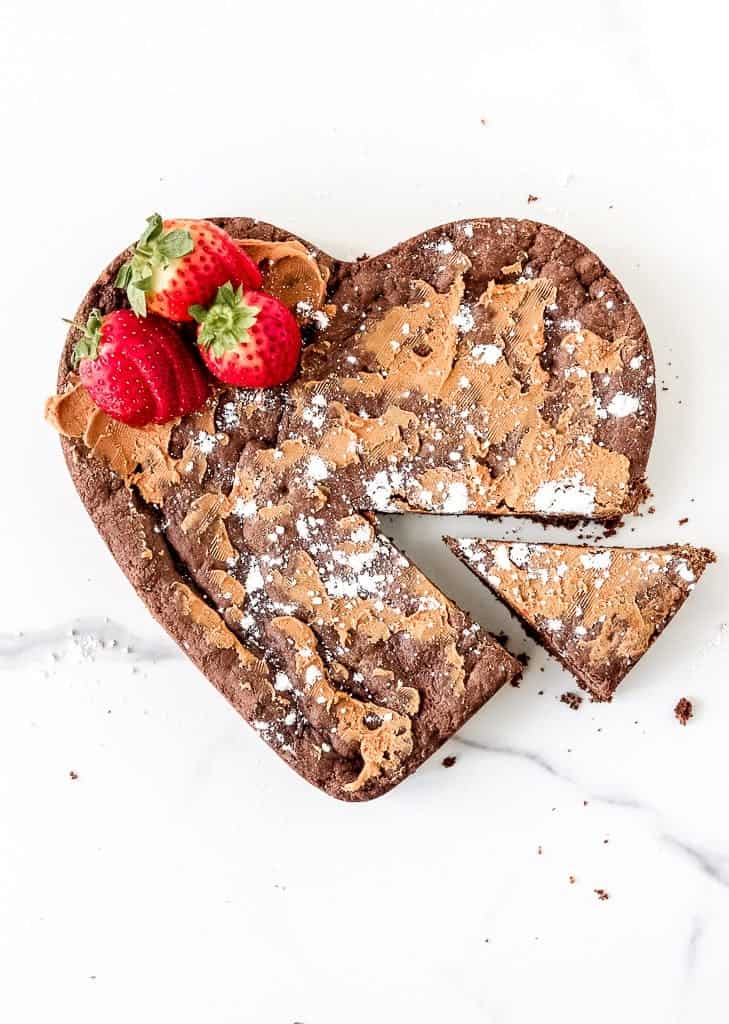 Is this ok to feed my toddler?
While the American Academy of Pediatrics recommends limiting added sugar until after the age of two, I'm going to keep it real with you.
Do I give my daughter a taste or two of this (she's currently almost 2).
Yes, I do.
But, I didn't until she was just about her second birthday. Listen up, it wasn't because I feared the sugar.
But, more so because I knew she would fill up on empty calories and not the protein and healthy carbs she needed to help her grow.
Bottom line: use your mom-gut! It's a super easy recipe to have them help you prepare, too!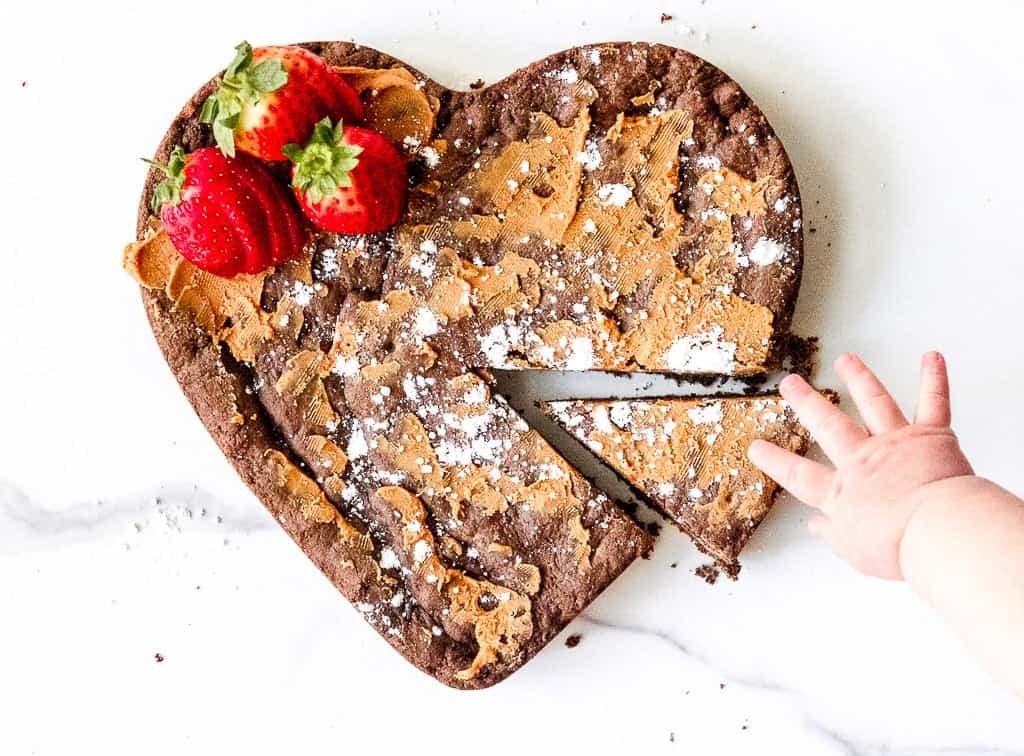 See, I told you, even little Hayden wanted in on the beauty of this Chocolate Cake Mix Cookie Cake!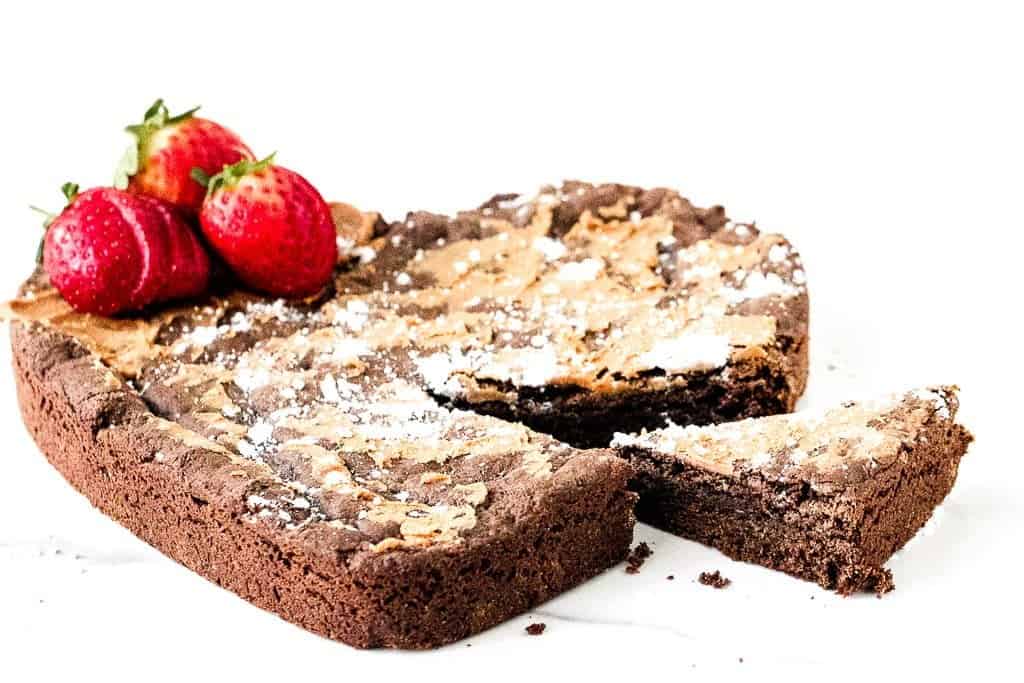 Make this Chocolate Cake Mix Cookie Cake (or hell, make it into cookies if your heart so desires) and lets all celebrate the beauty of chocolate, peanut butter and a little extra time!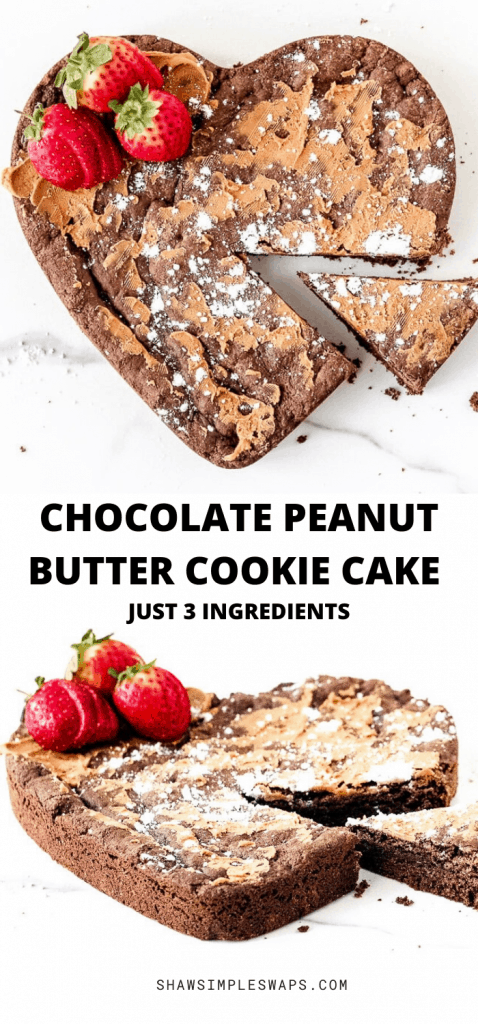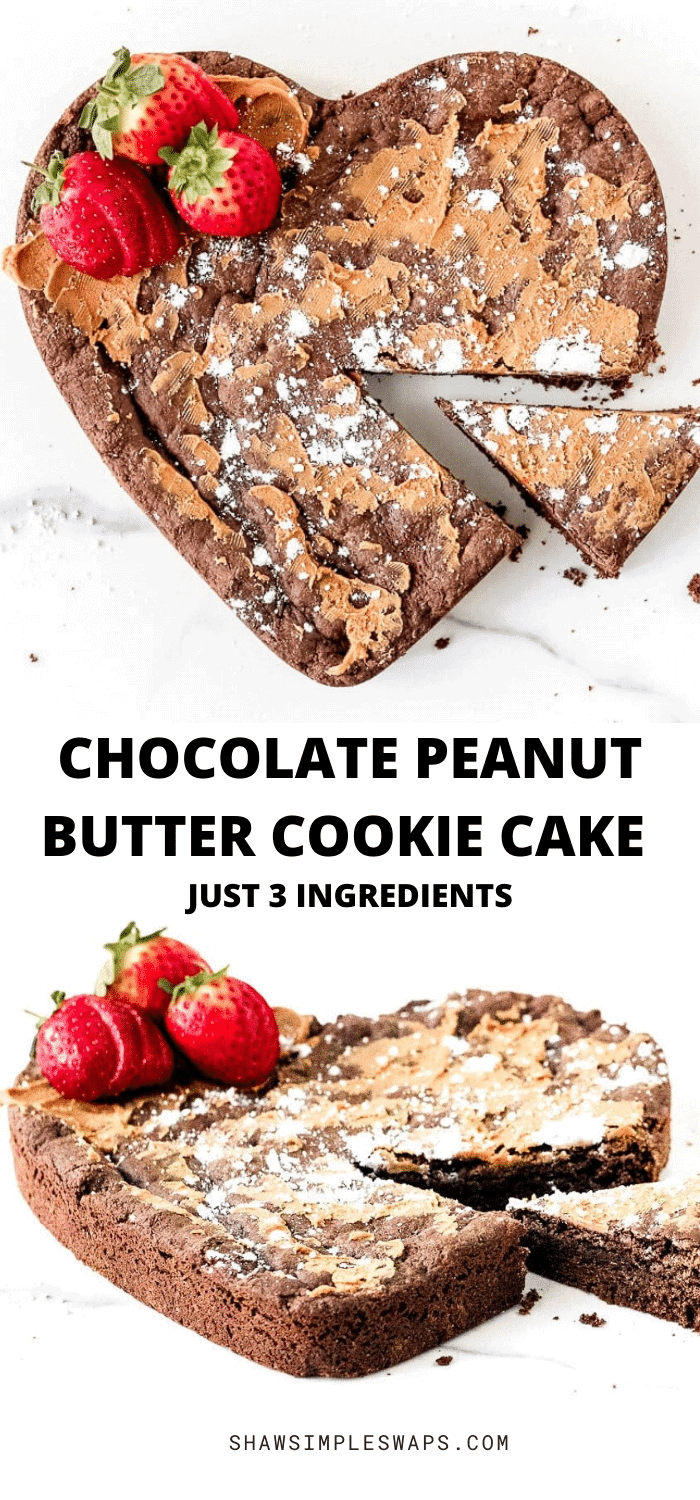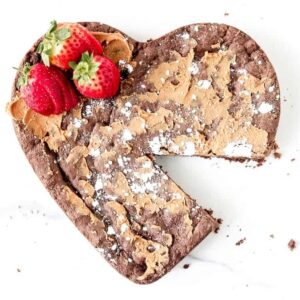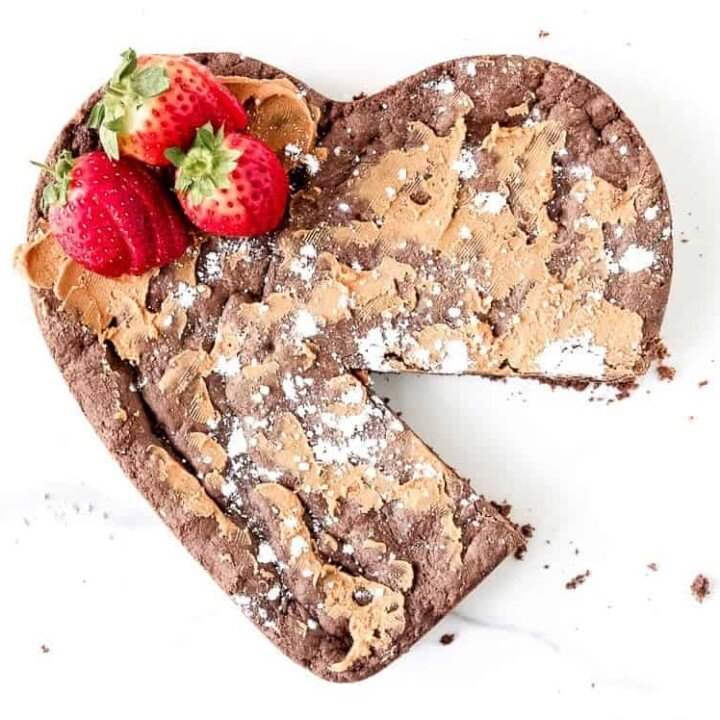 Chocolate Cake Mix Cookie Cake
This 3-ingredient Chocolate Cake Mix Cookie Cake is the perfect time saving hack for a busy mom!
Print
Share by Email
Ingredients
1

box

chocolate cake mix

about 15 oz box

1/2

cup

peanut butter

natural

2

large

eggs
Instructions
Preheat over to 350 degrees F. To a large microwave safe bowl, add peanut butter and microwave for 30 seconds (peanut butter should be soft but not burnt).

Whisk together eggs and peanut butter. Add in the chocolate cake mix, mixing with a spatula and a metal spoon to help push down batter from the spatula. Note, batter will be thick and require a little muscle to mix! If needed, add a splash of milk to help mix.

Spray your favorite cake pan (9-inch pan) with cooking spray and spoon in batter. Press down with the back of the spatula to even cookie cake.

Bake for 20 minutes. Remove, let cool and enjoy!
Notes
To make cookies, spray 2 baking sheets with cooking spray and portion batter into 20 rounded cookies. Bake for 12 minutes.
Nutrition Facts
Chocolate Cake Mix Cookie Cake
Amount Per Serving
Calories 213
Calories from Fat 54
% Daily Value*
Fat 6g9%
Cholesterol 35mg12%
Sodium 261mg11%
Potassium 82mg2%
Carbohydrates 34g11%
Protein 5g10%
Vitamin A 50IU1%
Calcium 31mg3%
Iron 1.9mg11%
* Percent Daily Values are based on a 2000 calorie diet.
Not a fan of the sweet treats?
Check out my No Added Sugar Dessert Fruit Salsa Nachos then!