Looking for a family friendly breakfast to serve up to welcome spring? Then this Healthy Unicorn Toast is just what you didn't know you needed!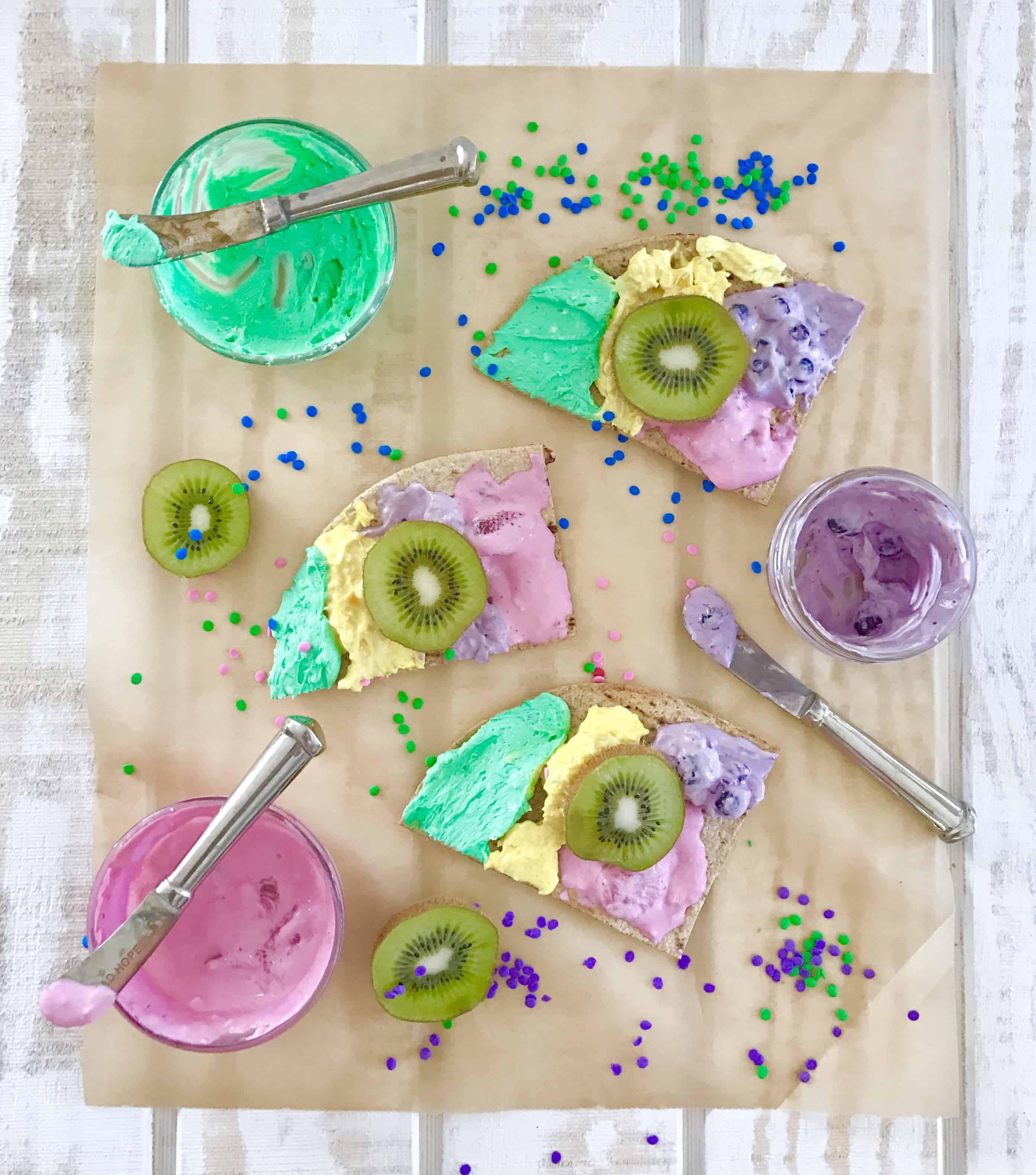 Have you seen the "unicorn" trend popping up just about everywhere?
Well, if you haven't you're in luck because this post is about to blow your mind!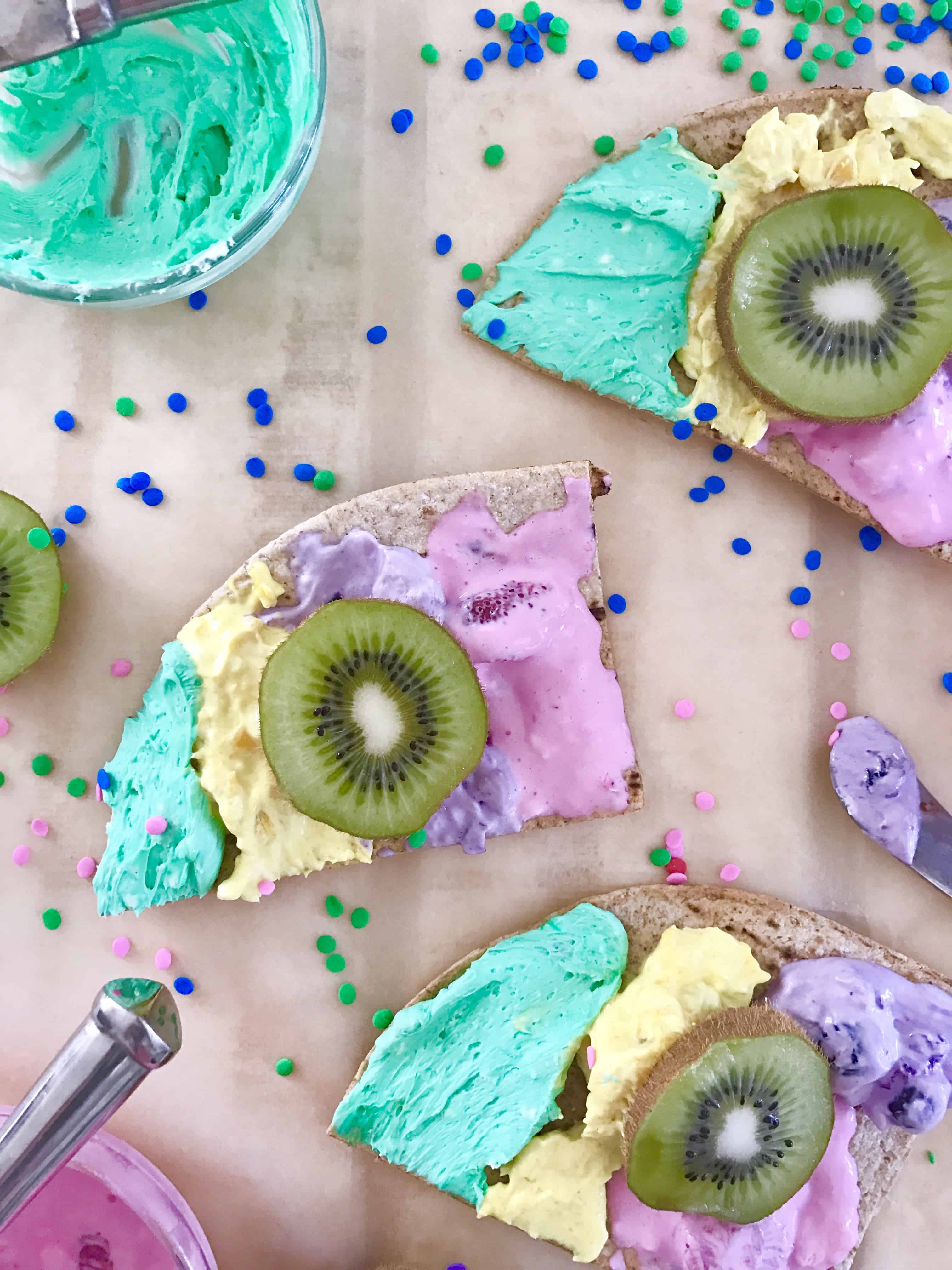 Basically, the unicorn trend is putting a beautiful collection of colors together on toast, salad, or really whatever floats your boat.
Today I've got a delicious, nutritious and flavor packed Healthy Unicorn Toast made with a multigrain flatbread.
How do you make healthy unicorn toast?
It's actually really easy!
Start by cutting the Multigrain Flatbread into 4 large "toasts".
Next, place them in the oven to get nice and "toasty"!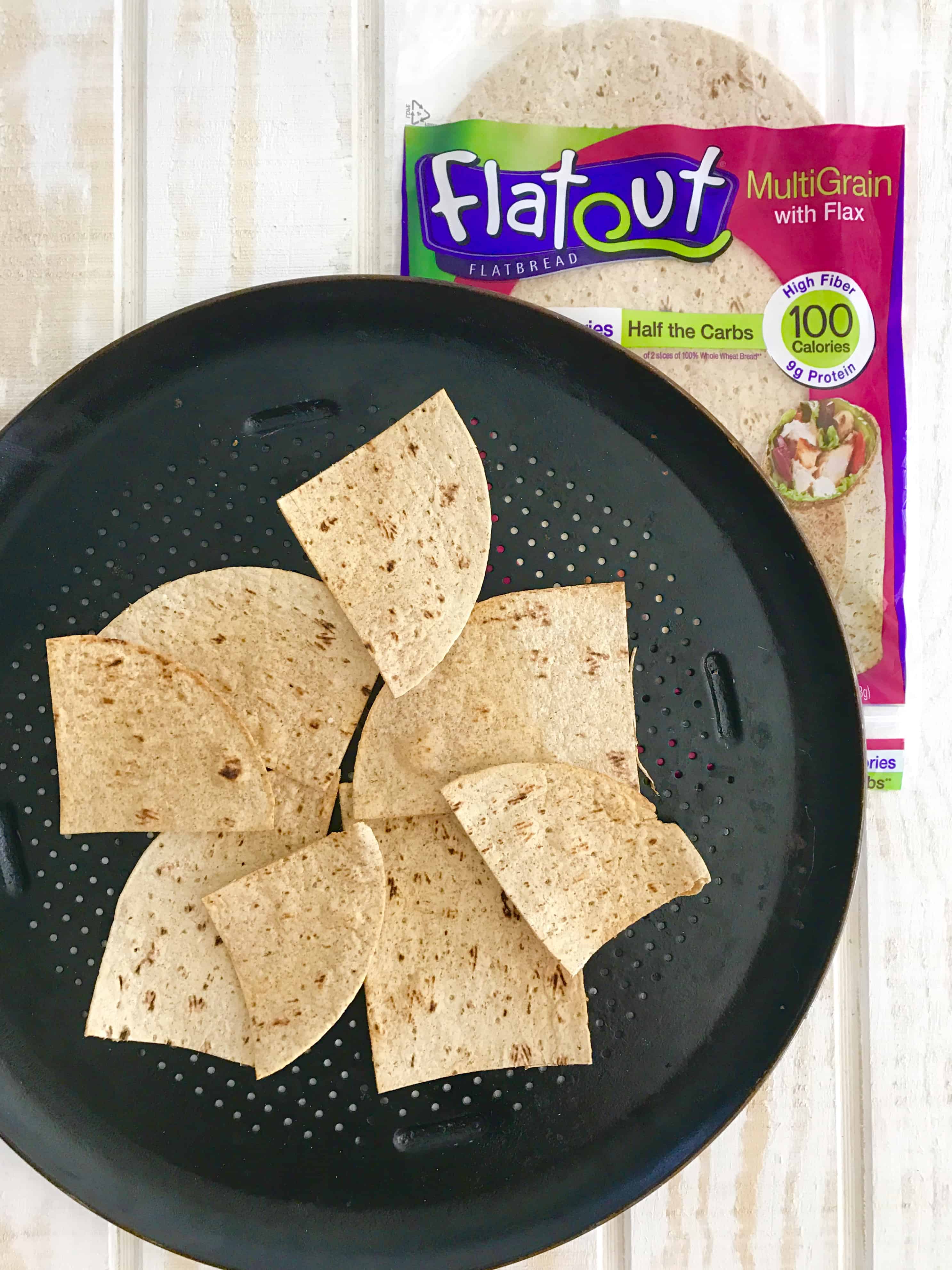 Then, mix cream cheese, skyr yogurt (a thicker, Icelandic style high protein yogurt) and an assortment of fruits and spices to create these magical colors.
Aren't they pretty?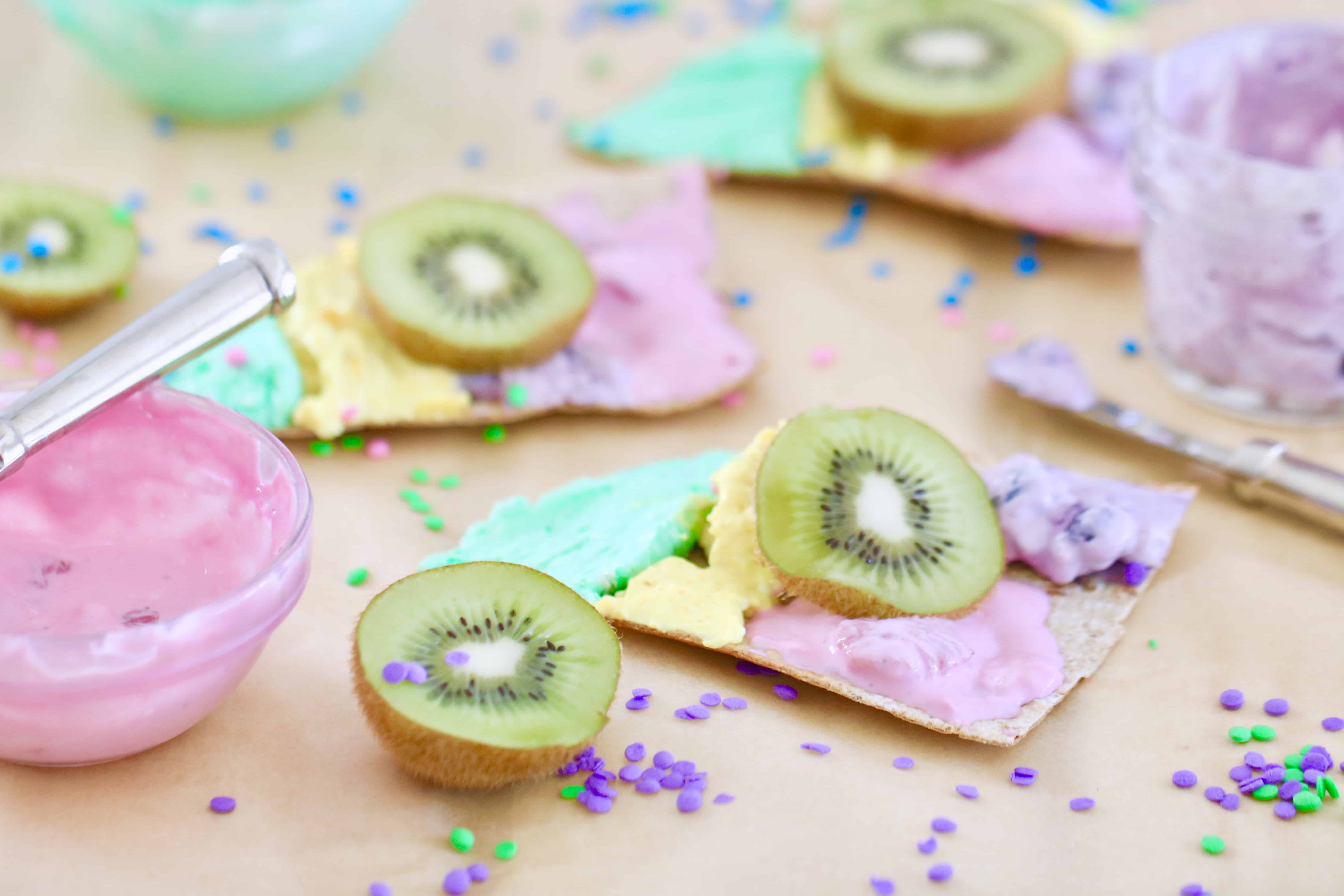 Finally, top those "toasts"!
Feel free to jazz them up any way you wish, be it sliced berries, peaches or even a dash of sprinkles, the possibilities are endless.
Can I modify this recipe for specific diets?
You sure can!
For a dairy free diet, swap in a vegan cream cheese and Greek style yogurt.
For gluten free, use a gluten free wrap!
Finally, it's family friendly and the perfect way to get your kids in the kitchen too. Serve this up for a holiday gathering and I promise the entire crowd will want a slice.
Plus, you can also use the wraps to create something savory too, like my Crunchwrap Supreme's!
Remember, all foods can fit, even Healthy Unicorn Toast!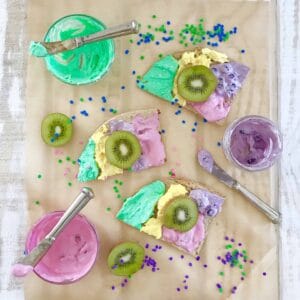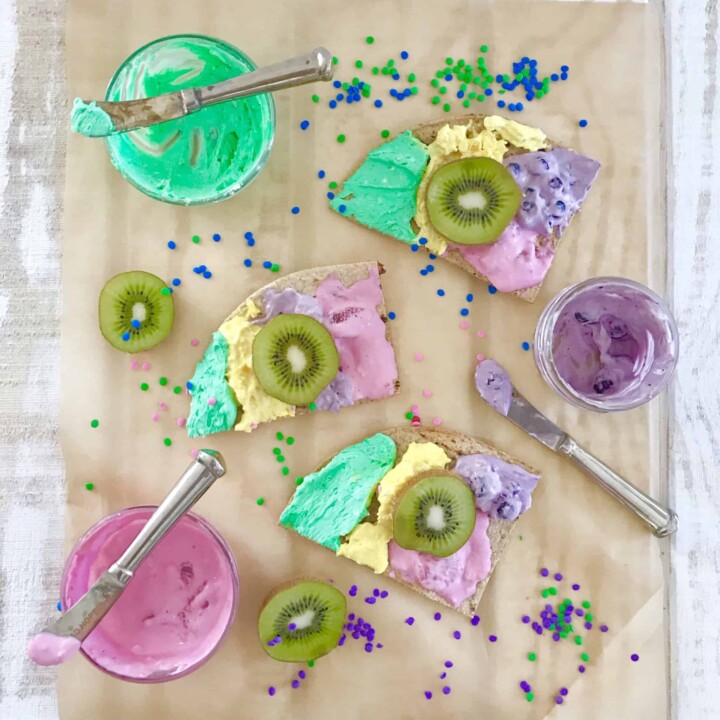 Healthy Unicorn Toast
This Unicorn Toast is a Family Friendly Twist on Dessert Pizza that's perfect for breakfast, a snack or late night dessert!
Print
Share by Email
Ingredients
1

Multigrain Flatbread

6

tablespoons

whipped light cream cheese

divided

4

tablespoons

vanilla skyr yogurt

2

tablespoons

chopped strawberries

or raspberries

2

tablespoons

blueberries

or blackberries

2

tablespoon

finely diced mango

2

tablespoon

finely diced kiwi

1/2

teaspoon

beet juice

1/4

teaspoon

turmeric

1/4

teaspoon

matcha powder

or green juice
Instructions
Preheat oven to 375*F.

Slice Multigrain Flatbread in half, then in half again, yielding 4 equal portions.

Spray toasts lightly with cooking spray and place on aerated pizza pan for 4 minutes.

Remove and let cool.

Prepare "frosting" by placing cream cheese and skyr in a medium bowl.

Mix together using a spatula until evenly combined.

Separate mixture into 4 bowls with equal portions, set aside.

In separate microwave safe bowls, place chopped strawberries, blueberries, mango and kiwi. Heat for 20 seconds in the microwave.

Remove and mix each fruit into its own "frosting" bowl, pouring the juices in as well that were released during heating.

Mash and mix thoroughly using the back of a fork (similar to mashing an avocado).

To enhance the colors, add the beet juice into the strawberry bowl, turmeric into the mango bowl, and the matcha powder (or green juice) into the kiwi bowl. Mix together.

Take 1 slice of the flatbread and begin to place 1/4 of each mixture of "frosting" onto each slice. Repeat until all 4 slices are coated.

Garnish with desired fruit of choice.

Enjoy immediately.
Nutrition Facts
Healthy Unicorn Toast
Amount Per Serving (1 )
Calories 80
Calories from Fat 27
% Daily Value*
Fat 3g5%
Sodium 90mg4%
Carbohydrates 9g3%
Protein 5g10%
* Percent Daily Values are based on a 2000 calorie diet.