Peanut Butter French Toast with a Thick and Creamy Maple Yogurt Frosting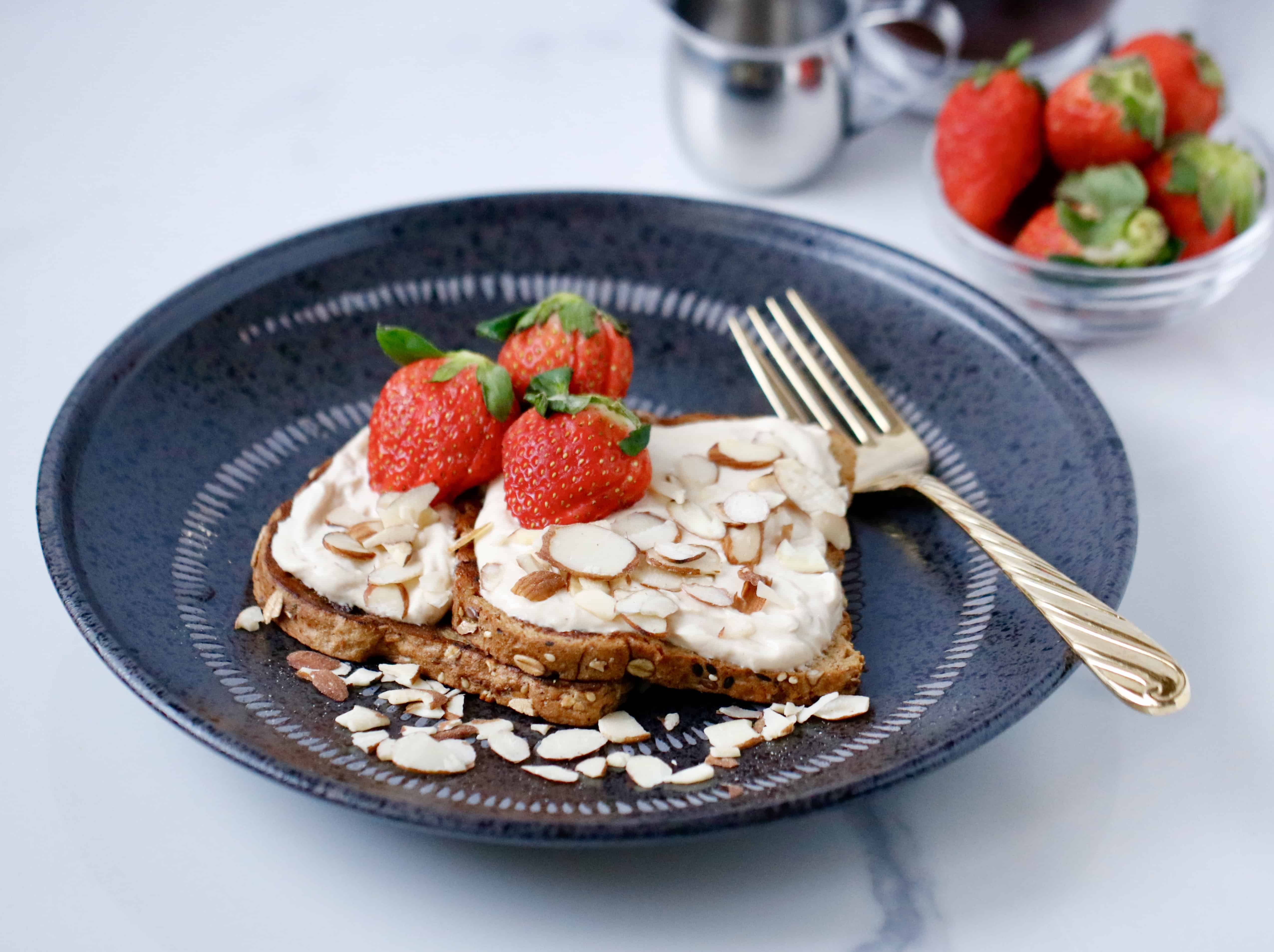 I will admit, I've never been that person who wakes up on a Sunday and craves French Toast.
But, I do have such fond memories of the fried, crispy French Toast sticks from Carls Jr. Yep, I'm not kidding! As a young girl my Grandma used to bring them over once a month on Sunday mornings.
It was such a special moment, and I'm not even sure if I really enjoyed the food or just the excitement that came around enjoying the moment with my Grandma.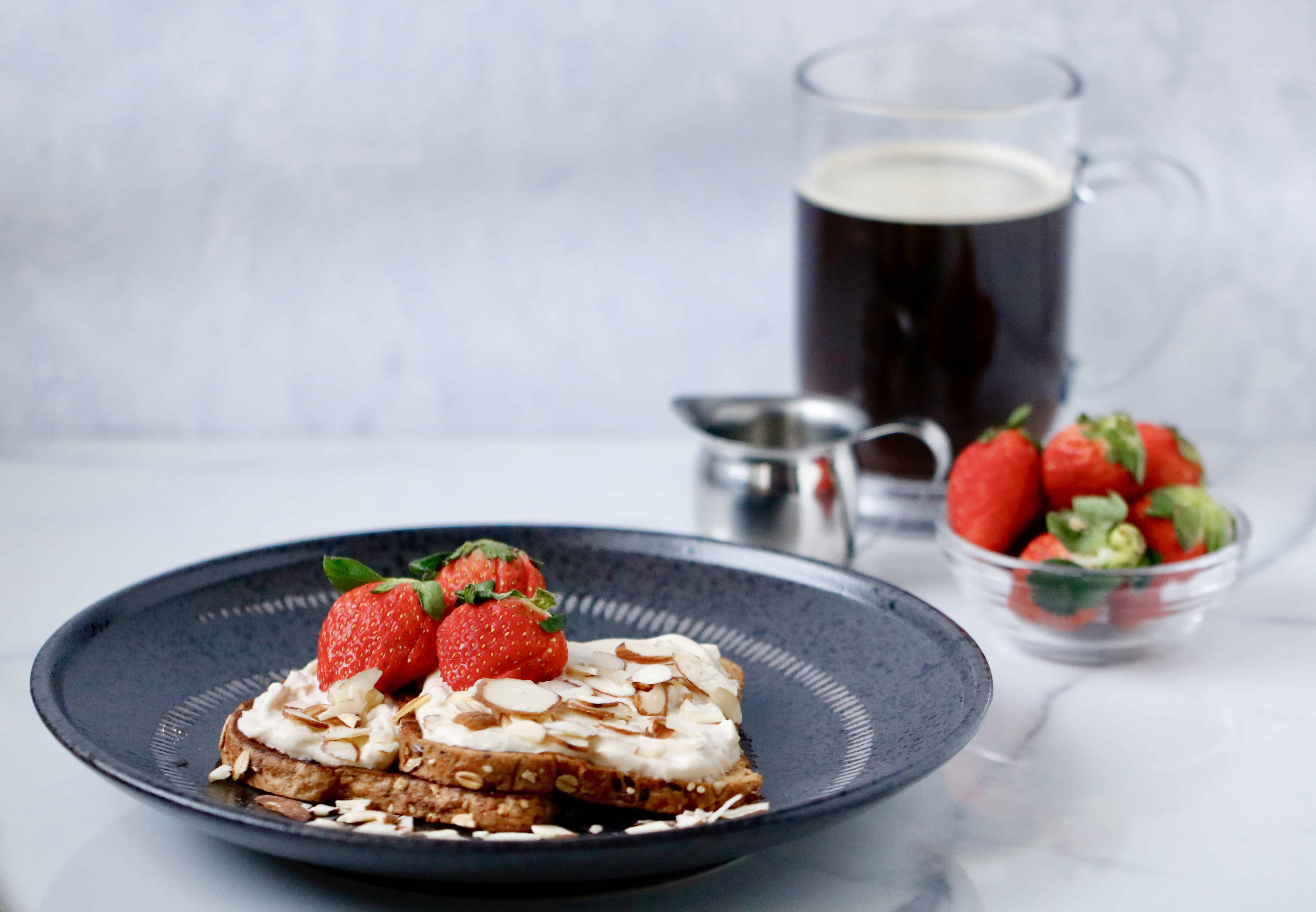 Flash forward to my teen years, and every Easter we'd go out to breakfast and my mom would order French Toast. She'd rave about how that was her favorite breakfast food and we'd stare at each other and think, then why haven't we ever had this in our house?!
Nonetheless, the memories of French Toast are always in my mind and whenever I see a recipe on Pinterest or item on a menu I think I need to share a French Toast recipe in honor of these special food memories!
So my friends, I'm doing just that!
While most traditional restaurant menus will lather up the beauty with a thick mascarpone cheese and oodles of syrup on top, I chose to simple swap it for you and give you the same sweet, creamy texture and flavor without the added calories.
Enter, my maple peanut butter frosting!
I hope you enjoy this as much as I did, even if you too aren't a huge French Toast lover! It makes a great afternoon snack, too!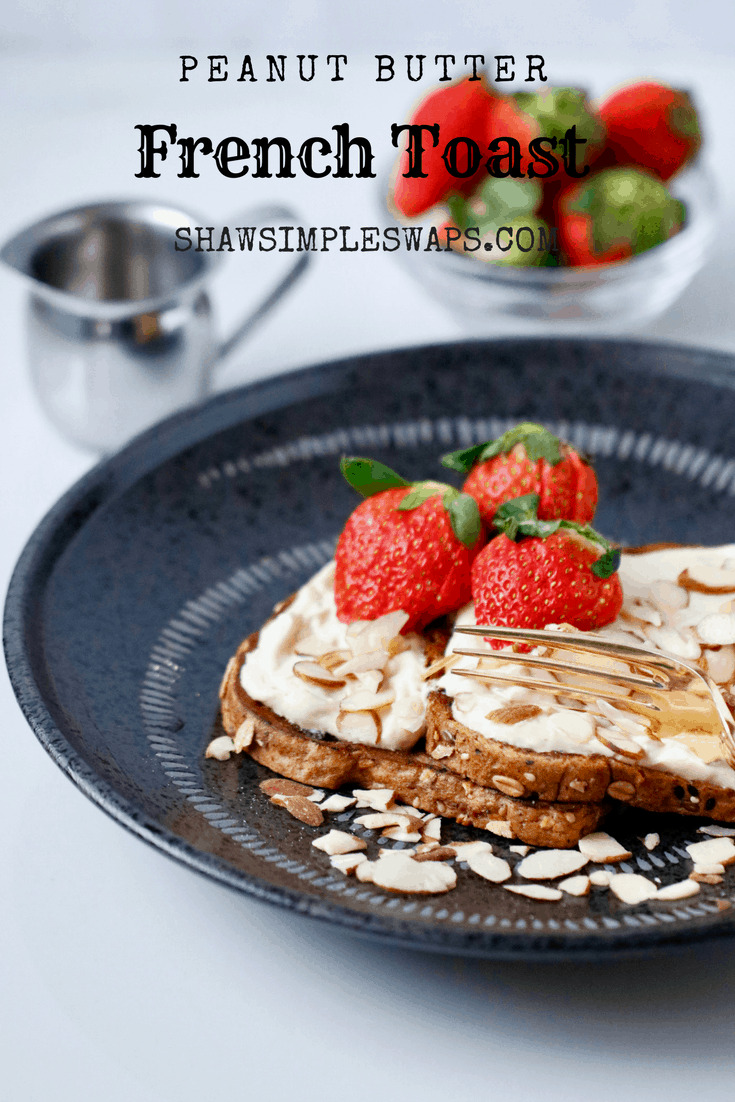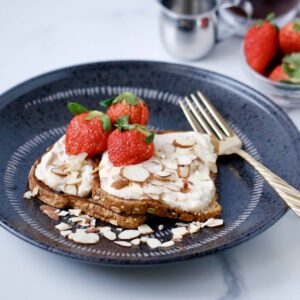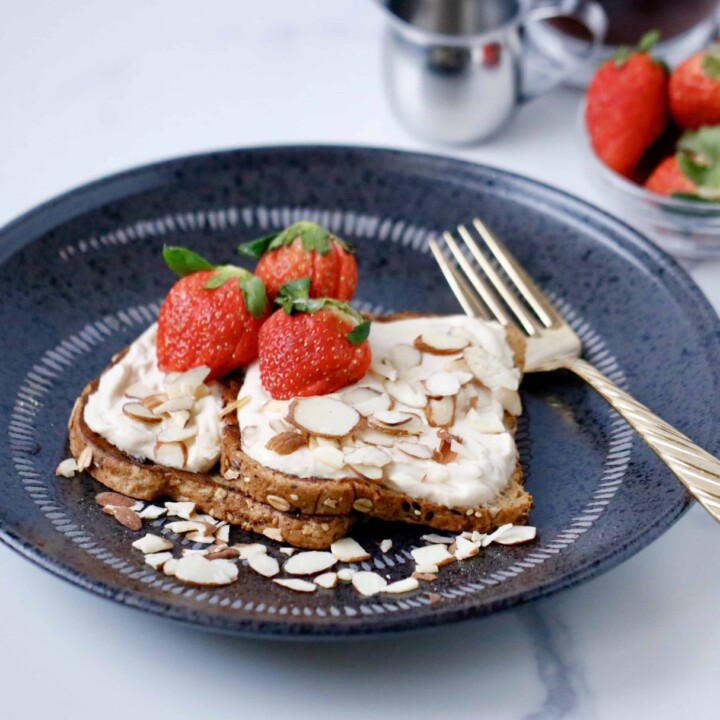 Peanut Butter French Toast with Maple Yogurt Frosting
A delicious Peanut Butter French Toast with a Thick and Creamy Maple Yogurt Frosting!
Print
Share by Email
Ingredients
1

large egg

1/2

cup

milk

1/4

teaspoon

vanilla extract

4

slices

whole wheat bread

thin sliced

3

tablespoons

powdered peanut butter

4

ounces

non-fat Greek yogurt

plain

1

teaspoon

pure maple syrup

strawberries

optional garnish
Instructions
In a medium mixing bowl, whisk the large egg with milk. Add in the vanilla extract and continue to mix. Whisk in 2 tablespoons of the powdered peanut butter until combined, about 1 minute.

Heat griddle over medium heat and spray with non-stick cooking spray.

Drop bread slices one at a time into mixture, coating both sides evenly. Place coated slice on griddle.

Repeat for all slices.

Cook about 2 to 3 minutes per side on griddle, turning and repeating cooking on alternate side.

Remove from heat.

To prepare maple yogurt frosting, mix 1 tablespoon of remaining powdered peanut butter into the yogurt. Add in 1 teaspoon of maple syrup and stir until combined.

To assemble the French Toast, spread 1 ounce of the yogurt frosting over each slice. Repeat for each slice.

Serve with a cup of coffee, milk or tea and garnish with your favorite fruit.
Notes
If you prefer more traditional French Toast, omit powdered peanut butter and substitute ground cinnamon at 1/2 teaspoon.
Nutrition Facts
Peanut Butter French Toast with Maple Yogurt Frosting
Amount Per Serving (2 )
Calories 280
Calories from Fat 54
% Daily Value*
Fat 6g9%
Cholesterol 96mg32%
Sodium 440mg18%
Protein 19g38%
* Percent Daily Values are based on a 2000 calorie diet.
Looking for other breakfast recipes? Check out these!
Now, tell me! What's your favorite breakfast to order out?!