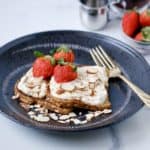 Peanut Butter French Toast with a Thick and Creamy Maple Yogurt Frosting @shawsimpleswaps
In a medium mixing bowl, whisk the large egg with almond milk. Add in the vanilla extract and continue to mix. Whisk in 2 tablespoons of the powdered peanut butter until combined, about 1 minute.

Heat griddle over medium heat and spray with non-stick cooking spray.

Drop bread slices one at a time into mixture, coating both sides evenly. Place coated slice on griddle.

Repeat for all slices.

Cook about 2 to 3 minutes per side on griddle, turning and repeating cooking on alternate side.

Remove from heat.

To prepare maple yogurt frosting, mix 1 tablespoon of remaining powdered peanut butter into the yogurt. Add in 1 teaspoon of maple syrup and stir until combined.

To assemble the French Toast, spread 1 ounce of the yogurt frosting over each slice. Repeat for each slice.

Serve with a cup of coffee, milk or tea and garnish with your favorite fruit.
If you prefer more traditional French Toast, omit powdered peanut butter and substitute ground cinnamon at 1/2 teaspoon.
Nutrition Facts
Peanut Butter French Toast with Maple Yogurt Frosting
Amount Per Serving (2 g)
Calories 280
Calories from Fat 54
% Daily Value*
Total Fat 6g 9%
Cholesterol 96mg 32%
Sodium 440mg 18%
Protein 19g 38%
* Percent Daily Values are based on a 2000 calorie diet.