Ready to take your breakfast pancakes to a whole new level? These low carb pancakes made with cottage cheese are the perfect way to pack protein in your morning meal. No more hunger pains an hour after your morning stack! These Lower Carb Protein Pancakes will keep you full well into the lunch hour.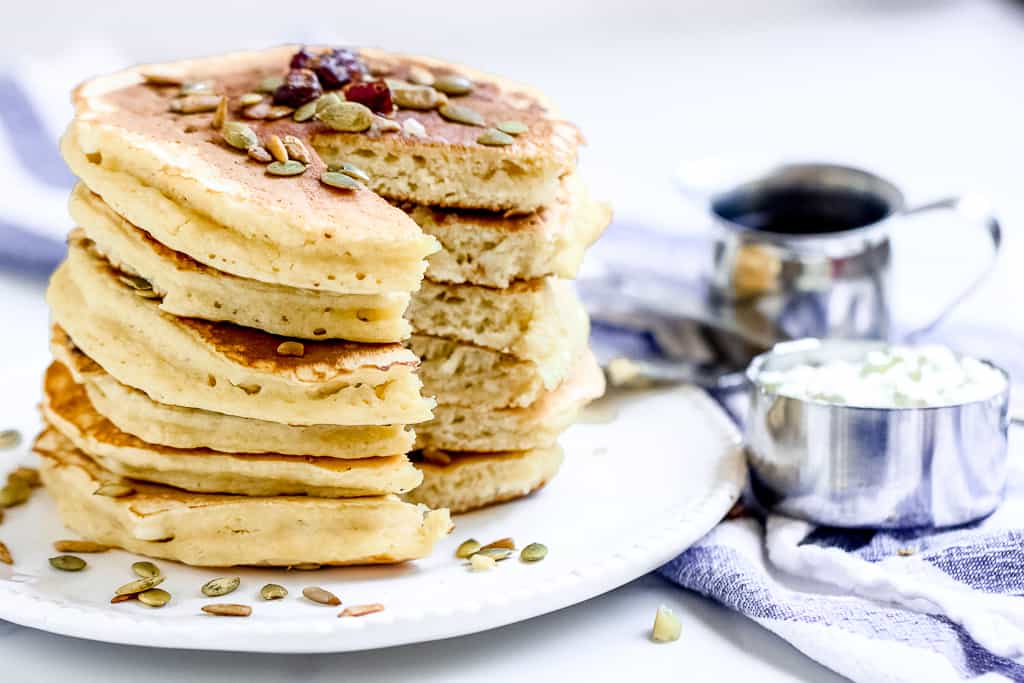 Are you team pancake or waffle?
If you haven't noticed from my Light and Fluffy Pancakes, Sweet Potato Pancakes, or heck, the other Protein Pancakes I have I'm pretty much team pancake over here.
It's funny though because Mr.CEO is definitely more of a waffle man. The good thing to know though is I typically don't make two different recipes!
I simply take my pancake recipes and whip them up with a tad more milk added in the waffle iron.
The most brilliant simple swap I've ever come up with if you ask me!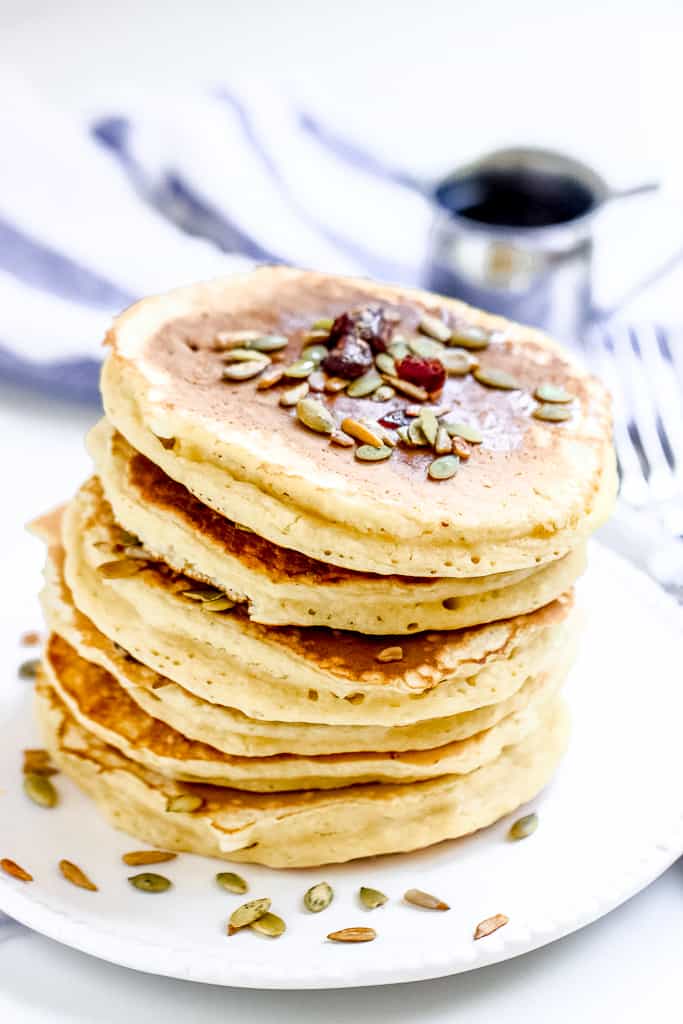 Is this really low carb?
It all depends on what you define low carb as.
For instance, I'm team carb over here, meaning we are very active and really enjoy incorporating complex carbs like pancakes into our meal plan.
Low carb for us is generally anything under 40 grams or so, whereas for others this may mean under 15 grams.
Since we don't follow a strict low carb diet, you'll typically find me eating 2 of these pancakes as a serving (which is what I've calculated the nutrition as for you too), meaning I'm rounding out my meal at almost 40 grams of carbs with my nut butter topping.
That is not low carb per many people's guidelines (but again, I'm not team low carb!) However, for a stack of pancakes that's oh so fluffy these are still well under your traditional carb count.
Cottage cheese alone is fairly low in carbs (under 4 grams per 1/2 cup serving) and packs a lot of protein.
Plus, look at how magical these pancakes cut! Why wouldn't you want to dive right in!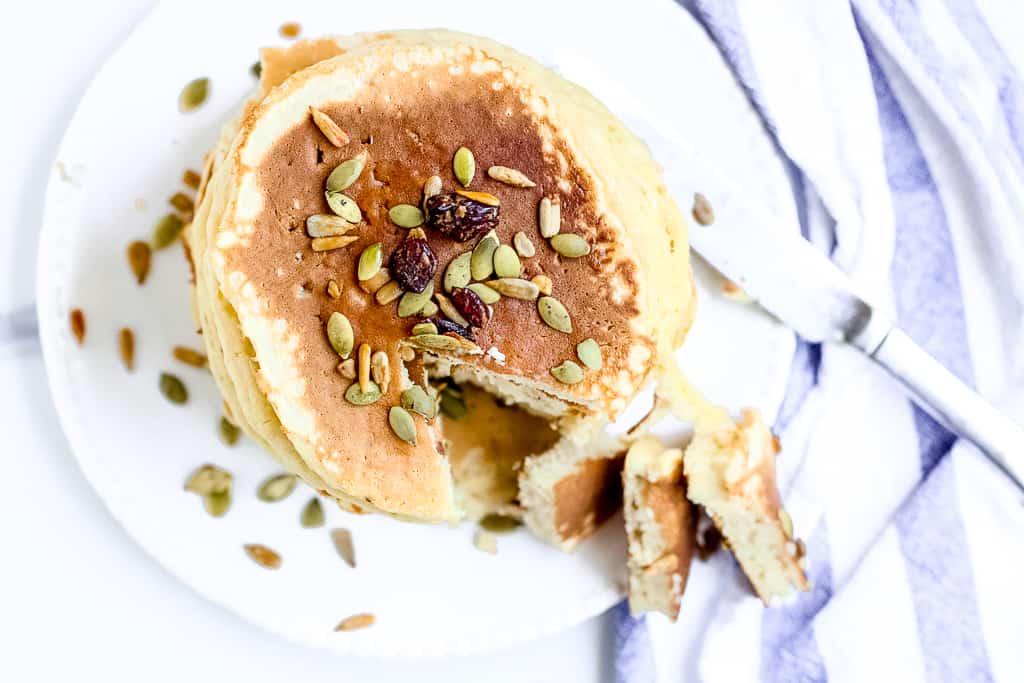 For someone who is low carb, I'd recommend the following modifications to the recipe to lower the total carb count for you:
Swap 1 cup of the wheat flour with almond flour
Swap almond milk (unsweetened) in place of cow or soy milk
Swap a low carb baking mix (like Bob's Red Mill) for the 2 cups of flour
Swap a paleo baking flour for the whole wheat flour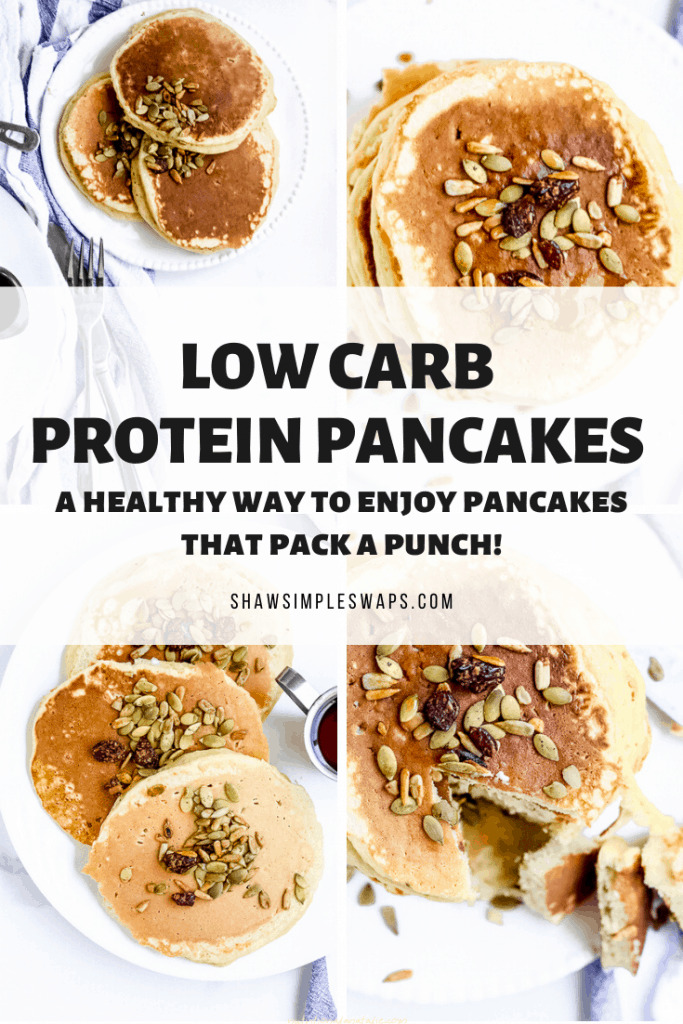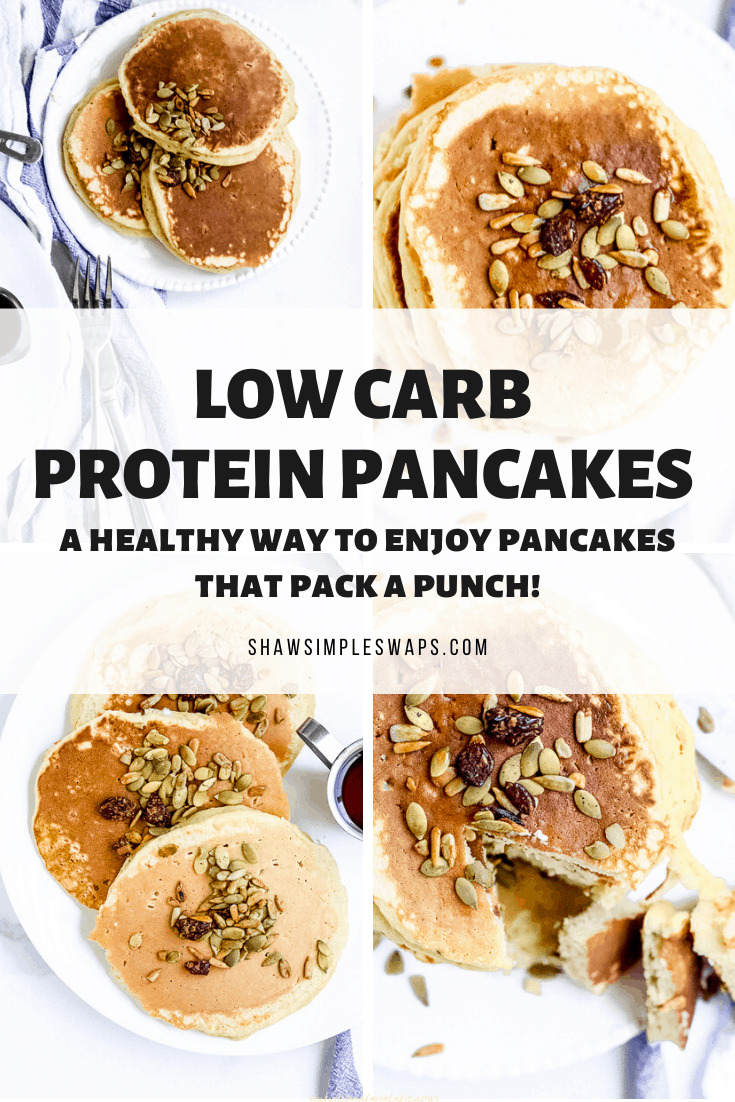 How is the protein so high?
Here's the thing: cottage cheese is naturally a good way to get complete protein in!
In just 1/2 cup of cottage cheese you get over 12 grams of protein.
Combine that protein with the protein naturally present in the eggs, flour, and milk and that's where you get a complete protein that is packed in these pancakes!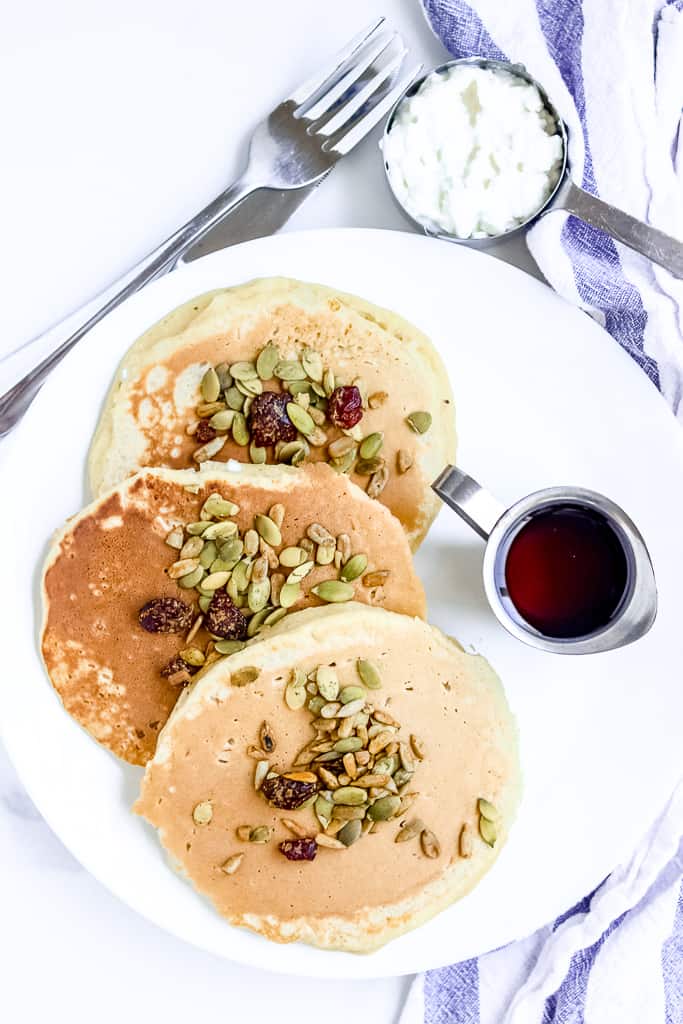 You can also consider adding a protein powder in place of some of the flour if you are looking to increase the protein even further.
However, do this with caution and in small amounts so you don't get a chalky pancake!
The best rule of thumb I've found is to use 1/2 cup total of protein powder and just 1 1/2 cups of flour. You may need to add more milk or liquid though!
What other recipes can I try?
Cottage cheese is perfect to make this Spinach Dip even lower in carbs!
You can also consider swapping it in place of yogurt in many recipes, or adding it into homemade low carb bagel or naan bread.
Usually recipes call for a yogurt base, but cottage cheese can easily be swapped in for these lower carb recipes too!
Case and point, try it in the Lemon Poppyseed Bundt Cakes too!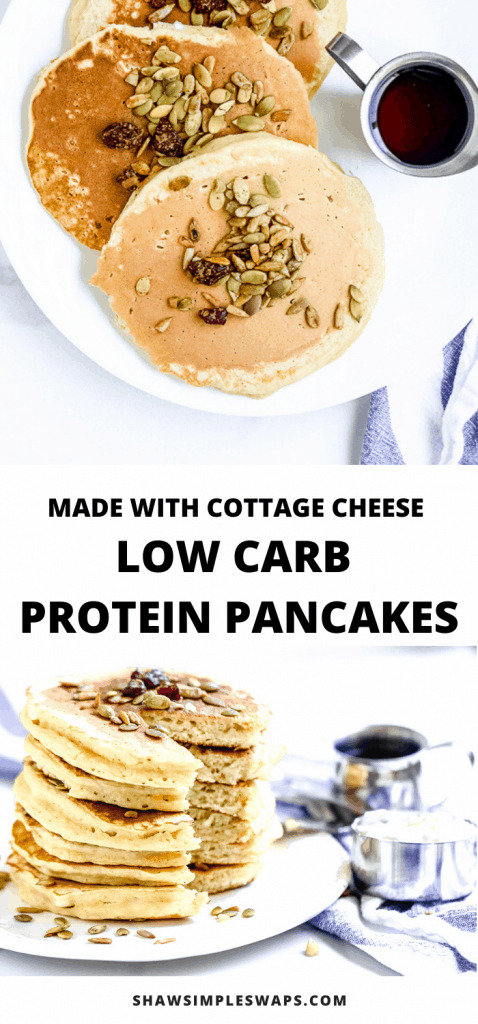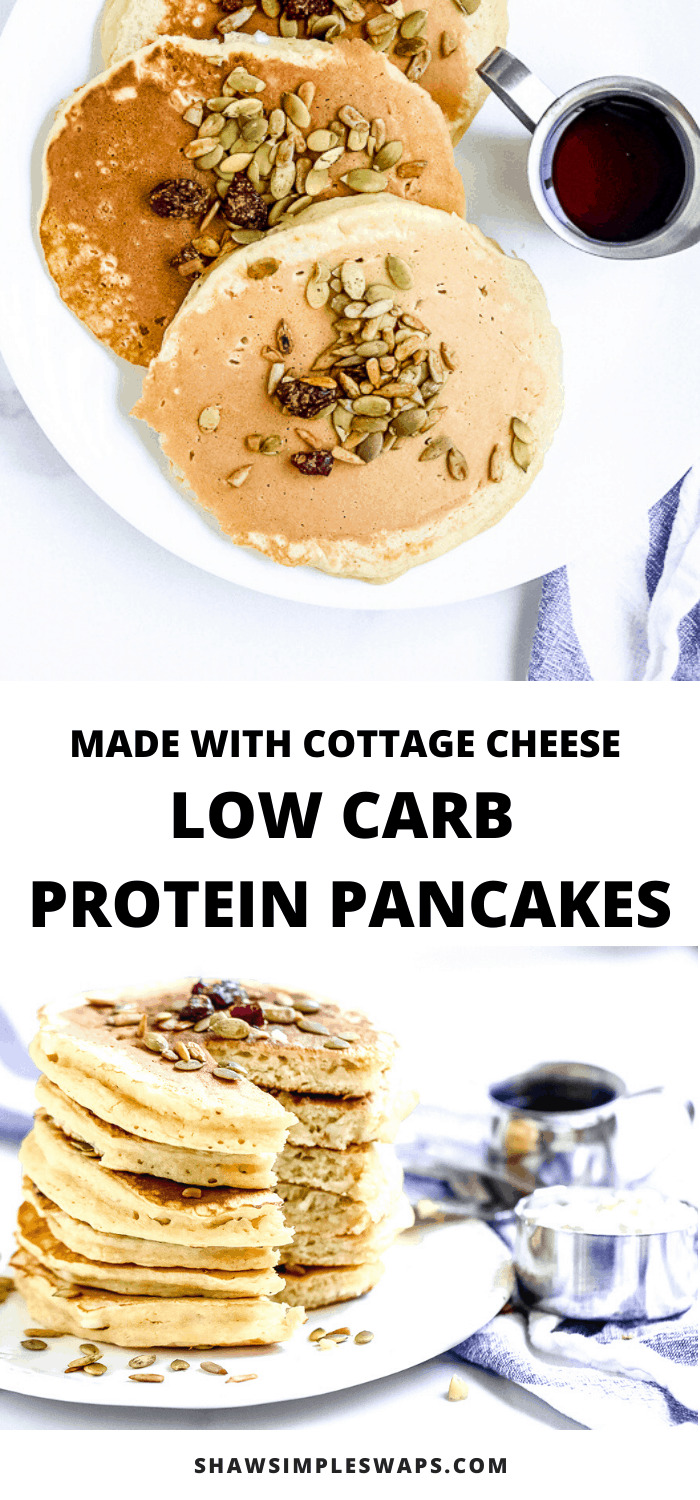 Alright, let's make them!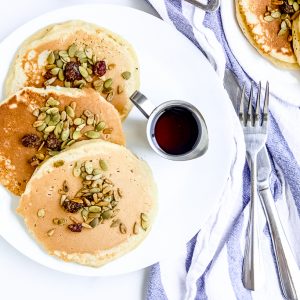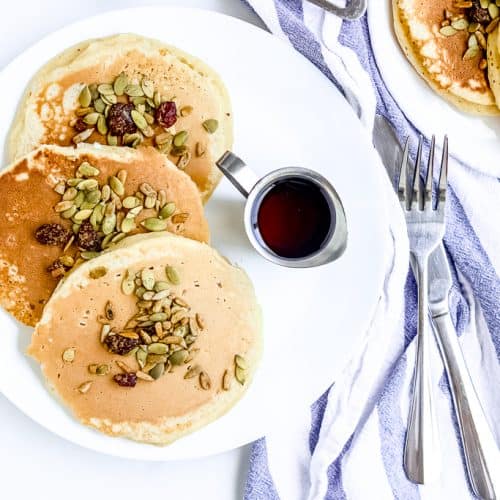 Low Carb Protein Pancakes
A simple recipe to amp up the nutrition of your morning flapjacks! These low carb pancakes are made with cottage cheese to give you a natural source of protein. Low in sugar and high in whole grains, you can feel good about feeding these to your entire family!
Print
Share by Email
Ingredients
2

cups

white whole wheat flour

3/4

tsp

baking soda

1/8

tsp

salt

1

cup

2% cottage cheese

1

tbsp

pure pecan oil

3

tsps

cane sugar

2

large

eggs

1

tsp

pure vanilla extract

1/2

cup

milk
Instructions
Mix flour, baking soda and salt in a small bowl. Set aside.

To a larger bowl, whisk together cottage cheese, sugar, eggs, vanilla and milk until uniformly combined.

Slowly mix the dry ingredients into the wet. The batter should be thick, however if it is to thick, add a tablespoon of milk at a time to ensure the entire mixture is combined.

Heat griddle over medium-low heat on the stove. Spay with a light mist of olive oil, then using a ladle make 2 to 3 pancake circles (or as many as your griddle will allow without overlapping on one another.)

When outer edges of the pancakes begin to bubble, flip the pancake over and cook another 2 to 3 minutes. Remove and repeat with remaining batter.

Serve warm with desired toppings.

Store in the refrigerator in an airtight container for up to 5 days, or freeze for up to 3 months.
Notes
*Use milk of choice. I use unsweetened almond milk.
**To make lower carb, you can sub in 1 cup of almond flour for the whole wheat.
Nutrition Facts
Low Carb Protein Pancakes
Amount Per Serving
Calories 265
Calories from Fat 63
% Daily Value*
Fat 7g11%
Cholesterol 86mg29%
Sodium 471mg20%
Potassium 123mg4%
Carbohydrates 38g13%
Protein 15g30%
Vitamin A 141IU3%
Calcium 102mg10%
Iron 2mg11%
* Percent Daily Values are based on a 2000 calorie diet.