I received free samples from Bumble Bee Seafoods that are mentioned in this post. By posting this recipe I am entering into a contest with Bumble Bee Seafoods and am eligible to win prizes associated with the contest. I was not compensated for my time.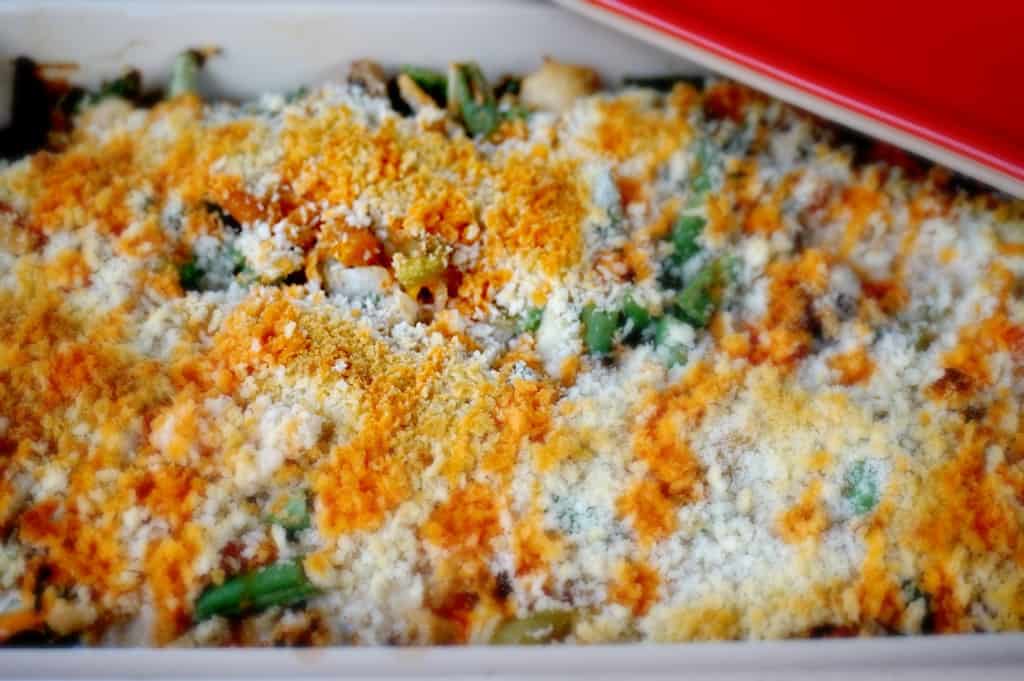 Once upon a time, I lived in a house with my two sisters and mom and dad. One night my mom decided to make a Tamale Casserole that was filled with veggies, lean ground turkey and corn chips-delicious, I know. However, flash back to childhood and as a kid I can remember having nightmares about this recipe and swore to her this was the WORST.MEAL.EVER. Sorry mom, you know I love you!
Anyways, after this debacle I swore off casseroles in any form. Plus, as I spent more time diving into nutrition, I knew casseroles usually meant loads of butter, whole milk, and cream. No thank you, I'll stick with my roasted veggies,!
Then, flash forward a decade to when I met Mr. CEO. A farm boy, true to his roots and in love with everything that resembled traditional comfort classic cuisine. Though I have definitely done my due diligence and whipped up his favorite Tator Tot Casserole, I have yet to venture into the land of Tuna Casserole.
Why not? Well to be honest, I am not quite sure! I am a fan of tuna but for some reason really only bust it out during Lent. A delicious tuna melt on a whole grain bun with skim cheese is usually a go to on Fish Friday's for us Shaw's. But, limiting this healthy food to a 40 day period once a year is not doing my body justice! Plus, in under 20 minutes, you can whip up this delicious recipe that you're whole family will enjoy.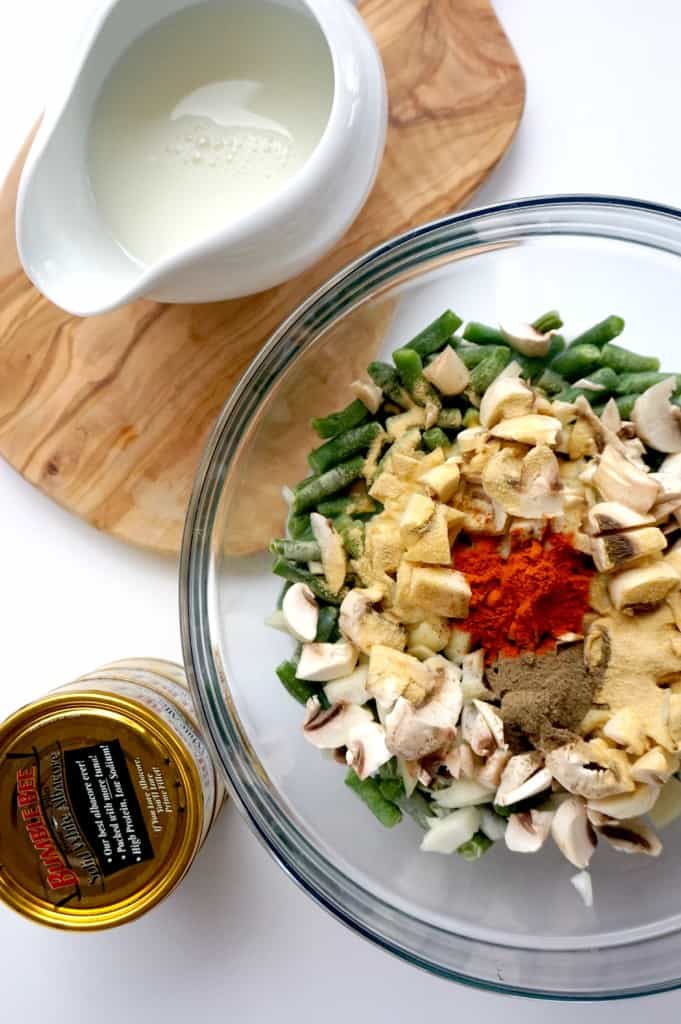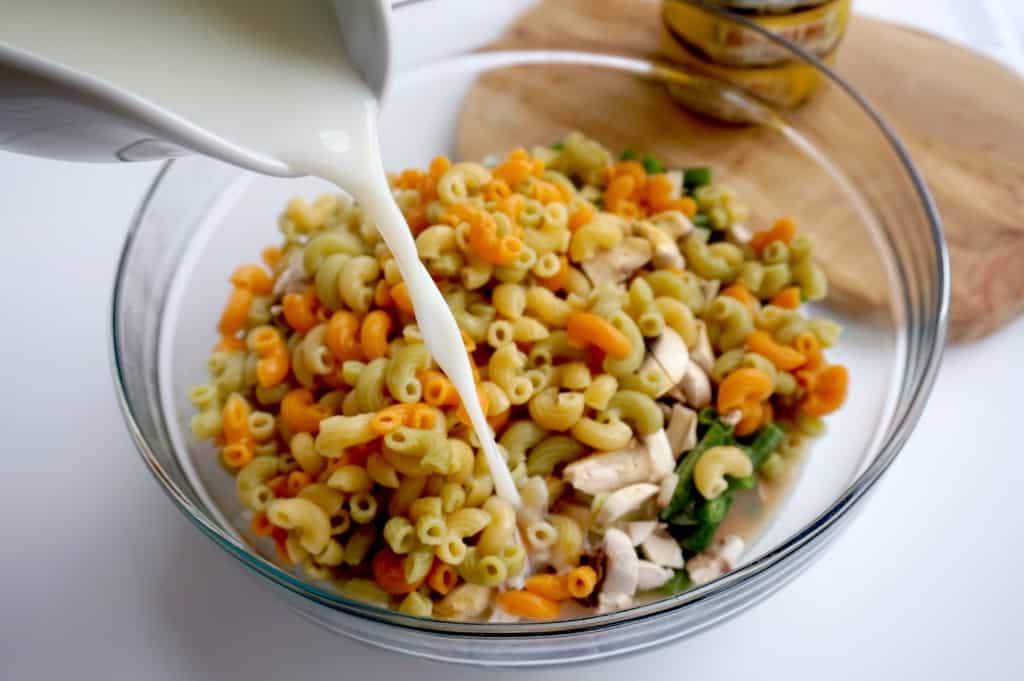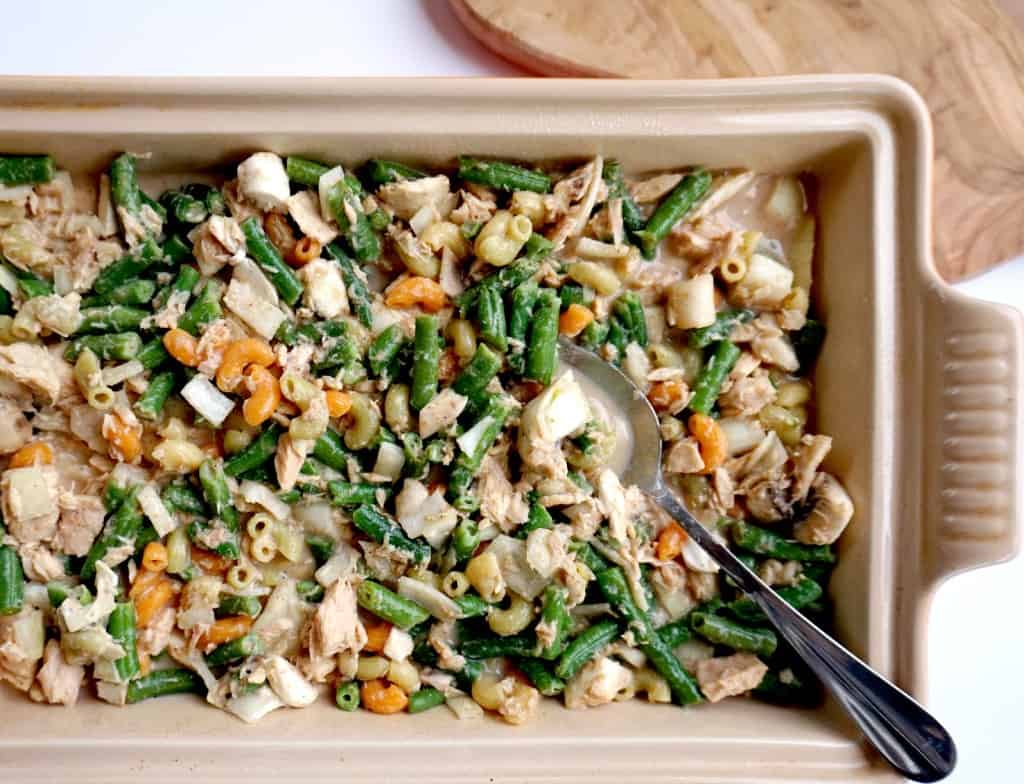 Not only is canned tuna a great source of niacin, selenium and vitamin B6 and B10, it's packed with protein and saturated fat free. Bumble Bee Solid White Albacore Tuna in Water is a convenient and affordable option to have stocked in your pantry. You can easily whip up a fresh tuna salad with Greek Yogurt or try this #simpleswapped Lightened Up Tuna Casserole, both great ways to add a little more seafood into your life!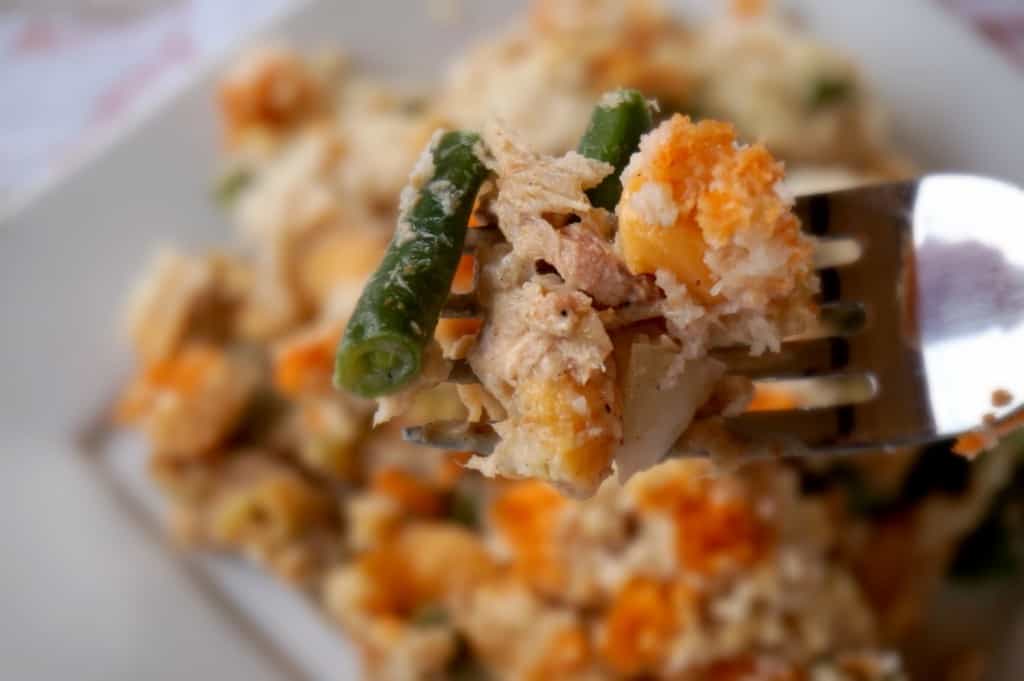 Happy Cooking!
Lightened Up Tuna Casserole
Ingredients
1 1/2

cups

dry whole wheat macaroni pasta

2

bay leaves

4

cups

chopped green beans

*I used frozen

1/2

medium onion

chopped

1

cup

mushrooms

chopped

2

tsp

garlic powder

1

tsp

black pepper

1

tsp

cayenne pepper

3

cans Bumble Bee Tuna in water

2 1/2

cups

skim milk

1/2

cup

whole wheat flour

2

tbsp

cornstarch

1

cup

panko
Instructions
Preheat oven to 400*F.

Boil water over stove with pasta and bay leaves.

In a large bowl, mix green beans, onion and mushrooms.

In a smaller bowl, mix flour with spices and cornstarch.

Once pasta is cooked, drain and add to the vegetable bowl.

Add tuna in the bowl, making sure to drain completely prior to adding.

Slowly add in milk, then combine the spice and flour mixture.

Once thoroughly combined, place mixture into a 9x13" pan.

Top casserole with panko.

Place in oven and bake for 30 minutes.

Turn down heat to 350*F and bake for an additional 15 minutes.

Enjoy!
Nutrition Facts
Lightened Up Tuna Casserole
Amount Per Serving (1 g)
Calories 330
Calories from Fat 27
% Daily Value*
Fat 3g5%
Cholesterol 56mg19%
Sodium 365mg15%
Carbohydrates 50g17%
Protein 27g54%
* Percent Daily Values are based on a 2000 calorie diet.