Craving a comfort classic but don't feel like the heavy caloric load that typically coincides with that? Don't worry, I've got you with this Healthy Tuna Noodle Casserole. High in protein, low in fat and half the carbohydrates you'd typically expect in a casserole, this recipe is for you!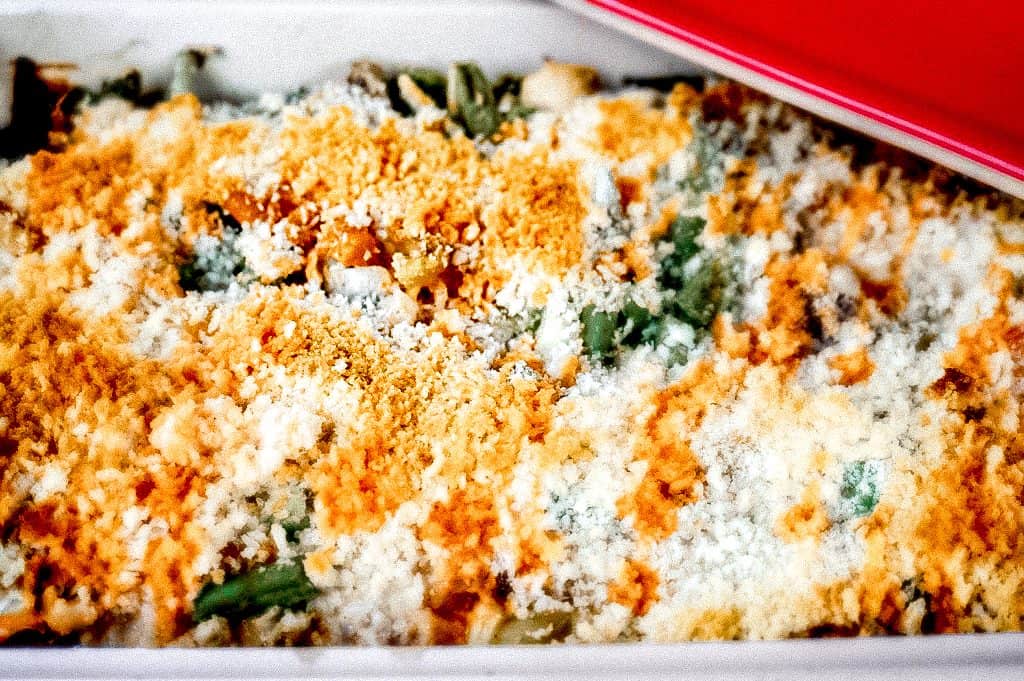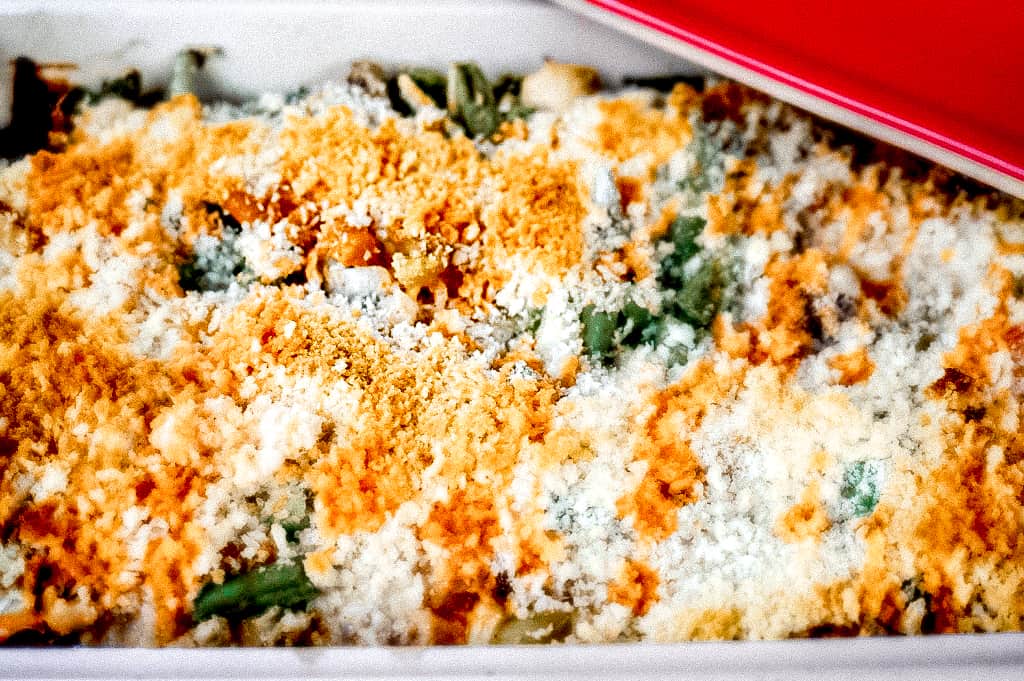 Are you on team Tuna Noodle Casserole?
Why I am certainly on team healthy tuna noodle casserole now, there was a time in my life I certainly was not.
Once upon a time, I lived in a house with my two sisters and mom and dad. One night my mom decided to make a Tamale Casserole that literally left my sisters and I ill.
I'm not sure if it was the smell, potential food poisoning or just my sisters and I being dramatic, but nonetheless, it scared me for life.
Anyways, after this debacle I swore off casseroles in any form.
Flash forward a decade to when I met Mr. CEO. A farm boy, true to his roots and in love with everything that resembled traditional comfort classic cuisine.
I knew I had to venture into the land of casseroles and thought why not start with something as far off from that dreaded Tamale Casserole as I can!
Enter, Healthy Tuna Noodle Casserole!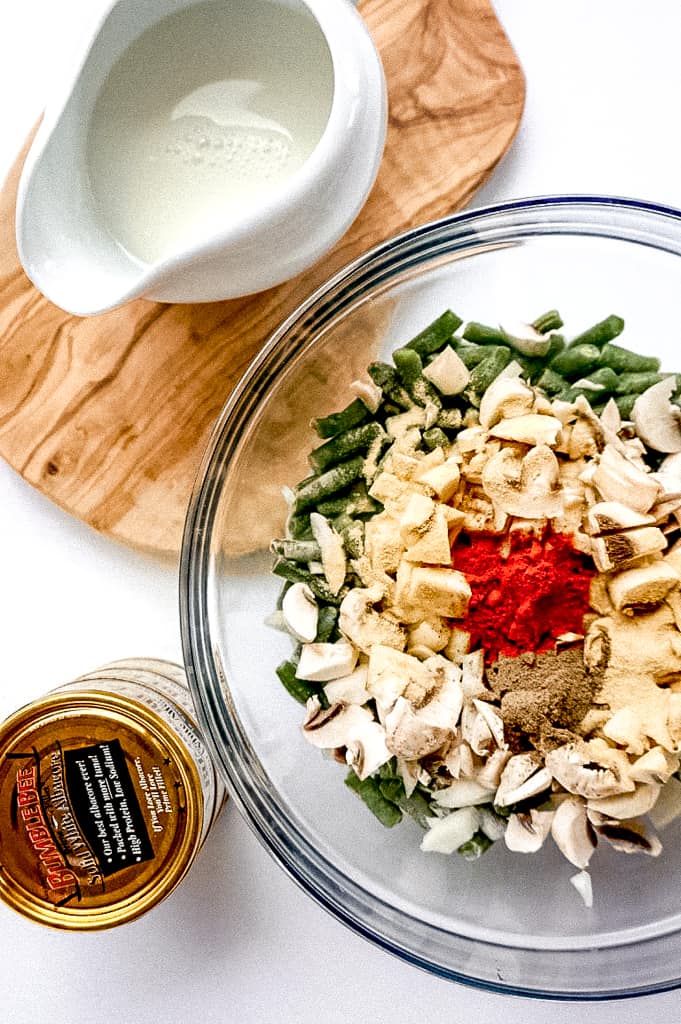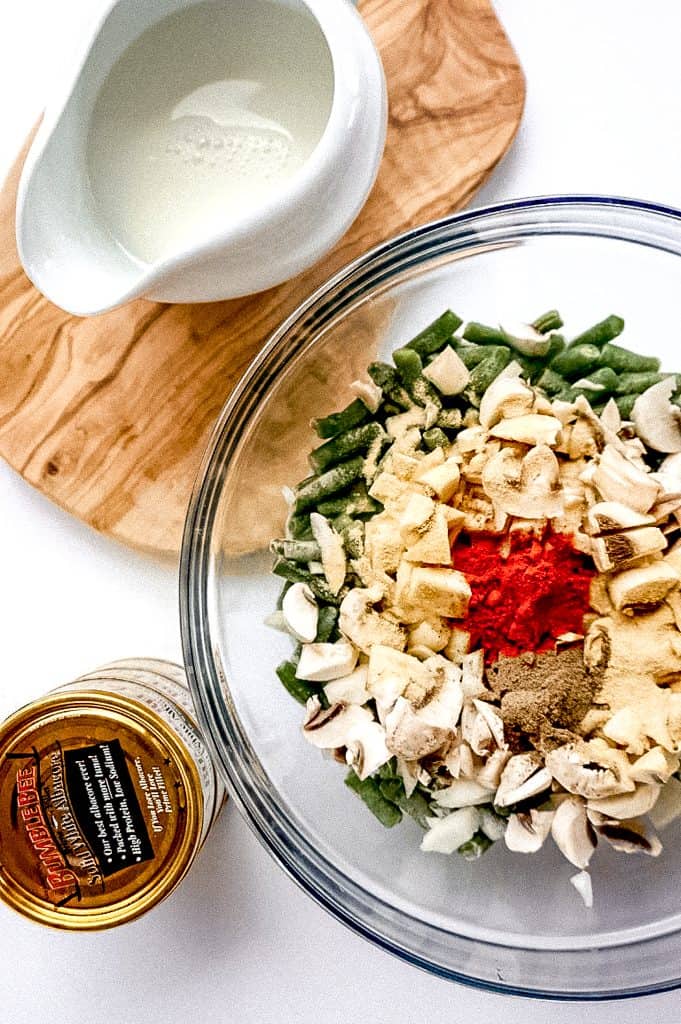 Is tuna noodle casserole really that healthy?
It can be!
Casseroles get a bad rap when you add the heavy cream, butter and fried foods (think tater tots, French fries, etc.)
While I'm certainly not saying you can't enjoy those more decadent sorts of casseroles on occasion, for a Wednesday weeknight meal you may want something a bit more light and nourishing right?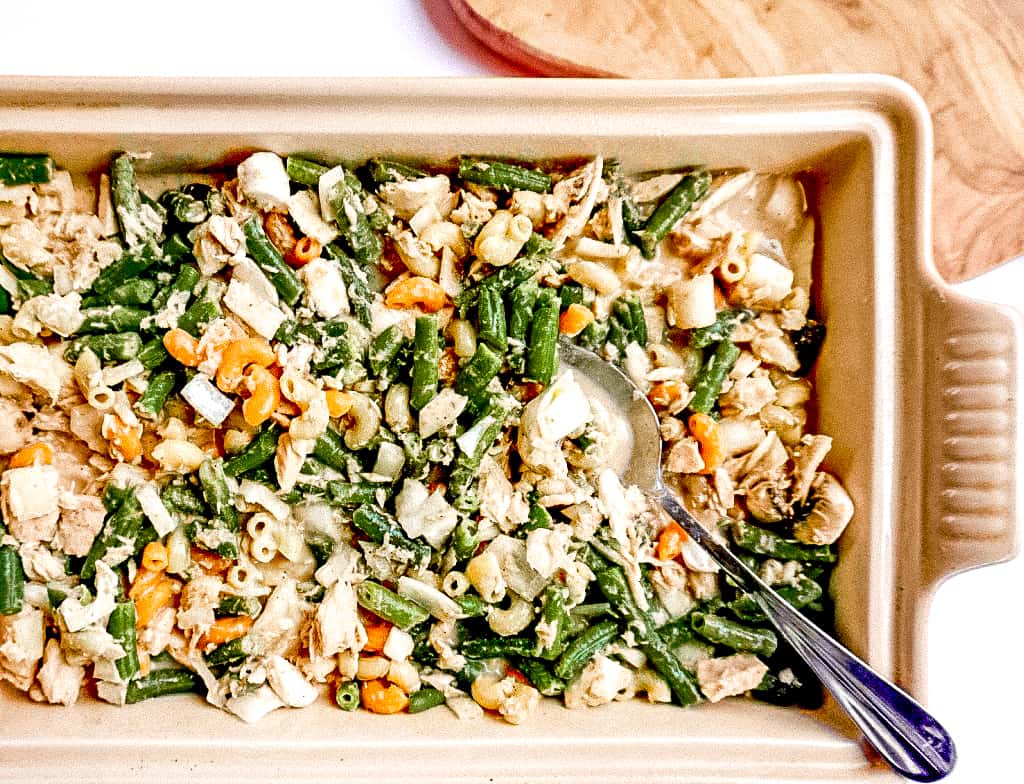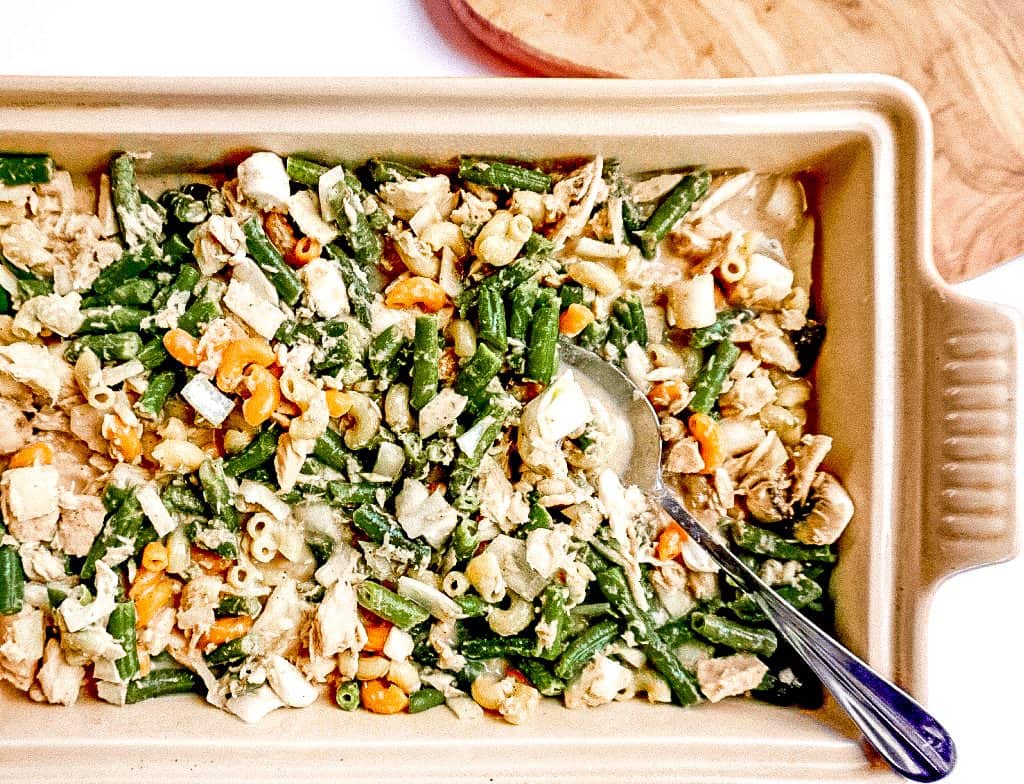 Let's chat about tuna!
Not only is canned tuna a great source of niacin, selenium and vitamin B6 and B10, it's packed with protein and saturated fat free.
Plus, canned tuna in water is a convenient and affordable option to have stocked in your pantry.
How can it be low-carb and still have noodles?
Repeat after me:
Low-carb doesn't mean no carb!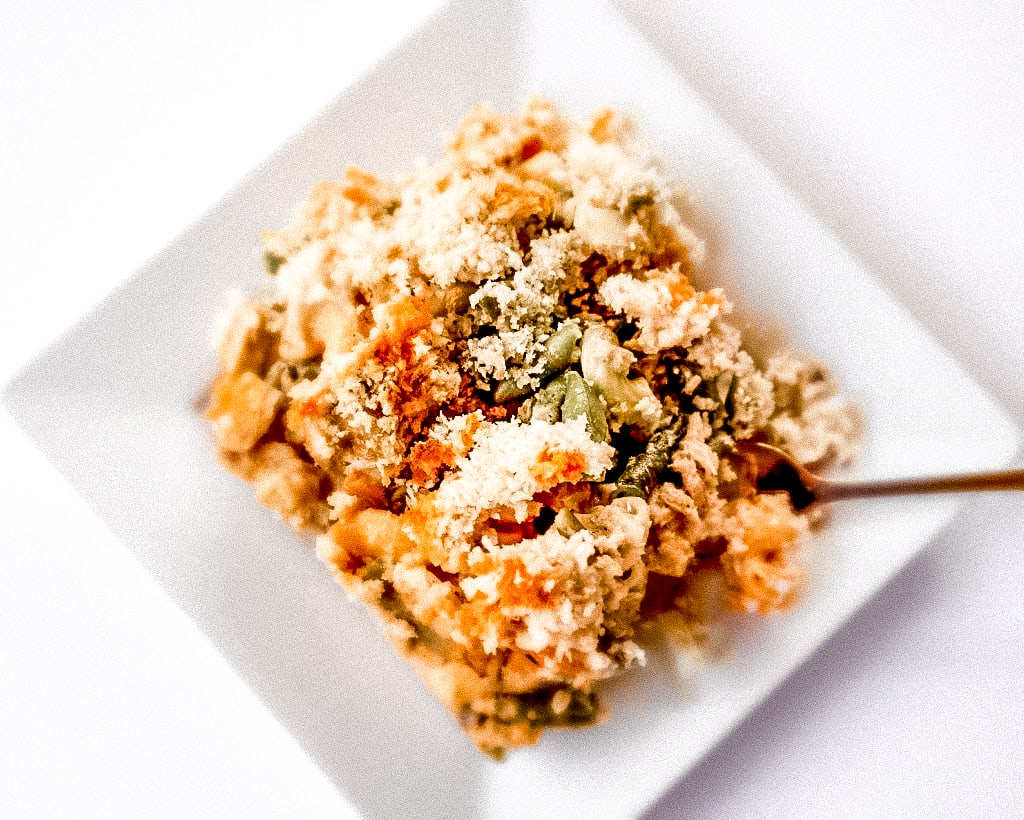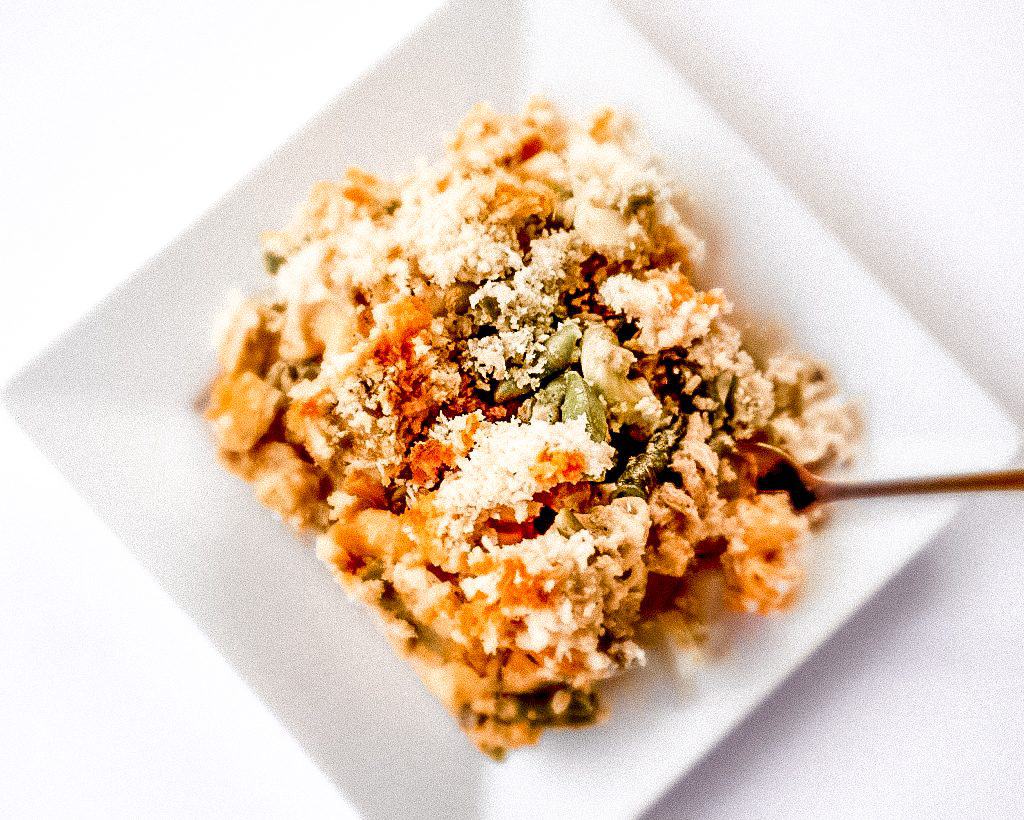 While we are still using whole grain pasta, we are amping up the nutrients from our veggie friends known as green beans!
Lower in carbs than a pasta, they add a fun twist to this classic casserole dish to lighten it up!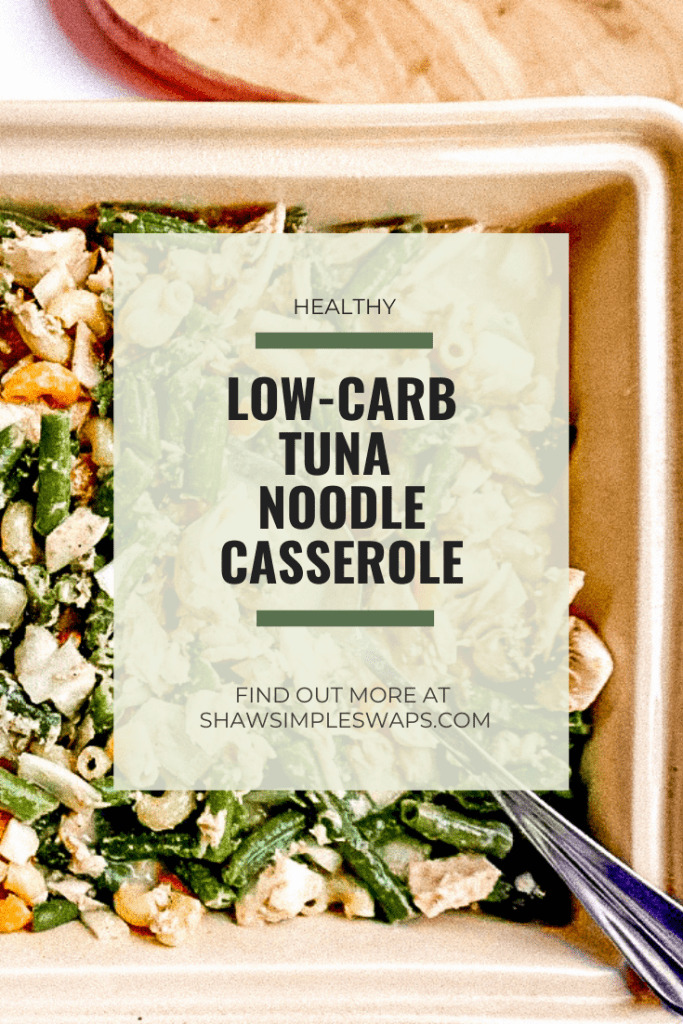 What else can I make with canned tuna?
Great question! While I highly suggest trying this Healthy Tuna Noodle Casserole recipe, you can certainly try out my top 3 favorite canned tuna recipes here:

Okay, no more waiting! Let's dive in!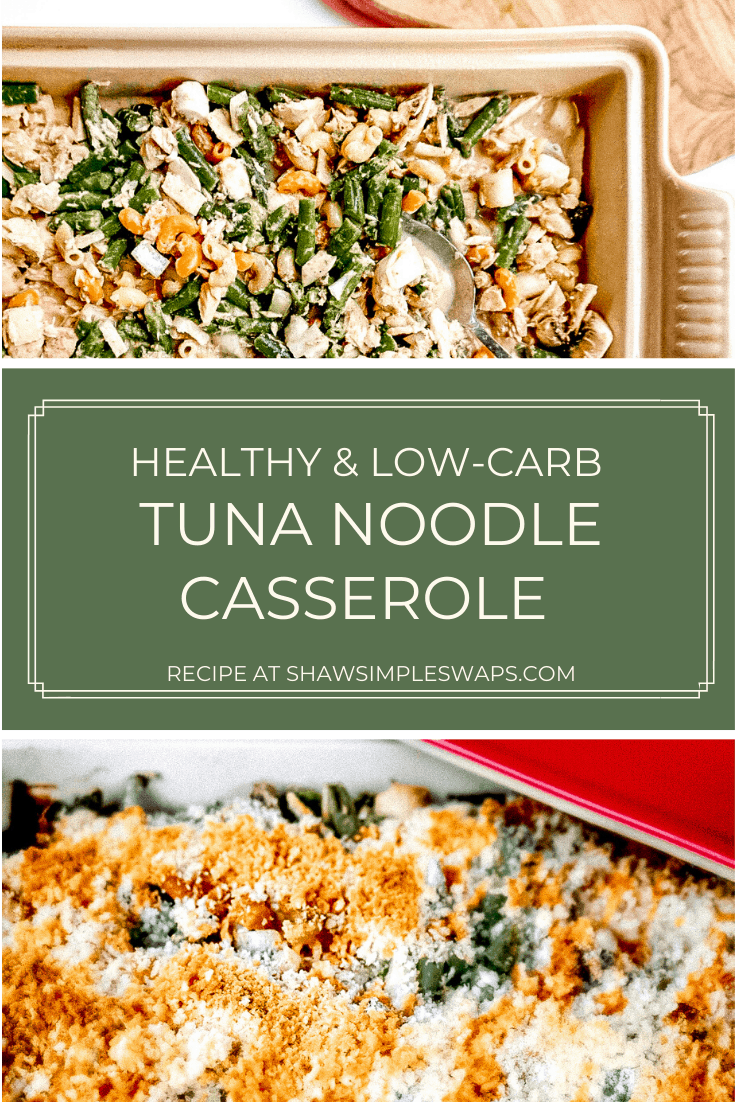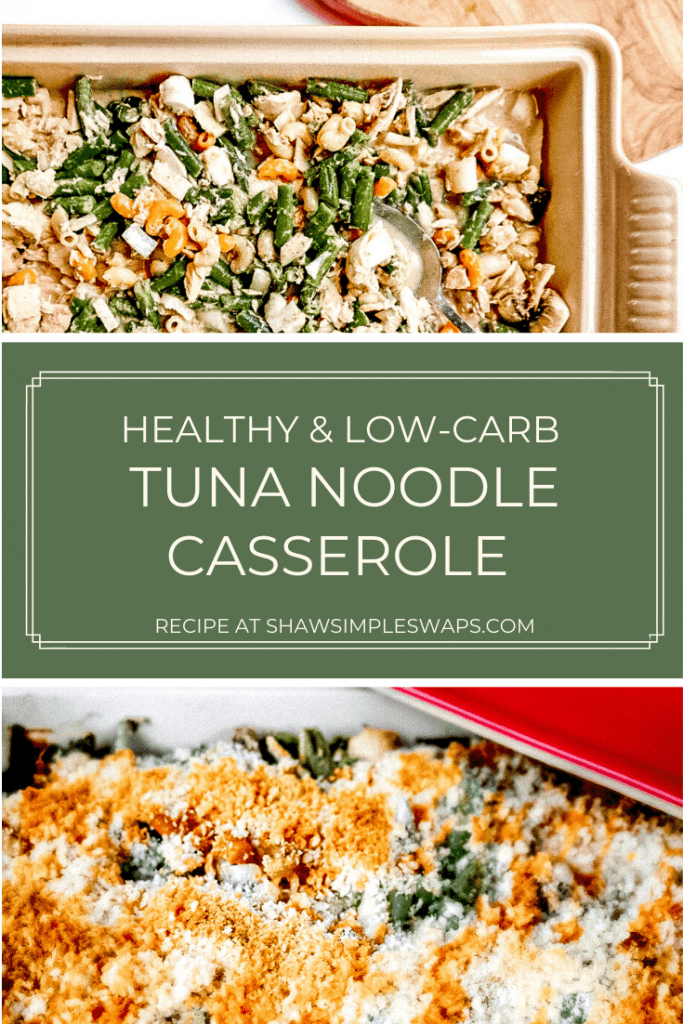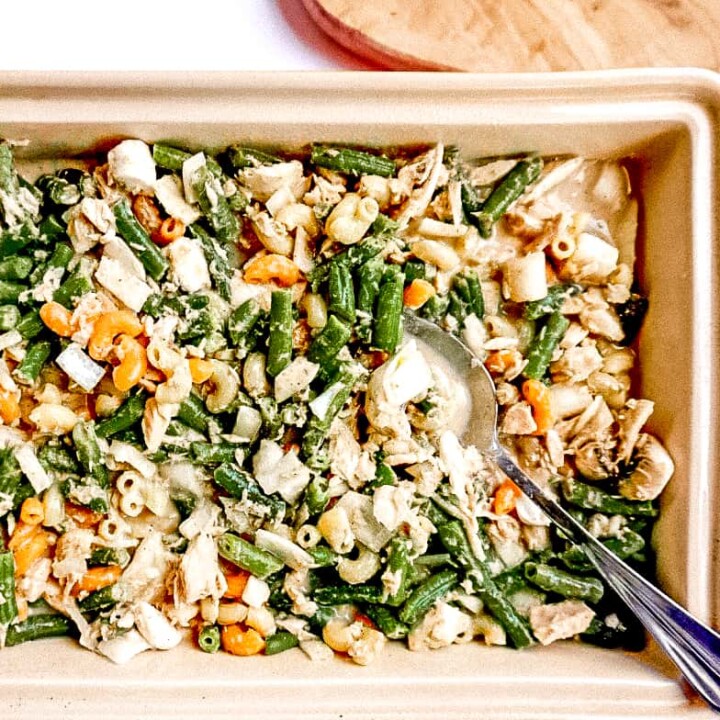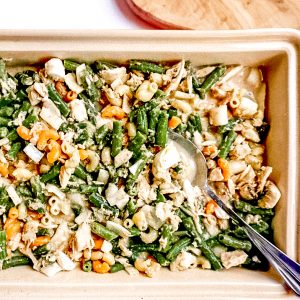 Healthy Tuna Noodle Casserole
This healthy tuna noodle casserole is quick and easy for a weeknight! Plus, it can easily be made gluten-free and is naturally low-carb!
Print
Pin
Share by Email
Ingredients
1

cup

dry whole wheat macaroni pasta

1/2

tsp

salt

2

bay leaves

1

tbsp

extra virgin olive oil

1/2

medium onion

chopped

1

cup

mushrooms

chopped

2

cloves

garlic

minced

18

ounces

tuna in water

approximately 3 cans

1

tsp

black pepper

1

tsp

cayenne pepper

1

large

egg

4

cups

green beans

chopped & frozen

1 1/3

cups

skim milk

3

tbsp

cornstarch

1/2

cup

panko
Instructions
Preheat oven to 400 degrees F.

Place a medium pot over high heat on the stove. Once water is boiling, add the salt to the water, stir, then add in pasta, and bay leaves. Cook the pasta according to pacakge instructions.

Meanwhile, heat olive oil over medium heat in a frying pan. Stir in the onions, mushrooms, and garlic. Cook 4 to 5 minutes. Turn off the stove and strain the pasta. Set both aside.

In a large bowl, add the tuna, spices, and the egg. Mix together with a fork to break up the tuna and combine the spices with the egg and tuna. Stir in the noodles, cooked vegetables, and green beans.

In a small bowl, mix the milk with the cornstarch. Pour on to the top of the large bowl and mix together.

Spray a 9×13-inch baking dish with cooking spray and add the tuna noodle casserole.

Top casserole with panko and cover with aluminum foil.

Place in oven and bake for 30 minutes.

Turn down heat to 350 degrees F and bake for an additional 15 minutes.

When cooking completes, serve immediately.

Store leftoevers in an airtight container in the refrigerator for up to 5 days.
Notes
To make recipe gluten-free, sub in GF pasta.
Nutrition Per Serving
Serving:
1
g
|
Calories:
275
kcal
|
Carbohydrates:
35
g
|
Protein:
26
g
|
Fat:
5
g
|
Saturated Fat:
1
g
|
Cholesterol:
67
mg
|
Sodium:
291
mg
|
Potassium:
536
mg
|
Fiber:
3
g
|
Sugar:
6
g
|
Vitamin A:
855
IU
|
Vitamin C:
11
mg
|
Calcium:
136
mg
|
Iron:
4
mg