Tempeh may seem like a foreign food that belongs in that category of questionable to consume, but I promise this post will settle your nerves and show you how to get comfortable cooking with tempeh!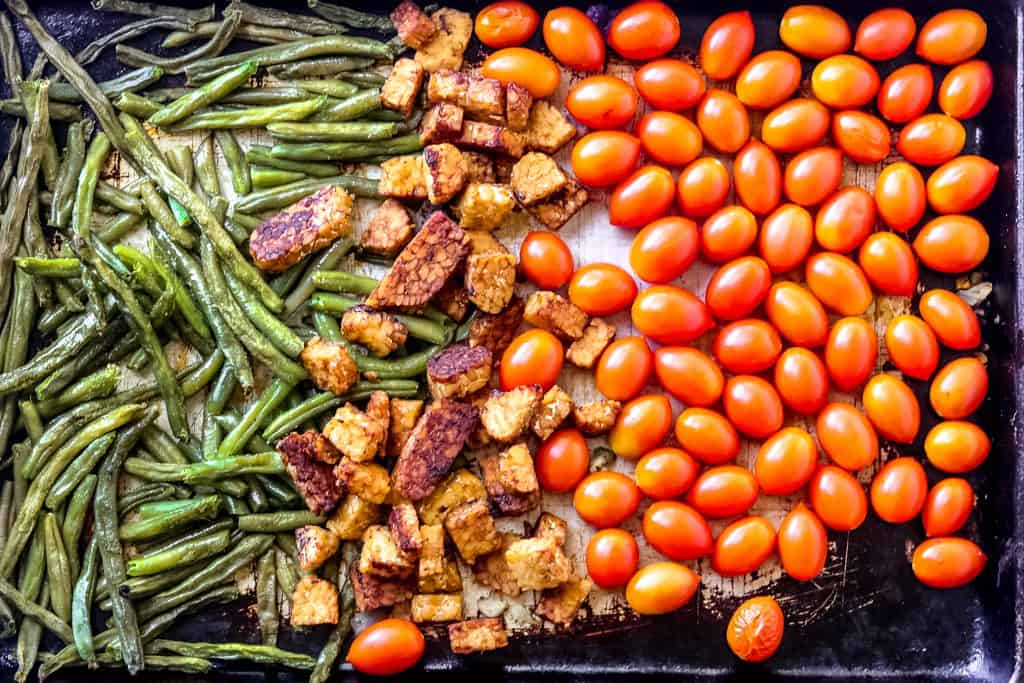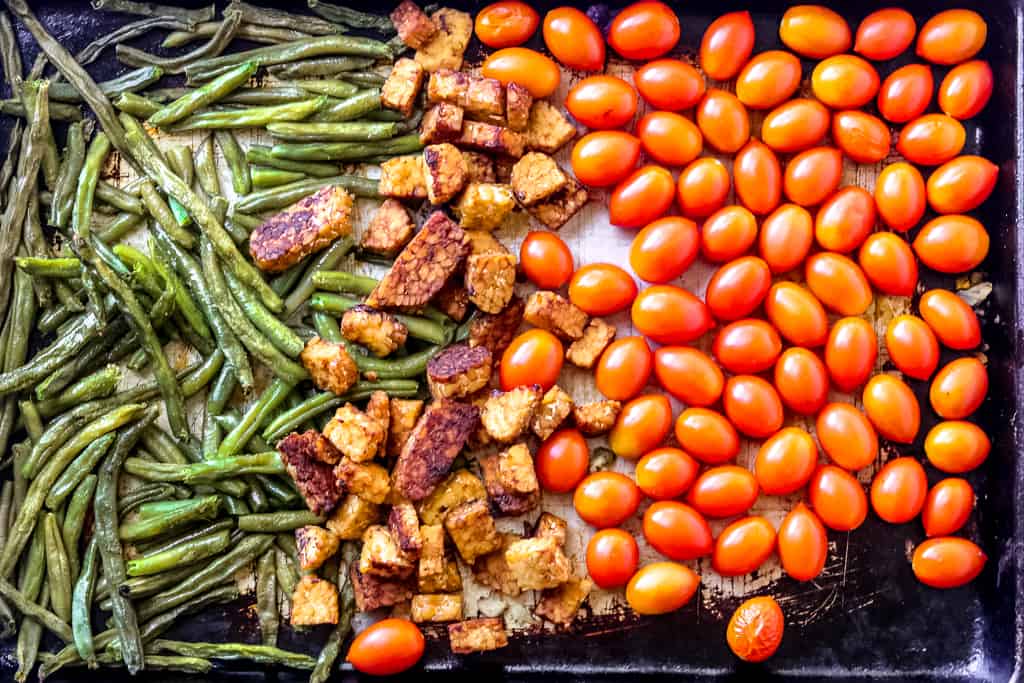 What is tempeh?
Made from fermented soybeans, tempeh is a whole foods based plant protein that is very versatile in cooking.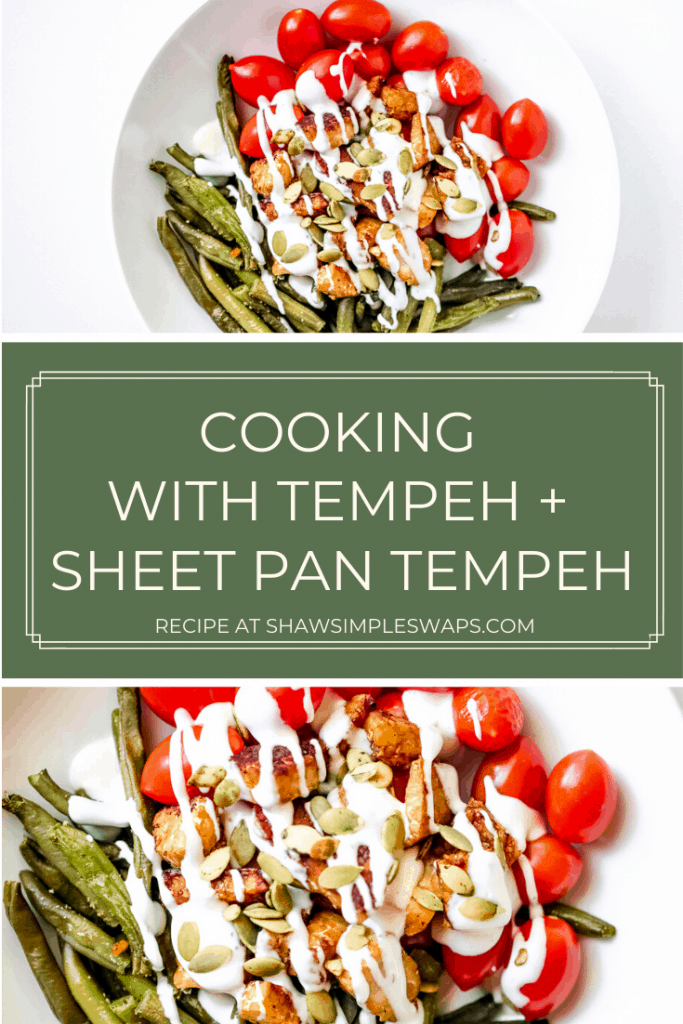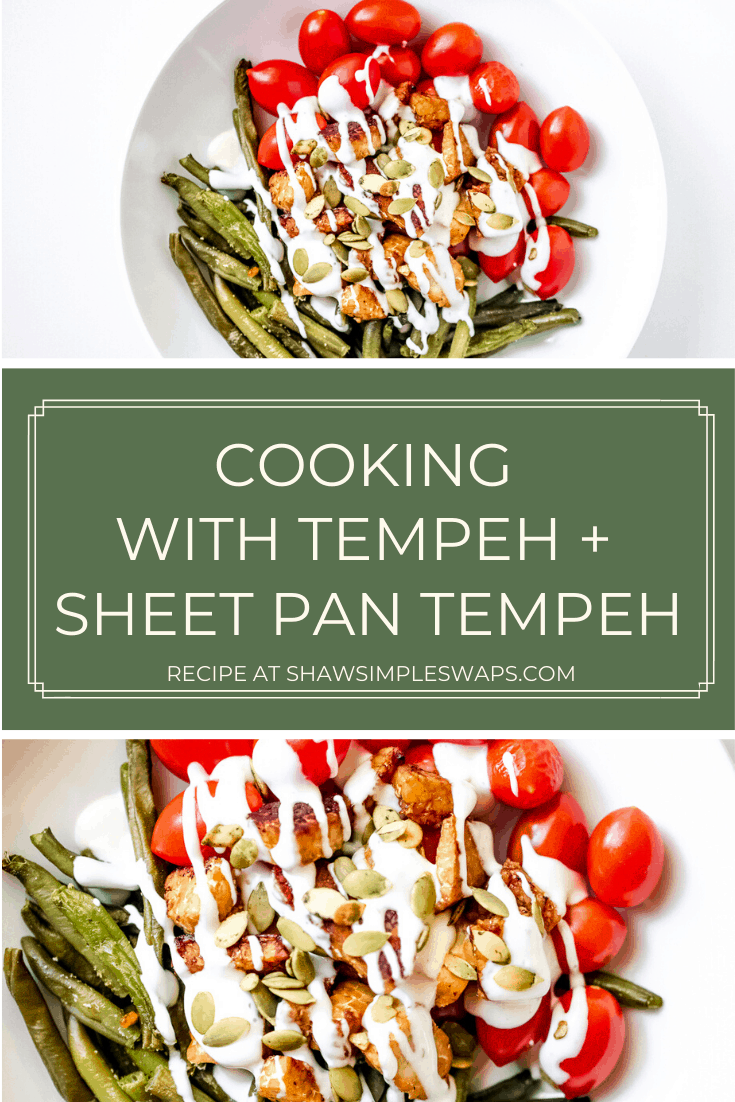 Cooked soybeans are taken and formed into a thin, rectangular shape and packaged for retail. While you can eat tempeh raw, I wouldn't recommend it.
Sort of like tofu, you wouldn't necessarily open a container and nosh on it right?
Same goes for tempeh.
Nutritionally speaking, 34 ounces of tempeh has the following nutrition profile:
Calories: 240
Total Fat: 11 grams
Saturated Fat: 2 grams
Cholesterol: 0
Sodium: 10 miligrams
Carbohydrates: 16 grams
Dietary Fiber: 9 grams
Sugars: <1 gram
Protein: 20 grams
So, is cooking with tempeh healthy?
Yes! As you can see, tempeh is a nutrient powerhouse!
Not only are you getting an excellent source of fiber when cooking with tempeh, but you're also getting a substantial amount of protein and beneficial prebiotics as well.
Given that most individuals think protein is something lacking in a vegetarian diet, it's humbling to know incorporating a food like tempeh in your diet will help increase your plant based protein intakes.
Plus, tempeh naturally is low in sodium and saturated fat as well. By adding flavors with fresh herbs and spices you'll get a relatively heart-healthy meal too!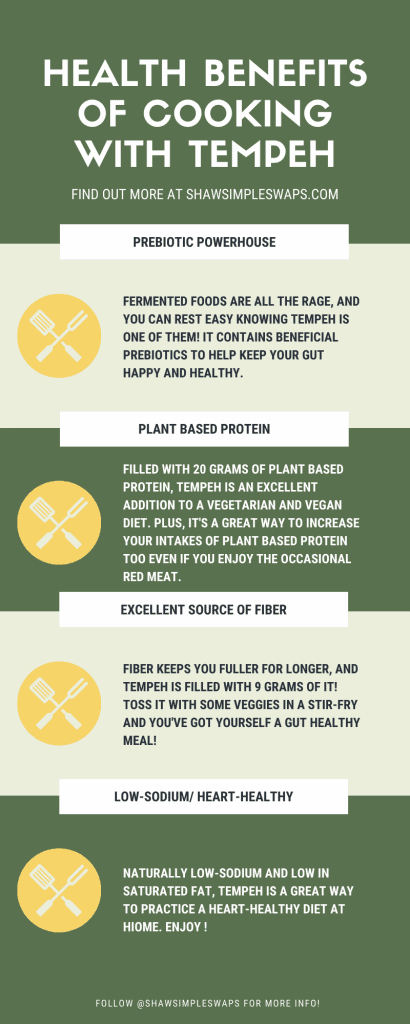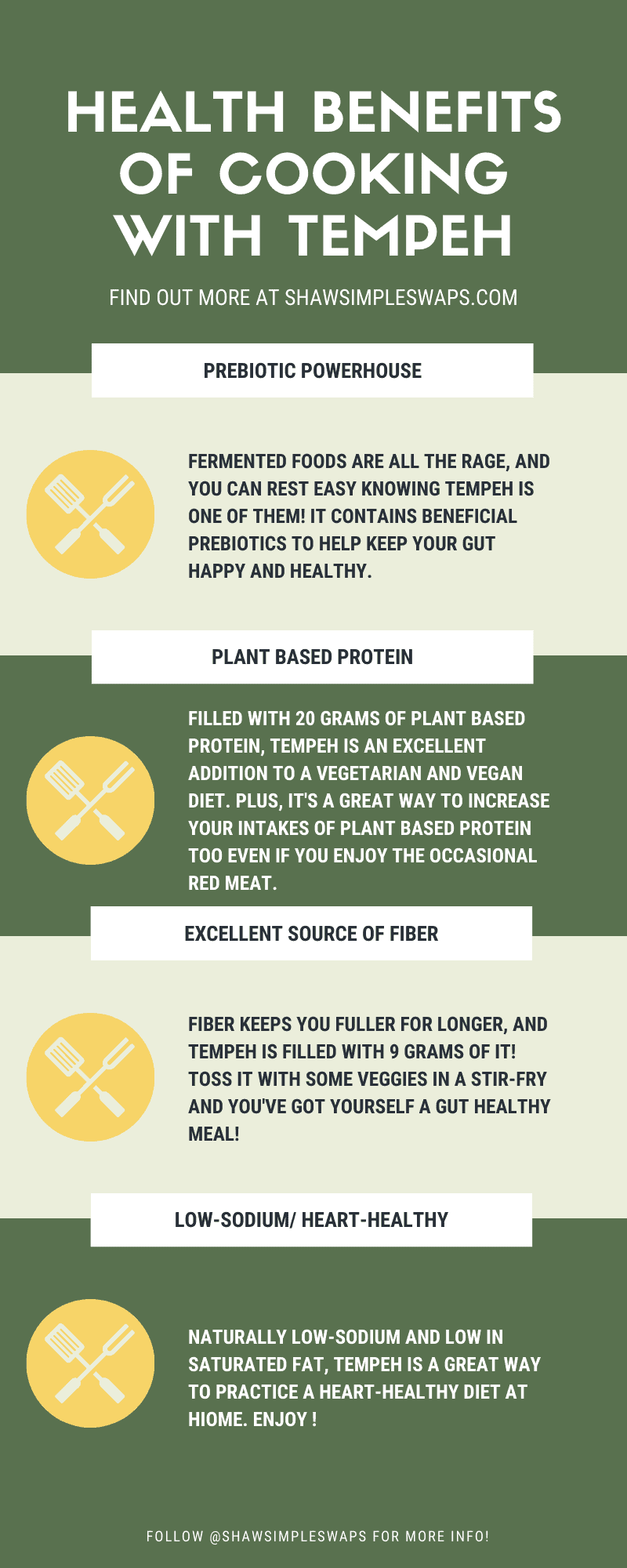 How to cook with tempeh?
First off, you need to cut the tempeh. Depending on what you are trying to make (like tempeh bacon, beef-strips, etc. ) will determine how you are going to slice it.
For ease, the best way to cut tempeh is to slice it horizontally in half to get two thin, 1/2-inch thick pieces. Then, slice each piece vertically in 4 to 5 slices to get even pieces.
Once you have this, you can begin to season and cook as desired. Here are the top cooking methods to use with tempeh.
Sauté

Season with olive oil and desired spices and sauté over medium heat in a cast-iron skillet until outer edges become crispy, usually about 3 to 4 minutes per side.
Highly suggest using tempeh in the Spicy Peanut Stir Fry here!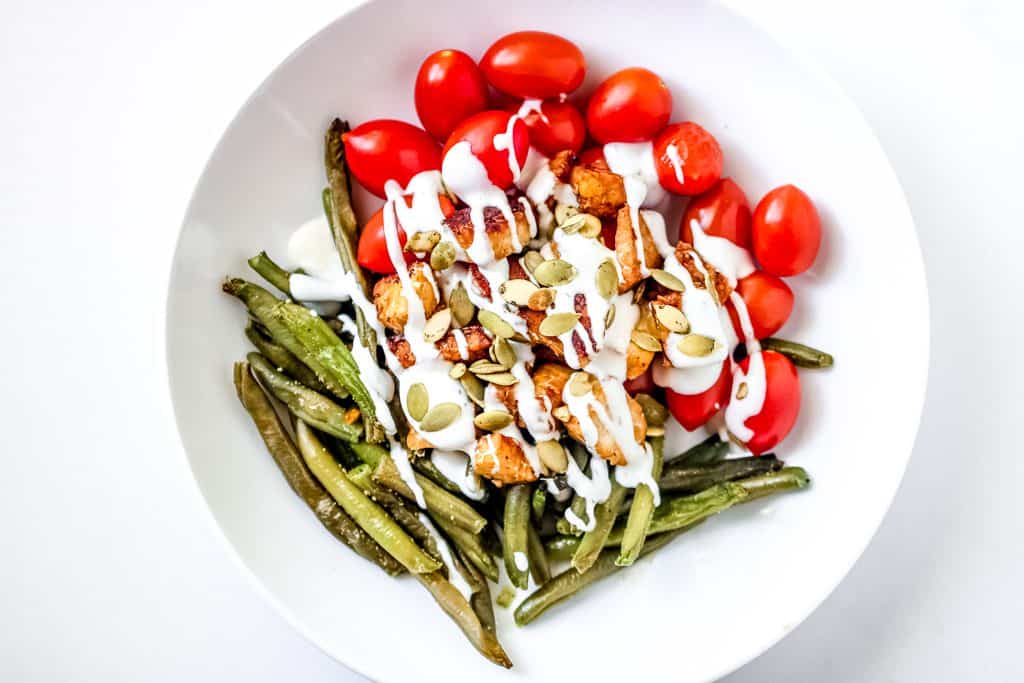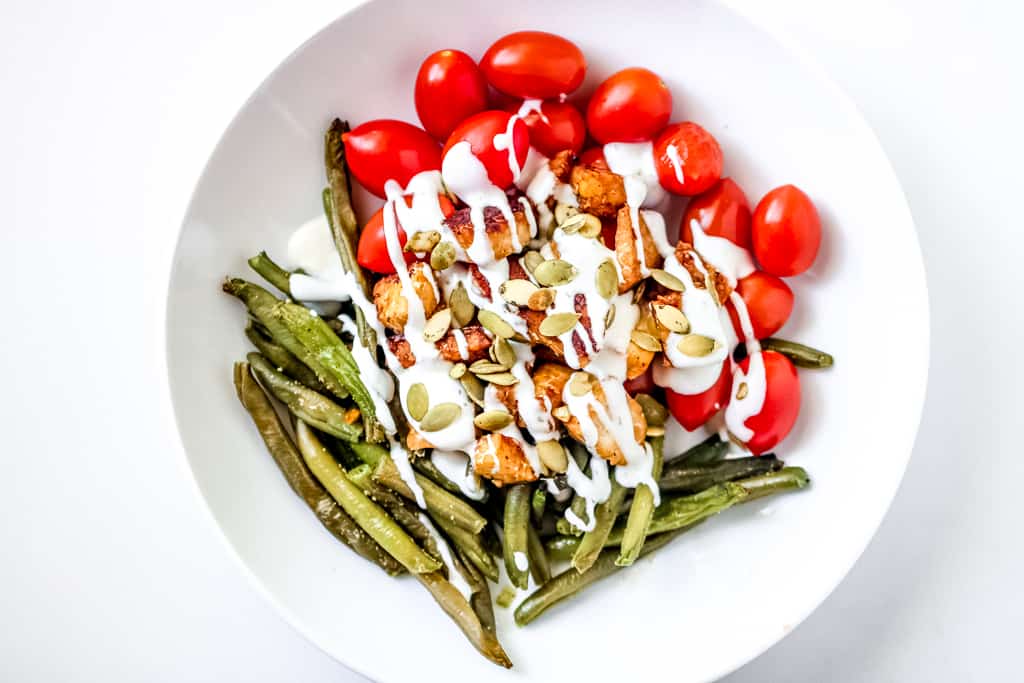 Bake

Preheat the oven to 375 degrees F. Season tempeh as desired and place in a baking pan sprayed with cooking spray and topped with desired sauce. Bake 15 to 20 minutes.
Try making this simple sheet pan tempeh below!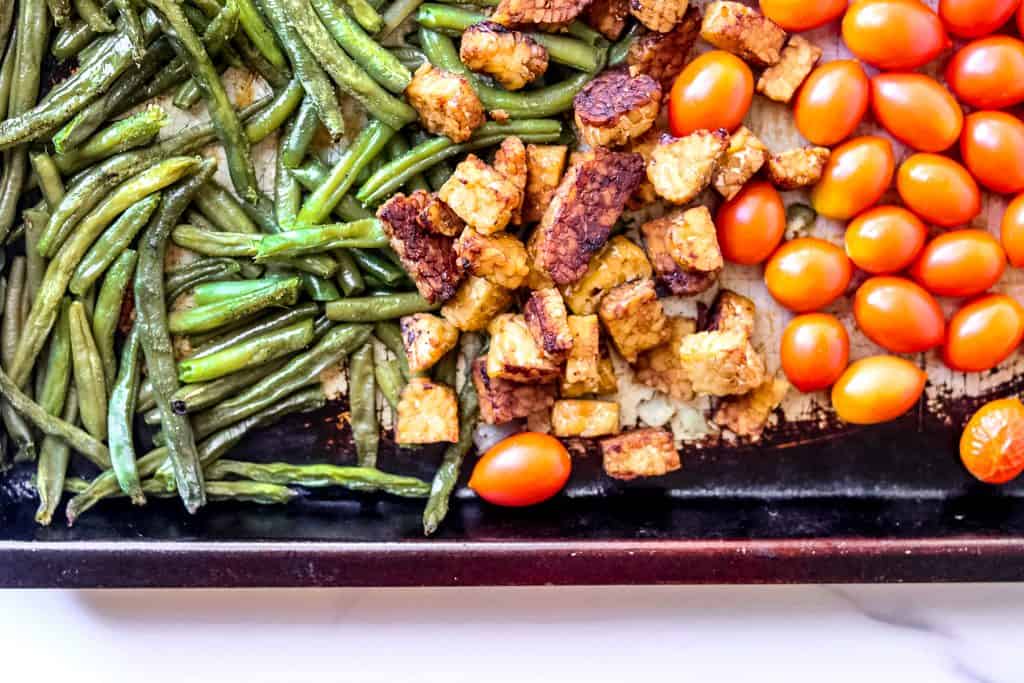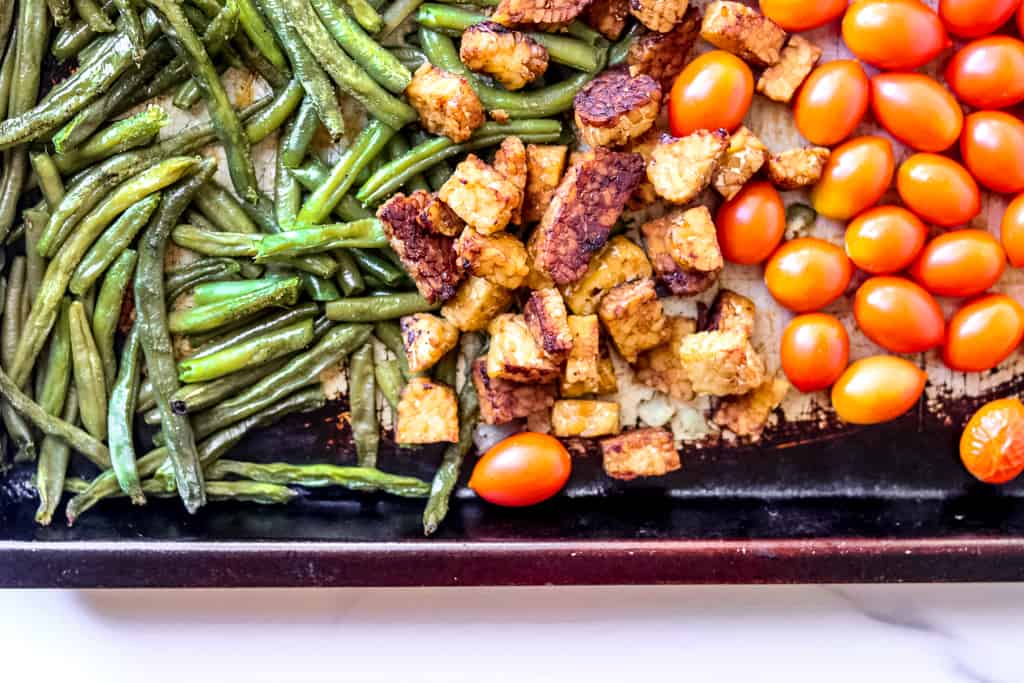 Crumble

Just like tofu, you can crumble tempeh and use it in a scramble, tacos or chili! Just ensure you are seasoning and marinating (if applicable) so the tempeh takes on the flavor of your dish.
Try this Curry Tempeh Wrap here!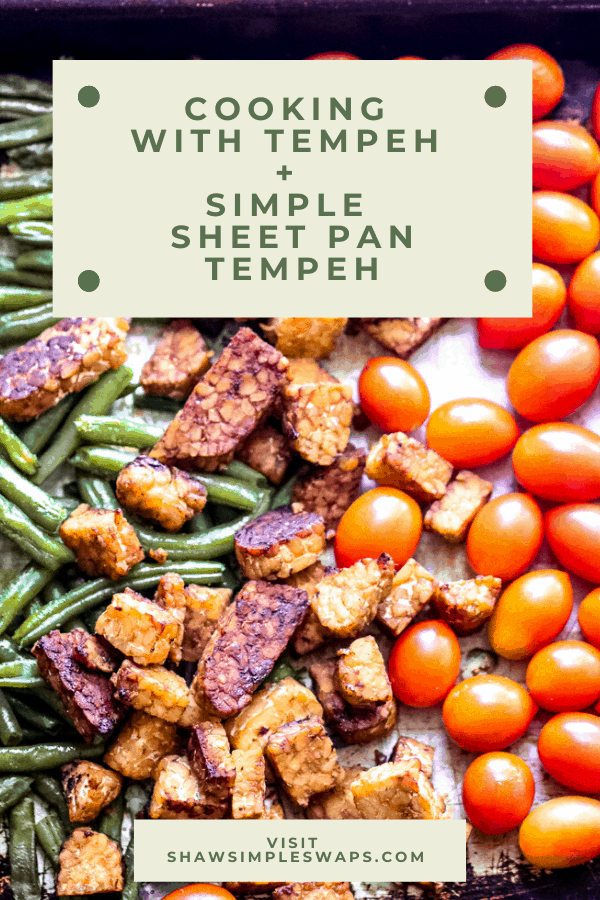 Let's dive in now to this Simple Sheet Pan Tempeh!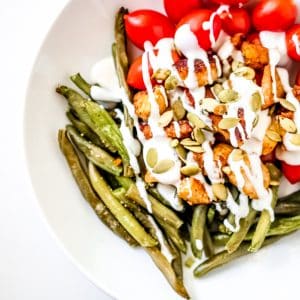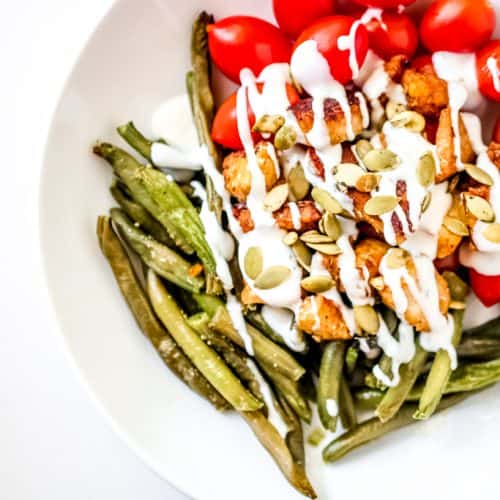 Sheet Pan Tempeh
A simple guide to show the versatily in cooking with tempeh with a sheet pan tempeh recipes the entire family will enjoy!
Print
Pin
Share by Email
Ingredients
16

ounces

tempeh

1/4

cup

olive oil

1

tablespoon

low sodium soy sauce

1

teaspoon

ginger

1

teaspoon

garlic powder

1

pound

green beans

1

cup

cherry tomatoes

Salt/pepper to taste

4

tablespoons

Yogurt-based dressing

4

teaspoons

pumpkin seeds
Instructions
Preheat oven to 425 degrees F. Spray a rimmed baking sheet with cooking spray and set aside. Slice tempeh in half lengthwise, then cut into 1/4-inch strips. Place in a large bowl and toss with 3 tablespoons of olive oil, soy sauce, ginger and garlic powder. Set aside to marinate.

When oven is preheated, add the vegetables to the bowl and toss the remaining 1 tablespoon of oil on top. Mix the tempeh and veggies together then toss on a baking sheet.

Bake for 15 to 20 minutes until tomatoes begin to blister. Remove from oven and place into 4 bowls. Top with desired dressing and/or sauce and garnish with pumpkin seeds.
Notes
Tempeh can be marinated overnight as well.
Nutrition Facts
Sheet Pan Tempeh
Amount Per Serving
Calories 413
Calories from Fat 252
% Daily Value*
Fat 28g43%
Sodium 156mg7%
Potassium 836mg24%
Carbohydrates 22g7%
Protein 25g50%
Vitamin A 965IU19%
Vitamin C 22mg27%
Calcium 172mg17%
Iron 5mg28%
* Percent Daily Values are based on a 2000 calorie diet.