Alright Simple Swappers', here's a challenge for you. Open you're pantry, fridge, freezer, or even you're desk drawer and pull out the ingredient that has been in there maybe just a little too long.
Whachya find?
Easter candy? An extra pie crust from the holidays? Dried fruit and nuts?
Don't worry, no judging going on over here, most people are in your same boat! I may have a little OCD and thoroughly enjoying cleaning out pantries and freezers to make them neat and tidy. Honestly, who doesn't love opening a cupboard and seeing all of your ingredients neatly organized, labels facing out?!
Okay, okay, now that I've thoroughly reassured you I am a giant NERD lets chat about the latest Simple Swap creation I whipped up this past weekend.
I have to admit, I had very few ingredients I would usually turn to when recipe testing. For instance, chocolate chips, a mainstay in the past, was no where in sight!
I came to terms with my chocolate void and sandwiched between two jars of PB2 I found a bag of chia seeds, spotted a container of applesauce in the fridge and grabbed a fresh Gala apple off the counter…bingo, let the creativity begin!
A little of this, a little of that, and of course a LOT of the super spice cinnamon! BAM! I was sure I had a winner in hand. Plus, I got to use my new springform pan which I absolutely love! Such a great investment and works like a charm.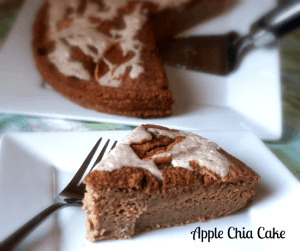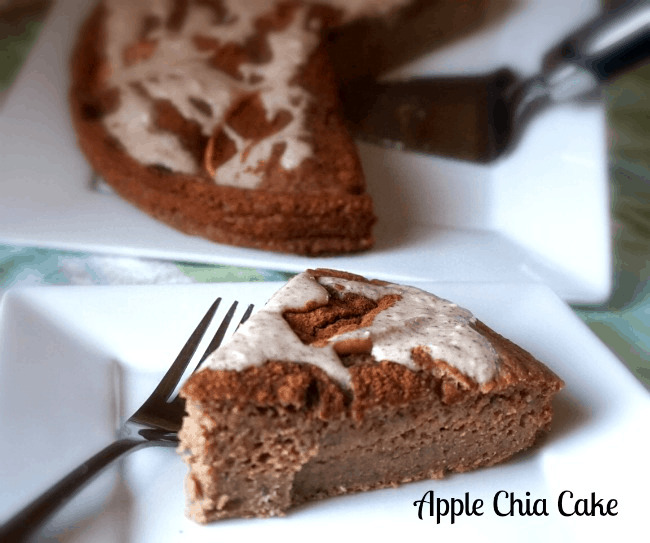 If you're in the mood for something new to tantalize your taste buds sans the traditional chocolate and peanut butter, then you definitely want to check this out! Plus, you can sweeten this up just a little more by adding an optional 1/3 cup brown sugar (I probably would've too had I had it!).
Enjoy with a cup of tea or warmed a la mode… delicious!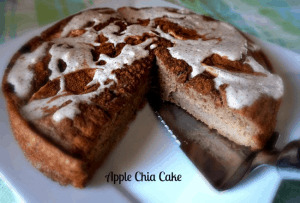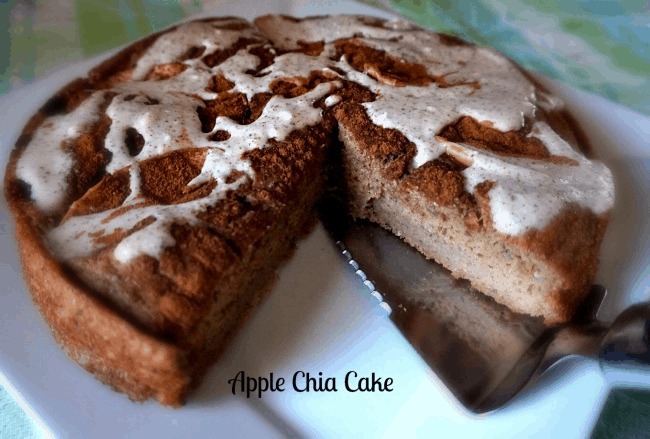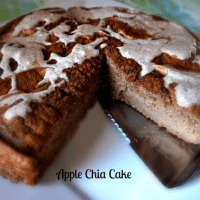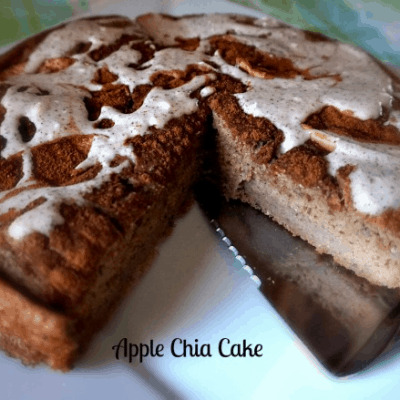 Apple Cinnamon Chia Cake
Would you believe me if I said you can have your cake and eat it too? This delicious Apple Cinnamon Chia Cake is full of nutritional benefits with same flavors of the cakes we know and love!
Print
Share by Email
Ingredients
Dry Cake Mix

1 1/4

cup

white whole wheat flour

1/3

cup

brown sugar

optional, but preferred

1 1/2

tsp

pumpkin pie spice

1/4

tsp

ginger

2

tsp

baking powder

Wet Ingredients

1/4

cup

egg whites

1

cup

unsweetened applesauce

1/4

cup

nonfat Greek plain yogurt

1

cup

unsweetened vanilla almond milk

1

tbsp

. vanilla extract

1

tbsp

. chia seeds

1

tsp

cinnamon

3

tbsp

. agave/stevia liquid blend

Topping

1/2

sliced apple

1

tsp

cinnamon

Icing

1/3

cup

nonfat Greek plain yogurt

2

tbsp

. agave/stevia liquid blend

1/2

tsp

cinnamon
Instructions
Preheat oven to 350*F.

In one bowl, mix all dry ingredients together.

In a separate, larger bowl, mix all wet ingredients together.

Add the dry into the wet, slowly, until completely mixed together.

Spray springform pan with cooking spray and pour batter in.

Slice 1/2 apple and place in a circular pattern on the cake perimeter.

Top with cinnamon and place in oven.

While baking, mix icing ingredients together.

When cake is done and toothpick inserts and comes out clean, cool for 20 minutes.

Top with icing and enjoy!
Nutrition Facts
Apple Cinnamon Chia Cake
Amount Per Serving
Calories 193
Calories from Fat 18
% Daily Value*
Fat 2g3%
Cholesterol 1mg0%
Sodium 84mg4%
Potassium 266mg8%
Carbohydrates 39g13%
Protein 7g14%
Vitamin A 12IU0%
Vitamin C 1mg1%
Calcium 179mg18%
Iron 1mg6%
* Percent Daily Values are based on a 2000 calorie diet.