Looking for a gluten free meal the whole family will enjoy? Then this Vegetarian Enchilada Casserole is for you!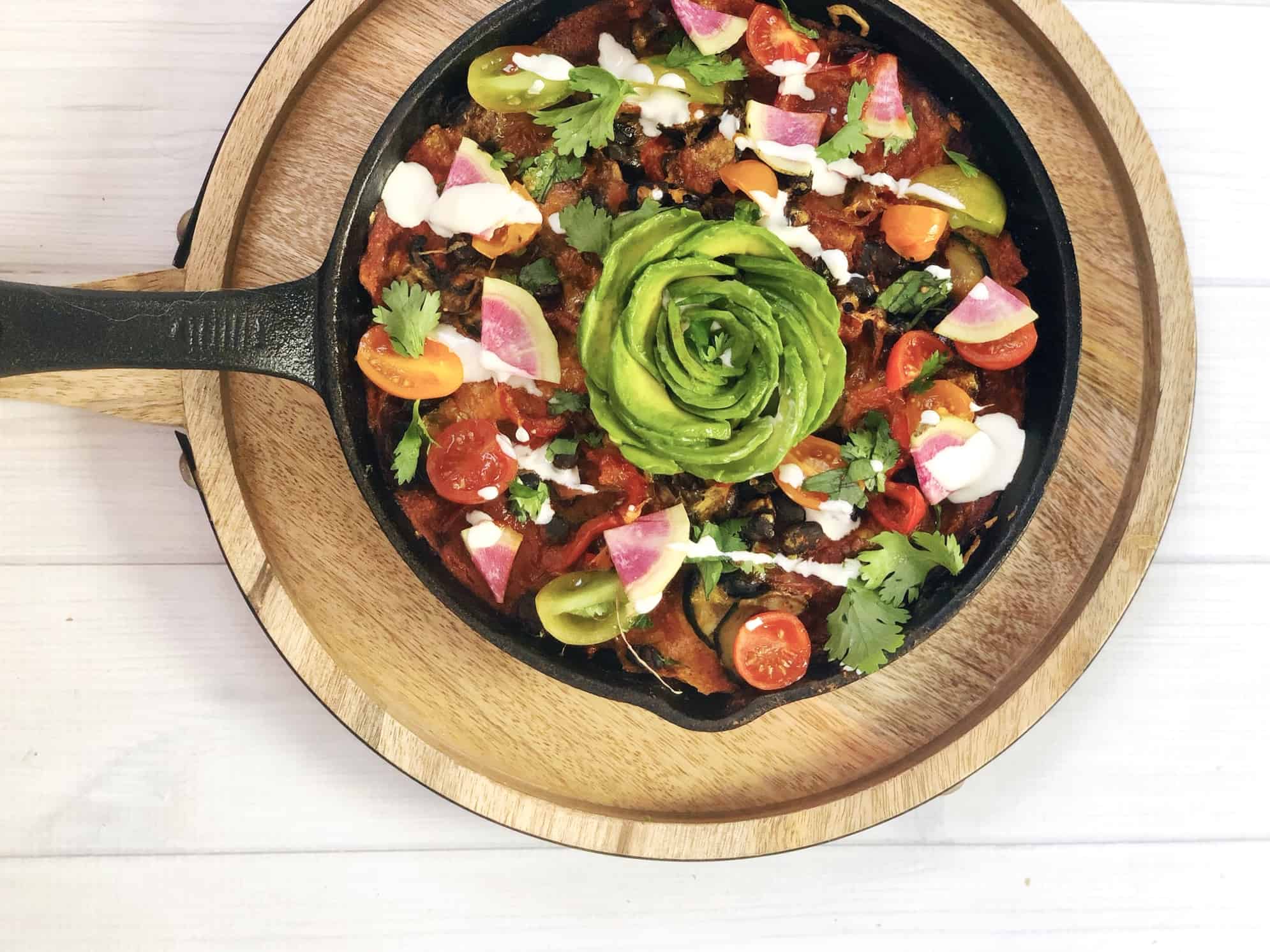 Literally, so glad my energy to cook has come back!
And, just in time thankfully to whip up this delicious Vegetarian Enchilada Casserole from the fabulous intern Emily!
I had the pleasure of meeting Emily Jocham briefly as she shadowed a day in the life of this extremely pregnant entrepreneur RDN!
And, I'm happy to report Emily has since finished her RDN exam and is now a registered dietitian nutritionist! She primarily focuses on helping individuals develop and foster a healthy relationship with food and fitness. You can find more recipes and inspiration from her on Instagram @Lettuce_eat_right.
Now, without further adieu, I'll let Emily tell you all about her mama (and this beautiful dish!)
Enter, the Not Your Mama's Vegetarian Enchilada Casserole!
My mom is a TERRIBLE cook.
Now before you go on saying "do you kiss your mother with that mouth?", you should know my she flies the 'incapable cook' flag proudly. For example, when I was a child, if my dad wasn't home to make dinner my mom would handwrite a menu for me and my brothers to order from as if we were three juvenile diner patrons. The menu consisted of:
Microwave bean and cheese burritos

Cinnamon Toast Crunch (with or without milk)

Toaster waffles

Ice cream sundaes
But, if we were lucky, she would make the one recipe that my grandmother passed down to her: Vegetarian Enchilada Casserole.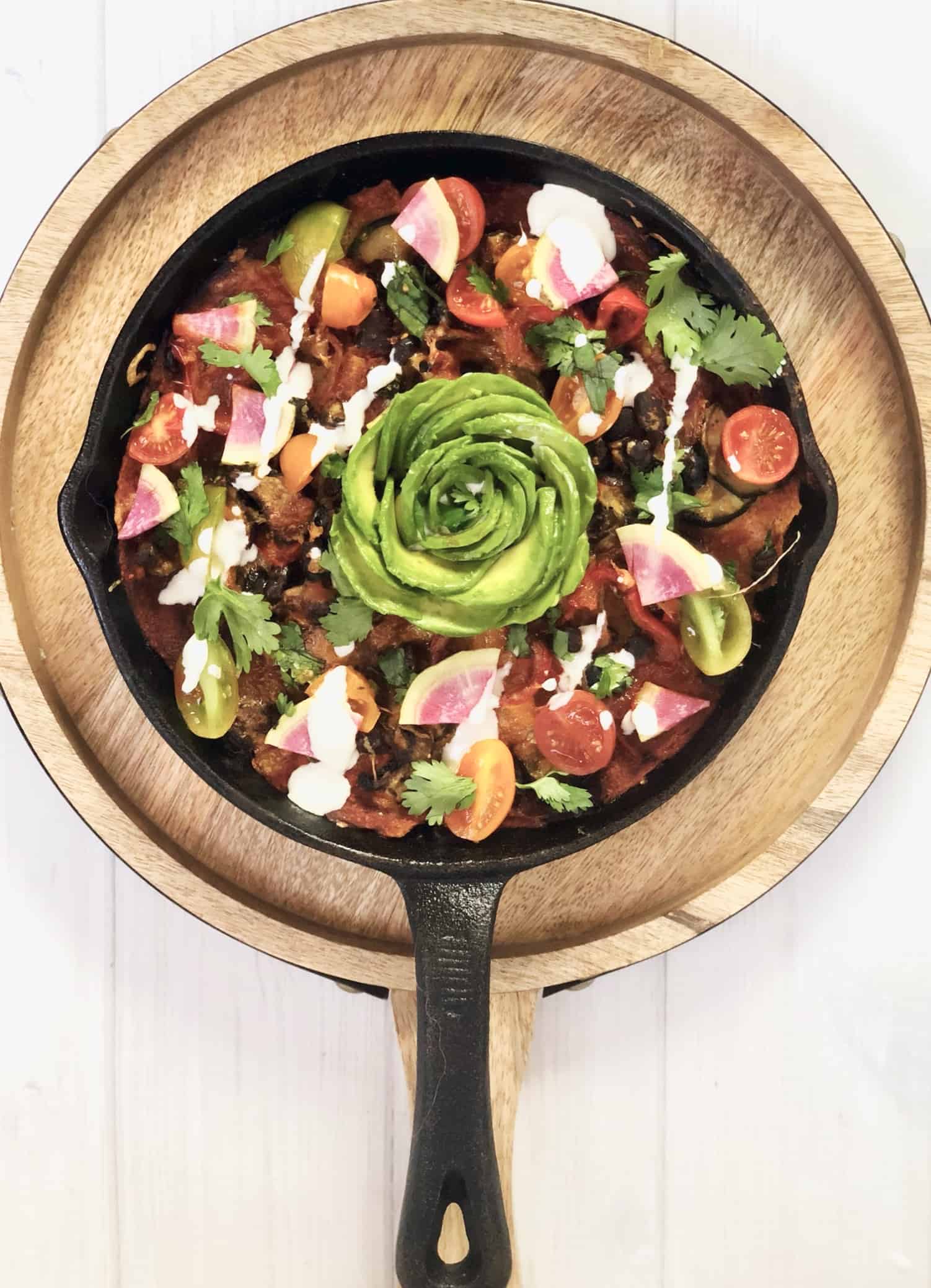 That's where today's recipe comes in. It is my mom's one and only specialty, with some simple swaps to increase the nutrient content and decrease the calories.
I love this take on enchiladas because it makes for great meal prep and almost all the ingredients can be substituted for whatever is already in your kitchen.
Simple Swaps for the Vegetarian Enchilada Casserole
For example, the vegetables used in the recipe can be substituted for whatever you have on hand, I often swap in sweet potatoes, broccoli, canned corn, or fresh spinach.
The corn tortillas can also be substituted for flour, almond flour, or rice flour tortillas.
See, the opportunities are endless… No wonder even my mom could pull this off!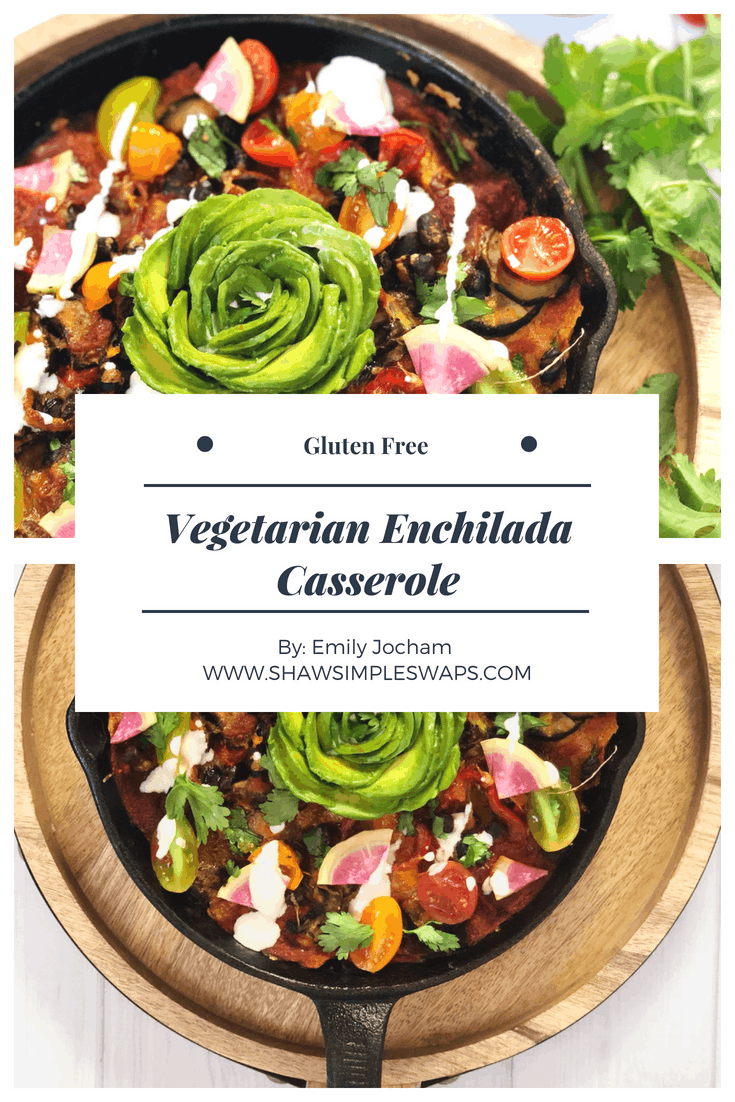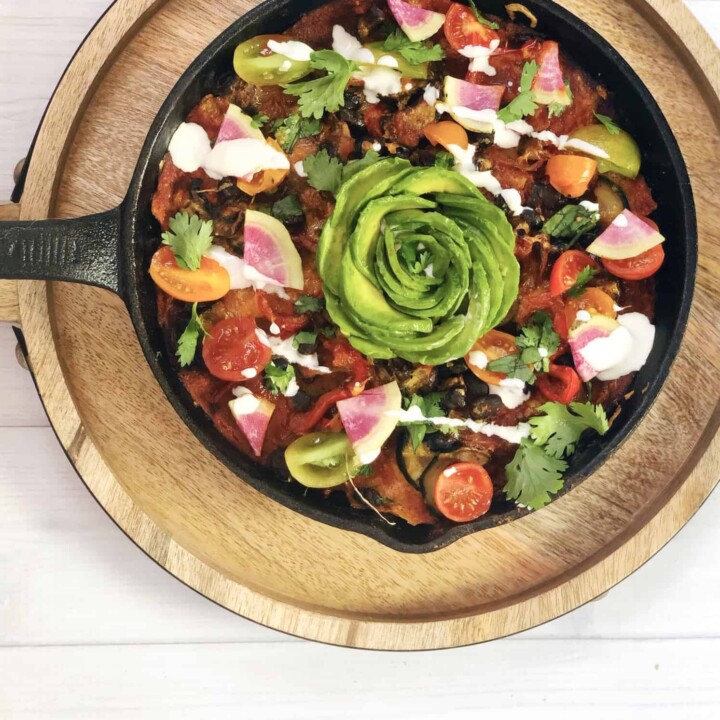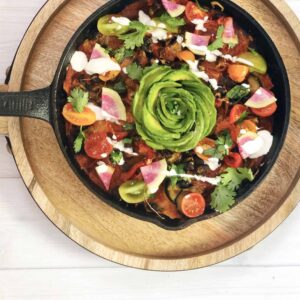 Not your Mama's Vegetarian Enchilada Casserole
A delicious blend of hearty vegetables and tasty flavors!
Print
Share by Email
Ingredients
2

teaspoons

olive oil

1

small

onion, sliced

2

medium

bell peppers, sliced

1.5

cups

chopped mushrooms

1

medium

zucchini, sliced into coins

2

teaspoons

low sodium taco seasoning

1

can

black beans, drained and rinsed

15 ounce can

1

cup

shredded cheddar cheese

10

corn tortillas

1

20 ounce

can low sodium enchilada sauce (red or green)
Instructions
Preheat oven to 375 degrees Fahrenheit. Heat a large skillet to medium heat and add in oil and onion.

Saute for 3-4 minutes until the onions begin to turn translucent. Add the rest of the vegetables and salt and pepper to taste. Cook for another 5-8 minutes or until everything is softened.

Once the vegetables have reached your desired texture, add the taco seasoning and black beans and cook for another 1-2 minutes.

Meanwhile, cover the bottom of a baking dish or cast iron skillet with a layer of enchilada sauce. Top with a layer of the corn tortillas tearing and placing pieces to fit until the entire surface is covered. Cover the tortillas with another thin layer of sauce. Add ½ the vegetable bean mixture and spread out over the tortillas. Top with ½ of the cheese. Repeat the tortilla, sauce, and vegetable layering process 1-2 more times depending on the size of your baking dish.

Place the layered casserole in the pre-heated oven and cook for 20 minutes. Remove from the oven and let cool for 5-10 minutes.

Garnish with avocado, salsa, cilantro, and greek yogurt to your liking!
Notes
Recipe is best stored in an airtight container and consumed within 5 days.
Nutrition
Calories:
411
kcal
|
Carbohydrates:
55
g
|
Protein:
19
g
|
Fat:
14
g
|
Saturated Fat:
6
g
|
Cholesterol:
29
mg
|
Sodium:
225
mg
|
Potassium:
885
mg
|
Fiber:
13
g
|
Sugar:
6
g
|
Vitamin A:
600
IU
|
Vitamin C:
57.9
mg
|
Calcium:
291
mg
|
Iron:
3
mg
Looking for more delicious Mexican recipes?!
Check out the Turkey Enchiladas here, or the 5 Minute Black Bean Tacos here!