Have you heard of the Teal Pumpkin Project?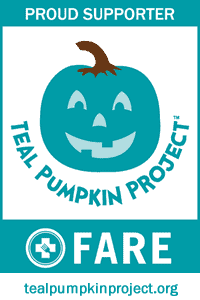 Well if you haven't you're in luck! Today I'm giving you the low down behind this marvelous project from the Food Allergy Research & Education Network. For those who have kiddos with food allergies and/or sensitives, this is truly a parents dream!
The idea behind the Teal Pumpkin Project is to provide the excitement for all individuals who want to partake in Halloween but for a medical reason or lifestyle choice, cannot have the candy that is typically passed out. Thus, the Teal Pumpkin Project is a way for homes to show families with kids who fall into this category that they have a non-food option for them.
By painting a pumpkin teal, you identify to the public that you are participating in the Teal Pumpkin Project and support the festivities of the holiday for all!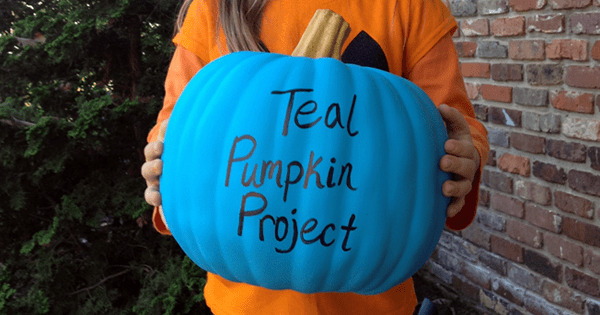 Now, here's a few of the non-food items you can purchase to join the Teal Pumpkin Project!
Glow sticks, bracelets, or necklaces
Pencils, pens, crayons or markers
Bubbles
Halloween erasers or pencil toppers
Bouncy balls
Spider rings
Vampire fangs
Mini notepads
Bookmarks
Stickers
Stencils
If you'd like to still pass out a treat, but are looking for things that are free of the top 8 allergens, here are my top 3 favorite Dietitian Approved suggestions!
Clementines painted as Jack-o-Lanterns via Armelle Blog
Popcorn Hands via Sugar Spice and Spilled Milk
DIY Ghost Lollipops via Thrifty Mom
Happy Halloween Week!! What are you passing out?