Rosemary Country Gravy Hash Browns with Turmeric Eggs – Gluten Free, Vegetarian Friendly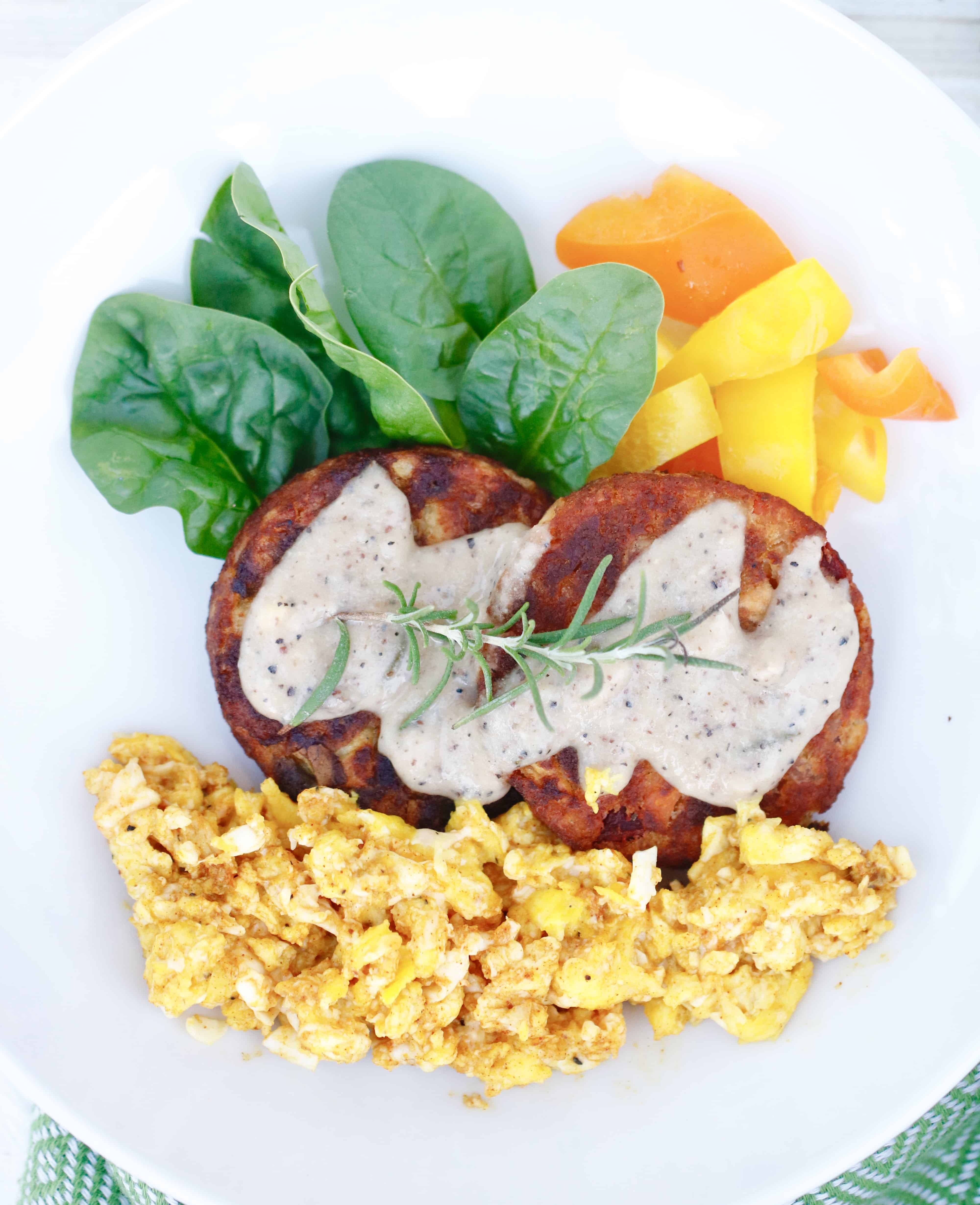 Do you ever feel like you've got so much to say you don't even know where to start so you say nothing at all?
Well my friends, that's how I am feeling today.
But, rather than mindlessly share my scattered Lizism thoughts with you, I'm going to keep this short and sweet (well, savory actually!)
Rosemary Country Gravy Hash Browns with Turmeric Eggs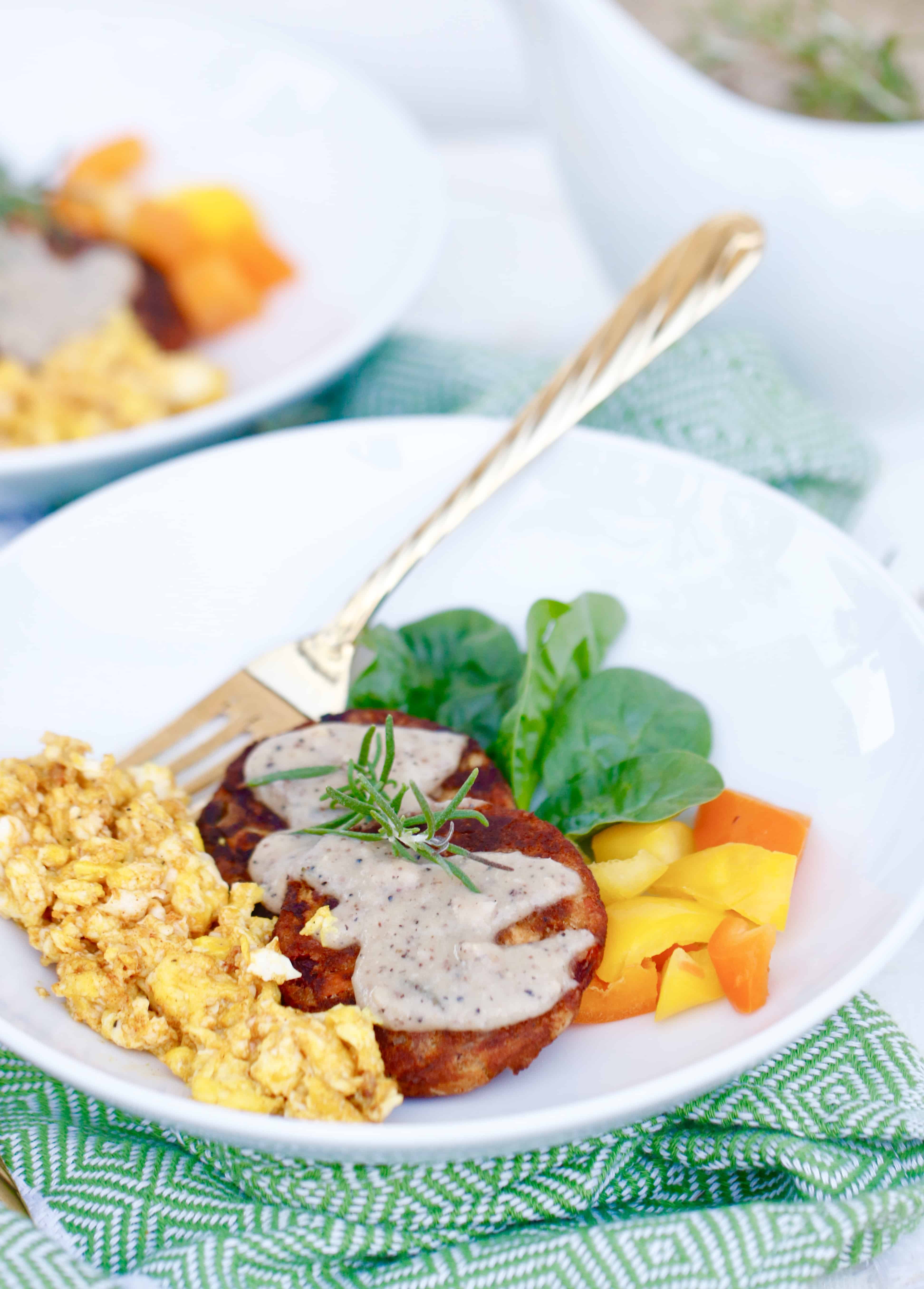 Yep, these Country Gravy Hash Browns have been #trending in the Shaw Kitchen lately and frankly Mr. CEO is not one bit mad about it.
The thing that really makes this meal- the Country Gravy. I mean just look at this big ole' bowl of goodness… Southern comfort at its finest, right?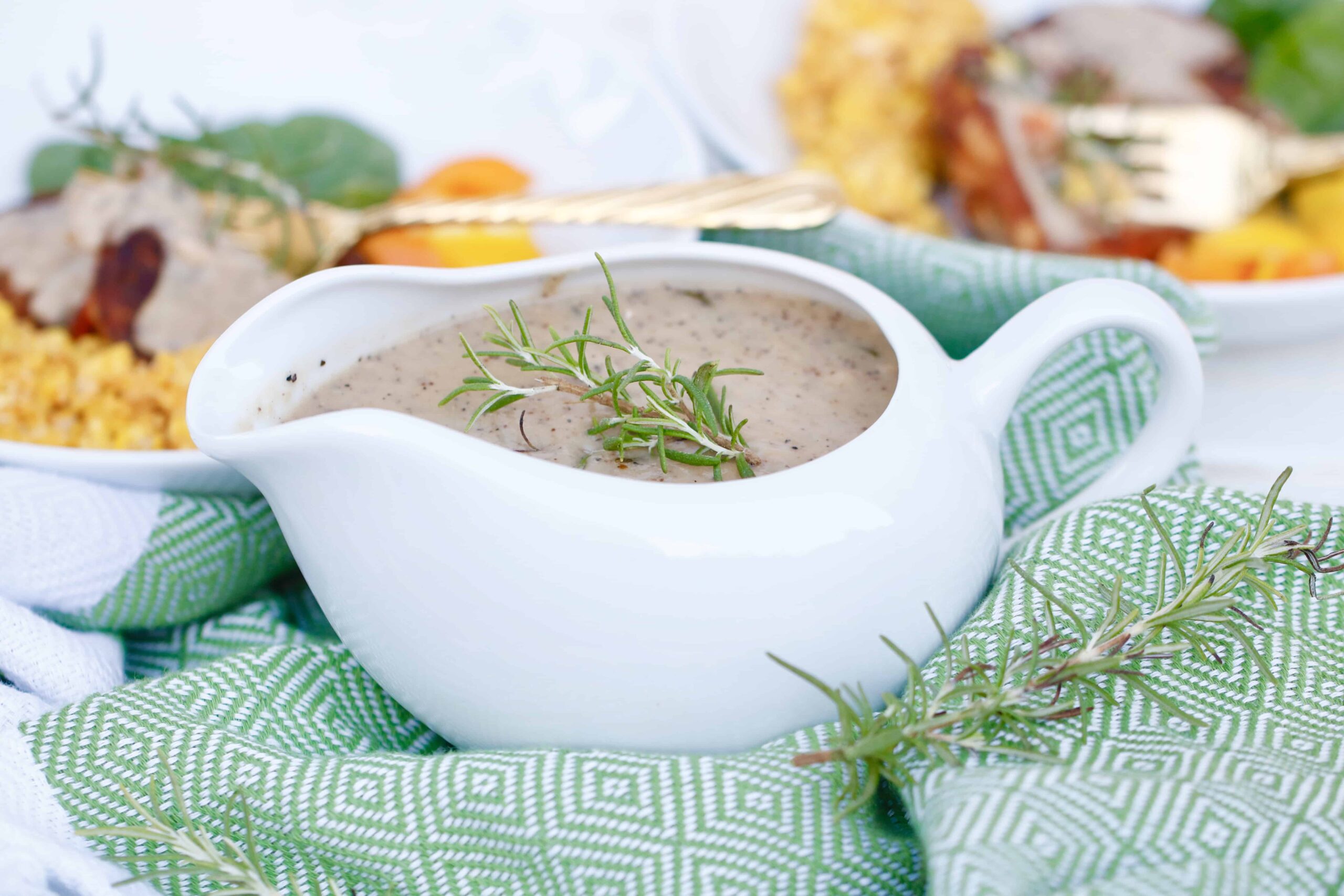 Though this gravy tastes fabulous over hash browns, I also highly recommend it being served over the Onion Beer Biscuits or the Savory Swiss Loaves!
Now, lets get cookin'!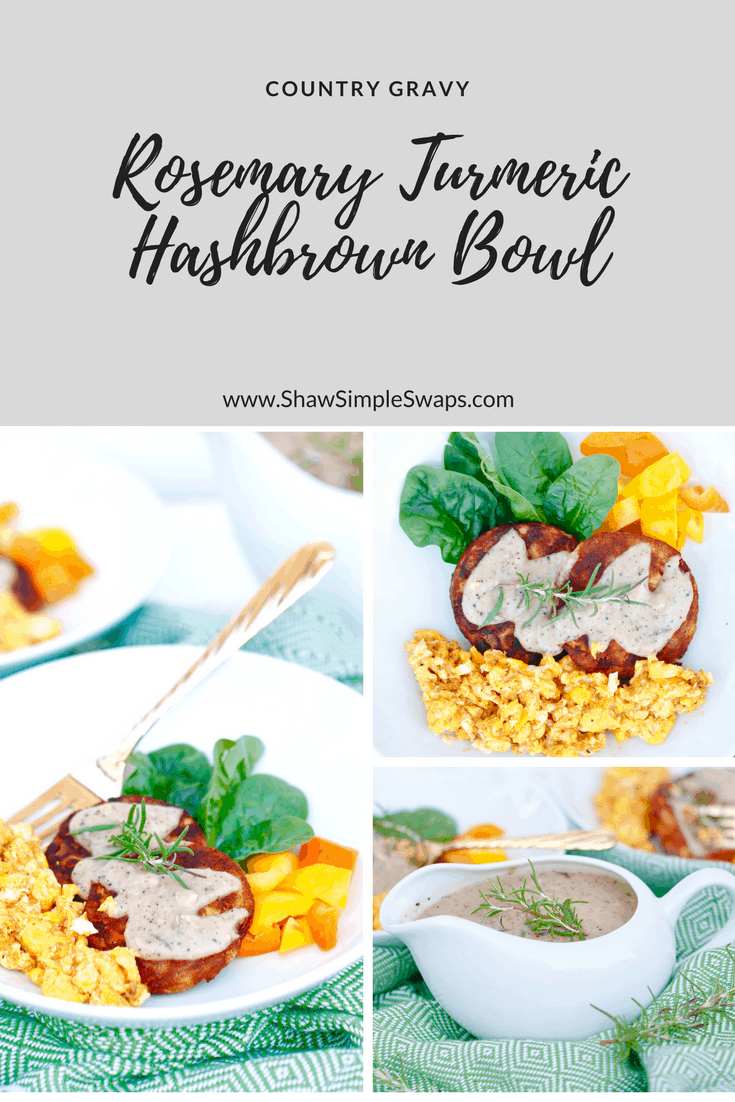 I hope you enjoy this as much as Mr. CEO and if you make it, share with me what you think!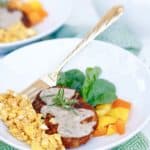 Print
Rosemary Country Gravy Hash Browns with Turmeric Eggs
A quick, easy and versatile Country Gravy that pairs with hash browns, eggs or frankly as a delicious sauce with zoodles!
Servings
2
bowls, 2 cups Gravy
Ingredients
Country Gravy

3

tablespoons

butter*

1

teaspoon

ground black pepper

1/2

teaspoon

garlic powder

1/4

teaspoon

sea salt

1/3

cup

fava bean flour*

2

cups

cows milk

2

sprigs fresh rosemary

Hash Brown Bowls

4

premade frozen vegetable hash brown patties

1

large bell pepper

chopped

3

large eggs

1/2

teaspoon

ground turmeric

1/2

teaspoon

ground black pepper
Instructions
Preheat oven to 450*F.

To prepare gravy, place 4-quart stovetop pot over medium heat. Stir butter until melted, mixing in spices after about 1 minute.

Slowly whisk in flour and begin to pour in milk, 1/4 cup at a time. Continue to stir over medium to low heat for about 5 to 7 minutes. Add in sprigs of rosemary and turn heat to low, cover and set timer for 10 minutes.

Begin to prepare the hash browns by spraying a baking sheet with nonstick spray.

Place hash browns and peppers on tray and cook for 6.to 8 minutes per side. While baking, don't forget to turn off the gravy. Before serving (or storing), remove rosemary sprigs.

Prepare eggs by heating 3 lightly beaten eggs in a nonstick skillet. Add in turmeric and black pepper, cook until done.

Remove baking sheet from oven and assemble bowls.

Place two patties on the bottom, equally divided bell pepper and add some fresh spinach, if desired. Next place eggs on or next to hash browns and cover with 2 tablespoons of gravy.

Enjoy!
Notes
*I use a light plant based flaxseed butter spread.
*To make fava bean flour, pulse 3 ounces of dried fava beans in a blender. If you don't have fava bean flour, whole wheat or all purpose will work fine. Country Gravy Nutrition: 2 TBSP
Calories: 67 ; Sodium: 80mg ; Carbohydrates: 12gm ; Fiber: 2gm ; Protein: 4gm Country Gravy Hash Browns with Eggs: 1 Bowl
Calories: 290 ; Sodium: 380mg ; Carbohydrates: 27gm ; Fiber: 8gm ; Protein: 15gm
Let's chat!
What's your favorite food to put Country Gravy on?