Eat This, AND That 
Are you reading that correctly?
Yes, yes you are! Allowing all foods in a healthstyle is a totally new concept for many.
If you've followed my posts at all, you know I'm a big proponent of eating a variety of different foods. Salads, sandwiches, sweet treats  and snacks all have a place in a balanced meal plan.
When building a new healthstyle, it's important to understand why you need to include all of the foods you enjoy, both better for you foods and more decadent foods. By doing so, you'll re-establish a healthy relationship with food, just like you had as a baby.
What do I mean by that?
Glad you asked! It's a concept known as intuitive eating. Just picture a little baby. When he/she is hungry, he/she will begin to cry, signaling the need for food. The caregiver will feed him/her, sometimes a full bottle, sometimes two bottles, and sometimes, maybe just a sip or two. That ability for the baby to control his/her internal hunger cues is what is referred to as intuitive eating; or simply put, eating to fulfill one's hunger.
Unfortunately, that innate ability we were all born with to control our hunger and fullness cues has been pushed aside and we (myself included) let outside factors dictate our hunger and fullness levels at times. This section will encourage you to get back in touch with your true intuitive eating nature and find peace with all foods again.
I promise you will receive more enjoyment and satisfaction from eating by allowing yourself the freedom to eat intuitively. Portion control does remain a part of this process though, so if you need a refresher, be sure to use this resource to review! Portion Control Guide
The Food Groups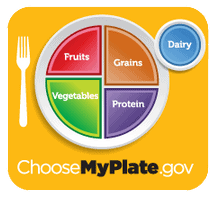 Fruits:
Provide natural sources of vitamins, minerals as well as fiber and sugar.
A great way to satisfy your sweet tooth and makes for excellent SIMPLE SWAPS in baking goods and desserts.
Vegetables:
Low calorie but filled with vitamins and minerals.
Excellent SIMPLE SWAP for carbohydrates such as pastas, breads and stir fry's.
Grains:
Rich in B-vitamins (aka your energy vitamins) and fiber.
Excellent to boost your energy levels and increase your satiety (aka fullness factor).
Protein:
Keeps you feeling fuller for longer periods of time.
Helps with muscle repair and recovery, as well as keeping your body functioning. More than 100 enzymes in your body require protein to get started!
Dairy:
Helps build strong bones- yes, that's not a lie!
Studies also show daily dairy consumption helps maintain a healthy body weight while also providing essential vitamins and minerals.
Fats/Oils:
Don't fear the fat! Healthy fats from plant based oils, nuts and avocados are excellent additions to a balanced meal plan.
Use sparingly! Just because they are good for you doesn't mean to go over the top. A little olive oil on veggies- perfectly fine! A dosing on a stir fry- probably too much!
Now that we've got the bases covered, check out the Shaw's Simple Swap Recommendations for the food groups above. It's your own personal Shaw's Simple Swap Dictionary of how to Simple Swap your way to Shape Up Success!