Fodmap Friendly Chocolate Chip Cookies with a Superfood Swap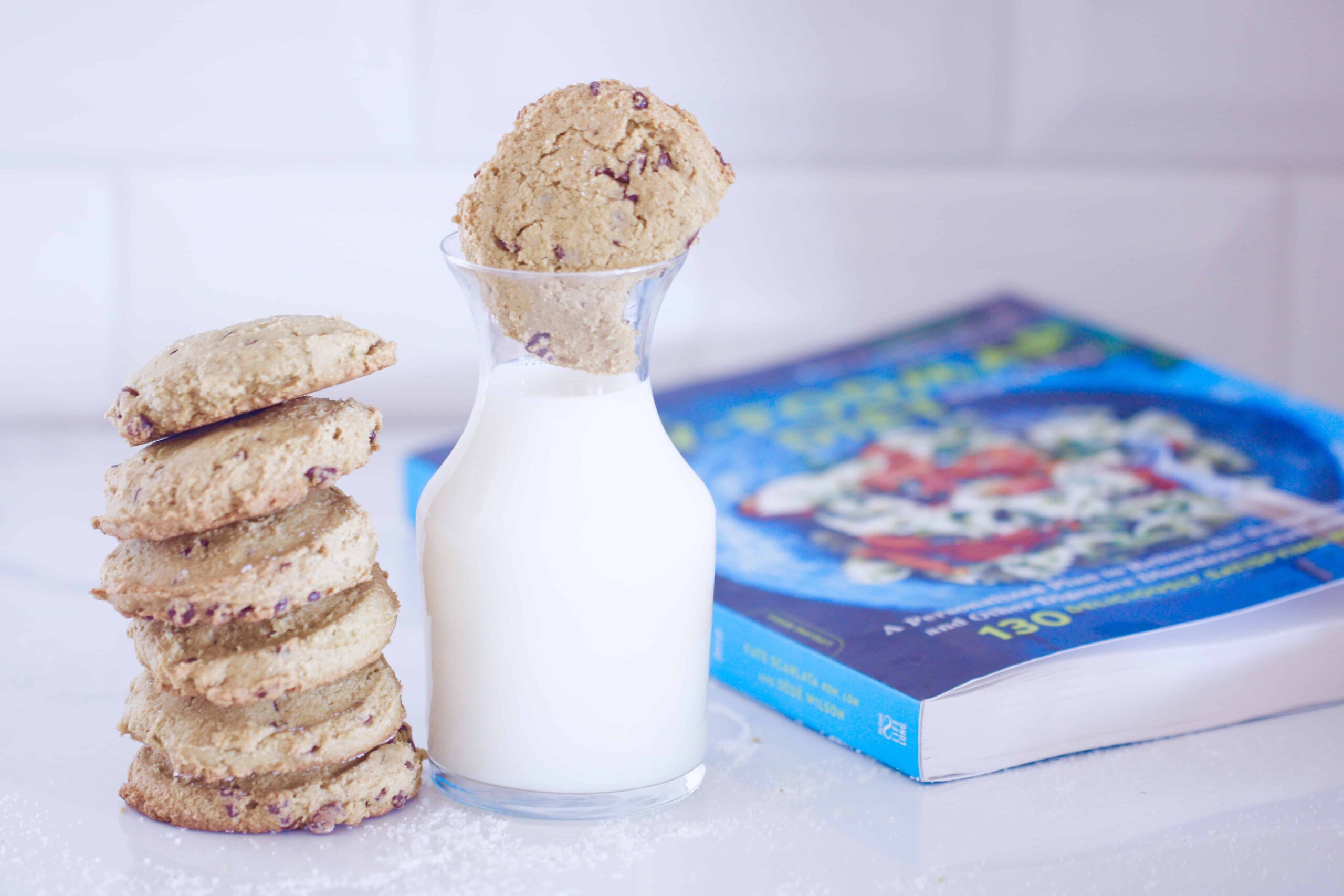 Remember when I promised you a Fodmap Friendly Chocolate Chip Cookie Recipe here?
Well my friends, I am delivering that to you today!
Truth be told, I've been dying to whip up a cookie recipe from The Low-Fodmap Diet Cookbook by Kate Scarlata ever since my sister in law raved about them!
"Liz, you have to try Kate's Peanut Butter Cookies! They are seriously to diet for and only 3 ingredients".
She had me sold at 3 ingredients until I realized I was actually out of the prime ingredient needed in the recipe, peanut butter!!!
Shoot, okay, not a biggie! I can improvise. What else is speaking to me?
Frankly, with the 130 recipes found in The Low-Fodmap Cookbook, it was hard to choose just one.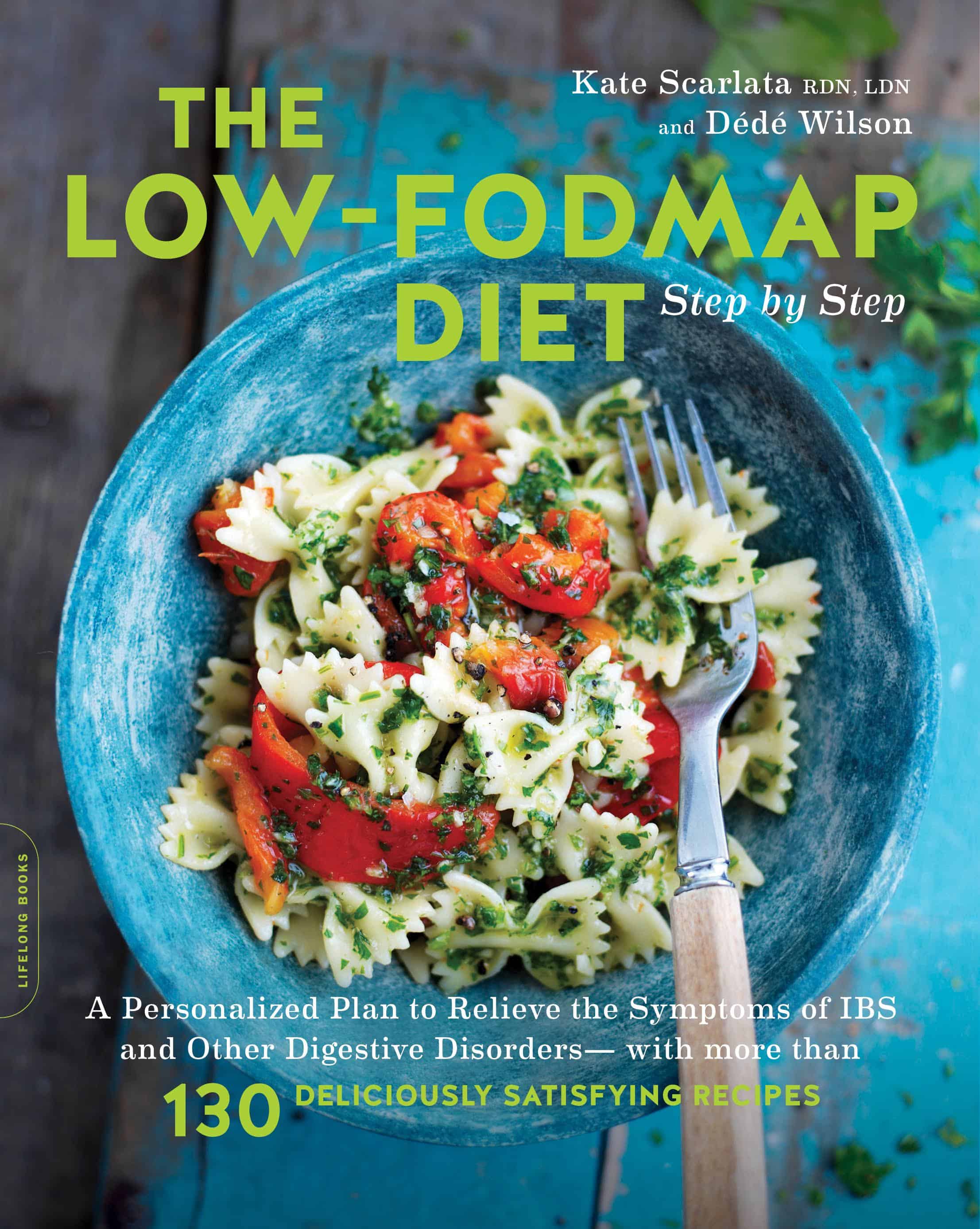 But, since Mr. CEO has been working like crazy, I knew a special thank you that he always enjoys is a warm chocolate chip cookie.
So, problem solved.
I flipped open the book and knew right then and there I was set to whip up a Shaw Kitchen version of a Fodmap Friendly Chocolate Chunk Cookie!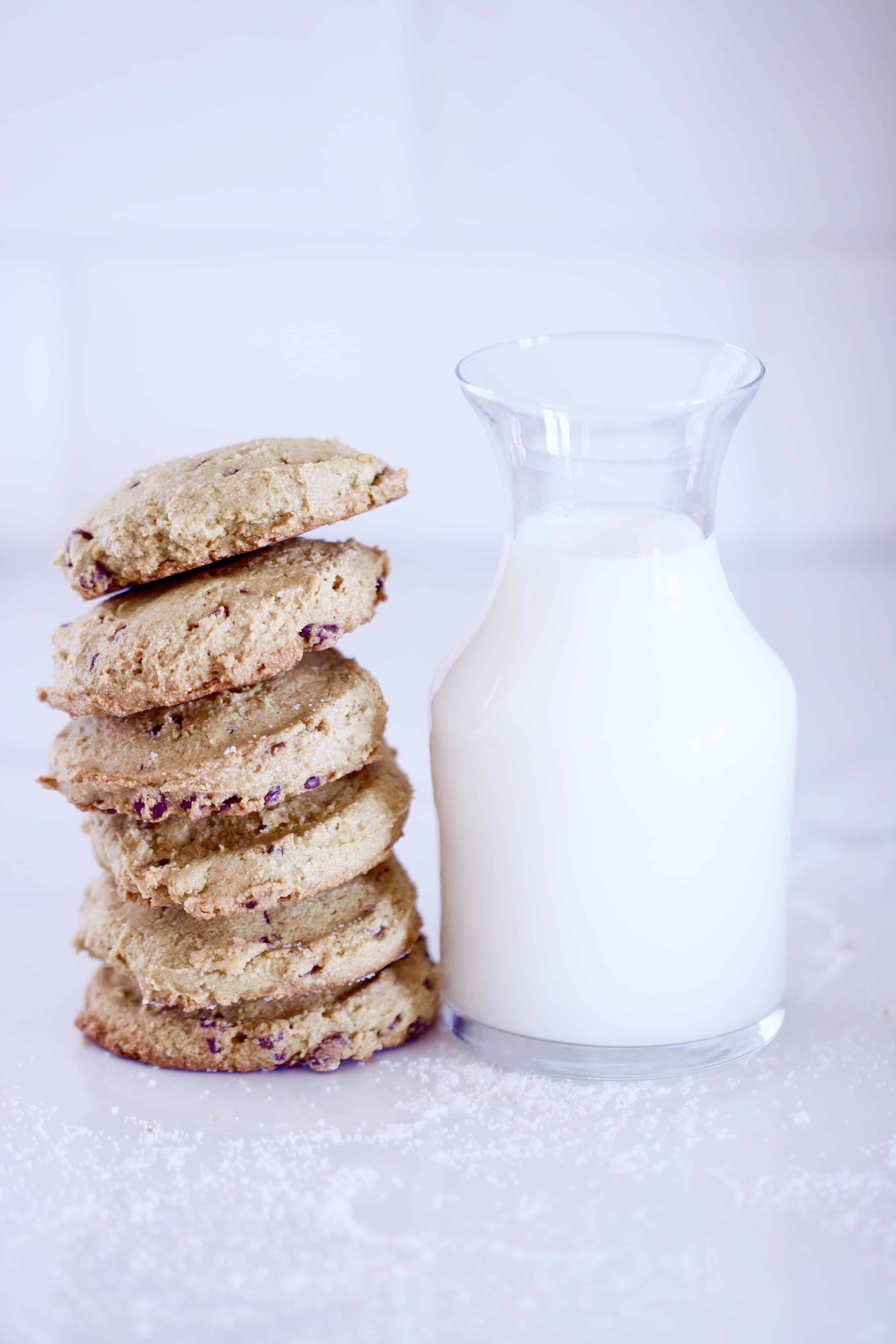 The main different you'll see in this recipe from Kate's is that I used avocado in place of butter, omitted the walnuts and lowered the sugar a tad.
Since baby is on the way we're trying to decrease the amount of added sugar we consume, and truthfully, using the semi-sweet mini chocolate chips with the 1 cup of sugar resulted in a 100% totally satisfying cookie!
But, I say this in case you want to try more of the original recipe. Then just add an extra 1/2 cup of brown sugar!
While avocados are not a low-fodmap food, Kate did say when following the serving size of 2 cookies, these cookies still remain low-fodmap given the amount of avocado actually present in each cookie. Woohoo!
Avocados are also a great way to increase the nutrition in your diet so anytime I can make an avocado swap in my kitchen you'll usually find me doing so!
After a round of trial and error, Mr.CEO came home and within 2 minutes had consumed two freshly baked cookies and was already asking for more!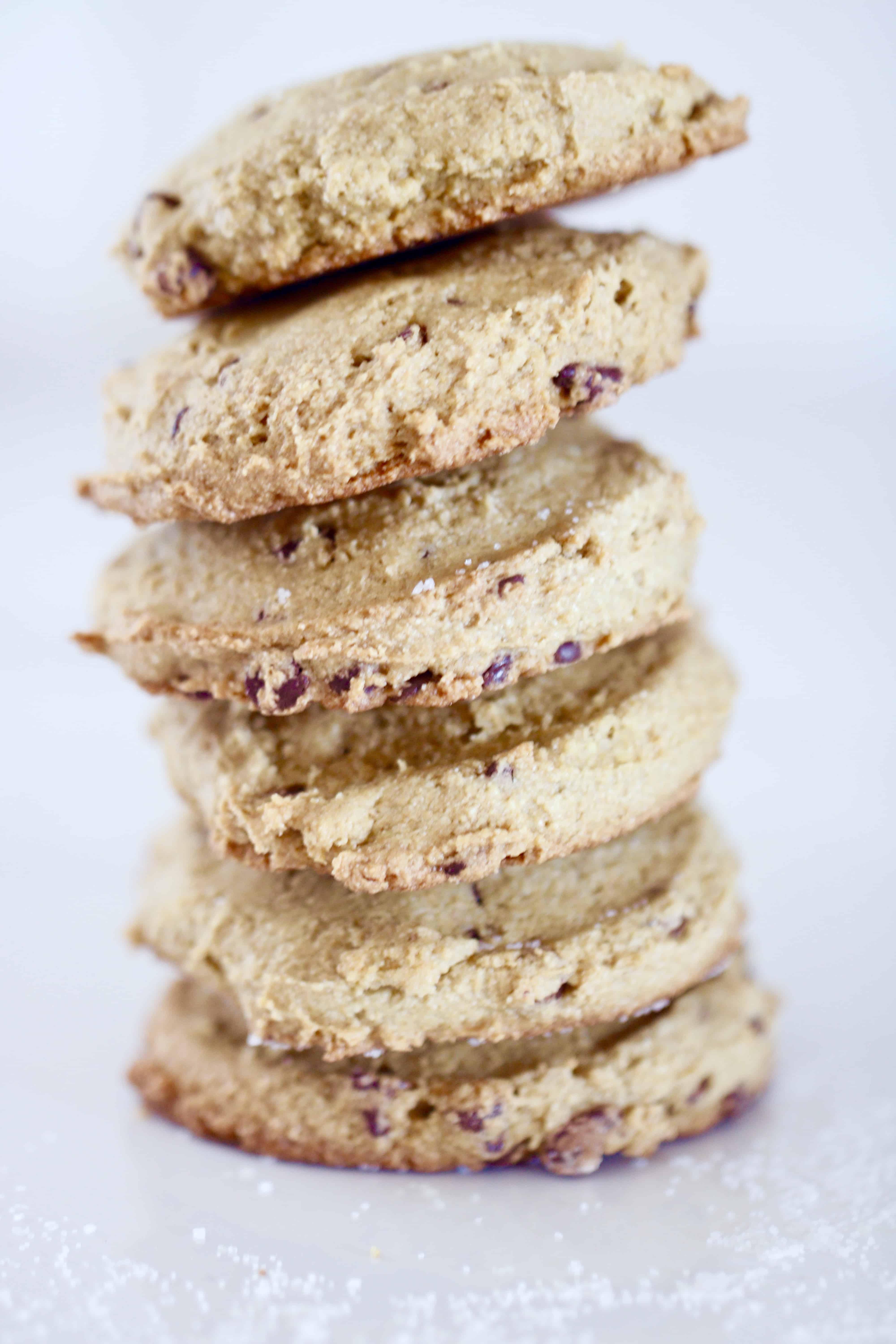 I kid you not, this was the first swap in the baking department since pregnancy that I've actually succeeded in!
For some reason, baking and me just aren't meshing these days.
But, I'm not worried. I'll rely on my good friend Kate and her timeless fodmap friendly recipes to tie me over until my green thumb for the kitchen returns!
And, you can too. Be sure to check out Kate's book here and order your copy too!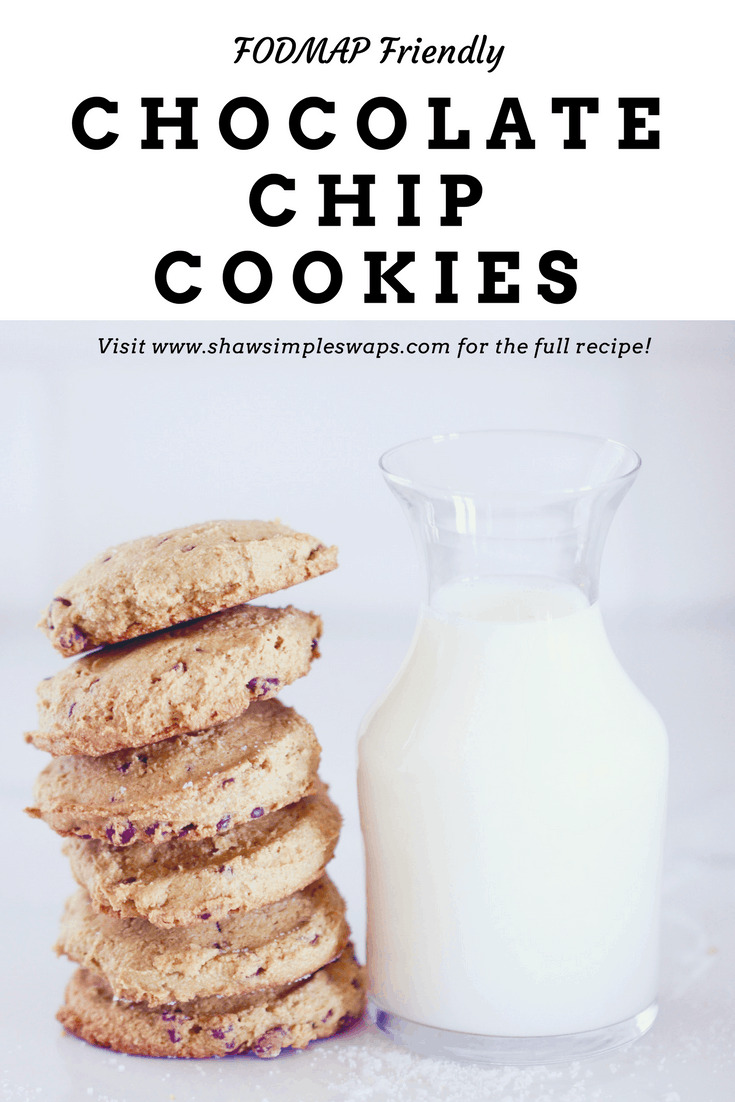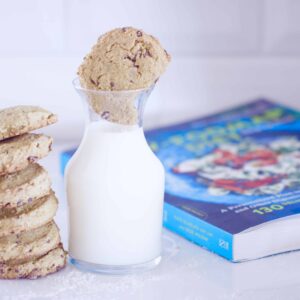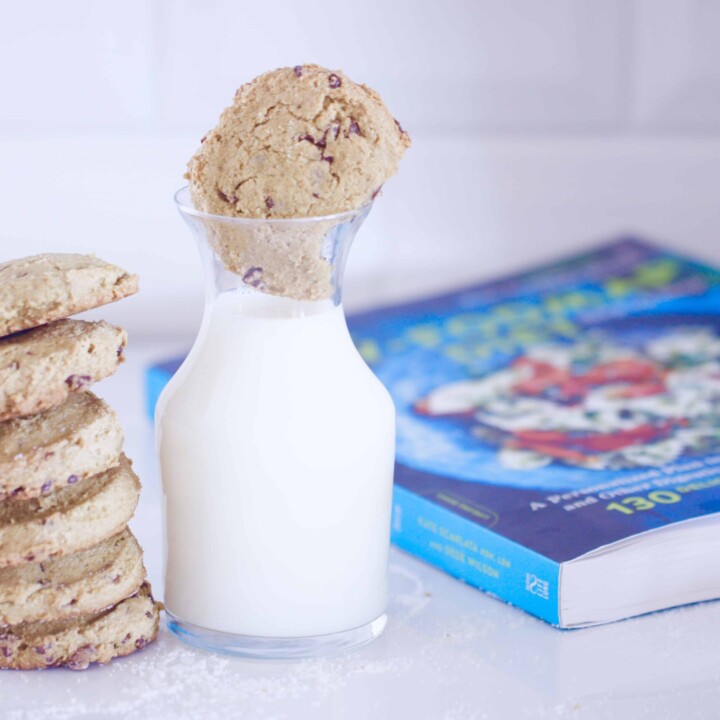 Fodmap Friendly Chocolate Chip Cookies
Fodmap friendly cookies inspired by the Low-Fodmap Diet by Kate Scarlata
Print
Share by Email
Ingredients
2 1/4

cups

Gluten-Free All-Purpose Flour*

1

teaspoon

baking soda

1/2

teaspoon

kosher salt

5

ounces

California avocado

pureed

1/2

cup

firmly packed light brown sugar

1/2

cup

cane sugar

2

teaspoons

vanilla extract

2

large eggs

room temperature

3/4

cup

mini chocolate chips
Instructions
To a medium bowl, whisk the flour, baking soda, and salt. Set aside.

Using a stand mixer (or hand mixer), beat avocado until completely pureed. If needed, place in a food processor to get a butter like consistency.

Add in the brown and cane sugars, beating on medium speed for about 2 minutes, scrape down the sides as needed.

Beat in the vanilla extract and eggs, adding one at a time. Continue to mix.

Slowly beat in the dry flour mixture. and end with adding in the chocolate chips. Beat until just combined.

Cover dough and refrigerate for a minimum of 2 hours, or if desired, overnight, to help cookies retain shape.

When ready to bake, preheat oven to 375 degrees F and spray two baking sheets with cooking spray. Drop cookies using a 1-ounce scoop and gently press down with the back side of a cup.

Bake for 10-12 minutes, or until outer edges are brown and middle is slightly soft.

Remove from oven and let cool.

Store in an air-tight container for up to 3 days for best quality.
Notes
To remain low-fodmap, be sure to purchase a GF approved flour blend, like Bob's Red Mill 1-1 GF Baking Blend.
Serving size at 2 cookies to remain in compliance with dietary recommendations with low-fodmap style of eating.
Nutrition Facts
Fodmap Friendly Chocolate Chip Cookies
Amount Per Serving (1 )
Calories 120
Calories from Fat 36
% Daily Value*
Fat 4g6%
Sodium 77mg3%
Carbohydrates 21g7%
Protein 1g2%
* Percent Daily Values are based on a 2000 calorie diet.
Let's chat! What's your favorite type of cookie? Is it FODMAP friendly?
Be sure to check out the FODMAP diet review here too if you need a refresher!