Pizza and steak for breakfast… need I say more?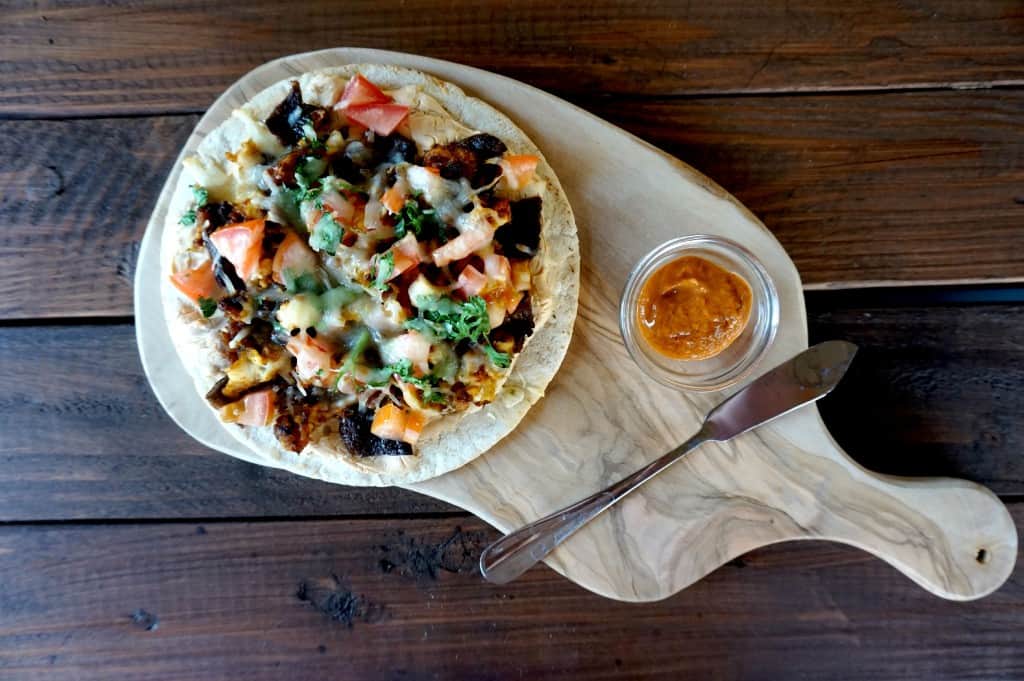 Don't you just get the warm fuzzies when you say the word… P-I-Z-Z-A? I know I sure do!
I love pizza for many reasons:
I'm Italian
I married a man who literally lives and breaths pizza
It's convenient and affordable
It's versatile and nutrient packed
But, most importantly, it's DELICIOUS!
So, when I was thinking up how I could create a final breakfast recipe using lean beef, it was obvious I had to find a way to include pizza! The great thing about pizza is that it has taken on many various forms over the decades and can literally be made in an instant using all the wonderful staples you have on hand in your fridge.
Since I had some of the lean sirloin leftover from those Sirloin Breakfast Sliders, I decided to dice it up and top a pita with the sirloin, some fresh tomatoes and a few #simpleswapped creations I whipped up; again, using items I had on hand. The beauty of #simpleswappin' is to have an arsenal of staples ready to throw together in a bind to create a delicously nutritious meal in a flash.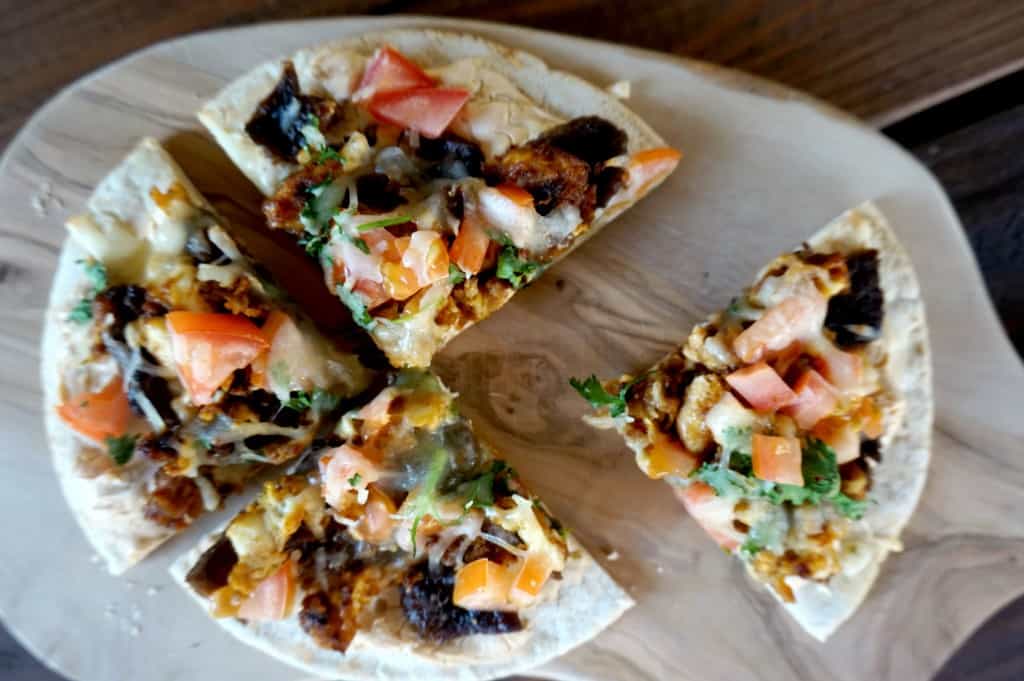 For instance, I used some chipotle sauce I had in the fridge and blended it with a fat free cream cheese to create a beautiful "sauce" to throw on the pita. With this as the base, I then used the protein packed lean sirloin and a farm fresh egg… do I hear a yummy?! Just wait, there's more!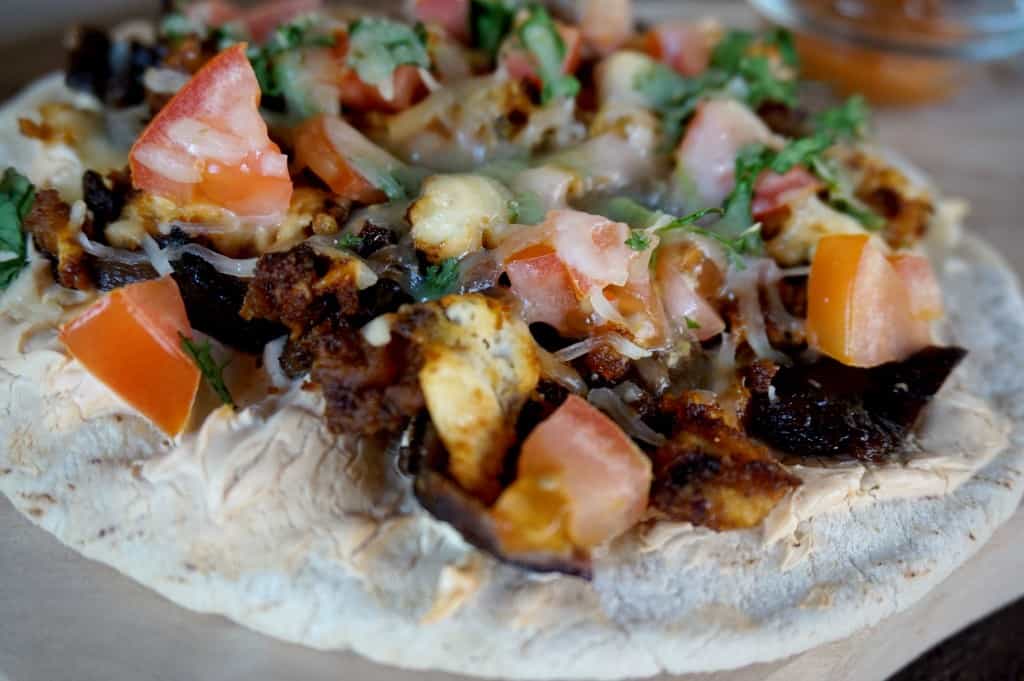 I topped this with a light pepperjack cheese and a smear of that chipotle sauce, the perfect blend of spices to ignite those taste buds! Plus, the blend of nutrients delivered in this pizza is surely enough to satiate you well through the wee morning hours until lunch time; a win win for those with busy schedules.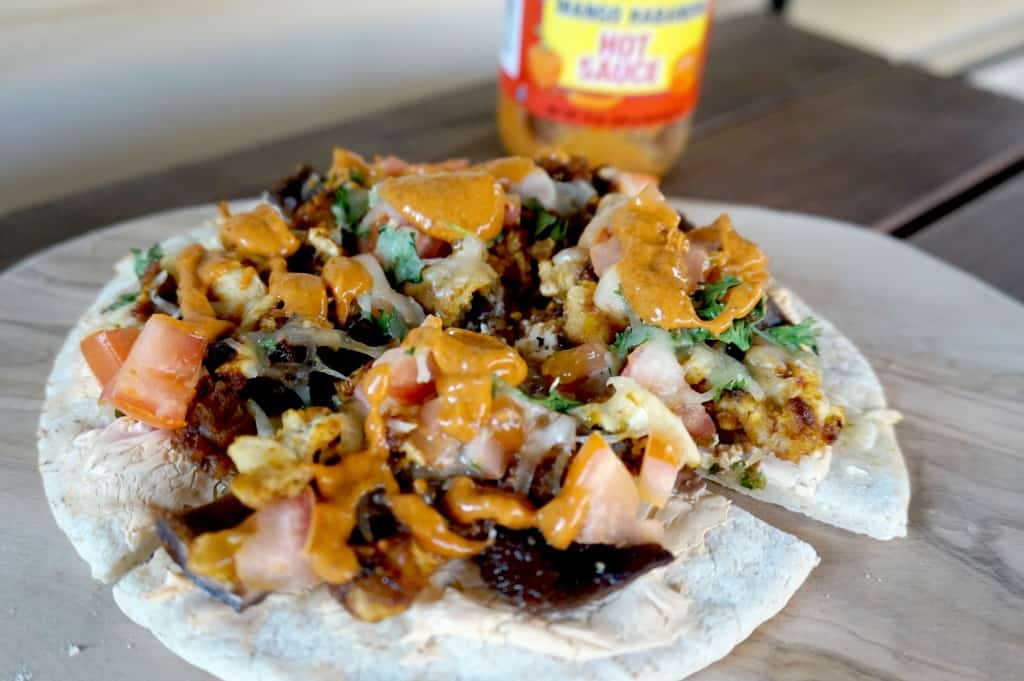 If you want to take this up a notch, I highly encourage using a whole wheat pita to increase your fiber and meet your whole grain intake for the day. You can also use a gluten free pizza dough to make this friendly for all the lifestyle diets in your house (or whip up that GF San Antonio Skillet as well).
Plus, it makes the perfect appetizer for those weekend games that are just around the corner. Every football fan is sure to enjoy this while watching the Sunday ticket. Football fans, you're welcome. Mr. CEO, yes, I'll be sure to wear my #6 jersey while making this for the BEARS opener this year.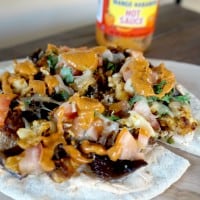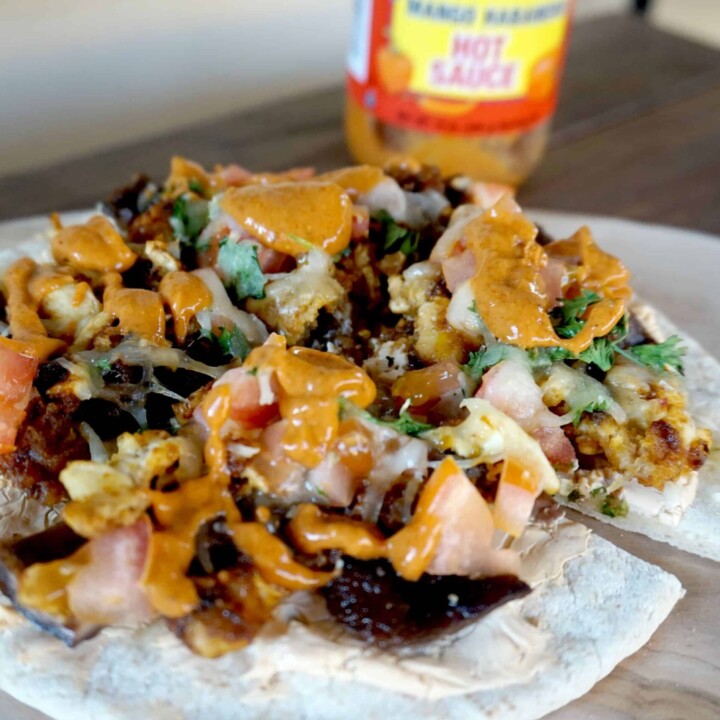 Creamy Chipotle Sirloin Breakfast Pizza
Yes, you heard that right ... a breakfast pizza! This Creamy Chipotle Sirloin Breakfast Pizza is a perfect balance of flavor, protein, and deliciousness!
Print
Share by Email
Ingredients
Sirloin Tip Marinade

2

oz

maple whiskey

1

tablespoon

molasses

2

tablespoons

sugar

1/4

cup

water

6

oz

lean sirloin tip

Pizza

1- 6

" pita

1/4

cup

chopped tomatoes

2

tablespoons

fat free cream cheese

2

teaspoons

chipotle hot sauce

1/4

cup

pepperjack shredded cheese

reduced fat

3

oz

sirloin tip

chopped

1

large egg white

scrambled
Instructions
In an airtight container, combine the marinade ingredients and place beef in container.

If possible, let marinate up to 48 hours.

When ready to assemble, set oven to broil.

Place cast iron skillet in stove to heat.

Remove after 5 minutes and place 2 tablespoons vegan butter in skillet.

Place one sirloin tip in skillet.

Return to oven and broil 3-4 minutes per side.

Remove sirloin tip from skillet and let rest on cutting board.

Repeat process with second sirloin tip.

To assemble pizza, change oven setting to 425*F.

Place one pita on center of aerated pizza pan.

Combine 1 teaspoon of chipotle hot sauce with cream cheese. Spread evenly on pita.

Top with 3 oz chopped lean sirloin, pepperjack cheese, tomatoes and egg.

Heat for 5 minutes in oven.

Remove and slice into 4. Enjoy with a little hot sauce on top!
Notes
Recipe yields 2 servings using 3 oz sirloin, can make up to 3 pizza's with extra sirloin.
Nutrition Facts
Creamy Chipotle Sirloin Breakfast Pizza
Amount Per Serving
Calories 928
Calories from Fat 99
% Daily Value*
Fat 11g17%
Cholesterol 93mg31%
Sodium 1504mg63%
Potassium 1005mg29%
Carbohydrates 132g44%
Protein 54g108%
Vitamin A 144IU3%
Vitamin C 6mg7%
Calcium 367mg37%
Iron 7mg39%
* Percent Daily Values are based on a 2000 calorie diet.