Sausage McGriddles step aside… there's a new kid in town who's ready to rule the breakfast world!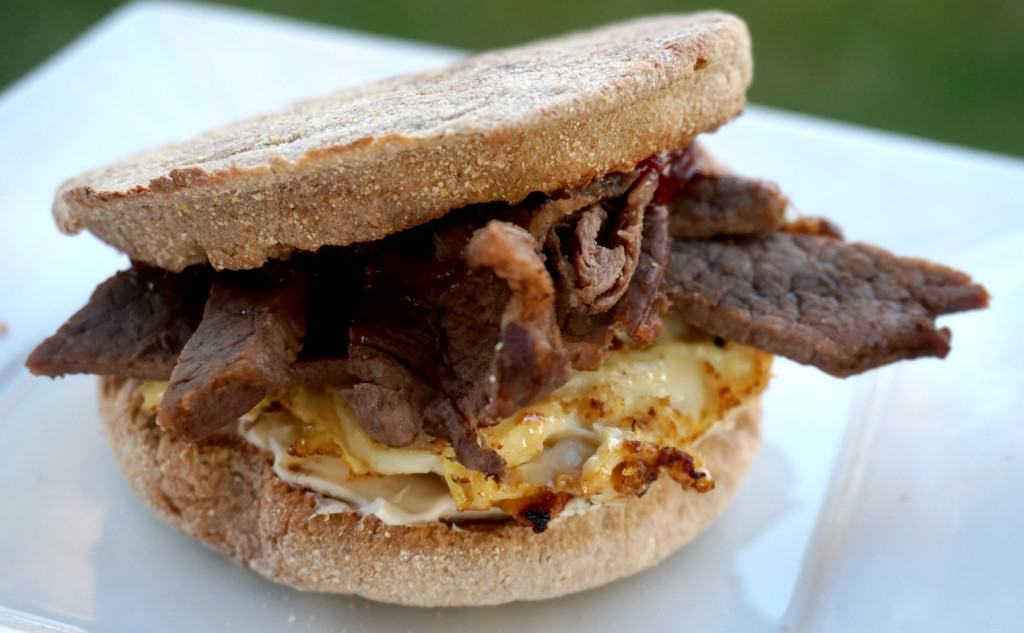 Do you eat breakfast?
Yes? …. No?
If you answered no, why not? Don't worry, this isn't a quiz! I'm just doing a little field research to see what hinders you from engaging in what I feel is the BEST meal of the day!
There's plenty of research out there that shows kicking off your day with a balanced breakfast will set you up for success. Breaking the fast (cough cough… break-the-fast) from your night's slumber is crucial in supporting a healthy metabolism to maintain your weight. Plus, when you supply your body with a mix of protein, carbohydrates and healthy fats in the morning, you become satiated and are less likely to ravenously dive into the plate of nachos at lunch.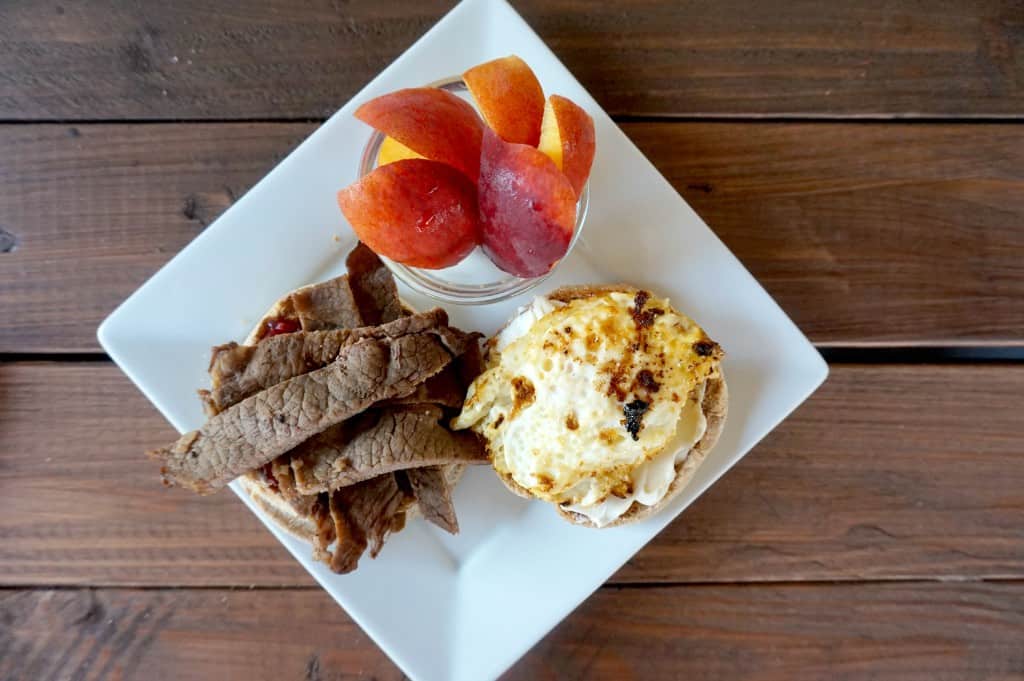 Over 50% of Americans report knowing its important to incorporate breakfast into their daily routines, however less than a third actually do. Why?
Yep, you're absolutely right… TIME! Most Americans report not having enough time to fit breakfast into their schedules. Ironically though, we do find time to squeeze in a cup of coffee. Somehow we can remember to program our coffee machines or head over to see our local barista in the morning, right?
How can we change our thoughts and program our habits to include breakfast? Bingo- plan ahead! You know mornings are chaotic, so prepare a few options on a Sunday night to grab on your way out the door in the AM.
Say you grilled up or broiled some lean sirloin steaks over the weekend. The lean protein in this beef makes an excellent breakfast sandwich and provides a healthy mix of protein and fat to kick your morning off right. Put the beef strips on top of a whole grain English muffin with a little jelly, cream cheese and a fried egg… do I hear a YUMMY?!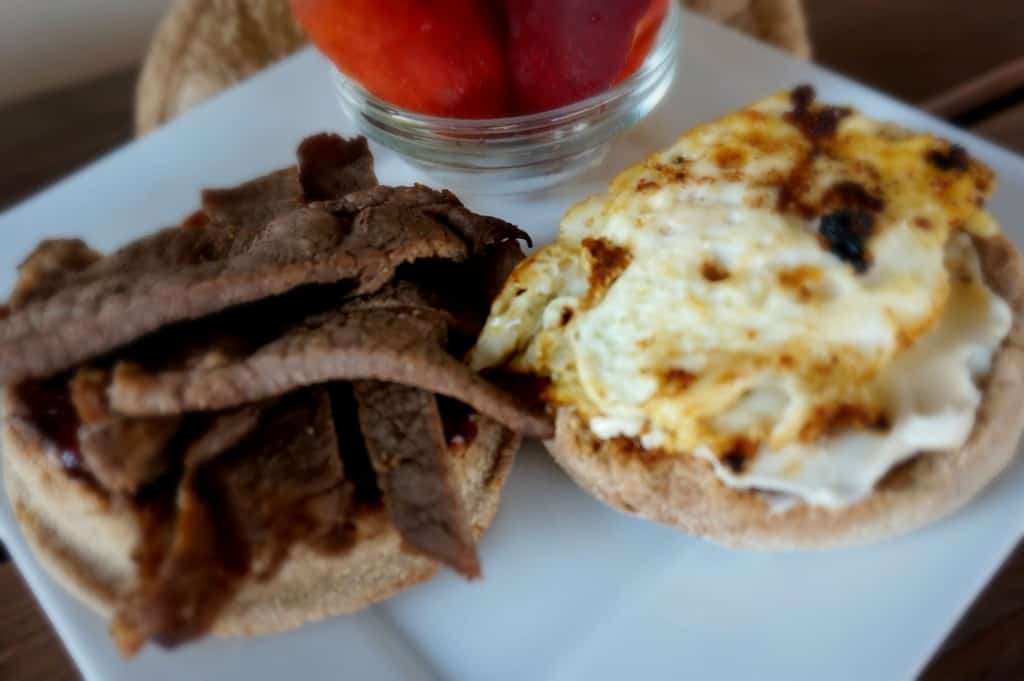 This combination will blow those drive-thru breakfast sandwiches out of the water and leave you feeling full, satisfied and charged to take on the day. Plus, you can save that $5 you would have spent dining out and spend it on something special, like the new outfit you'll fit into from boosting that metabolism!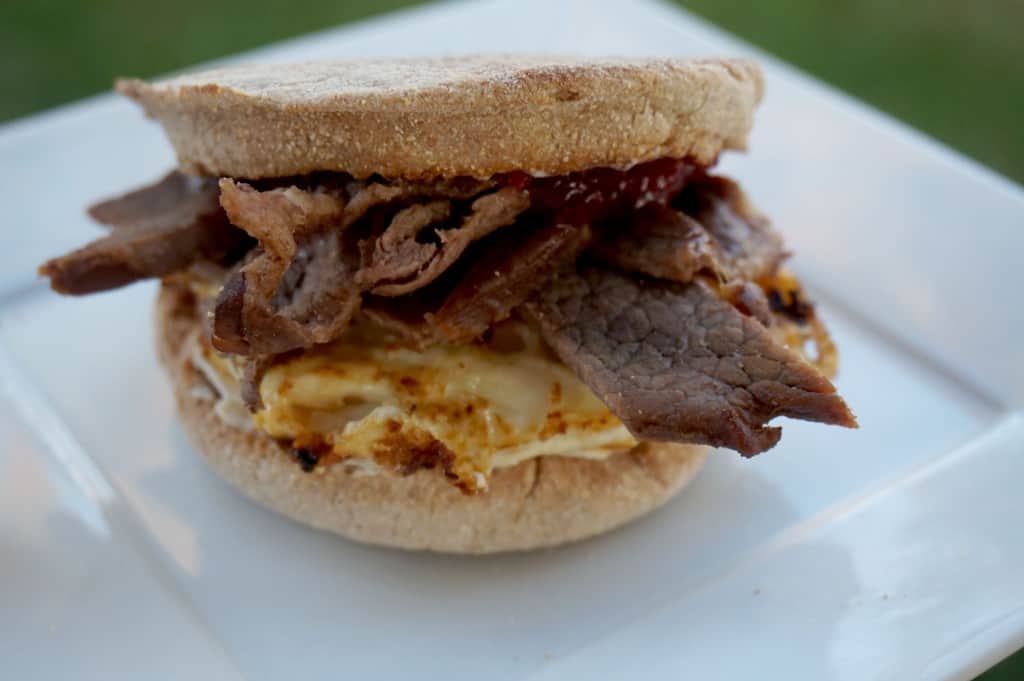 Happy Break-fasting!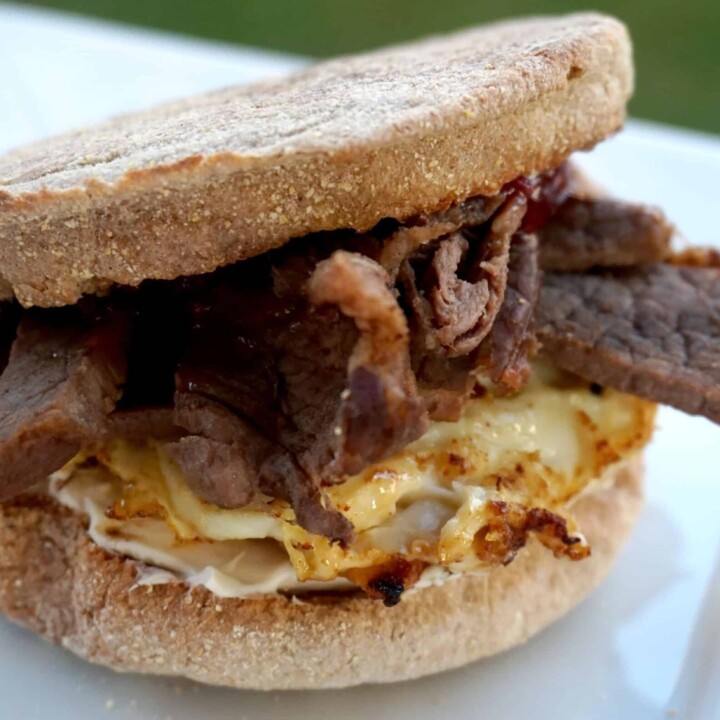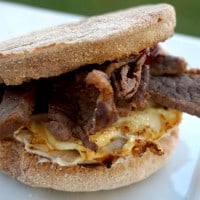 Sirloin Breakfast Sliders
I'm a sucker for a breakfast sandwich and these Sirloin Breakfast Sliders are my favorite to make when having people over for brunch, or I simply just have left over Sirloin!
Print
Share by Email
Ingredients
Sirloin Tip Marinade

2

oz

maple whiskey

1

tablespoon

molasses

2

tablespoons

sugar

1/4

cup

water

6

oz

lean sirloin tip

2

teaspoons

light vegan butter

Slider

1

whole wheat English muffin

halved

1

tablespoon

fat free cream cheese

1

tablespoon

strawberry jelly

or fruit spread of choice

2

oz

sirloin

1

fried egg
Instructions
In an airtight container, combine the marinade ingredients and place beef in container.

If possible, let marinate up to 48 hours.

When ready to assemble, set oven to broil.

Place cast iron skillet in stove to heat.

Remove after 5 minutes and place 2 teaspoons vegan butter in skillet.

Place one sirloin tip in skillet.

Return to oven and broil 3-4 minutes per side.

Remove sirloin tip from skillet and let rest on cutting board.

Repeat process with second sirloin tip.

Slice sirloin into long strips.

To assemble sandwich, toast English muffin.

In a small bowl, combine cream cheese and maple syrup.

In the same skillet you made your sirloin in, fry one egg.

Remove toasted English muffin and place on small plate.

Lather one side with the maple cream cheese, one side with the jelly.

Place egg on top of cream cheese side. Place 2 oz of sirloin on jelly side.

Carefully put the egg side on top of the steak and enjoy!
Notes
Double up on the egg and English muffins to get multiple sandwiches out of this recipe with the lean sirloin!
Nutrition Per Serving
Calories:
914
kcal
|
Carbohydrates:
78
g
|
Protein:
64
g
|
Fat:
22
g
|
Saturated Fat:
7
g
|
Cholesterol:
326
mg
|
Sodium:
723
mg
|
Potassium:
1382
mg
|
Fiber:
4
g
|
Sugar:
54
g
|
Vitamin A:
627
IU
|
Vitamin C:
2
mg
|
Calcium:
299
mg
|
Iron:
8
mg