Let's kick off May with these Chocolate Peanut Brittle Baked Donuts!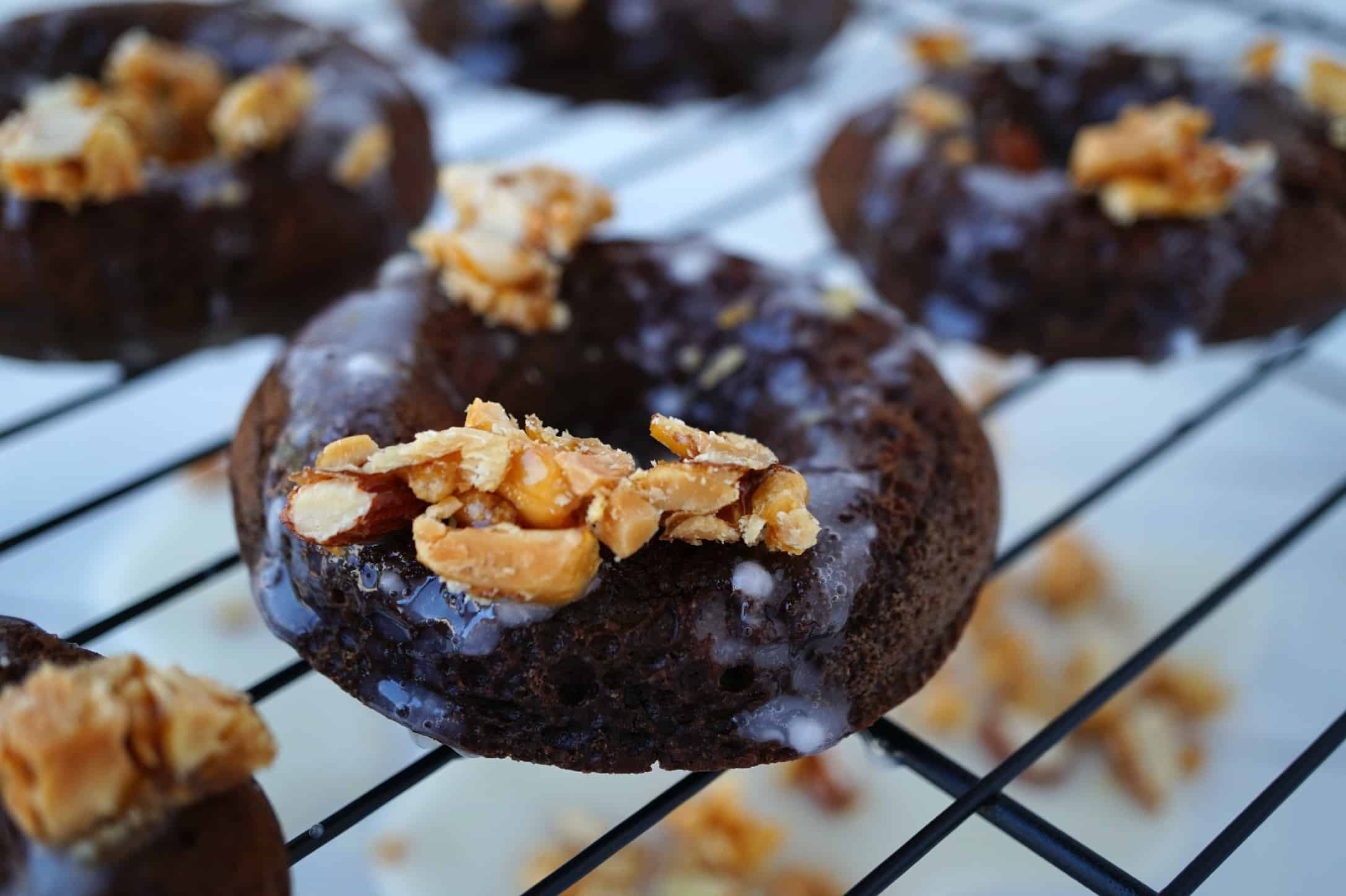 Did your jaw just drop? Mine did too!
These Chocolate Peanut Brittle Baked Donuts are surely one for the books!
Not only are they the perfect pick me up morning, noon or night (hey, chocolate can fit anytime!), but they're also packed with good for you foods, like Greek yogurt, peanut butter and whole grains. Shh, don't tell!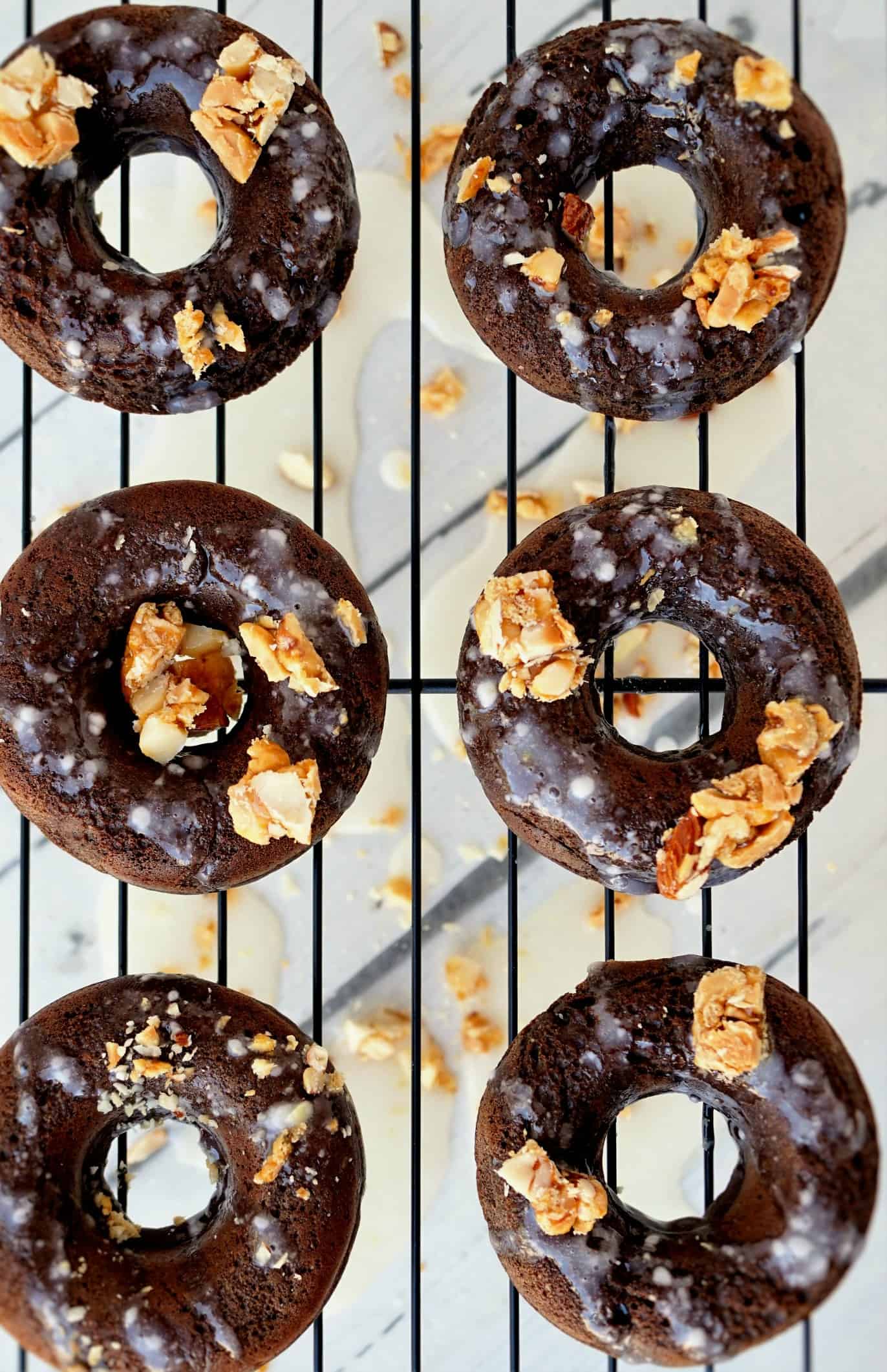 As a kid, I grew up with the wonderful Entenmann's Chocolate Donuts. I capitalize that because it truly was a special occasion when these gems graced the Zabel refrigerator. Refrigerator?
Yes, my father had to have his chocolate cold. Thus, anything with even the slightest glaze of chocolate got placed in the fridge. Ironically, I now prefer my donuts hot… oh how times change!
Now, these donuts. Why did I feel the need to make such a crazy concoction? Well, since you asked, here's what was going on inside my head!
You need to make something with that coconut yogurt.
Donut day is coming up. You haven't made a donut in a while.
Oh yum, these new peanut granola bars taste like peanut brittle.
I love powdered peanut butter.
OMG, I've got it! Chocolate Peanut Brittle Baked Donuts!
So, yaaasss… That's how these beauties came about!
Like I said, these Chocolate Peanut Brittle Baked Donuts feature a few stealth health moves. Instead of using shortening like a traditional donut, I went ahead and simple swapped with Greek yogurt and a vegan margarine. This helps keep the total fat down, while also providing a rich, creamy flavor. Also, I decided to use cocoa powder to add the chocolatey flavor instead of melted milk chocolate, lowering the total calories of the dish.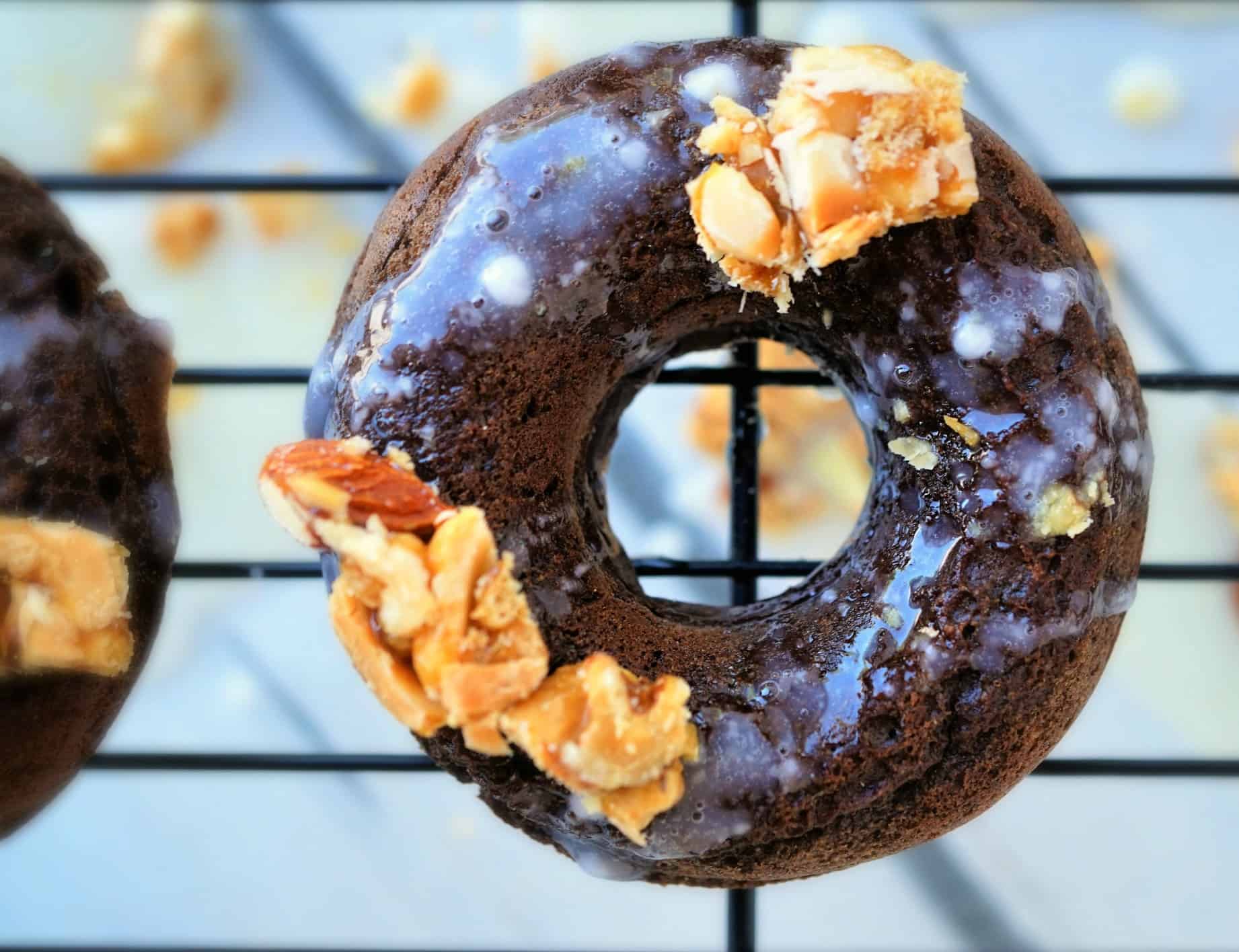 Though I love traditional peanut brittle, I knew that would defeat the purpose of these baked donuts and stealth health maneuvers. So, that's when the peanut granola bar came to the rescue! I chopped it up into small, tiny pieces and viola, homemade simple swapped peanut brittle in a flash! You're welcome!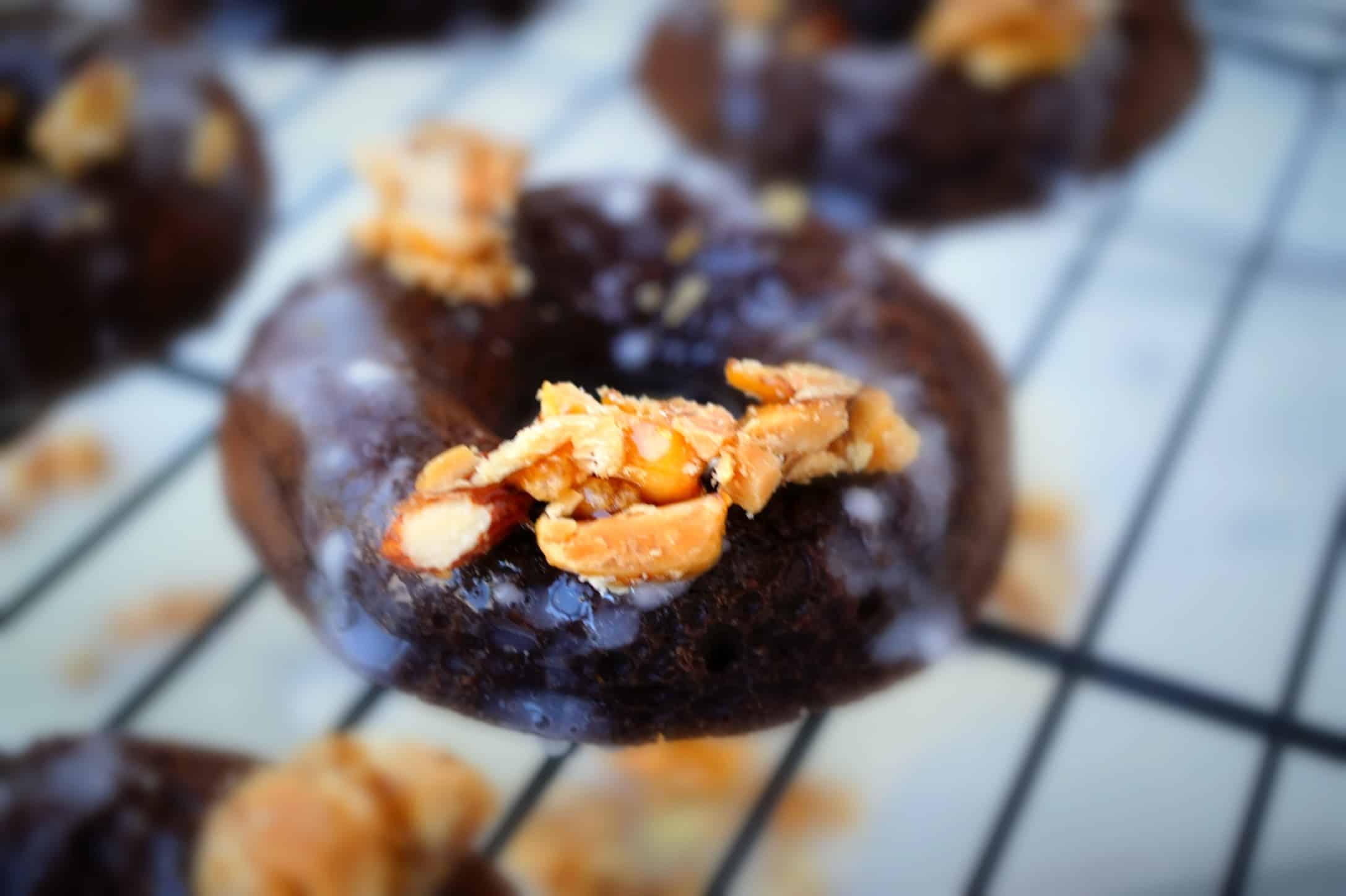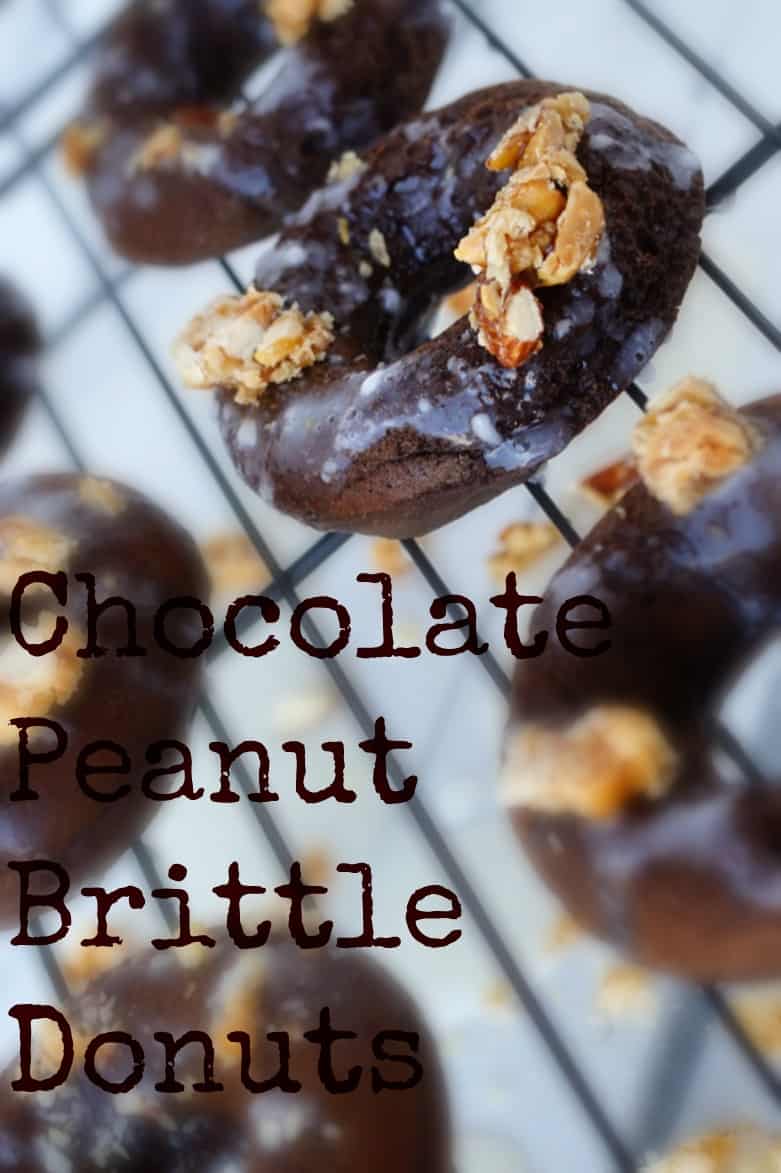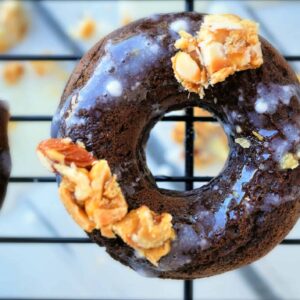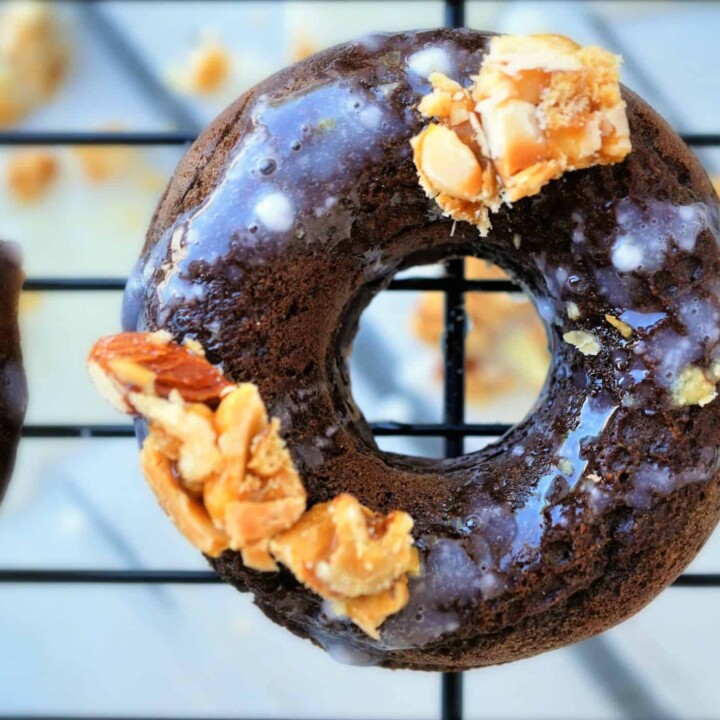 Cocoa Peanut Brittle Baked Donuts
Sweet and salty, these healthier baked donuts hit all the right spots! Perfect for a lazy weekend morning at home!
Print
Share by Email
Ingredients
¼

packed light brown sugar

1/3

cup

sugar

1/4

cup

maple syrup

3

tablespoons

butter

1

egg

3/4

cup

Greek yogurt

divided

1

cup

milk

divided

1

tablespoon

vanilla extract

1¼

cups

whole wheat flour

1/4

cup

powdered peanut butter

1

tablespoon

cocoa powder

1

teaspoon

baking powder

¼

teaspoon

baking soda

⅛

teaspoon

salt

1/4

cup

powdered sugar

1

peanut nut bar

chopped*
Instructions
Preheat oven to 375* F.

In a large bowl, combine brown sugar, sugar, maple syrup, margarine, egg whites, vanilla yogurt, milk and vanilla.

Using an electric mixer, beat on medium speed for 2-3 minutes. Set aside.

On a sheet of wax paper, sift the white whole wheat flour. (Make sure to measure out flour first then sift).

Combine sifted flour to the large bowl with other ingredients. Do not mix yet!

Add peanut powder, cocoa powder, baking powder, baking soda, and salt.

Now, mix on medium speed with your electric mixer for 3-4 minutes.

Spray a donut pan with cooking spray.

Pour batter into a large ziplock bag, cutting a small hole in the corner of the bag.

Fill donut pan with batter.

Bake for 12-14 minutes. Remove and let cool on a wire rack.

Repeat again for remaining batter.

Allow donuts to cool on wire rack.

To make frosting, mix 1 tablespoon yogurt, 3 tablespoons of milk and powdered sugar in small bowl.

Drizzle over top of donuts and top with chopped nut brittle (aka granola bar pieces)!
Notes
*I used Stevia, whole milk, and a KIND Nuts & Spices Bar, but feel free to use your alternatives of choice!
Nutrition Facts
Cocoa Peanut Brittle Baked Donuts
Amount Per Serving
Calories 145
Calories from Fat 36
% Daily Value*
Fat 4g6%
Cholesterol 14mg5%
Sodium 134mg6%
Potassium 123mg4%
Carbohydrates 24g8%
Protein 4g8%
Vitamin A 153IU3%
Calcium 70mg7%
Iron 1mg6%
* Percent Daily Values are based on a 2000 calorie diet.
What's your favorite kind of donut? Have your donut tastes changed since you were a kid?!