If your struggling with getting pregnant and have been told by doctor you need to gain weight, then this post is for you.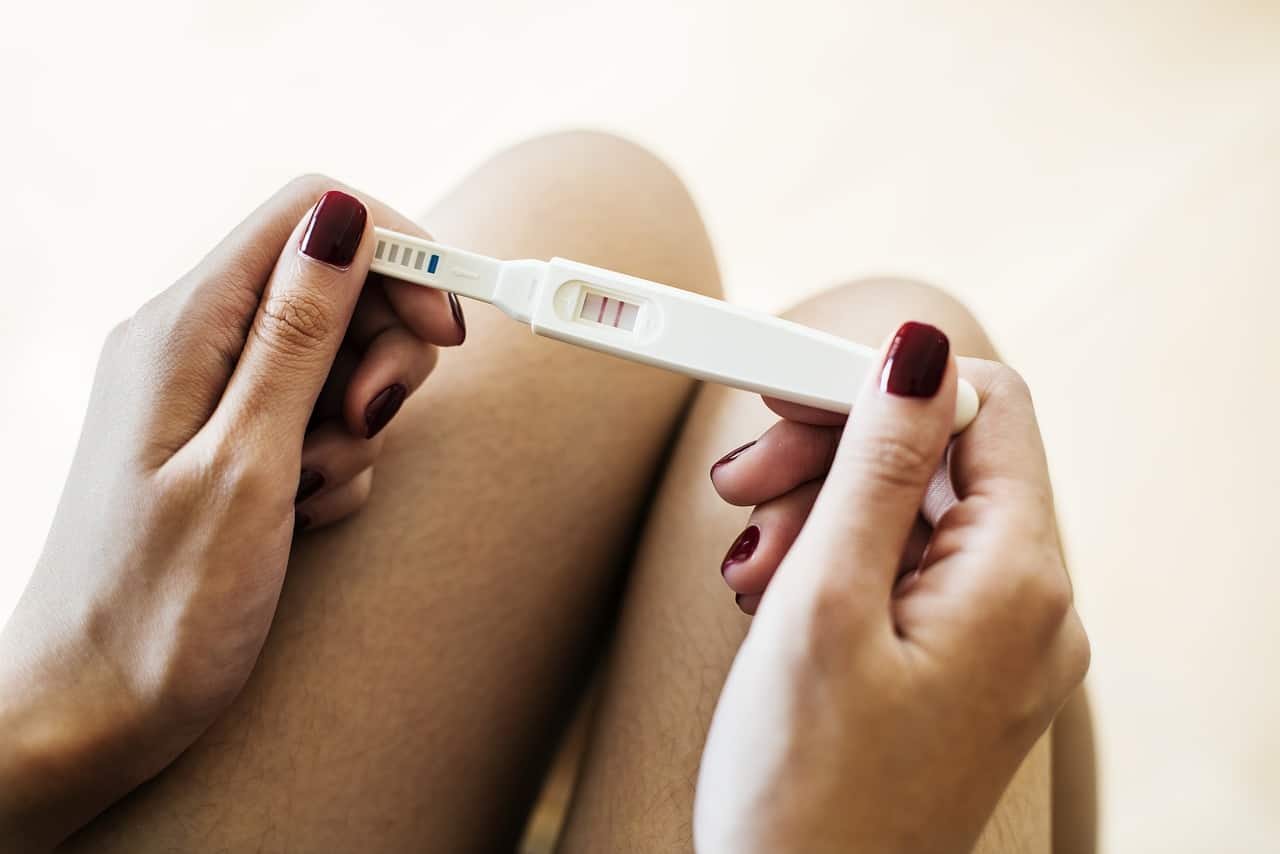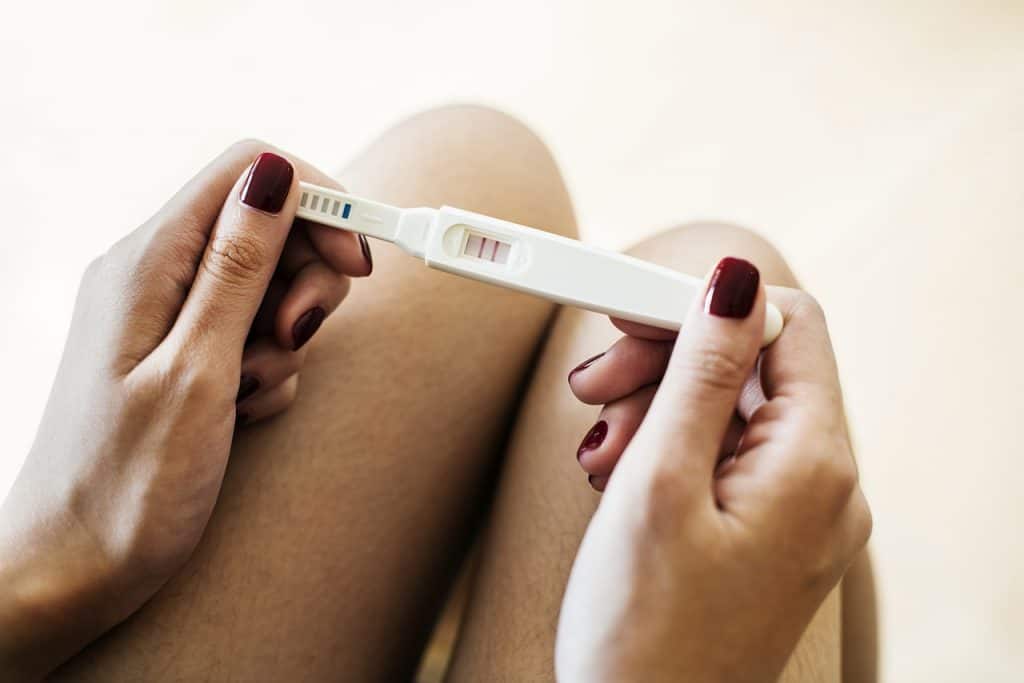 When should one consider gaining weight for fertility?
To answer this question, I felt it was important to share an interview with a registered dietitian and dear friend of mine, Abigail Joy Dougherty.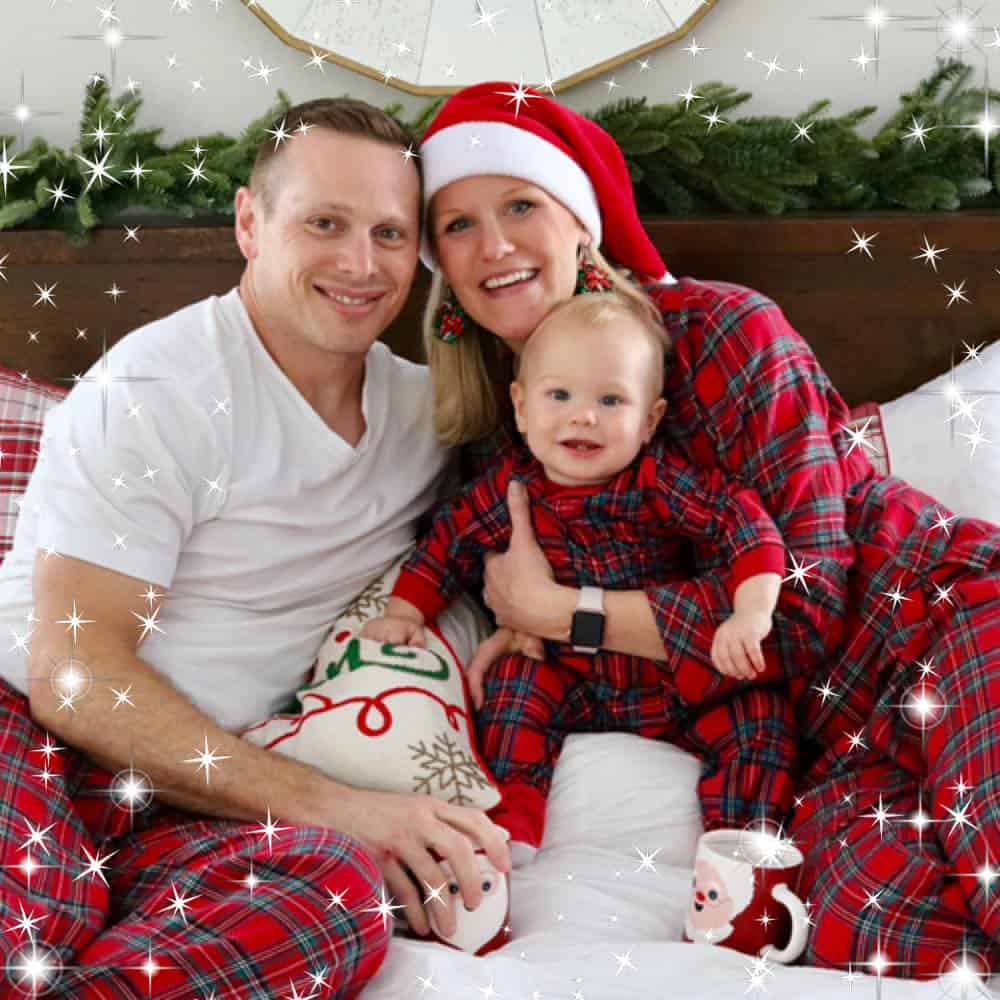 When you see photos likes the above on social media, they don't portray the story often behind the joy in their eyes and hearts.
But, if this photo could talk, it'd share the three year journey Abigail and her husband Patrick embarked on as they waited for their angel, Liam.
Can you tell us a little bit about your fertility journey?
It's hard to talk about infertility or my diagnosis of Hypothalamic Amenorrhea without taking you back to the very beginning of how it started.
It was 14 years ago, I was 21, I dropped out of college a few years prior, I smoked, drank too much, dabbled with some drugs and wasn't making the most stellar decisions with my life.
I know what you're thinking, yea, isn't that what every 21 year old is up to?!? Maybe but I knew this was NOT the path that my life should be on.
In 2006, everything changed. I moved from Oregon to Florida, away from my family with my boyfriend Patrick and everything I had known and started back in school.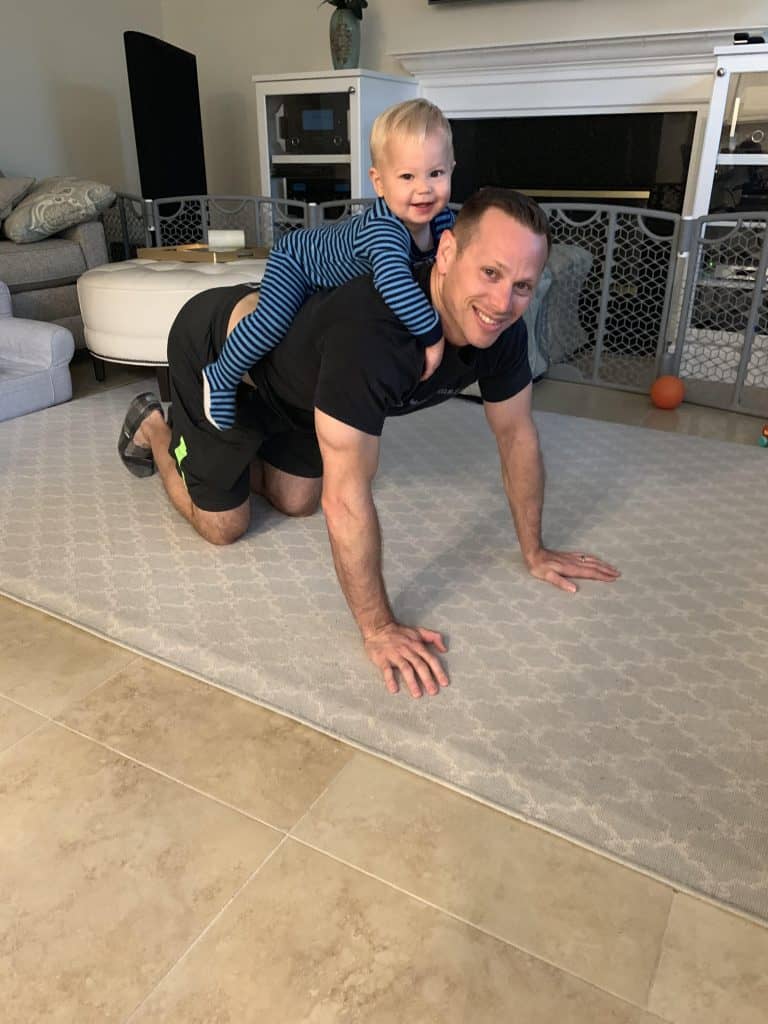 My life totally changed and I was in desperate need of control and also some healthy habits. I started getting interested in nutrition and also started ramping up my exercise. I was so excited, for the first time I was taking care of my body and doing many things I had dreamt about for years.
Just like how so many good intentions can turn ugly, this healthy eating/exercise interest turned into an obsession, or my way of controlling my life.
I was counting calories, I was cutting portions, I was exercising at least an hour a day plus weight training and obsessing about everything I ate. I thought if losing some weight was good, then losing more weight must be better.
To complicate things, I also decided to go into the field of dietetics to become a registered dietitian. At that point, I honestly thought I was living a healthy lifestyle and would have been SHOCKED if someone had mentioned an eating disorder.
At that point and until at least age 31 (yes, all through school and beyond) I did NOT think anything was wrong. I thought that I had finally become "healthy" and that was the way I should look and be.
It's amazing how you can convince yourself of pretty much anything.
I continued with this lifestyle, and honestly made it look pretty normal. I loved to go out – to eat, drink and be merry – but I'd always think, I'll make the "necessary changes" (aka eating tiny portions and exercising more) next week.
Honestly, disordered eating and over-exercising is so glorified in our culture, it mostly masquerades as "good self control" and "motivation" to work hard at the gym.

Most people would have had no idea that what I was doing was NOT healthy for me. I looked like a thin, healthy and thriving individual but my body was NOT the size it was meant to be. Living that lifestyle for that many years had really taken its toll on my body.
That sounds really tough! What changed inside you that made you realize you couldn't keep that up any longer and needed to pursue weight gain?
Well, let's fast forward about 5 years. I briefly got off the pill because I wanted to try a new method of birth control and, of course, months go by with no period. I went in for my annual around six months later and asked my OB/GYN about it.
She would just say, "Oh it's OK because you're so fit and you run a lot". Yep, no mention of being at a low weight for my 5'9 frame, they just said if I started back on the pill I would restart my period. So that's what I did.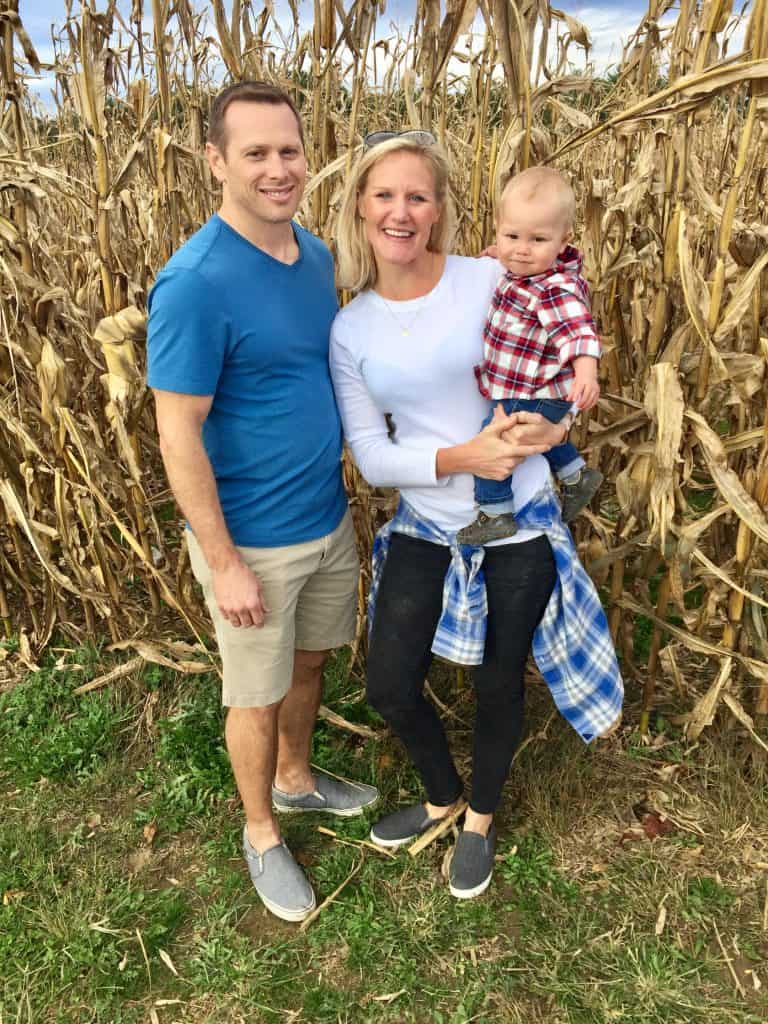 When I turned 29, my lifestyle had really took a turn. I had recently rededicated my life to Christ and I kind of knew at this point, there was something I needed to change but didn't quite know what.
I wanted to get off the pill and let my hormones normalize. My husband and I had discussed and decided that we did want to have kids and I had this inkling that I needed to make some changes to be able to make that a reality. I took my last pill on Thanksgiving of 2013 and didn't get my period back, until almost exactly 3 years later to the day.
My journey from pill to period is where the real work happened.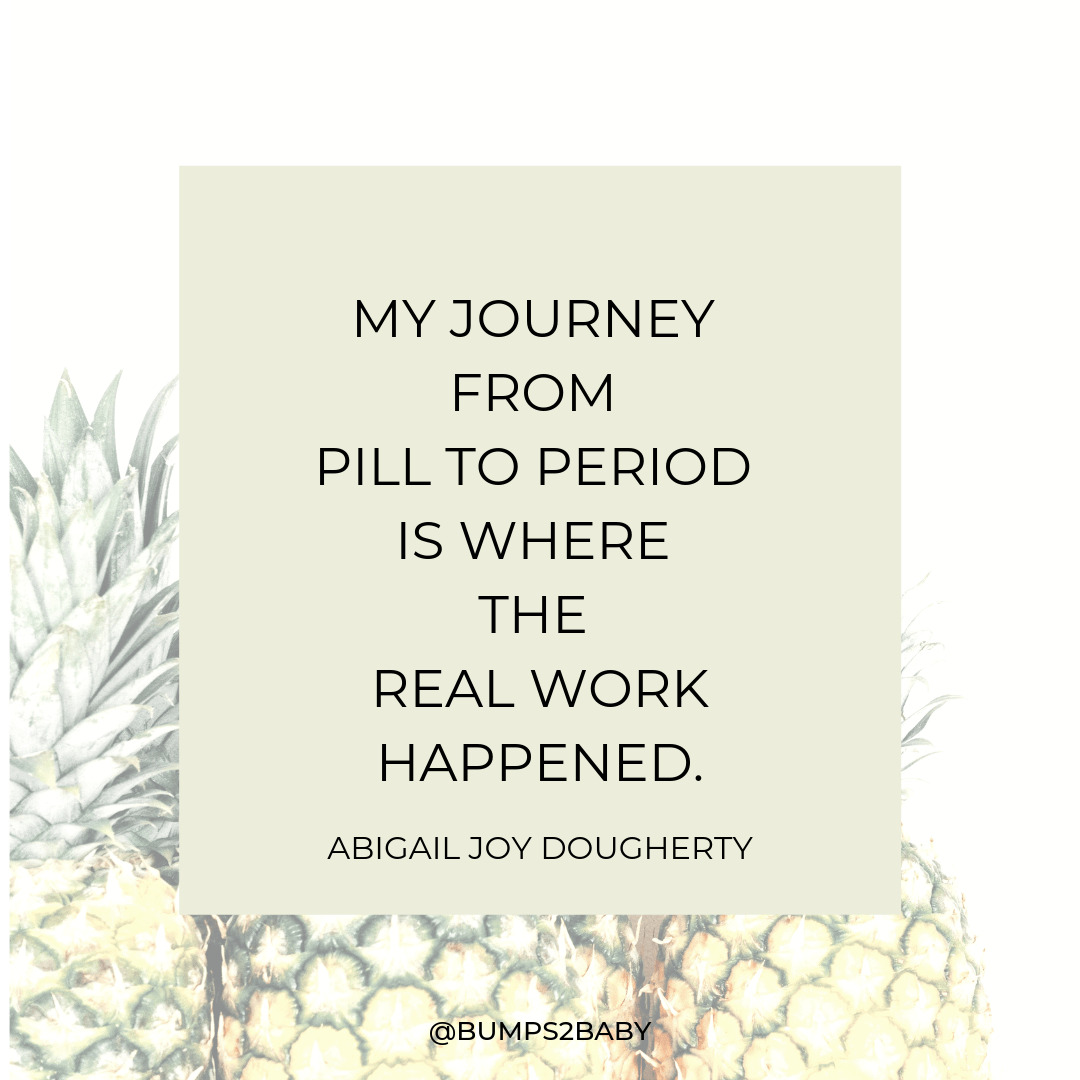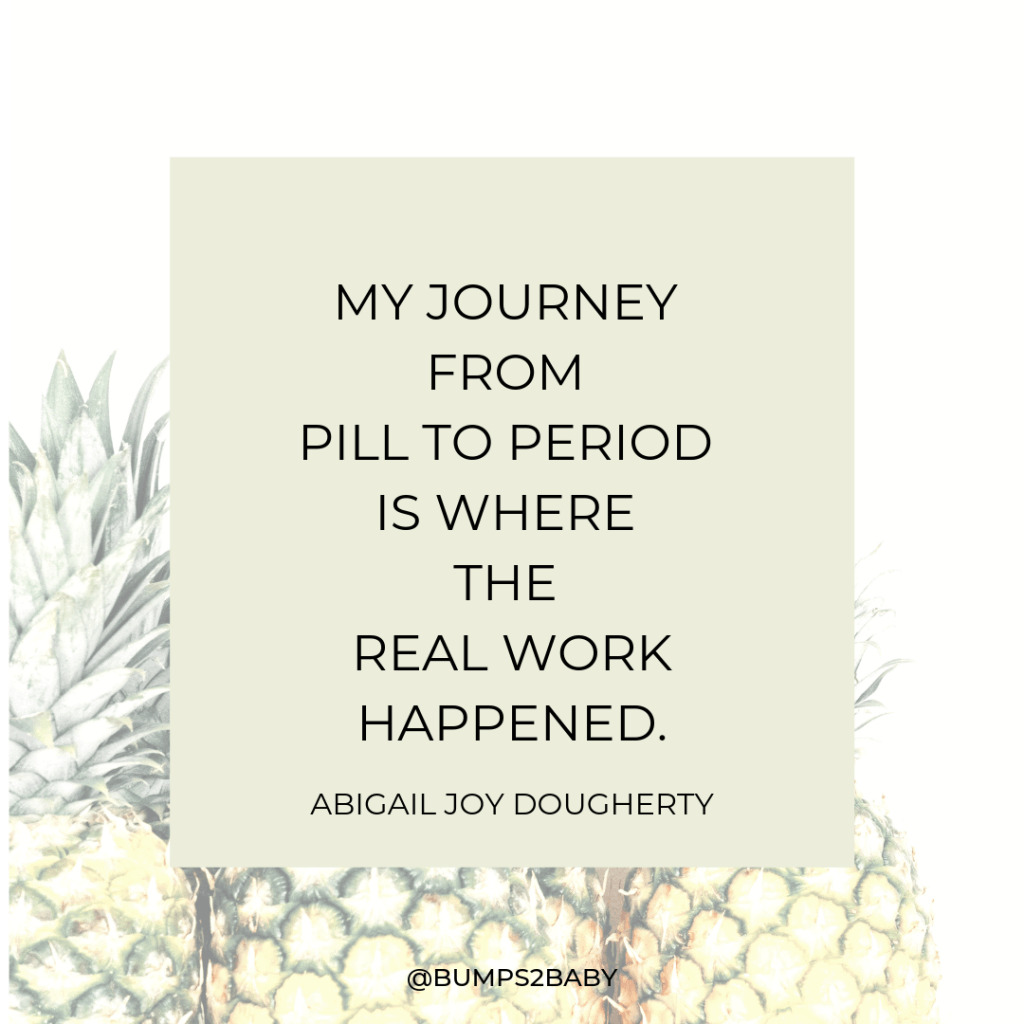 Other than stopping the pill and deciding that something was wrong, I didn't really do anything different or look into anything until a good friend of mine basically told me that not having a period for 7+ months was not normal and I should look into things.
So I went to the OB/GYN and they said the same thing, you're a little underweight, but "super fit" and everything seems fine, just go back on the pill. Not the answer I wanted. I went to my endocrinologist, same thing, everything seems fine and I'm sure if you get back on the pill you will restart your period. Not the answer.
I waited a few more months, no period.
It had been about a year since stopping the pill and a friend recommended I go to a reproductive endocrinologist. They checked everything and said my eggs looked great (lots of swimmers) and prescribed medication for some low hormone replacement.
I didn't want the medication because after all the doctor visits my gut or intuition was telling me to allow my body to do what it was made to do. It may have been naive but I was not going to take more medication when my gut was telling me to let my body/hormones normalize on their own.
A few more months, no period. I got an MRI of my pituitary gland and everything looked normal. I went back to the reproductive endocrinologist and this time they said my eggs were shrinking.
Whaaaaat? This was not good. They recommended more meds. I refused again – looking back I must have had a pretty strong gut feeling about his because it sounds NUTS for a woman over 30 who wants to get pregnant at some point to not just take the meds.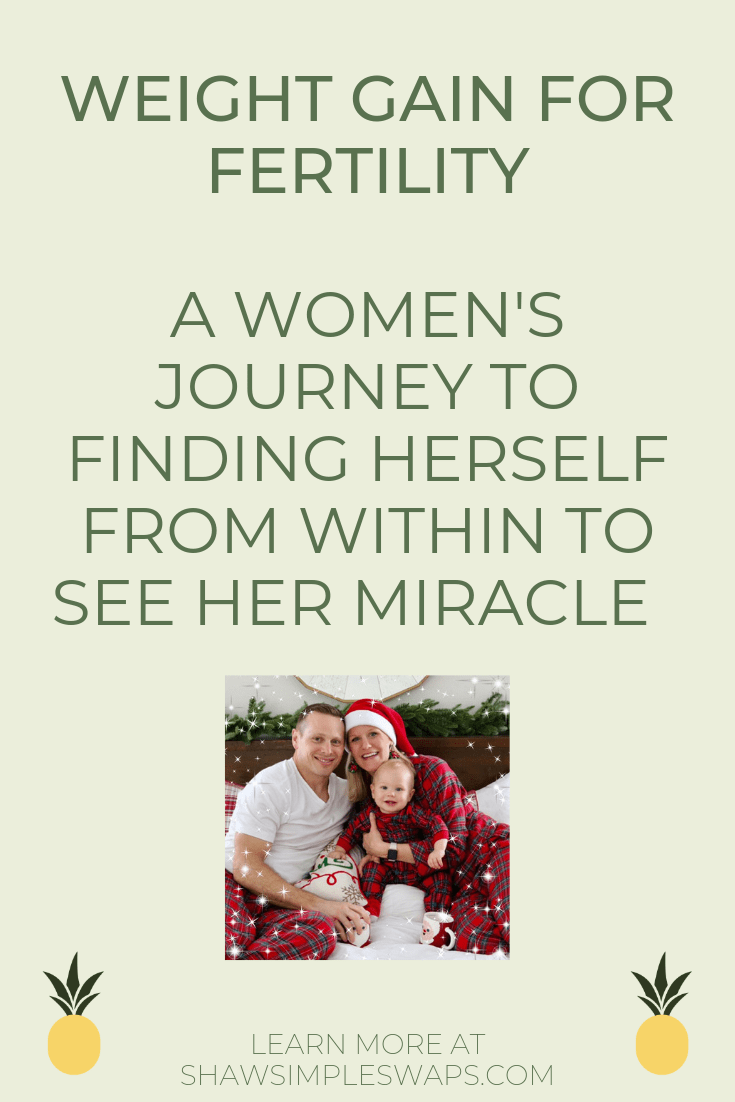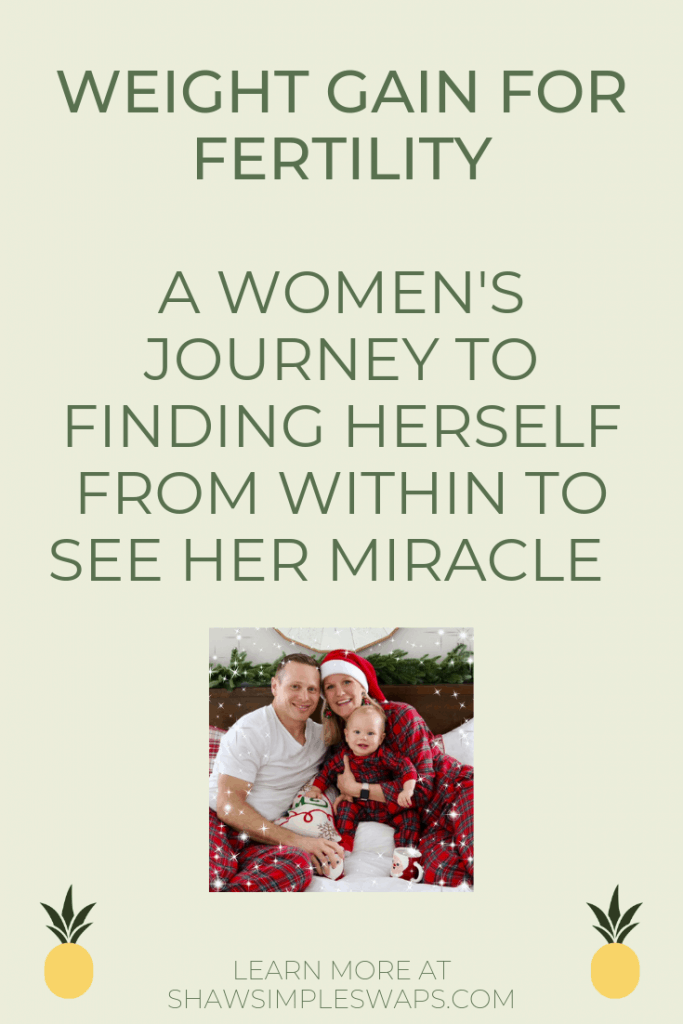 Wow! What was your turning point that made you realize you needed to work on weight gain for your fertility?
Well, after that appointment, I realized I needed to make some changes in my lifestyle. I cut back on my workouts because I kind of knew in my heart of hearts (and from commonsense, duh) that doing that much cardio couldn't be good for my menstrual cycle.
Then in the spring of 2016 I went to see a new reproductive endocrinologist who changed my life. My reproductive endocrinologist showed me a diagram and explained to me that I had something called Hypothalamic Amenorrhea(and had probably had it since I was around 22).
Basically my body went into survival mode and quit producing enough hormones for my body to do it's normal processes like ovulating. He explained that it's a simple equation of not enough calories going in and too much energy going out.
He put together a detailed fertility plan. My intuition went off again, and I asked him instead, if I could try for six months to naturally get my period back and return for the plan if I could not.
Sidenote: My husband says I have a defiant personality when it comes to certain things and this is apparently one of them (the other came out during my labor process).
Plus, my endocrinologist around the same time simply looked at my charts, labs and medical history and told me you need to eat more and exercise less.
Well there it was, two doctors, same advice. This sounds easy to some but to me it was like a HELL diagnosis. I didn't totally understand this about myself or disordered eating at the time but that was my control, my sanity. That was how I kept it all together – look the part on the outside, exercise off the stress, eat the right things so I always felt and looked great, stay a size . Boom.
I had honestly convinced myself that what I was doing was for my health but in reality it was all in the name of making my body become and stay smaller. This is going to sound pretty crazy but until I had fully recovered, I didn't see any of it as a problem.
I would argue in my mind, I do this for a living, I'm a dietitian, I know this stuff, my body is meant to be in this smaller body but in reality all of those things weren't true. Going to the gym for 2 hours or running for 2 hours was not okay. Eating really super small portions at home was not normal, having tiny snacks during the day, NOT normal.
Such important points you bring up! How did you end up doing the hard work then and focusing on weight gain?
I started doing some major research on HA.
I found a book called "No Period, Now What?" and read it cover to cover in a few days. That book and all the other research said, to get your period back, you had to increase caloric intake and stop exercising.
That was one of the scariest things I've ever done but also one of the most powerful. As painful as it was, I knew in my heart of hearts that this was exactly what I needed to do.
I remember sitting in my home office in the mornings between 5 and 6 am when I used to be up exercising. I would sit in my chair, sometimes crying, listening to praise and worship music, journalling, but willing myself to sit there and NOT get up and exercise.
And wouldn't you know, about 3 months later, I got my period back and about 4 months later I got pregnant.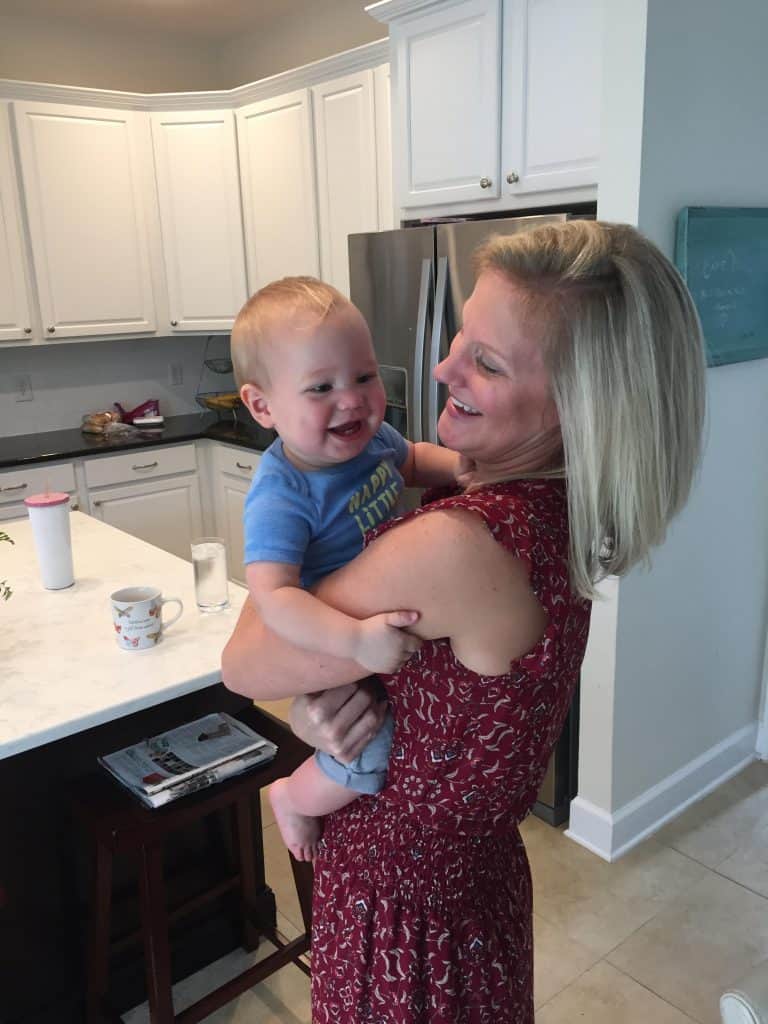 What advice would you recommend to someone who is struggling with gaining weight?
Trust. Your. Gut. If you know that you know something, even if it sounds a bit crazy or counterintuitive or it goes against society or culture, DO IT!
Remember, healthy is not:
a size
a number
it does not look the same on everyone
it doesn't always make sense
it's not what other people tell you it is
and it's NOT someone else's business.
I let the world and my own mind tell me I needed to be a certain size, that something about me was wrong but it was all a lie.
Don't listen to what the world says is healthy, or what the world says you should look like. Eat food and move in ways that make you feel good and you'll be amazed at what your body can do for you.
How has your experience with fertility struggles changed you?
The experience of not having a period and going through the steps of getting it back has changed so much about me. I learned so much about myself and learned why I wanted control so badly: healing is a beautiful thing.
I had everything under control on the outside, but I was a MESS on inside. Now I may look like a mess on the outside but I can honestly say I have peace on the inside. I wouldn't trade that for the world.
What advice do you have to women with infertility?
Be your own advocate. Ask a lot of questions. Ask your doctor/s if there are other options (if you feel like you want them), and listen to your inner voice. Also, be patient with your body. Give it lots of lovin'.
What is your favorite quote to pick you up?
 I can do all things through Christ who gives me strength. Phillipians 4:13 
When I would sit in my chair in the morning when I would normally go to the gym, I would say this verse and insert what I needed strength for: I can sit here through Christ who gives me strength. I can gain weight through Christ who gives me strength. I can eat more through Christ who gives me strength.
What is your favorite song that picks you up on those hard days?
Beautiful Things by Gungor
It talks about how God can make beautiful things out of anything, even beautiful things out of US.
Any dietary recs?
A bowl of cereal is one of life's greatest things! This helped me increase my caloric intake while also providing me with some satiating carbohydrates before bed!
How can people connect with you?
My website is a work in progress, but I share my life, my passion and what this new journey has inspired me to do on my Instagram account, @abigailjoydougherty!
And, not to spoil anything, but in her latest post, you will see the gifts that hard work can continue to bring on this journey.
Thank you so much for joining in this post with us today! If you have any comments, feel free to leave them below or connect with me here. Lot's of love on this journey. XOXO Liz