The 411 on Female Fertility Dairy Research + 20 Dairy Recipes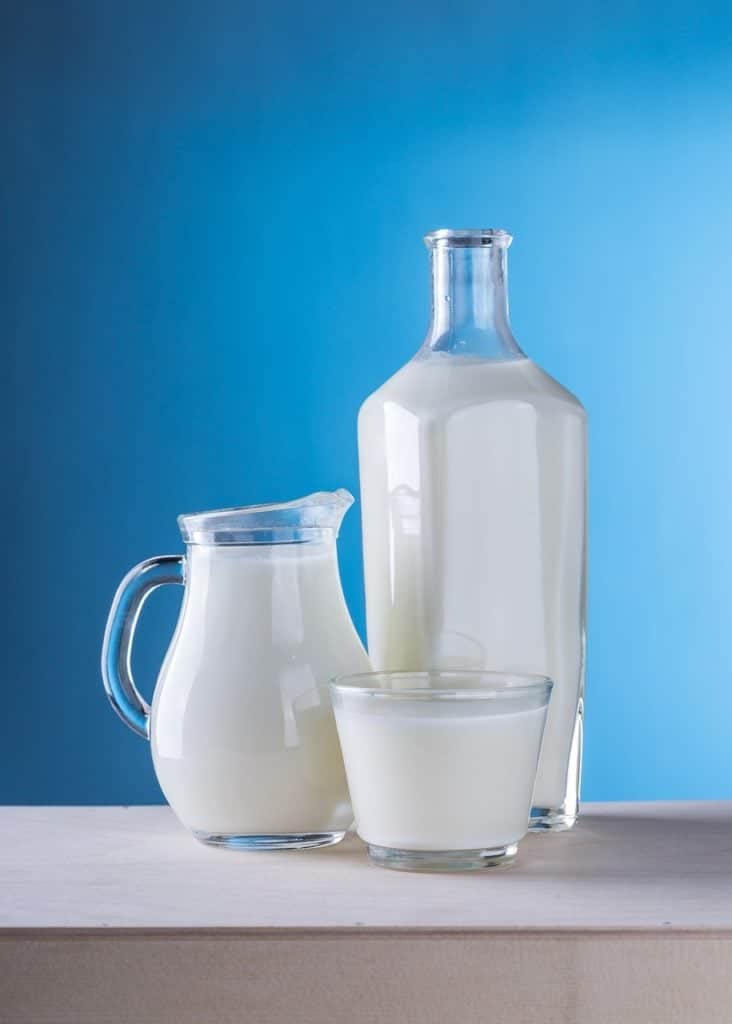 Hi friends!
Ready for another dose of fertility nutrition?
Stopping in today with the latest surrounding Female Fertility Dairy Research.
I get a lot of question about what type of fat my clients should consume and to be honest, it's quite confusing to sort through the research.
Rest assured, I've done some extensive research on fertility and found that whole milk, specially for females struggling with infertility, is the way to go.
The research from the Nurses Health Study II (NHS II), a longitudinal health study, found that females who consumed more full-fat dairy were less likely to experience ovulatory infertility. Furthermore, Dr. Walter Willett, a renowned researcher in reproductive health and author of The Fertility Diet, found that hormones are altered within the milk when fat is removed. The ratio of hormones present in the milk that has had fat removed is changed, resulting in a mix of hormones that may not be conducive to ovulation (1).
On the other hand, research varies in support of whole milk for those with male infertility. A recent study found that full fat dairy does not necessarily decrease infertility in makes who struggle with sperm quality (2).
Now, what would I recommend?
First, speak to your own doc or fertility specialist. They are more familiar with your particular situation and can always make the best recommendations for you.
Then, unless contraindicated, switch to whole if you're a female trying to conceive.
Though there's definitely a need for more research in this area, it's a promising start and fairly easy to implement if you're dealing with ovulatory infertility. Try with shooting for 1-2 servings of whole milk dairy per day, be it in cheese, milk or yogurt form.
Here's a link to a recent piece I wrote on the benefits of whole milk dairy for conception for a2 milk.
Now, here's why a few other RDNs recommend full-fat dairy, just in case you're not trying to conceive and want to know what milk you should choose!
Diana Rice, MS, RDN, of The Baby Steps Dietitian
In general, I recommend whole milk dairy 1) because it's recommended for young kids and who wants to keep multiple versions in the house and 2) I think that even though we don't have a definitive answer on whether whole vs. low fat is best, there's enough research out there to suggest it's not going straight to your thighs like we previously thought. Plus it's just so much more delicious and easy to cook with than reduced fat versions. I accidentally bought some reduced fat gouda the other day and the grilled cheese sandwiches I made with it were a major bummer. It didn't melt! I believe it's much more important to enjoy your food for what it is rather than suffer through it because it's supposedly better for you.
Diane Norwood, MS, RDN, CDE, of The Wandering RD
Many studies suggest full-fat dairy may be healthier for you than low-fat dairy. In addition to that, many studies suggest not all saturated fat is harmful as was once thought. I consider whole milk dairy products less processed "real food" and frankly they taste and melt better! But of course I avoid fruited yogurt because it contains a lot of sugar and prefer to make my own.
Janet Brancato, MS, RD, of My Nutopia
I would recommend whole milk products for kids or adults who need weight gain. It can be a great way to add calories & protein. Working milk or yogurt into recipes or having a smoothie or shake daily would be delicious ways to use them.
Jenny Shea Rawn, MS, MPH, RDN, of Cape Cod Nutrition
We mainly buy whole milk dairy – we prefer the mouthfeel and satiating quality of whole milk, yogurt and cheese. And, because we have a young kiddo in the house, it makes more sense to go full-fat for the whole family. Before getting pregnant I also made sure to focus on full-fat dairy for best chances of conceiving as well.
And, because of course I wouldn't leave you hanging, here's 20 recipes to enjoy your serving of full fat dairy in!
Enjoy!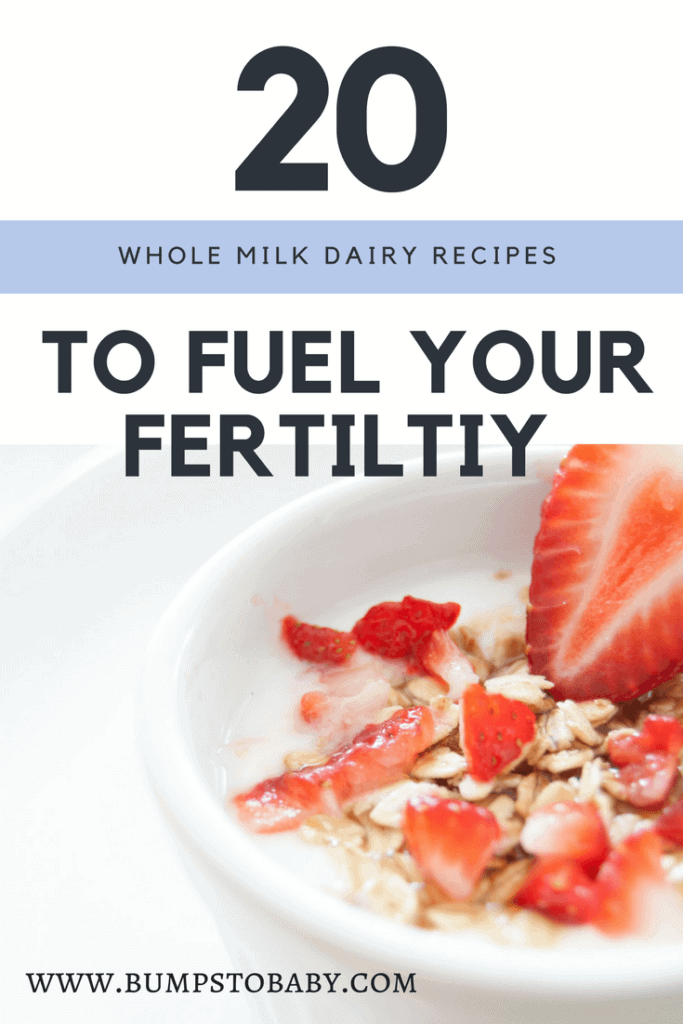 Recipes
**Be sure to sub whole milk if you're TTC!
Cottage Cheese Spinach Dip via Shaw's Simple Swaps
DIY Strawberry Yogurt via The Baby Steps Dietitian
Banana Oatmeal Blender Muffins via The Baby Steps Dietitian
Greek Yogurt Carrot Cake Pancakes via Hungry Hobby
Cauliflower Grilled Cheese via Shaw's Simple Swaps
Magic Pasta Bake via The Baby Steps Dietitian
Carrot Cake Banana Bread via The Nutritionist Reviews
Mediterranean Pasta Salad via Shaw's Simple Swaps
Fresh Whipped Cream via The Wandering RD
Tropical Oatmeal via Shaw's Simple Swaps
Garden Vegetable Dip via Salubrious RD
Chicken Souvlaki via 80 Twenty Nutrition
Protein Packed Mac n Cheese via Be Whole Be You
Cheddar & Mushroom Breakfast Strata via Cape Cod Nutrition
Blueberry Walnut Overnight Oats via Sara Haas RDN
Goat Cheese & Arugula Pizza via Shaw's Simple Swaps
Chocolate Walnut Banana Smoothie via Cape Cod Nutrition
Apple Brie Panini via 80 Twenty Nutrition
Endive with Goat Cheese via Amy Gorin Nutrition
Healthy Queso Dip via The Spicy RD
**PS – Don't worry, I'm coming next with with males! And yep, science couldn't keep it easy on us, their recommendations are a bit different!
References:
1- Chavarro JE, Willett WC, Skerrett PJ. The Fertility Diet: Groundbreaking research reveals natural ways to boost ovulation and improve your chances of getting pregnant. New York, NY: McGraw-Hill, 2008.
2- Afeiche MC, Williams PL, Mendiola J, et al. Dairy food intake in relation to semen quality and reproductive hormone levels among physically active young men. Hum Reprod. 2013; 28 (8): 2265-75. doi:10.1093/humrep/det133.