24 Hours Later, I Made It – Switzerland Adventure Begins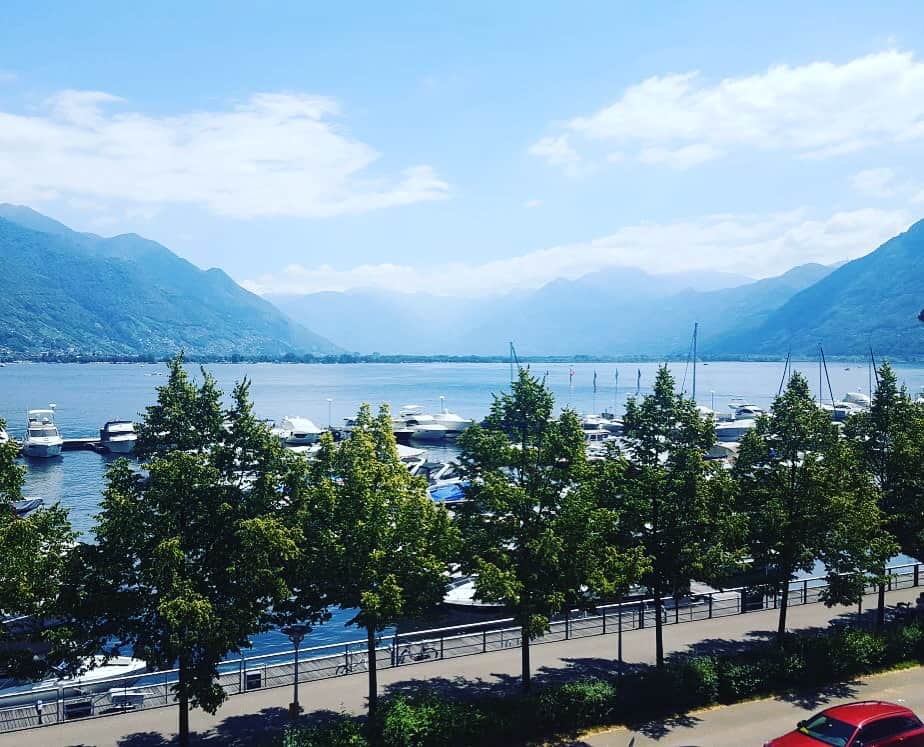 I'm sitting here looking out over Lake Maggiore and am speechless.
Sure, it's nearly 5:30AM in the morning here, but the simple stillness of the lake with the only sound being that of birds chirping nearby is pure magic.
Nope, I'm not smoking anything, it's just amazing to be able to sit here without the distractions I'm so used to at home.
Now, the Switzerland Adventure can truly take off.
But, let's rewind a tiny bit and fill you in on the travel. For any of you who've traveled internationally, you know what a bear some of those flights can be.
Luckily for me this wasn't my first rodeo, but it was the longest flight I've ever took without a companion (hubs or a family member).
Let's just say I've got a lot of "me time" the last 24 hours but it's not the me time I was looking for lol!
I left San Diego a little after 6pm on Thursday evening after spending the morning up at USC for the event I was speaking at. Such a wonderful experience but very stressful trying to navigate LA traffic and make it back to San Diego in one piece before my flight!
Suffice is to say, I made it back, however not without a battle scar.
No, I didn't get in an accident, but my body decided to respond very negatively to the stress I had put on it over the last two weeks.
Case and point, I developed an INSANE rash all over my lips that started to bleed and be super gross (I'll leave the details out for all of our sake's).
After a friend at the conference told me about Aquafor, I immediately made a pit stop at the pharmacy on my way into San Diego to stock up on the goods.
The lovely pharmacist at CVS was so kind and helped me get the right medications to help ease the pain and start healing this self-induced stress wound. Big shout out to CVS for their friendly staff!
But, if you know me at all, you know I immediately went to the worst case scenario in my head. It wasn't a rash, but…
I've contracted some sort of herpes from the hot yoga room.
I've got the flesh eating bacteria chomping down on my lips!
I have skin cancer.
I'm happy to report that on a scale of 1-10, my lips now feel like a 7 to 8 on pain versus the 20 they felt like yesterday!
New self-diagnosis, it's likely a rash, I will live, I can enjoy food again by the time we leave Thursday for our cruise (fingers crossed) without having to cut everything into bite sized pieces so it doesn't touch my lips!
Anyways, aside from my minor panic attack with the flesh eating lip situation, I had a fairly seamless flight from San Diego to San Fransisco, then off to Munich, and finally, to Milan.
Upon arriving in Munich, I tried to reach Mr. CEO but unfortunately the international cell phone plan had failed to become activated. Now, Mr. CEO assures me he DID activate it, however, whatever the case, it didn't work.
Thank GOD for WhatsApp because I was able to get on Wifi and connect with him to let him know when to pick me up in Milan.
The drive from Milan to our humble abode in Locarno was quite the adventure. I got in around 8:00PM in Italy, so the sun was just about to set. Mr. CEO has a work car (side note- many employees out here get a car as part of their job, how cool is that?) and instead of relying on the train, decided to make the 90 minute trek to pick me up.
On our little adventure back to his apartment on the lake. we managed to get stopped by the police, have our passports checked, experience the joys of international GPS and the lovely roundabouts. Almost 3 hours later, we made it back lol!
Being it was now nearly 11:30PM and we hadn't eaten much for dinner, we tried to find a place that was open.
If you ever in Switzerland in this neck of the woods, note NOTHING stays open until after 11:00PM, even on a Friday, except the bars.
Since it's extremely hot and humid and there is NO air conditioning here (#firstworldproblem), I somewhat lost my appetite (my body really has no idea what time it is) and settled on three glasses of Prosecco for dinner.
No, I'm not a drinker, but when the bubbly chilled delight is cheaper than water (even tap!), you do what you have to do, #noregrets.
Now, it's almost 6:00AM, time to wake up Mr. CEO so I can find some grub!
Thanks for joining, stay tuned for more updates as the Switzerland Adventure officially begins!
Let's chat!
Have you ever had a STRANGE reaction to stress in your body?
Feel free to follow me over on Instagram stories or Facebook for the daily adventure recaps!