If you've seen the social media 10 year challenge floating around and have felt mixed feelings, then this post is for you. As a mom, registered dietitian and recovered anorexic, I'm sharing my personal feelings on the pros and cons of the 10 year challenge. But, I'd love to hear yours too! Read on to join the conversation.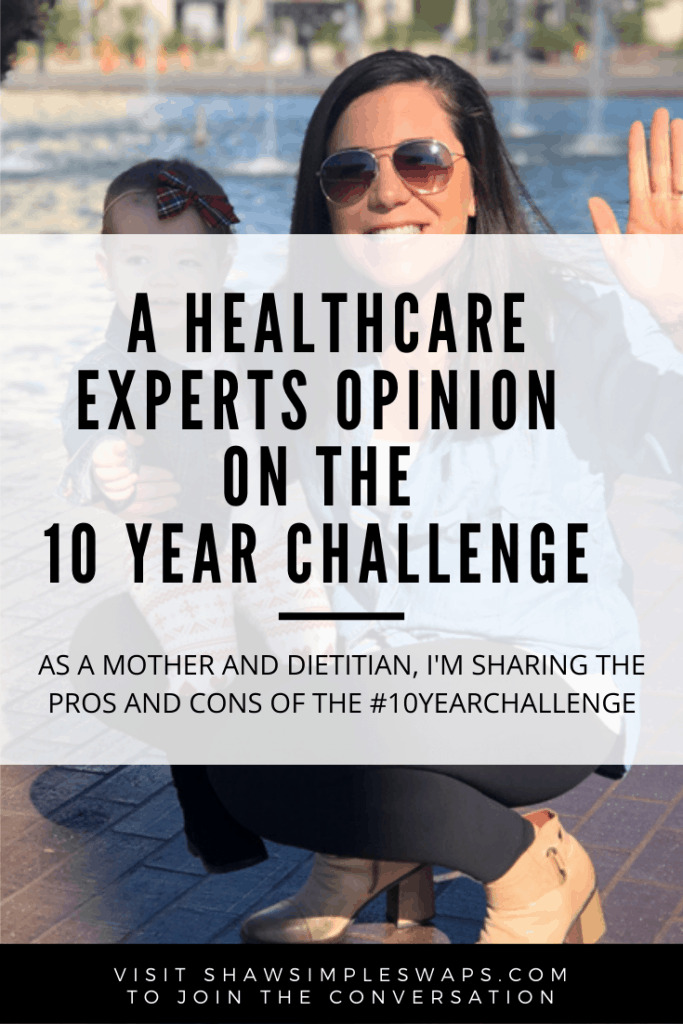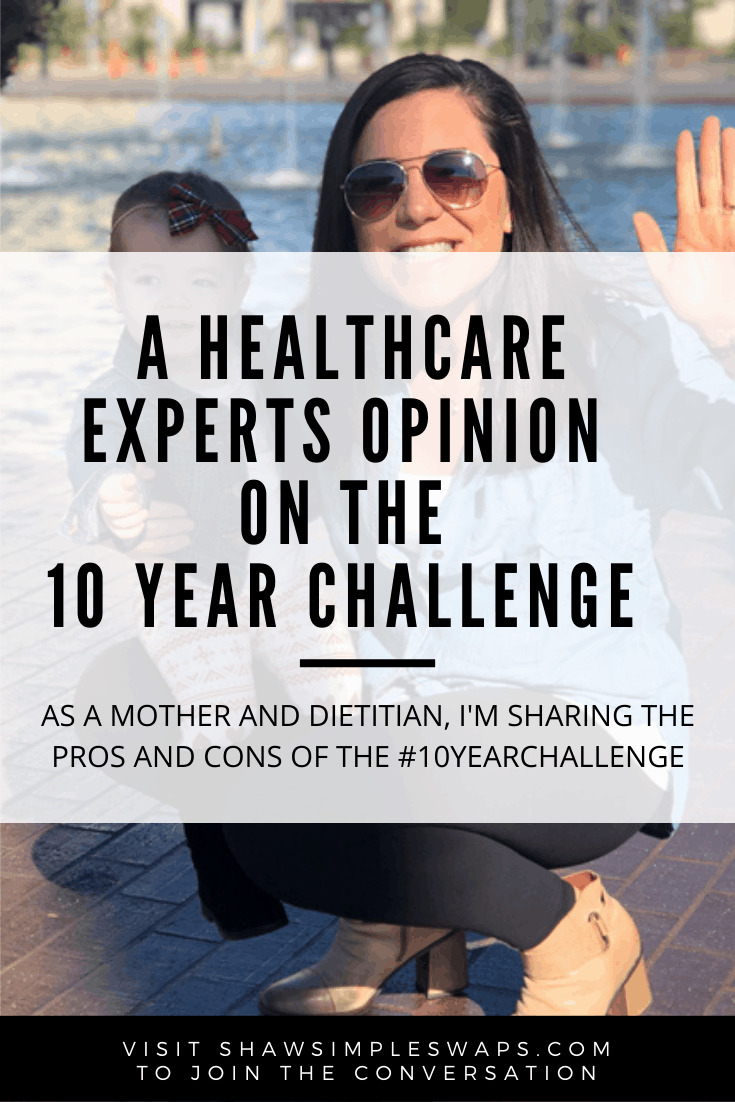 What is the 10 year challenge?
Alright, if you're new to this challenge let me fill you in.
The 10 year challenge started when we entered the new year in 2019 with the goal to serve as:
"A wholesome, socially acceptable way to brag about how hot you used to be, how hot you are now, or how hot you were and continue to be."
While you can certainly insert any word you want above for "hot", the premise is the same.
It's a way to show your followers (be it if you're an influencer or social media user) the changes you've encountered physically over the last decade, with the added opportunity to caption it with real life, inspiring (or not) details on what has unfolded over the last decade.
What are the pros of the challenge?
Fun and Socialization
Yes, it sounds silly, but pending the caption and images, the challenge can actually be a great way to elicit fond memories of accomplishments you've had over the last decade.
Perhaps an old friend who knew you then chimes in and you reconnect.
Motivation and Inspiration
Maybe a follower who needed to hear a wise word of encouragement saw your post and now feels inspired to be their own true self in 2020.
Or, maybe it has empowered you to shift your own mindset, regroup and refocus on what truly matters to you in the next decade.
The 10 year challenge has the opportunity to be used as a motivational post to inspire, encourage and demystify many societal norms.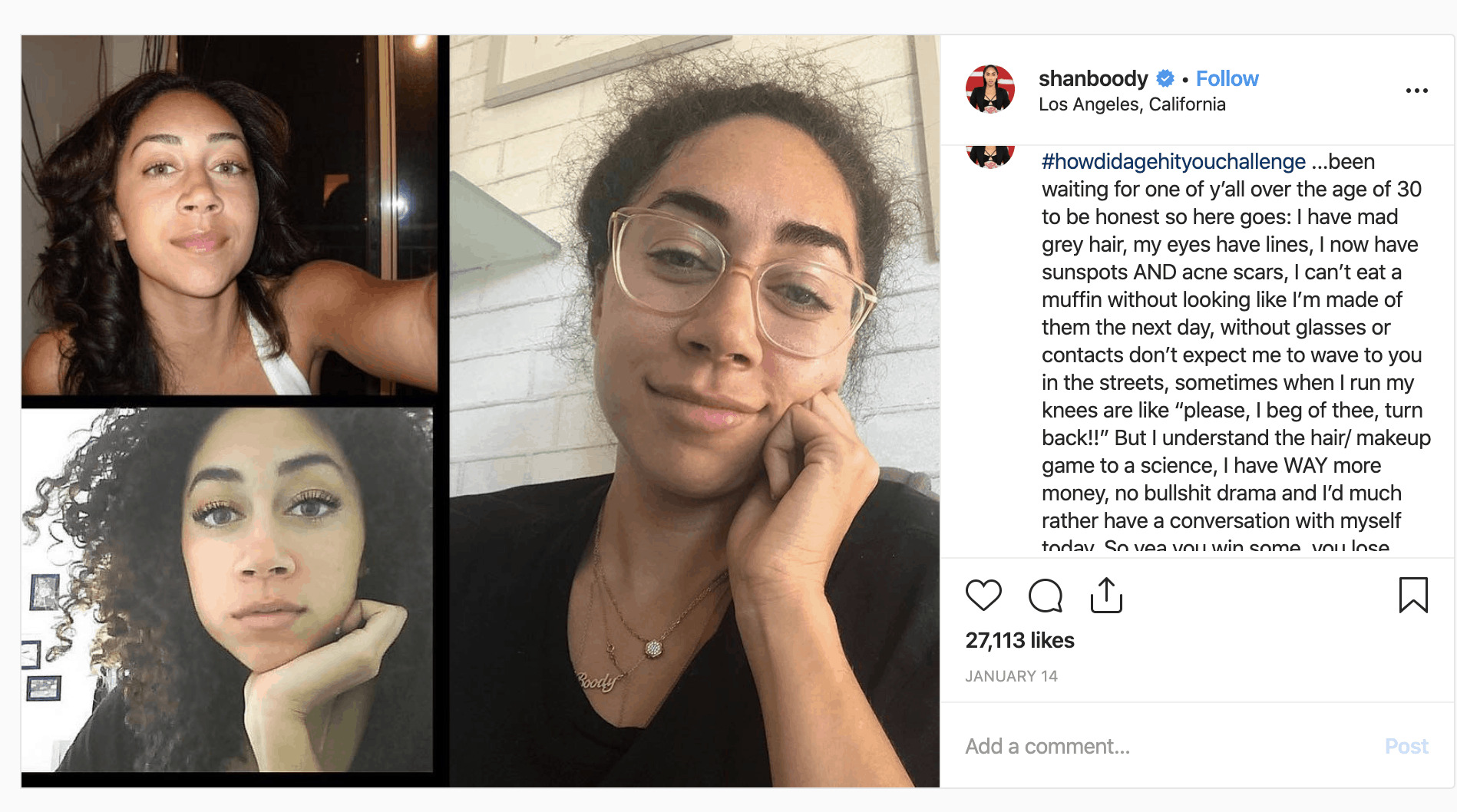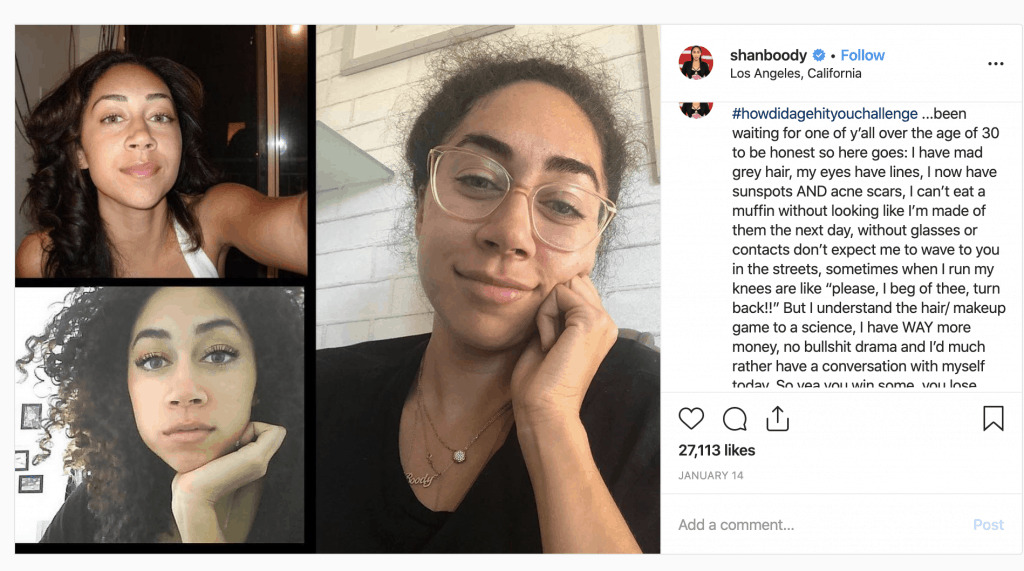 What are the cons of the challenge?
Google this and I guarantee you'll find a plethora of cons not listed here. But, here are the top ones that I found interesting. I'll save my professional and personal opinions for the next section!
Privacy Infringement
If you're as shocked as I was with this one, rest assured even CBS is reporting on it.
Think about how Facebook knows when you've been in a picture that you are not even tagged in and asks
That same facial recognition software could be getting an update as artificial intelligence uses the data from this challenge to fine tune their systems.
This isn't to alarm you, but remind you when you post any photo on social media or the web, it can be used for a plethora of things we may not even be aware of.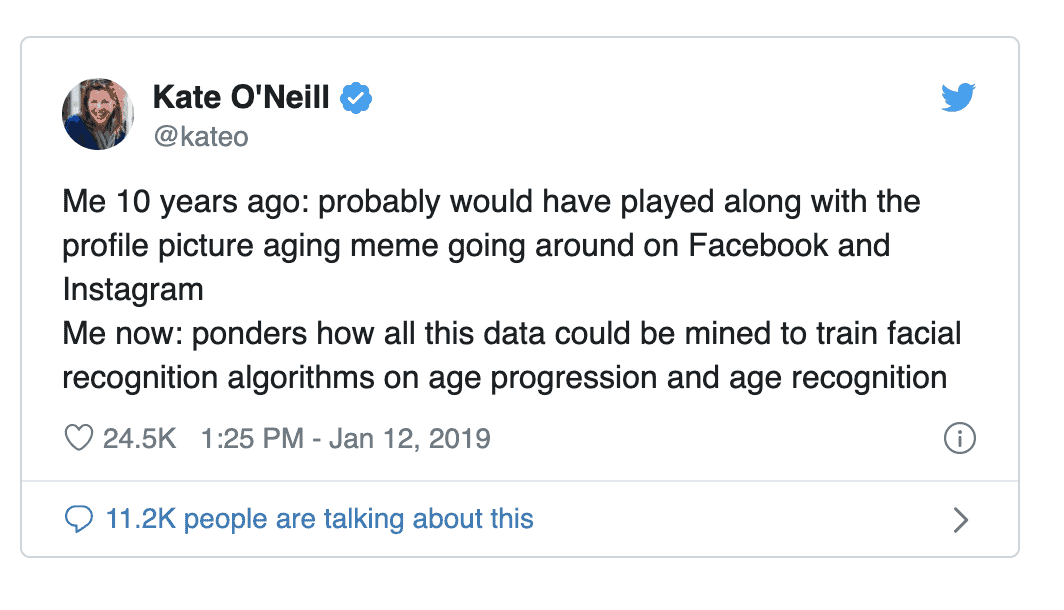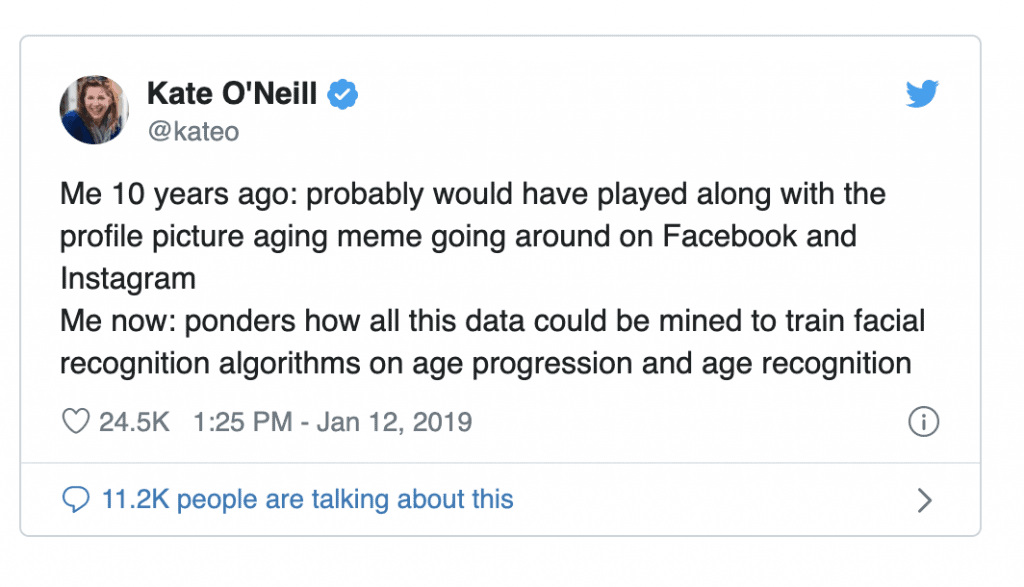 Depression, Anxiety and Feelings of Low Self-Worth
Okay, this isn't just for the 10 year challenge social media campaign, but rather generalizable to social media overall.
Research has consistently found (specifically in adolescents) that social media causes feelings of depression, anxiety and low self-worth.
Whether it's counting likes or followers, it's no wonder why social media can do a number on mental health.
Plus, there is also the comparison game that comes with social media. Whether it's comparing yourself to another or comparing yourself to the person you once were, both of these can be detrimental to your mental health.
How do I feel about the 10 year challenge as a healthcare professional?
To be honest, I have mixed feelings.
Part of me in the business, entrepreneurial sense loves to see the motivational and inspiring posts of colleagues who've taken risks and beaten odds over the last decade.
Seeing their hard work pay off, overcoming challenges and finding their joy is so special to me.
On the other hand, the eating disorder specialist in me (I have a specialization in Eating Disorders and Obesity from a graduate certificate program I completed back in 2011) cringes.
I fear for the young teens seeing the images of those they idolize and feel they must change themselves to fit a different mold.
I worry about the peers who are just starting out, longing to achieve their break and comparing themselves to those who are more advanced in their careers. I want to remind them that….
Comparison is the thief of joy.
I know first hand how that can feel, and want to remind them (and myself) that our accomplishments be small or large are things to embrace.
How do I feel as a mother?
Terrified.
I think that's the best word to describe my feelings around social media and like challenges that will continue to pop up.
To be honest, when we found out we were having a girl I was so scared.
It's not to say body image and eating disorders don't occur in the male population, but rather the genetic predisposition my daughter has given my prior experience with anorexia nervosa makes me anxious about any comparison pictures and challenges .
Perhaps it's because I've been so honest on how I struggled with significant weight gain while going through infertility treatments that I initially cringed when I started lining up and comparing my 10 year photos.
Then, I sat with that feeling.
I let the memories flood my brain. Some that made me cry, some that made me laugh, and some that made me sigh.
I've chosen not to share the side by side on social media but am going to share two photos here in hopes that one person sees this an it makes that positive impact we've chatted about above.
Liz Zabel – 2009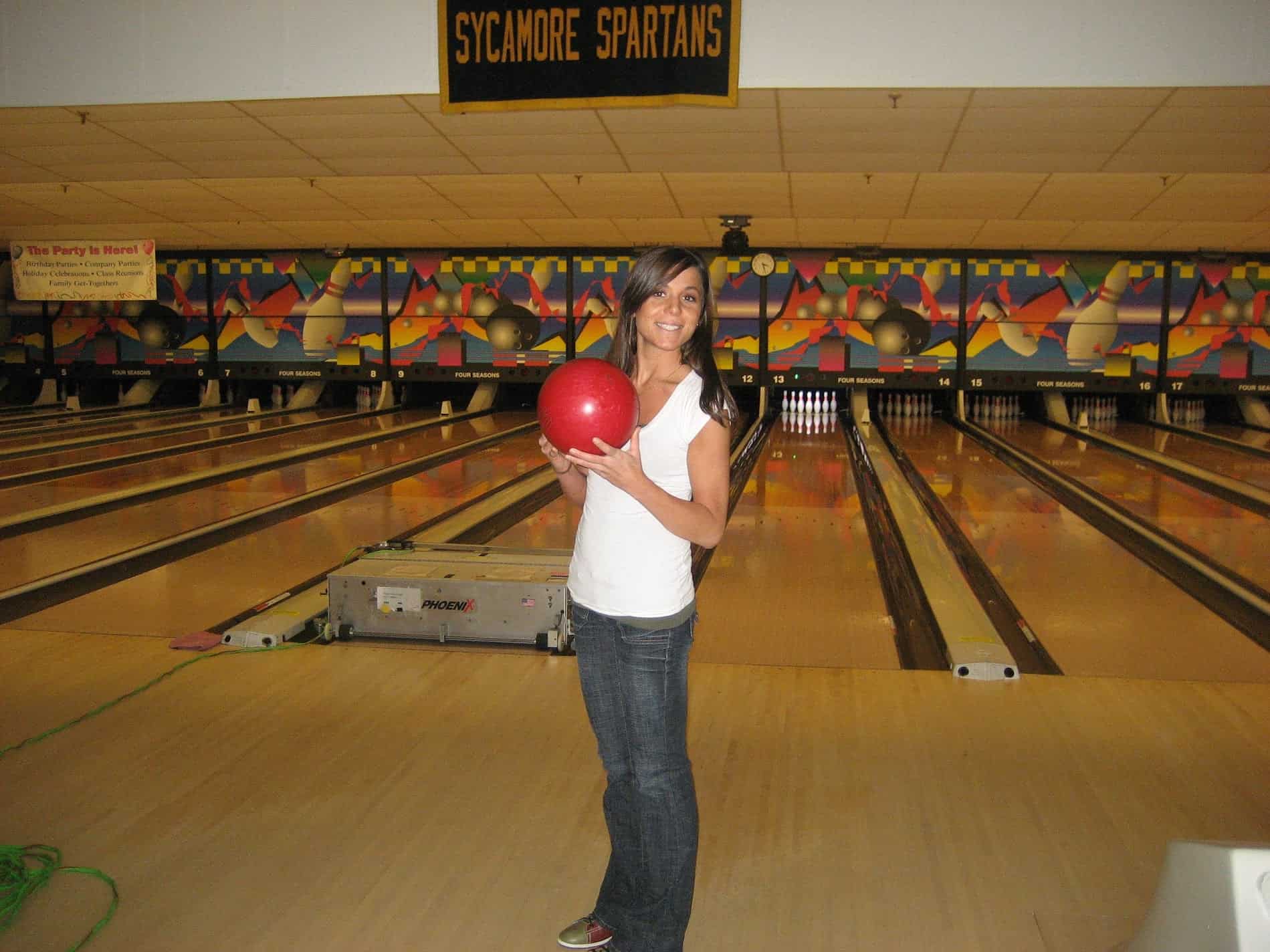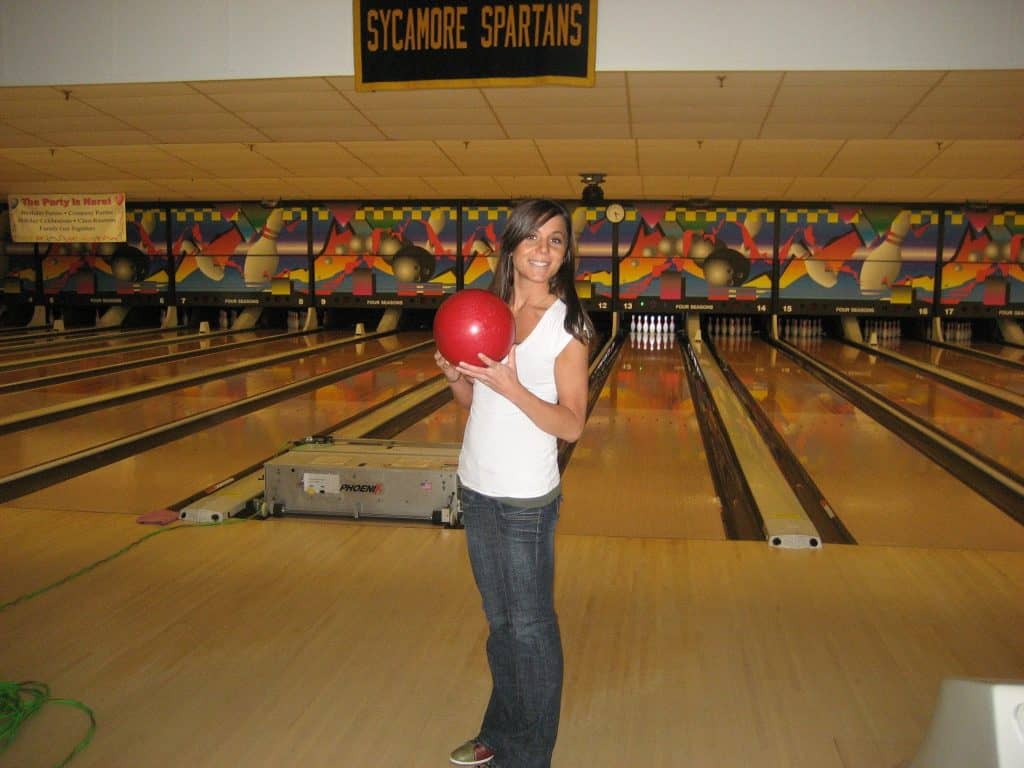 I was a new grad student in a new state where I didn't know a soul.
I met Mr.CEO that first weekend I moved to town and boy did life take a great turn for the best!
But the "best life" was also possibly the worst for my health, as I never admitted until this very moment as I look back at photos that I was spiraling downhill into my prior anorexic, over-exercise tendencies.
As a newbie to town, grad school, a dietetic internship and new job, I found myself strapped for time like most students.
I found comfort in exercise that turned unhealthy.
Though I swore I was doing everything "for my health", I'd hit the gym at 3:45 am before commuting an hour for my internship, then going to school, then work, then finally sitting down to start my homework.
I barely slept, I didn't eat enough, and I thought a size double 00 was something to be proud of.
Note, your size does not dictate your worth!
Sure, I was cruising through school, my internship, work was "great" and I had the best man I could have ever asked for, but I will always wonder if those years of such unhealthy habits with stress and exercise played a big role in my infertility.
I know many healthcare professionals who are dietitians can also relate, but sometimes the things we are so passionate about learning can become an unhealthy way to cope through the program.
If you or someone you know it struggling with this, reach out for help. Visit NEDA.
Liz Shaw – 2019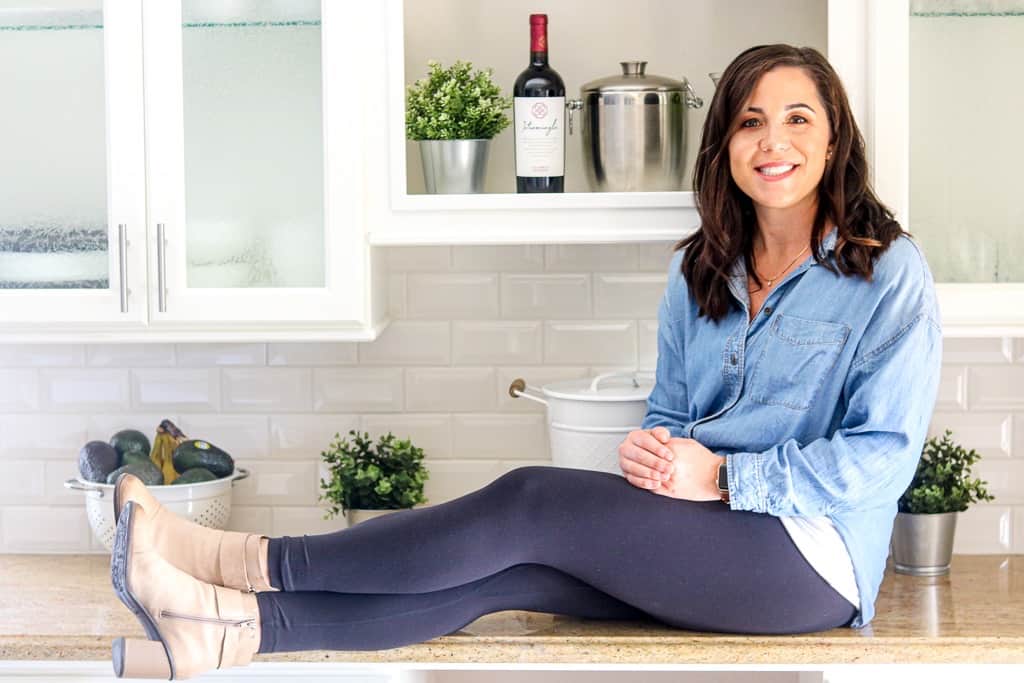 This is me last week. My loving husband graciously took a picture of me after I got back from filming a broadcast TV segment.
Yes, I've been working as a media dietitian for over 5 years and I'm so proud of the small 6 figure business I've built.
It was a tough start.
I had some really exciting jobs. I had some jobs where I was demoralized because I was a 25 year old female outworking the male supervisor. I've had jobs where they used my title and appearance as a sex symbol to get investors, in which I quickly left after realizing the above.
What I learned from the last decade of work experiences is that:
You have to keep forging forward with your dreams. When you know what you want, you can and will make it happen. Let your passion guide your spirit and give yourself grace, time and encouragement.
I didn't lead with this, though this is by far my biggest accomplishment in the last decade: becoming a mom.
The last decade taught me to never lose hope as Mr. CEO and I spent almost half of the decade yearning to hear mama and dada called in our hallways.
My journey with infertility taught me so many things, but most importantly to slow down.
To embrace the unfortunate curves life throws at us and find the blessings hidden within them.
The friendships formed, the relationships that have been strengthened and the miracle baby that finally found her way into our empty nest will forever remind me of the beautiful and messy rollercoaster ride that a decade can provide.
Now, I'm also constantly questioning if I'm doing enough, challenging myself enough, and am kind enough.
I'm wondering all the time if I'm modeling the person I want H to become.
I struggle weekly (okay daily) with the changes my body has seen, and the new curves and dimples it has.
But, you know what.
At the end of each day I know with all my heart that woman up there in the 2019 photo is the woman I was meant to become.
Now, I'd love to hear from you and your feelings on the 10 year challenge!