Are non nutritive sweeteners safe?
If you've been thinking about cutting back on your intakes of added sugars, then you may have considered swapping in some of the newer natural sugar substitutes on the market like stevia and monk fruit. But, are they safe? Let's explore this below.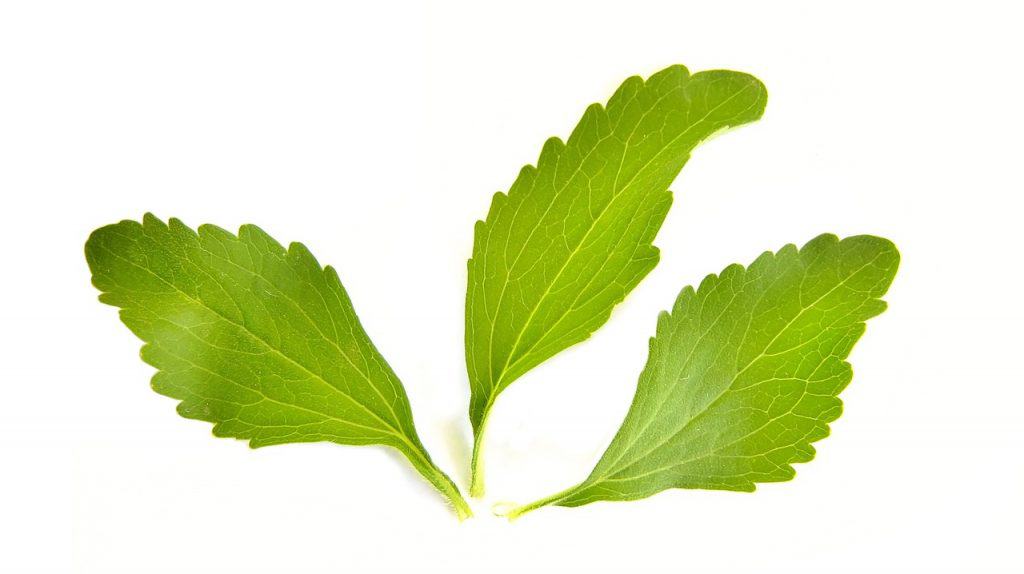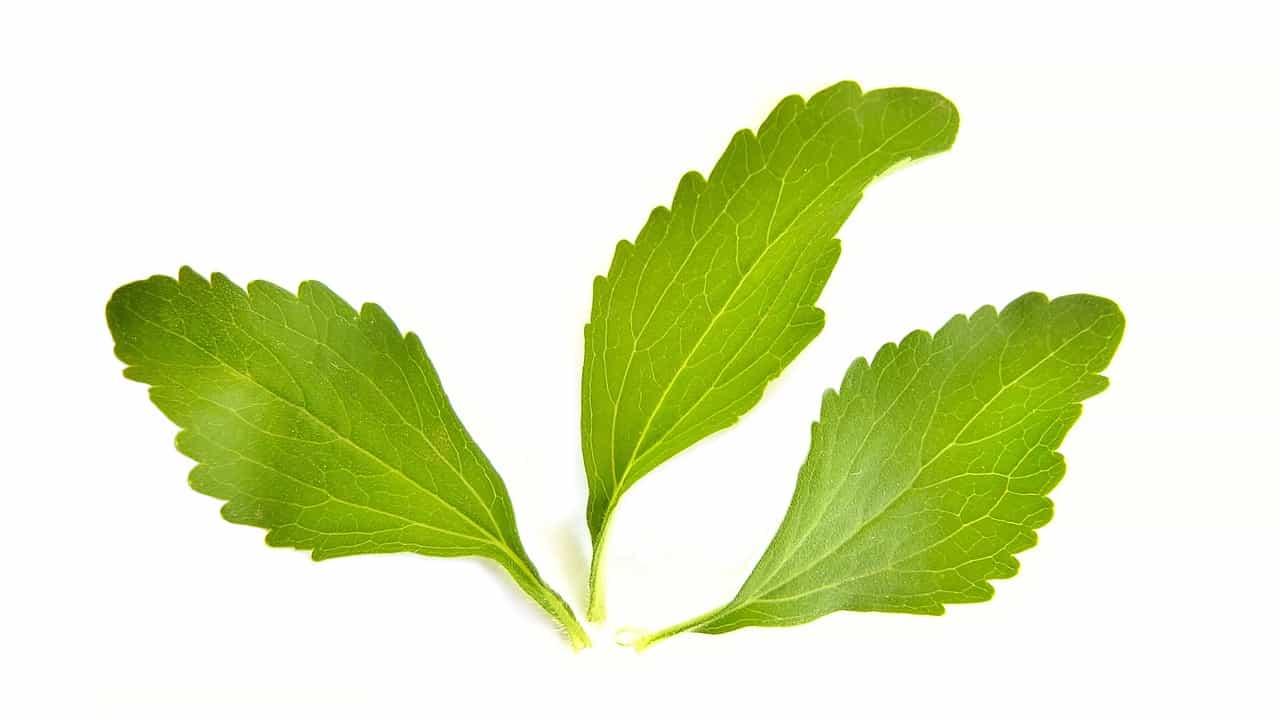 Are natural sugar substitutes a better option over real cane sugar?
We all know that Americans are eating WAY TO MUCH sugar!
You may remember from the Added Sugar Challenge post here, but to refresh your memory, nearly the average American still consumes almost 17 teaspoons of ADDED sugars per day!
Obviously, quitting sugar entirely isn't what I'm preaching at all through my challenge.
But, keeping your intakes of the added stuff in check.
Maybe you've thought about trying to cut down by using a natural sugar substitute, like stevia, monk fruit or erythritol.
With so many options on the market, you may find yourself wondering, what exactly are these "natural" sweeteners and are they safe?
As the name suggests, natural sugar substitutes are derived from nature.
Natural sugar substitutes are often promoted as healthy options, but can still be processed or refined.
Plus, they can be further broken down into two categories: nutritive and nonnutritive.
Nutritive sweeteners (such as raw honey or date paste) contain calories or energy in the form of carbohydrates.
Nonnutritive sweeteners are either zero or low in calories because they are not completely metabolized. This means that they simply pass through the digestive system and no calories are able to be absorbed by the body.
Though the Food and Drug Administrations GRAS (generally recognized as safe) category, there are still studies that pose some concerns I want you to be aware of.
For instance, while nonnutritive sweeteners may seem like a simple way to help cut out additional calories, many studies suggest that the use of nonnutritive sweeteners is also linked to weight gain and obesity.
There is also conflicting evidence between the correlation of nonnutritive sweeteners and appetite regulation, risk of cancer, risk of diabetes, and risk of cavities.
More research on nonnutritive sweeteners is needed to determine if they are safe for pregnant women, infants, and individuals with diabetes and hypertension.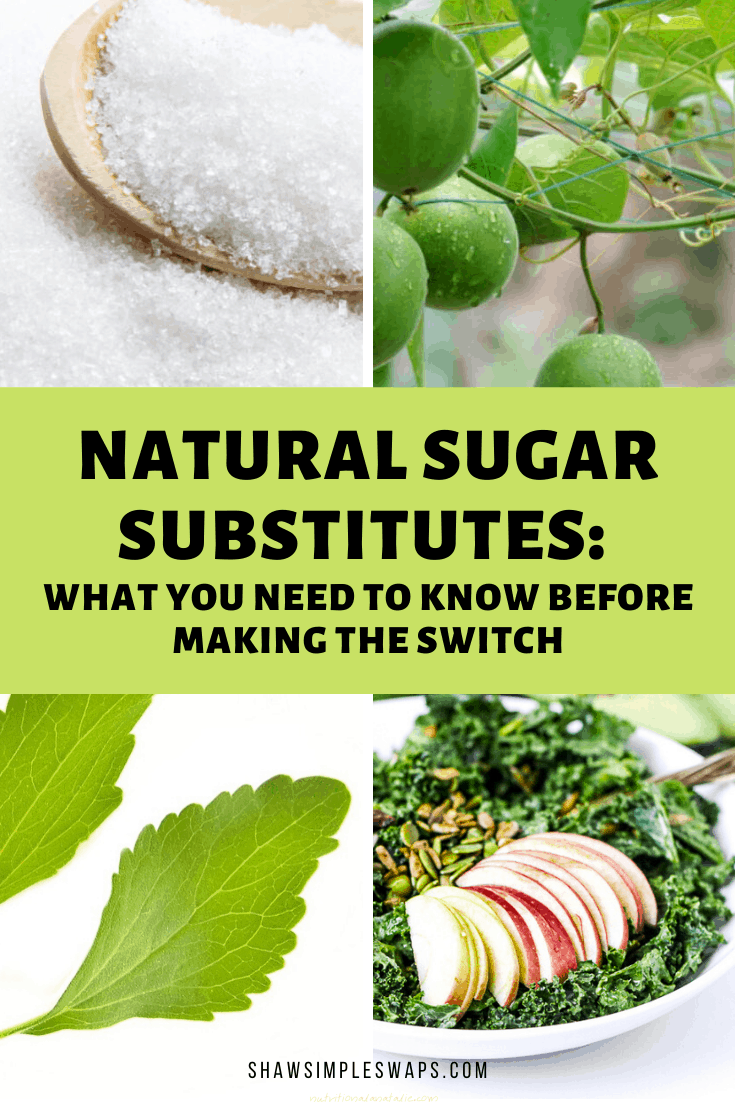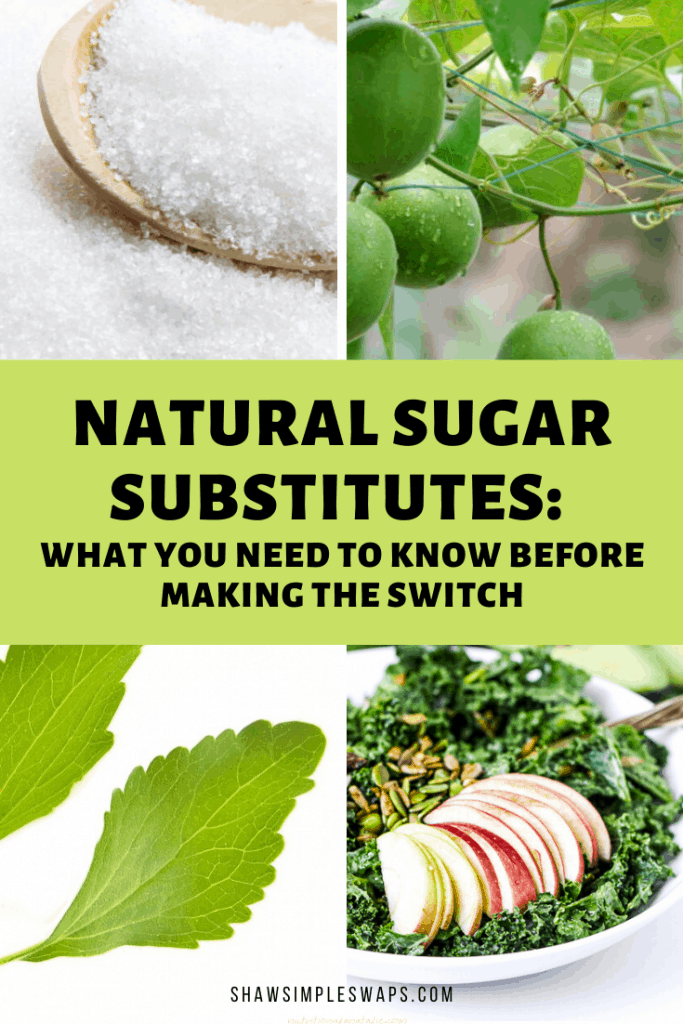 Let's take a look at the three most common natural sugar substitutes being used on the market today.
What is monk fruit?
Monk Fruit is a melon native to Southern China and Thailand; its name comes from the Buddhist monks who first used the fruit in the 13th century.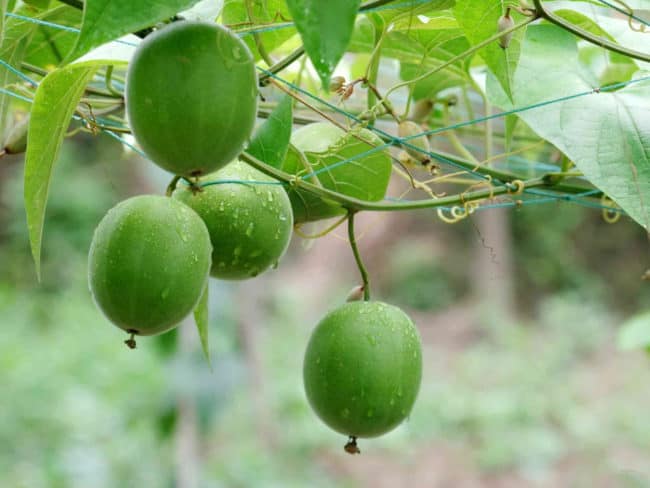 What are the benefits of using monk fruit in the diet?
Monk fruit has been used in Eastern medicine for centuries for digestion and as a cold remedy, but you may have seen it popping up in your local grocery stores as another natural sweetener option.
The sweetener is created by removing the seeds and skin of the melon and crushing the fruit for its juice. The resulting juice contains zero calories per serving and is 150-200 times sweeter than sugar.
It is heat stable so it can be used for baking and a variety of foods and beverages. According to the FDA, monk fruit is generally recognized as a safe, nonnutritive sweetener.
Mogrosides, the compounds that give monk fruit its sweetness, are not absorbed in the upper GI tract, therefore don't contribute to calories consumed.
One study indicates that the use of mogroside extracts like monk fruit could be used to prevent diabetic complications. Another study suggests that mogrosides may have powerful antioxidant properties, making this a possible new superfruit!
What are the downfalls of using monk fruit?
Monk fruit isn't grown in many places, so it has to be transported which means a higher cost for the consumer.
Some people also find that monk fruit has an unpleasant aftertaste.
Plus, something to keep in mind is that some manufacturers will try to alter its taste or bulk it up by blending it with food additives such as maltodextrin or dextrose so that it is more comparable to table sugar.
These fillers or additives can alter its nutritional profile, which could inevitably leave you consuming the same if not more added sugar than just using regular cane sugar to start off with!
What is stevia?
Stevia is extracted from Stevia rebaudiana, a small perennial shrub in the sunflower family native to South America where it has been used for centuries as a sweetener and for medicinal purposes.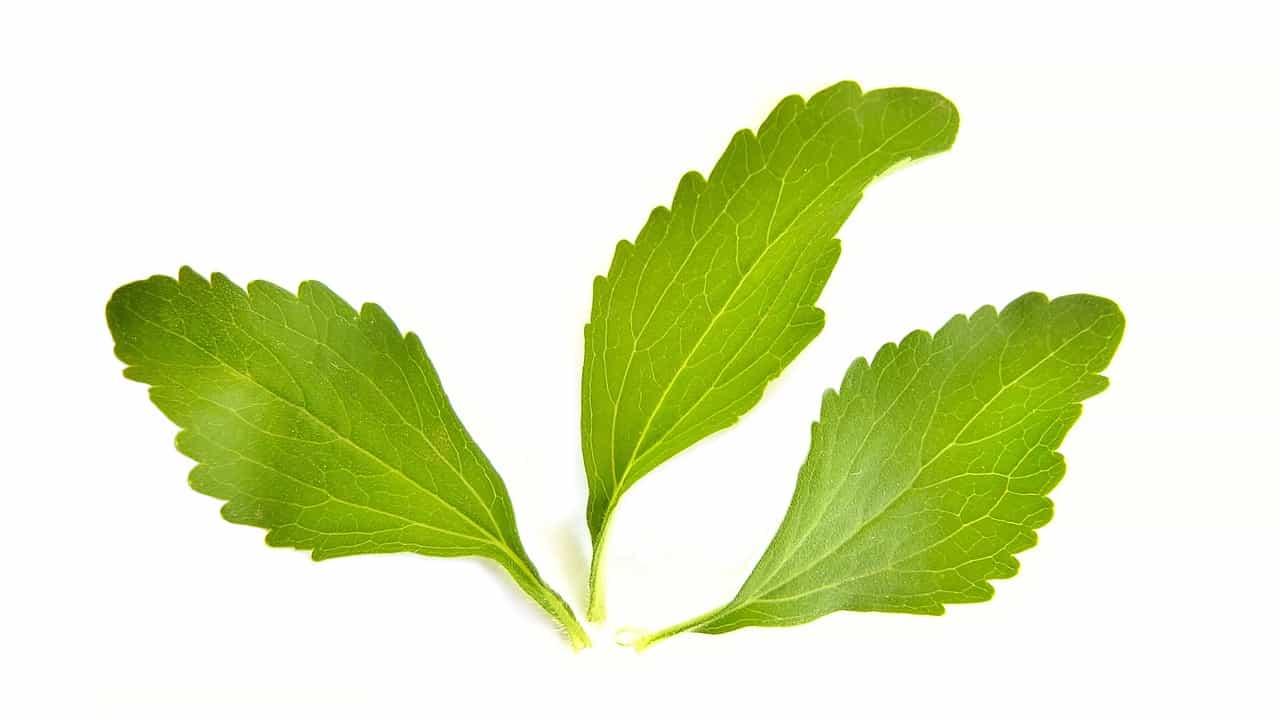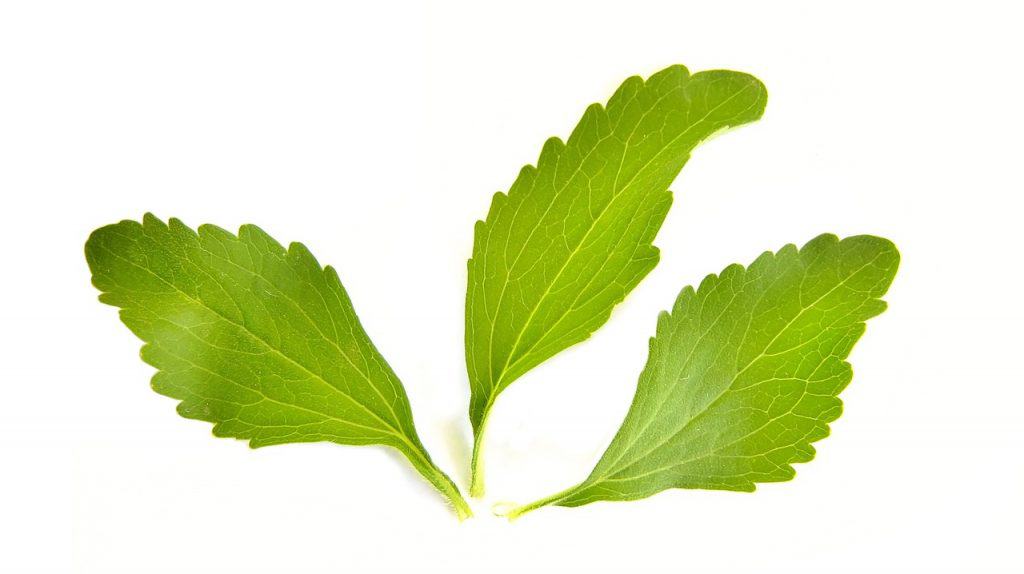 Stevia has no calories and it is 100-300 times sweeter than table sugar. It is heat stable and comes in liquid and powder forms so it is a very versatile option.
What are the pros to using stevia?
Aside from cutting calories, stevia has other potential health benefits.
Several studies have found that stevioside may be a possible alternative or supplementary therapy to lower high blood pressure in hypertension patients. According to another study, research suggests that stevia lowers blood sugar levels for diabetes patients.
Stevia also makes the generally recognized as safe (GRAS) list. The stevia plant contains two compounds that make it sweet: stevioside and rebaudioside.
Stevioside has a bitter aftertaste to many individuals while rebaudioside is sweet without the aftertaste so you may want to try several types if you find the taste unappealing.
What are the cons to using stevia?
Like monk fruit sweeteners, stevia sweeteners can be blended with other additives and sweeteners and may not actually contain much of the stevia leaf at all, so check those ingredients!
Plus, recent research shows that in animal studies rats born to mothers who were fed stevia during pregnancy and lactation actually showed an altered gut microbiome.
This altered gut lead to an increased chance of being overweight and impaired glucose tolerance in the rats offspring early in life despite not consuming the sweeteners themselves.
Additionally, consumption of the sweetener was associated with altered expression of genes in the brain associated with feeding behavior in offspring, which could lead to overeating
While I prefer to use human studies as a base, it's important to shine light on this so we can continue to be aware of the potential unforeseen long term effects of using nonnutritive natural sweeteners.
What is erythritol?
Erythritol is a natural sugar alcohol that can be found in small amounts in many fruits as well as mushrooms and other foods derived from fermentation like wine and cheese.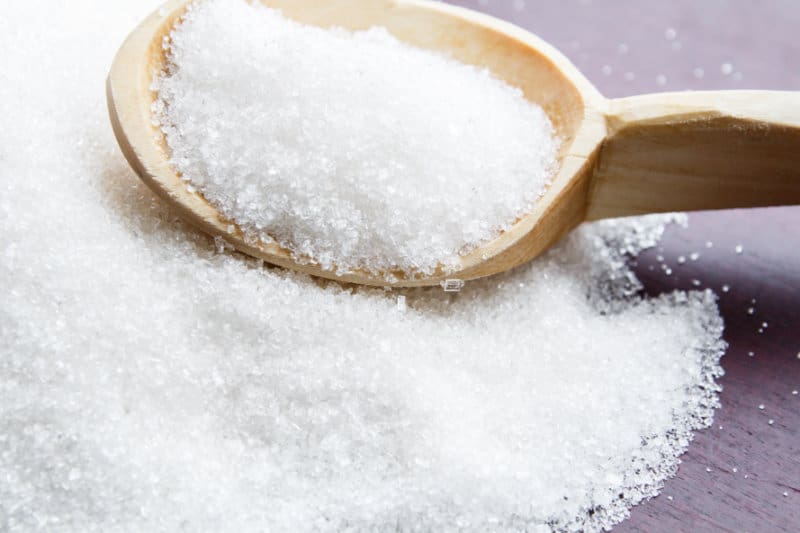 Erythritol is also derived from wheat and corn, industrially fermented and added to low sugar and sugar-free foods and beverages by food manufacturers.
It contains 0.24 calories per gram, giving it zero calorie sweetener status, and contains 6% of the calories of table sugar, but 70% of the sweetness.
Erythritol is available granulated or powdered and doesn't have a bitter or chemical aftertaste.
Is erythritol safe?
Yes, generally speaking. But, it does behave differently than other sugar alcohols in several ways.
You see, ten percent of erythritol consumed reaches the colon and is absorbed and the other 90% is excreted into the bloodstream and excreted through urine.
Because the body can't fully absorb sugar alcohols, they have often been linked to gastric disturbances.
In comparison to other sugar alcohols, erythritol may cause significantly fewer tummy troubles than other sugar alcohols.
While erythritol does occur naturally in some foods, it is typically man-made with cornstarch. To ensure you are getting a trusted product, purchase erythritol without additional filler ingredients.
One 9-month study found that erythritol use was associated with belly fat in healthy adults. Other studies found that erythritol may have potential for use as a human safe insecticide.
I don't know about you, but I prefer my treats to contain as few kinds of pesticides as possible!
So, should you use non nutritive natural sweeteners?
Ultimately, if something seems too good to be true (for instance, a zero-calorie sweetener) it probably is!
When it comes to sugar or sweeteners, less is best.
If you decide to use a natural sugar substitute, choose the sugar substitute that you enjoy the taste of and fits your dietary needs. But, rest easy knowing it is 100% okay to use the real deal (aka cane sugar) too.
Really, you need to choose the option that YOU feel most comfortable with for you and those you are cooking for.
Check the labels to see what you're really getting (i.e. no fillers or other sweeteners).
Remember, non nutrititve sweeteners are much more potent than table sugar, so a small amount goes a long way!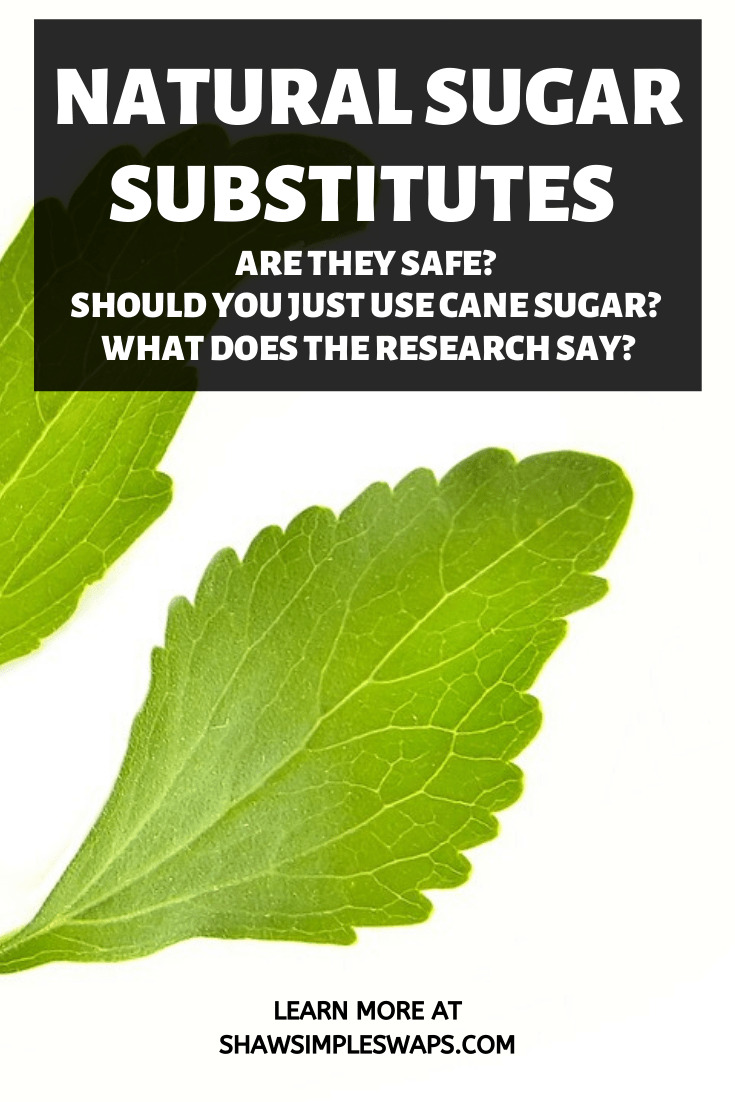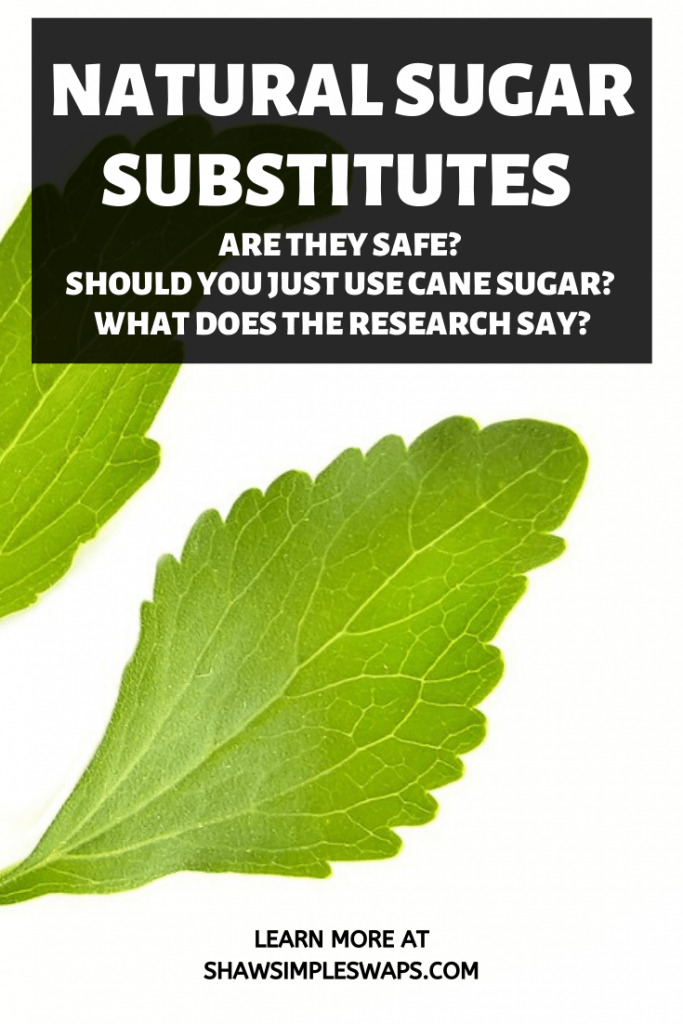 What do I do?
I'm sure many of you are wanting to know what this dietitian recommends, so I'll keep it brief.
Before I became a mom, I really loved using these types of sweeteners in my cooking and baking.
But, knowing now how much uncertainty lies in long-term use of these types of sugars, I prefer to use a little bit of added sugars like cane sugar or maple syrup versus stevia in my baking.
While I know they have more calories, I'm also inclined to use less of them, and rely on the sweetness of natural fruits, like bananas, berries, and dates!
This Chocolate Walnut Dip is one of my go to using all natural dates to bring some sweetness in!
Have a question on any of the above? Be sure to contact me here or send me a message on Instagram!