Seeing the Rainbow After a 4 1/2 Year Storm | Baby Shaw's Announcement
Hello my friends,
I've sat here for weeks trying to write this to you.
Each and every time my emotions have become too real; I become choked up, losing my entire train of thought and wandering into a sea of tears and mixed emotions.
To be honest, I've dreamed about this day for four and a half years. Picturing how I would finally announce to the world that our miracle is on its way.
But the more my husband and I had time to think about what felt "right", we realized the adorable bump photos weren't the right fit for us at this time.
Why?
Because of my deep connection with the #ttccommunity. Because of my #ttcsisters still waiting on their rainbow.
Because of my emotional investment in those who experience the sea of emotions after seeing announcements and have yet to have one of their own. I know the feelings all too well.
Sure, I'd be lying if I said we weren't going to get some photos at some point in this journey, but there is a deeper message I want to convey to you with Baby Shaw's announcement here and I hope you take away from the other announcements you may see online:
Always have hope, because miracles happen everyday!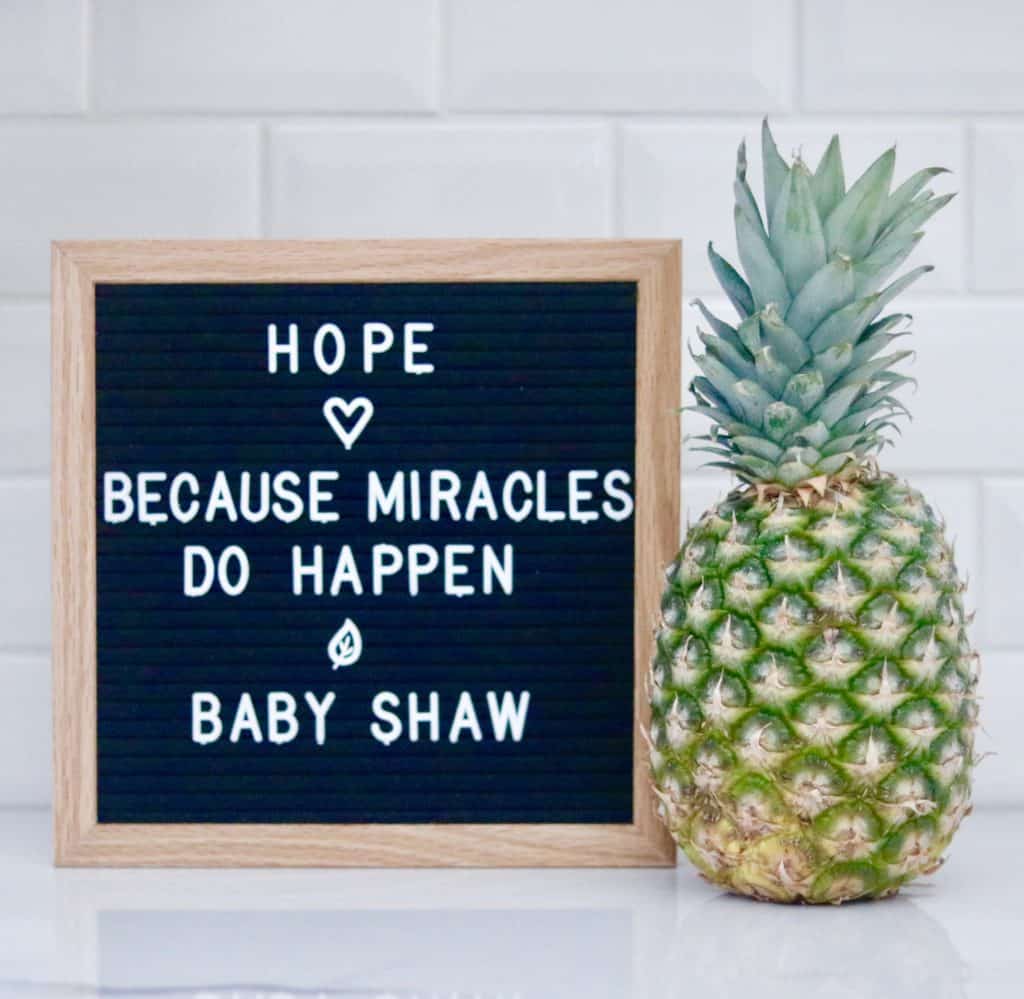 I've been staring at this sign for nearly 6 weeks. I created it with the HOPE that our baby would make it through the first few weeks. You see, Baby Shaw's survival was a little touchy the first few weeks as is the case in many pregnancies.
To give you a backstory, when we left for my husbands work project in Switzerland last October, we had taken a break from ART and were giving my body a chance to figure things out. I will be sharing more about this with you (and costs associated) in the coming weeks so you can possibly consider this as an option if IVF and IUI's have yet to work for you too.
During that time, my body was a machine. For the first time in my adult life, I menstruated on my own. No hormonal manipulation, no nothing. I've never been so excited to go buy tampons at the market!
As we waited for the ovulation strips to come back positive, I was faced with experiencing the stress had long forgotten about since we had switched to the ART route 3 years prior, which was again just good old waiting.
Because I do respect my husband and want to keep our romance private, I will spare the details on the next part, but lo and behold, December 6th, I woke up to what was for the first time to our first two pink lines.
But, let's rewind a bit. December 1st as was "expected" I woke up to what I thought was a period. Light spotting, sure enough I knew it, the beginning of another month of an adult miracle (or what I was calling it since I was told over 3 years ago it was unlikely I would ever menstruate on my own).
I was a little upset I had thought our miracle didn't come, but waited two more days, and still nothing more. No need for a tampon, no nothing.
Hmm, strange? Did my period disappear, panic set in and I was convinced I had stressed myself out and Aunt Flo had gone back into hiding.
Just to be safe I took a pregnancy test. But you see, pregnancy tests (and markets for that matter) aren't sold nor open in Switzerland like they are in the US.
So, after lying awake all night, I remembered that I had seen a pregnancy test in a vending machine near the train station. Surely I could go buy that!
I nudged the hubs to let him know I would be back shortly and at dawn walked the mile to the train station to buy the test. Funny enough, their vending machines didn't take credit cards and I only had paper Franks (the currency in Swiss Land).
So, into the only mini mart that was open I went to see if they would convert the paper into coins. I needed 17 Franks, or about $20 US. The gentlemen working didn't speak English however he was so kind and really wanted to help. Through a few hand motions I used around my belly, he realized I was trying to test for "bebe". He quickly exchanged my money and wished me luck that it was negative!
I laughed, thinking boy oh boy, if you only knew how badly I want this little stick to be positive!
Flashforward, I purchased the test and went back to the apartment to pee on the stick.
Negative.
Emotions roared, fear set in that I had lost my period officially, and the questions of when to start IVF began to roll through my mind again.
I emailed my doc to let her know what was going on and she told me to wait until Friday and take one more exam to be certain, but was hopeful that the light bleed was a mini period and Aunt Flo would be back the next month.
Having little patience, I waited until Wednesday to take the second test. As soon as my husband went to work at 630 AM, I jumped out of bed to pee on the new stick. After waiting the minute, I got really confused, hot and red all at once.
OMG, what is this test saying?!
I quickly grabbed the stick and ran to my computer. You see, the test wasn't like any test I had taken before. It was a German brand that had no English on the instructions and there were two different compartments with lines. I couldn't tell if two meant yes or one in one side and another on the other meant no.
AHA! Panic again!
I snapped a photo and sent it to my friend in Germany. Surely she would know. Immediately she called me back, OMG Liz, two lines is two lines, your pregnant!
Words I never imagined ever hearing brought a heavy surge of heat to my body and immediately tears ran down my cheeks. I seriously felt like I was going to faint!
I wanted to be certain, after the last years of heartache inside I knew I needed an HCG blood draw to settle my nerves that this was in fact a positive pregnancy.
I quickly dressed and went to the reception desk to find the map for the nearest hospital. A mile walk at 715 AM and I was walking in the lobby at 730AM.
Unfortunately, no one spoke English at the reception desk. I ended up wandering the hospital until I found the maternity ward and by the grace of God found my angel who was a nurse that spoke English in the elevator on my way up. She was my Godsend!
She was able to call down to reception and explain to them what I needed to get done. I went back down to fill out the paperwork and then was sent back up to the maternity ward to wait.
After 45 minutes I was able to get my blood drawn and then was told to wait 90 minutes until the results came back. I waited, but grew more and more excited by the minute. I forgot to mention I had not yet told my husband ANY of this was going on. Nope, I wanted to confirm and then wanted it to be a SURPRISE I told him in person. The first sense of spontaneous excitement during this whole journey!
Finally after what felt like a lifetime, I was called back into the doctors room who spoke very little English. She confirmed my HCG was positive at 233 however insisted she run an ultrasound per their protocol. I politely refused, but she said I had to.
Not knowing their protocol and being assured it would be covered in the $500 fee I had already paid, I went with it.
Well, as I expected, she didn't see a thing in my uterus. After 16 minutes of a transvaginal ultrasound (not kidding here), she told me she believed I had an ectopic pregnancy and wanted to send me to a specialist in town to confirm her diagnosis.
My heart sank. Inside in my right mind I knew that she had my dates off. I told her I didn't ovulate on a normal schedule and despite the information, the language barriers were too distant for the information to align for both of us.
So, off I went to the OBGYN (again being assured this was still covered under the $500 fee, which it was)!
During this time, I had to tell my husband what was going on. My battery was at 5% and suffice it to say I was not going to meet him for our 12PM lunch as planned.
According to him, when he got the text explaining all of this he literally almost fell out of his seat. Excited, nervous and scared all at once. He immediately offered to come meet and sit with me while I waited for the OBGYN, but I had no idea the address nor street names to give him so assured him I would call as soon as I knew something.
After waiting for 75 minutes to be seen at the OBGYN office, the gentleman doctor called me back in the room. Luckily, during the waiting the receptionist also let me charge my phone!
The doctor again spoke very little English and said he would like to do a transvaginal ultrasound. He again couldn't confirm a pregnancy but said to wait 5 days and go back to the hospital to get another HCG draw to see if the numbers were increasing.
Truthfully, at this point I didn't know what to feel. But, I had spoke to my German friend again (who's also a doula) and she reminded me whatever was going to happen will happen, but try to enjoy the moment for whatever time it was of being pregnant.
So, that we did. I met may husband for a very late lunch and then we immediately went into town to look at baby clothes for fun. We didn't get anything but the excitement we both were holding onto was worth every minute of stress from the morning.
We ended up switching our flights so we could come home a week early from Europe so I could see my own doctor and get the confirmation I needed that we were having a healthy, intrauterine pregnancy. So, I opted to forgo the foreign blood draw a second time and waited 13 days until we returned to see our doctor in the states.
Those 13 days were so exciting and stressful!
When we were able to get back to the USA and our doctor, I was approximately 7 weeks pregnant. The doctor did confirm the pregnancy was intrauterine but couldn't confirm a heartbeat. Immediately I began to worry.
She said she usually sees something by that point in her patients which wasn't comforting to hear, but told us not to worry and come back in a week for another ultrasound.
That week of waiting for the heartbeat was actually the week of Christmas, we had chosen to tell our families so we could receive the hope and prayers we needed to get that little heart kicked into gear.
On December 27, our fears were settled and the heart was seen. Our rainbow Baby Shaw was confirmed, a viable pregnancy!
My friends, the last 13 weeks has been filled with so many emotions I can't even begin to describe them.
What I want you to know is that the HOPE you have provided for me throughout the last 4 and a half years of this journey has been unbelievable.
The last 14 months since starting this little community has been filled with so many new friendships, laughs and tears that I will be forever grateful for.
And, as many of my ttc sisters have asked and expressed, this community will remain up and running. I want to share with you many of the new things I've learned, while also continuing the content to include information regarding fertility and pregnancy nutrition as well as postpartum life.
As I have said from the beginning, this is the Bumps to Baby community, I will share the entire highs and lows of the journey, to and through baby!
Thank you from the bottom of my (our) hears, we are forever grateful for you.
Lots of HOPE, love and baby dust to you,
Liz, Husband and Our Little Rainbow Baby