There's Only One Way to Go – Calling a Truce with Your Body
Hello friends,
This is a post I've probably had in my "things I want to say, but don't know how to" for a solid 3 to 4 months. Maybe it's because the new year is just weeks away, or maybe it's because this time away in Switzerland has taught me many lessons, it's hard to say.
But, whatever the case, I'm finally pressing publish.
By pressing "publish", that's the end of this two way street of body distrust and sadly, disgust.
I'm committing to no more mind sabotaging goals that may include, "by Valentine's Day I'll get back to my pre-IVF weight" or "starting tomorrow, no added sugar for 30 days" to help transform my body to the shape I so thought it was meant to be.
Nope, no more. I'm calling a truce with my body, and by doing so, hoping this may help some of you struggling with this, too.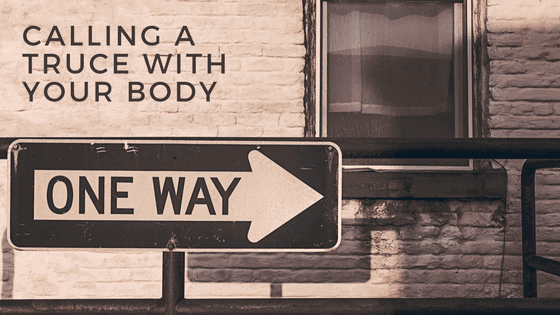 How did I begin this epiphany?
Well my friends, it all started when I was asked to be a guest on Rebecca Scritchfield's Body Kindness Podcast. 
Truth be told, I had no idea at the beginning why she was asking me, an infertile woman struggling to make the best of the current path life's throw at her, to be a picture of resilience.
How was I supposed to write a letter to my body about how it had betrayed me?! Where would I start? What resilience would come from it?
Then, the more I wrote, the more I understood that resilience doesn't mean you've conquered your challenges and have seen the other side. Nope, not at all.
Resilience is being human, being real, and embracing the obstacles while learning along the way. 
Through writing a letter to my body, I realized how powerful this exercise truly is. Not only was it a safe place for me to share my innermost thoughts and feelings, but also a freeing moment on this journey to baby.
I recognized that through the pricks, prods and pokes over the years, my body has remained resilient. It's still trucking along, waiting for the day I finally surrender and say I give up, you're right, I am enough.
And my friends, you too, are enough. Your body, it's enough. It's perfect. We're perfectly imperfect, and I believe that is part of the beauty of this journey.
Learning and accepting that even when we feel so betrayed, so hurt, that our body is truly trying to aid us. It's not against us, it's for us. We just need to trust it and remind ourselves it will do just what it needs to do, if we nourish it and let it take the wheel.
I know this is a challenging thought, but I encourage you to take a moment and really write a letter to your own body. Let it know what you've felt along this journey. How you've felt betrayed. Curse, yell, do whatever you need to do. Then, kindly remind it you aren't giving up. But, you're surrendering to its power. To its trust, and to its commitment in you, that you too, are enough.
Lot's of love and baby dust to you my friends,
Liz
PS- Curious how I wrote my letter to my body? I'm actually sharing the full letter over here on the podcast today!