Learning to Love the New Me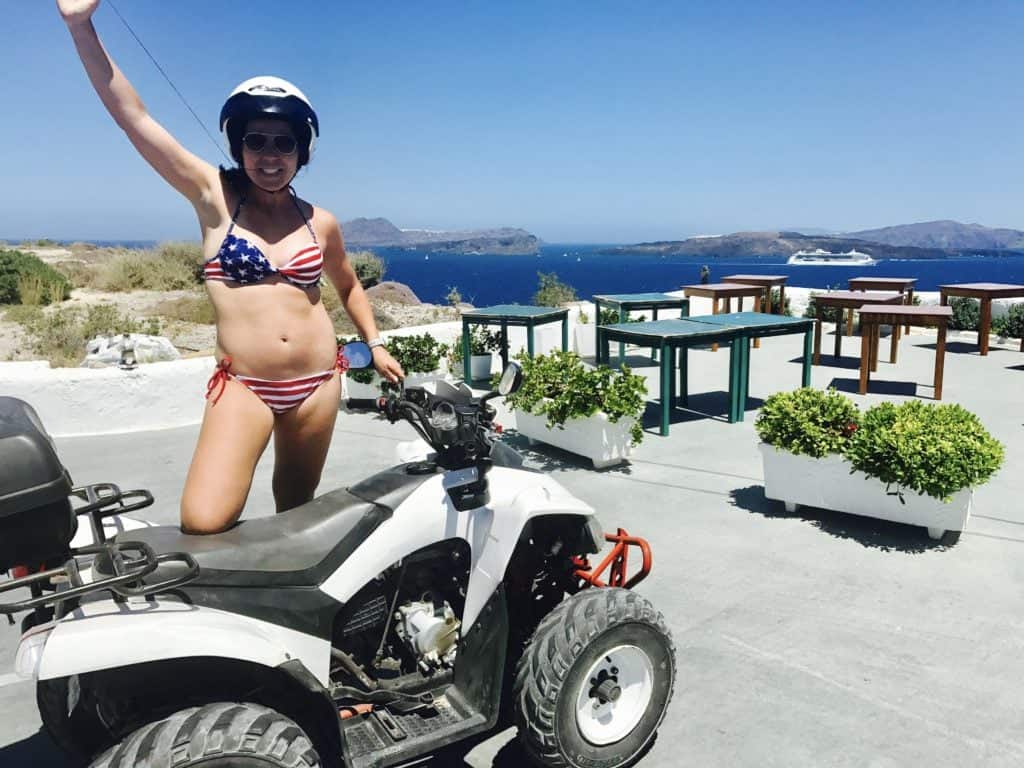 Hey there lovelies,
Inside I'm slowly dying right now sharing the above photo with you.
Why?
Because I've been lying to you.
I'm sorry for that.
When looking at this picture, the "me" that you've come to know would see nothing but a woman who's happy AF showing her pride for the USA on a fun adventure through the Greek Island of Santorini.
Not a care in the world —  enjoying the R&R away with her hubs. 
But truthfully, when I flipped through the images on my computer and saw this one pop up, I felt some very negative thoughts enter my mind.
Why are my thighs so big?
Why don't I do more sit-ups?
Why would I ever take a photo in a two piece swimsuit!!!!
As you can imagine, the thoughts only got worse from there.
In the moment, I couldn't get a hold of myself.
I began to cry tears of anger, tears of frustration, tears of sadness. 
In all honesty, I felt like a failure.
How can I, a Registered Dietitian Nutritionist, have gotten so off course with her own diet that she put on 35 pounds in one year?!
Not once during this thought process did I stop and remind myself to be kinder to me. 
Not once did I remind myself that my strong "thunder thighs" carried me up the 600+ steps that most people either ride a donkey or air tram to get up. 
Not once did I tell myself it's okay Liz, your tummy has extra cushion because you've endured over 200 punctures in less than a year alone.
It's just protecting your future baby, that's all. 
Why?
Because I've been so caught up with keeping this front up with you that I'm a positive person day in and day out. 
Sorry friends, some days I'm not.
But, as I was making brownies earlier today I had an epiphany.
Something my husband has been saying to me the last year finally hit home —
I'm "more fun" now.
Why?
I lick the bowl. 
Now, I promise you this place will still remain a positive place filled with baby dust and hope,
but with more reality splashed in between too.
I've struggled with parting with my old clothes; mainly because deep down inside I hope one day they will fit again.
Maybe they will, maybe they won't.
I don't want to have to decide on that one way or the other right now.
I keep going back to this post here on creating the summer sexy for YOU and I'm comforted knowing that I too am human and need even my own reminders to pick me up on these off days.
While I'm not certain if I'll be buttoning up my dress that's collecting spider webs at the back of my closet, I am 100% certain of this:
I can control what I put in my body and how I feel about my body!
I've started to focus on those #fertilityfoods again, building the foundation for my health on the very foods that not only nourish my body, but will help with my fertility too.
So, I invite you to join me over on my Instagram handle, @bumpstobaby, to follow along as I continue to "lick the bowl" and find comfort in learning to love the new me!
Cheers to good people, loyal spouses and a lifetime of licking the bowl!
Liz