belVita PB Toast with Fresh Berries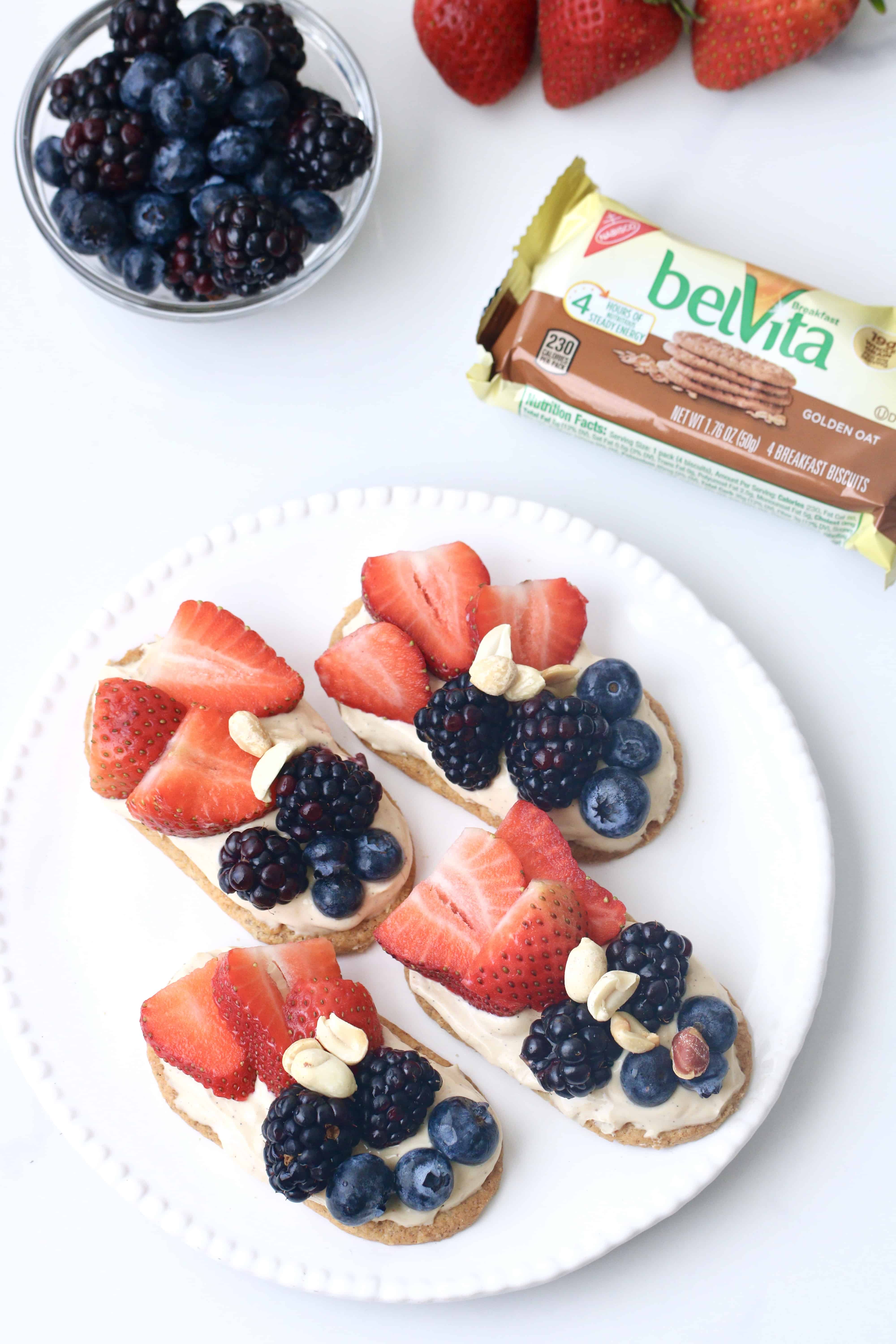 Disclosure: This post is in partnership with belVita Breakfast Biscuits. As always, all opinions are my own and I only support those brands we purchase here in the Shaw Kitchen. Thanks for supporting the companies that keep this mama running!
IRL, my day used to go something like this:
530 AM Wake Up, Work Out
7 AM Homemade Breakfast & Emails
8 AM- 4 PM Work (Recipe Development, Consulting, Private Practice, Photography, etc.)
4-5 PM Walkie Talkie (aka, where I decompress and catch up with family & friends)
5-7 PM Dinner and Unwind with Mr. CEO, Pack His Breakfast/Lunch for the Next Day
7-9 PM Netflix Binge
9 PM Bed
Now, thanks to my beautiful miracle angel growing inside of me, #mymorningmoment looks more like this:
230-6 AM Wake Up, Lay In Bed Thinking of Everything I Should Be Doing
6-7 AM Eat Breakfast, Pack Mr. CEO's Breakfast & Post to Social Media
7 – 10 AM Try to Work, Become Tired Then Eat a Snack
10 AM-12 PM Workout/Walkie Talkie
12-3 PM Prep Class, Teach Class
3-5 PM Catch Up on Emails (or Netflix), Eat Dinner
5-6 PM Evening Walk
6-8 PM Unwind with Mr. CEO, Read Said Baby Book of the Week, Go to Bed
As you can see, my energy has really shifted and I'm just trying to give myself lots of grace and go with the flow!
While some days I have much more energy than others, most days I'm not super interested in making my delicious homemade French Toast Bagels from scratch and prefer to rely on a quick, wholesome, convenient option that satisfies and most importantly, provides both myself and Mr. CEO with energy to tackle the day.
That's where belVita Breakfast Biscuits come into the picture. belVita Breakfast Biscuits provide steady morning energy and (per serving) 14-22g of whole grains, 3-4g of fiber (contains 7-9g total fat per serving) and a good source of B-vitamins and iron. (Meaning yare )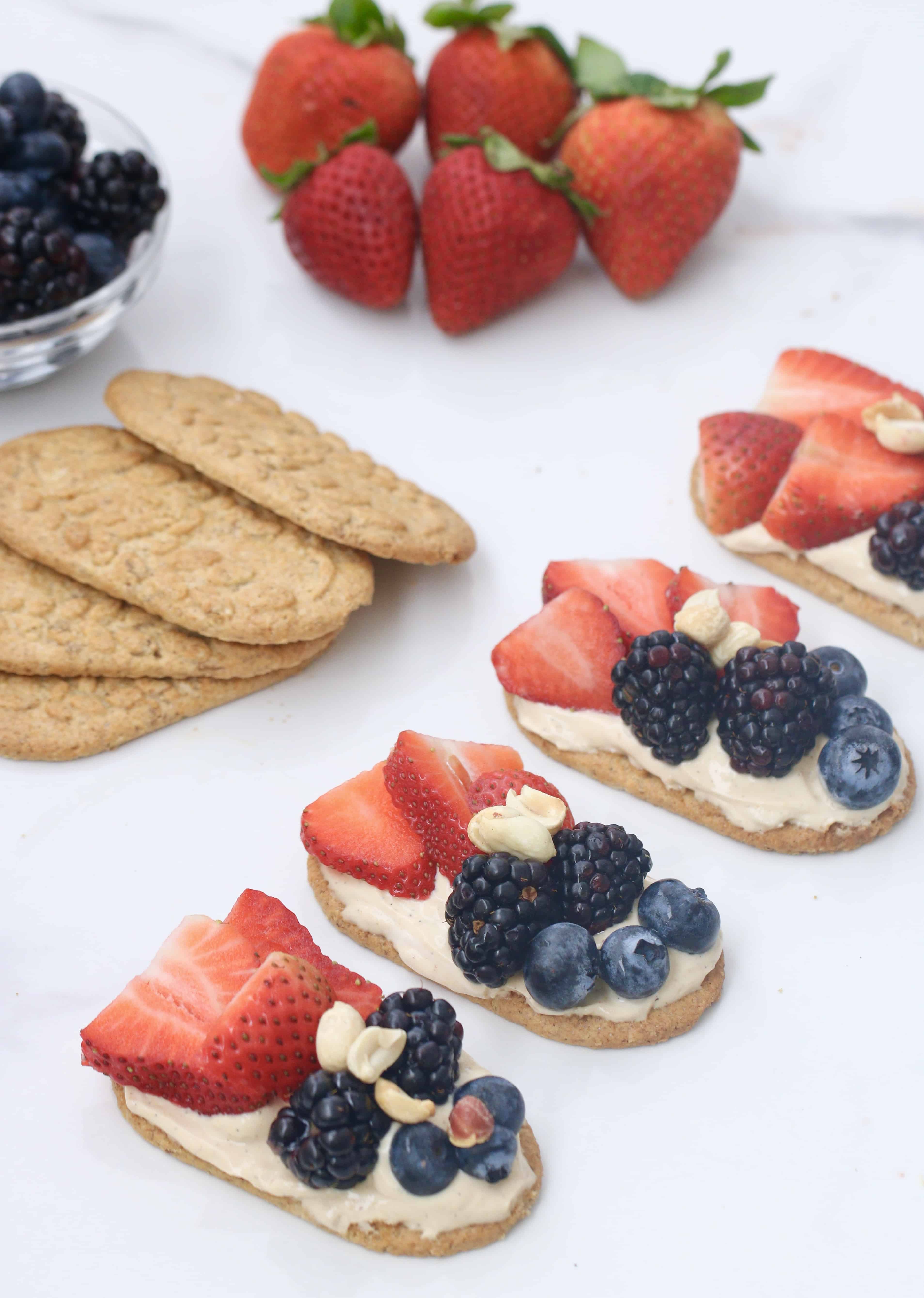 Plus, belVita Breakfast Biscuits are made with carefully selected grains and a gentle baking process to maintain and protect the inherent slow-release carbs (SRCs) which break down gradually in the body to provide 4 hours of nutritious steady energy throughout the morning.
By pairing belvita Breakfast Biscuits with a serving of dairy and fruit, you'll create a balanced breakfast comprised of three food groups (grain, dairy, fruit) which can help meet daily recommended nutrition goals.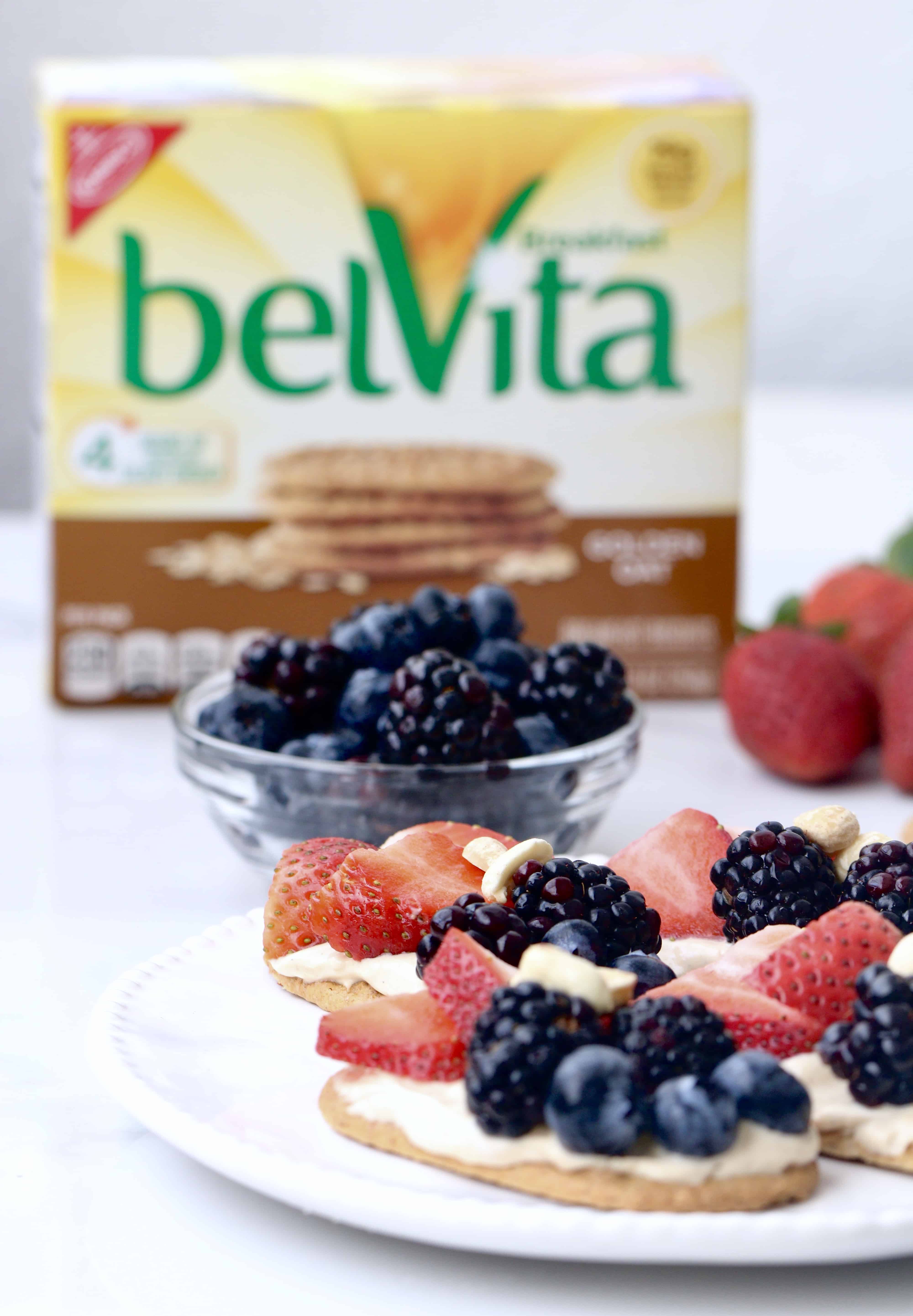 While I'm showing you my favorite belVita PB Yogurt Toast & Fresh Berries made with belVita Breakfast Biscuits below, you can certainly pair them to your liking and try out one of the options below:
Make modern "toast" by topping belVita Breakfast Biscuits with cheese and fruit (e.g., spread with goat cheese and top with peaches and a sprinkle of cinnamon)

Layer belVita Breakfast Biscuits into a parfait with Greek yogurt and berries
Pack belVita Breakfast Biscuits and a banana to enjoy with a latte as you head out to your morning destination.
See, the possibilities are endless!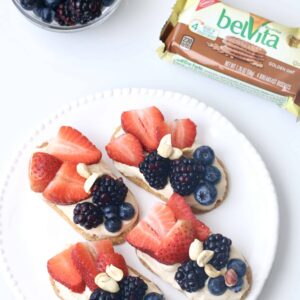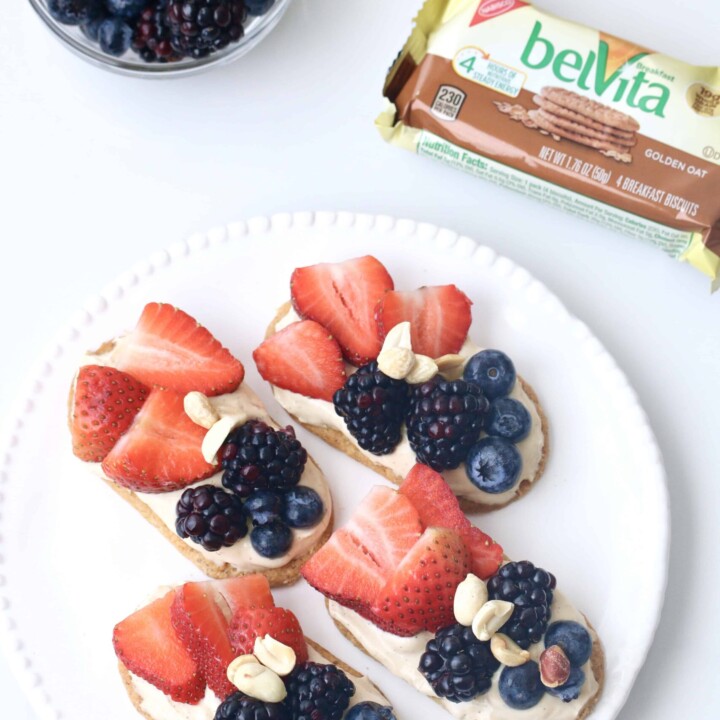 belVita PB Toast with Fresh Berries
This is the perfect light snack or breakfast to enjoy on a busy day!
Print
Share by Email
Ingredients
4

ounces

Skyr vanilla yogurt

1

tablespoon

+ 2 teaspoons powdered peanut butter

1

package belVita Golden Oat Crunchy Breakfast Biscuit

2

large strawberries

1/4

cup

fresh blackberries

1/4

cup

fresh blueberries

1

teaspoon

peanuts

optional garnish
Instructions
In a small bowl, mix yogurt and powdered peanut butter until uniformly combined.

Spread yogurt evenly over each belVita Breakfast Biscuit, or approximately 1 ounce per biscuit.

Top with sliced berries and a few peanuts.

Enjoy with your morning beverage!
Notes
Feel free to use the belVita Breakfast Biscuit flavor of your choice. This combination pairs perfectly with the Cinnamon Brown Sugar, too.
Nutrition Facts
belVita PB Toast with Fresh Berries
Amount Per Serving (1 )
Calories 400
Calories from Fat 90
% Daily Value*
Fat 10g15%
Sodium 300mg13%
Carbohydrates 61g20%
Protein 20g40%
* Percent Daily Values are based on a 2000 calorie diet.
Now, show me how you are redefining morning "norms" to fit your personal lifestyle and tag #mymorningmoment so we can all remind each other that delicious living does not have to be complicated!