I hate to say it but labor and delivery was a breeze in comparison to my postpartum recovery in the hospital.
Follow along for part 2 of Hayden's arrival into the world and most importantly a segue into the most important post for YOU in this 3 part series: how to be an advocate for your OWN health.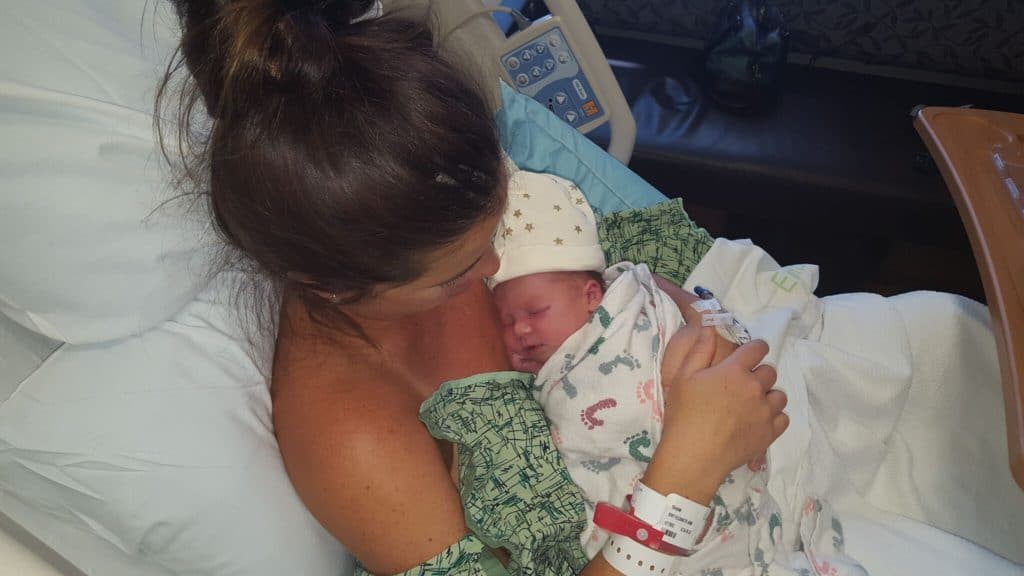 Hello friends,
Thanks so much for your support on Hayden's Birth Story!
It's always a bit nerve wrecking to share something so personal so I appreciate the love.
Since we know everything can't always be rainbows and butterflies, I'm back today with part two of our journey and sharing just how our postpartum stay went.
I'm willing to bet some of you have some stories of your own when it comes to this part too and I'd love to hear them (and maybe commiserate together!)
Please shoot me an email or connect with me on Instagram so I can add any of your sage advice to this list to help others out, too.
And now… here it goes.
Postpartum Recovery – Day 1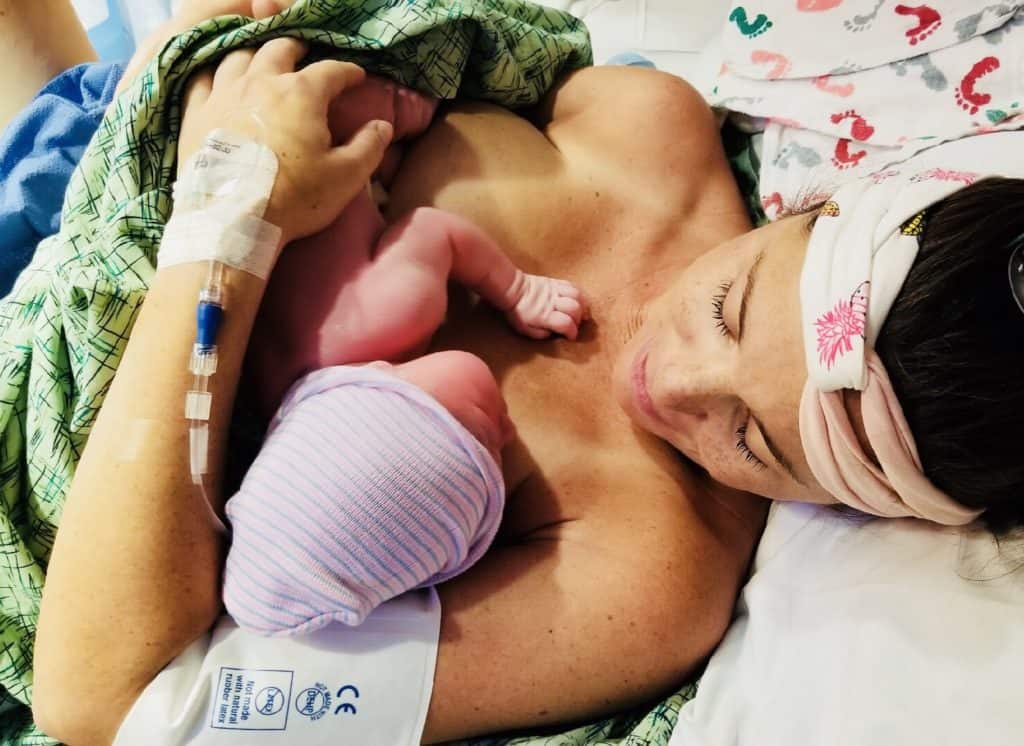 Being Hayden was born at nearly 3am on a Saturday that was technically considered day 1 of recovery.
At approximately 5:45 AM we were wheeled up to the recovery unit, thinking it'd be a quick 24 hours and then we'd be discharged home with our little pineapple.
Well, by 6:10 AM once I got settled in the room the nurse came in to check on me. I let her know right away I had tried to use the restroom and unfortunately couldn't. She said this was fairly normal, and that she would be back before her shift ended to check on me and make sure I could go by then.
An hour came and went with the IV line still running in my body and no bathroom success (talking #1 here folks!) At this point, I literally felt like you do when you're on a cross country trip and the rest stop sign reads 20 miles ahead and you have to go like you've never had to before.
When the nurse came back in she said to give it another hour and by that time if I couldn't go the new nurse taking care of me would help assess from there.
AN HOUR! What?
That seemed like an insanely long time to have my bladder continue to be filled with the IV fluids and everything else inside me from the labor.
But I listened and kept my mind preoccupied with staring at our little girl.
After 45 minutes I couldn't hang, called the new nurse and let her know I needed her, stat. She came in, assessed me and told me to try one more time and call her with the results.
So, blazing into the bathroom I went in my sweet hospital gown, granny panties and giant ice pack.
No luck yet again.
I tried to phone the nurse but was directed to their main call line and knew that wasn't a good sign. My bladder at this point was so uncomfortable I started to get anxious that it was going to burst.
45 minutes later the nurse came in after Wayne went to track her down and found me in straight tears.
She went out to grab the supplies to straight cath (aka insert the urination aide that I spoke about here) and came back in with two other nurses to assist.
I've literally tried to block this portion out of my mind because I get such a pit in my stomach thinking about this even a month later. But, it's an important part of the story, so here it goes.
Nurse #1 went to apply the alcohol and clean me up to insert the catheter and unfortunately wasn't paying the best attention and within 30 seconds had me screaming in such pain that Wayne thought I was dying.
Essentially, she missed inserting the tube into my bladder and instead created a newlaceration inside me. Ouch is an understatement here!
Now, enter Nurse #2. She reattempted the same procedure as Nurse #1 and surprise surprise,  same ending.
SHOOT!  Second laceration and again, no urine removed.
At this point I was in so much pain Wayne (my reserved husband) got pretty vocal in the room and told them basically  to stop and get someone who knew WTF they were doing.
Within 5 minutes the kind nurse from labor and delivery was up in my room, inserting the catheter (successfully, finally) and I could finally release nearly 5 hours of pee inside me coupled with the IV fluids.
Guess what, a bladder bursting is a real thing.  
And, it can happen after 34 ounces of urine resides inside you.
I had 44 ounces of urine removed from my bladder at this point. Yes, pretty much a Big Gulp!
When all was said and done, the nurse on the unit told me to try and pee again in 2 hours and call her with the results.
I tried multiple times over the next 6 hours and had zero luck.
Thus, at around 4pm another catheter was placed except this time it was a foley, meaning it actually stays inside you so you continuously pee in a bag. Glamorous and so awesome but frankly at this point I just needed some relief.
All the while, Hayden was sound asleep and didn't make a sound.
I'd wake her up to try and feed her but she wasn't really having it. The night nurse helped me express my colostrum and feed her through a syringe to begin her nutrition and hopefully stimulate my milk supply to come in.
I hate that so much of our first day together was focused on me and this entire situation but it was.
And while I'm so thankful to be home, I am still a little sour toward the hospital staff that caused the next two days to resume their hellish ways.
Postpartum Recovery – Day 2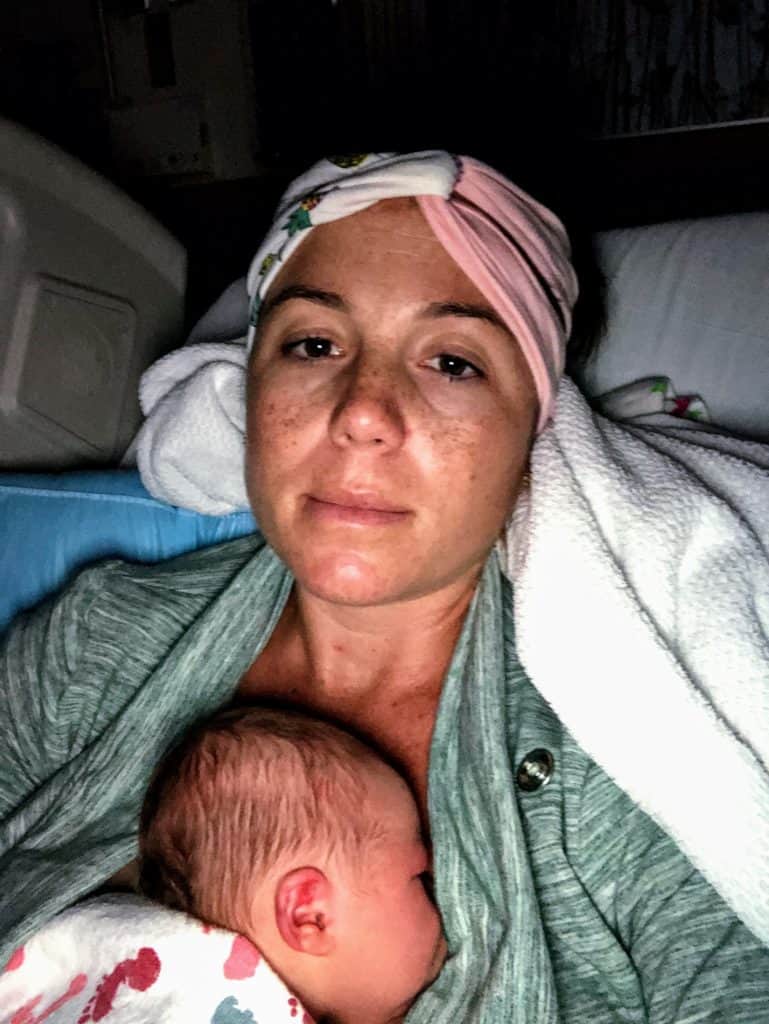 Had all gone well we were supposed to be released this day but given I hadn't had the foley removed and couldn't urinate on my own this wasn't in the cards.
Hayden on the other hand was much more alert today and very vocal. The pediatrician said she was doing fabulous and other than losing 5% of her birth weight at that point was totally healthy.
Keep in mind, most babies will lose some weight after birth and typically gain it back within 2 weeks.
My foley was removed that morning around 11 am and I was told again to try and pee and the OBGYN on rounds would be in to assess me. Well, I tried, tried again, and again, and no luck.
To be completely honest, at this point my entire lower body felt like it had been hit by a truck and dragged for miles.
Around 2pm my bladder started feeling very uncomfortable so I called the nurse and again was directed to their charge nurse who said she'd relay my message.
Well, two hours went by and not one nurse came in. In the meantime, the lactation consultant made her appearance and as excited as I was to learn how to better feed little Hayden,  I was also equally anxious and nervous that my bladder was going to burst again.
I tried to focus instead on the education I was receiving but at this point I was so drained. Hayden was rotating between screaming, sleeping and sobbing and this mama was truly starting to feel like the worst on the planet.
At this point, the lactation consultant began to recommend we purchase donor breast milk and begin pumping ASAP. She could tell  I was distressed and rather than focusing on the positives (like hello, Hayden was latching like a pro and was feeding well) focused on just one day's data of her birth weight loss.
To be honest, I was so overwhelmed at this point and just wanted to be sure I was feeding my child, so decided to order the donor milk and started pumping every 3 hours. (A side note, we only ended up using 15mL of donor milk, the nurse who saved the day on Day 3 below also confirmed the lactation consultant was wrong, my milk and supply was just FINE.)
In reality, I always knew I'd pump but had it in my mind I'd wait to introduce a bottle to Hayden until she was a month old.
As with everything it seems like it didn't go as planned, and hell, that's totally ok.
The nurse finally decided to come in and check on me at the lactation consultant was speaking and demanded I go use the restroom. I knew this wasn't going to happen (pee on demand, really lady?!) but tried again anyways. Five minutes later, I came out in tears.
The nurse then told me we'd have to do another foley and stay another night since I couldn't pee.
Keep in mind, the OBGYN never assessed me that day, just simply peeked her head in the room and said when you can urinate you can go home.
Honestly, I was on oxytocin at this point in addition to 600 mg of Motrin every 6 hours because the pain I felt was so unreal. Immediately after the catheter went in I felt so much pain, again.
And then I looked down and saw what I remember so vividly from my work in senior living, an infected catheter bag.
Yep, sure enough I knew my pain down there was also related to a UTI.
I told the day nurse and she assured me I was delirious, telling me it's naturally to see that color after a foley is inserted.
Umm no. Please, don't ever let someone tell you what's normal and natural when you see blood in your urine. It's not! 
I confided in Wayne how upset I was and clearly there was no hiding the presence of the bag at this point. Even someone not in healthcare could clearly see there was an issue!
I phoned the nurse (now the new night nurse) to come in and please take a culture so I could be placed on the right meds. She refused at first, then after Wayne got involved (what is it with healthcare professionals not giving a damn when the patient speaks up but when their spouse does finally steps up?), she agreed.
Though the results take 24 hours to review, I'll jump to the point now, we found out Monday evening it was positive. I in fact had a UTI that was likely present since Saturday morning; no wonder I couldn't pee!
To round out the night, Hayden lost another 8 ounces when the PM clerk came around to do weights and it totally freaked me out.
Enter… feelings of mom guilt, totally anxiety and everything else.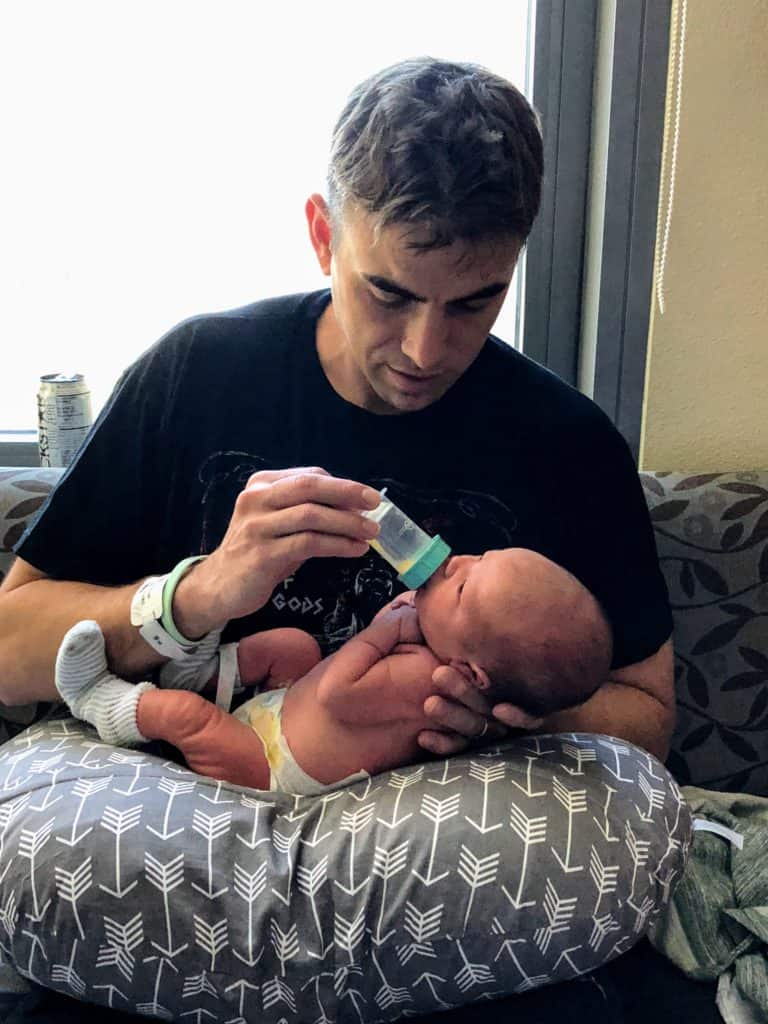 But, daddy to the rescue as he was a champ feeding her my pumped breastmilk as I tried to manage the pain.
Postpartum Recovery – Day 3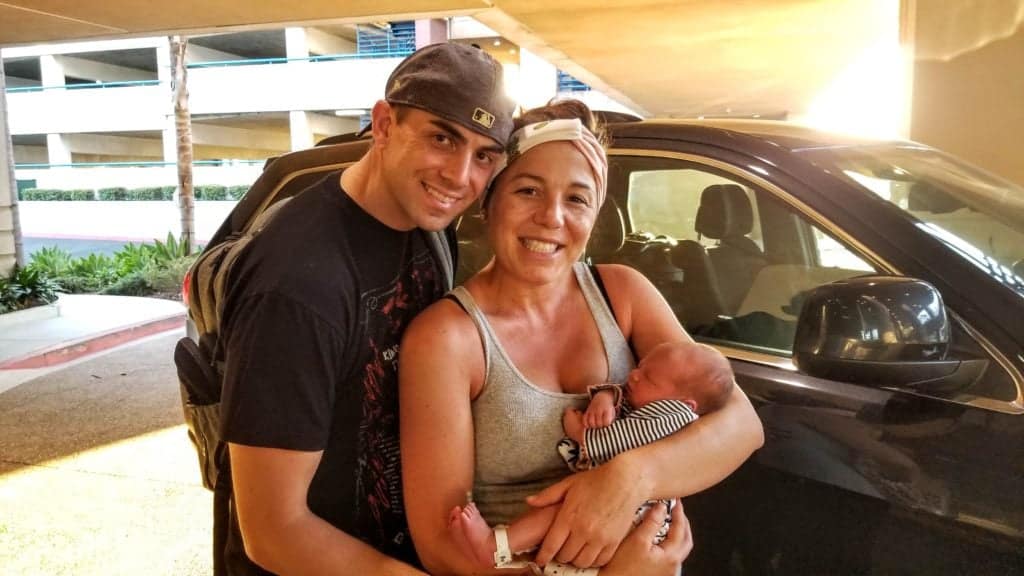 Bright and early Monday morning I requested to have the catheter removed. I was determined to GTFO of the hospital that day but was told I had to do a bladder scan to assure the doctor on call I could completely evacuate my bladder.
Well, let me tell you what a piece of cake this was NOT. We began this endeavor at 730AM and it wasn't until 715 PM that evening that we finally got discharged.
Because I fear I may have lost many of you now, I'll fast pass this day.
I basically spent the day pumping,  kissing Hayden, trying to pee (and collecting my urine to track my mL excreted on a chart), walking around the postpartum unit to try and relax, drinking cranberry juice to help with the UTI, and showering (trying to pee in there).
Yep, so so fancy but the bright side of all this I was holding my baby girl, our miracle, in between the chaos.
Worth every single hiccup without question.
After 5 bladder scans that failed (all kept reading I had anywhere from 350-475 mL of urine still inside me), they told me I could go home but with a foley.
Um, NO!
At that point I couldn't imagine having anything else go on down there,  yet alone go home with the foley.
Thus, I begged. I cried. I did everything in my power to get the charge nurse to listen to me since no one else would.
I felt as "empty" as I could!
Seriously, what does a lady have to do to explain to someone I no longer feel like I have a Big Gulp inside me?!
No, I didn't feel fabulous of course (I had over 10 stitches and 3 lacerations post delivery created), but I felt ready to go home.
Finally, she agreed to do one more bladder scan at 615 PM.
And guess what, I scanned 150 mL (aka, the number the on call doctor said I had to meet max in order to get discharged without a bag). Case and point, their machine had been reading wrong… all day!
Sigh… if only I had found another nurse earlier in the day to come check me and listen to how I was ACTUALLY feeling.
When we finally got orders for discharge, I was literally packed in  5 minutes flat, had Hayden in my arms while Wayne was grabbing the car and was literally waiting in the hallway for the transport team to wheel me out (per protocol).
The nurse came in at that time to let me know about the positive UTI and that they were calling in my antibiotic to the pharmacy then. Phew, thank goodness! Hopefully sweet relief from the UTI was in my future.
During all this chaos, I realized I was pretty clueless about the pump I had at home so asked Wayne to go rent the hospital one for a week so I could go home confidently knowing I could feed Hayden.
Success, at least I was doing something right keeping H fed!
When all was said and done, we pulled up to our home around 745PM and showed Hayden her new room. She was thrilled (but frankly more relieved to be out of the hospital!)
Wayne helped us settle in and went to get my prescription at the pharmacy before it closed at 9pm.
At 850PM I got a call, "Um,  Liz, the pharamict can't release your order.  They prescribed a med your allergic too."
Awesome, right?
Just another night with no medication for something I could have had well on its way to being cleared up by now had anyone listened to me.
Anyways, by this point we were all spent, Hayden was beginning to sing Beyonce and I was just ready to put an ice pack on my lady parts, boobs and rock my sweet miracle in the chair I'd waited years too.
So that's exactly what we did.
Like all moms do I'm learning that's what you do.
You suck up your pain, you focus on that beautiful baby and you smile,  knowing how lucky you are to get to be a mom.
To wrap things up if your still here (thanks Nina), the following day I got put on the right medication and began feeling like a human.
While I'm still healing 5 weeks later from the actual delivery (totally normal), it's safe to say the postpartum events in those long 72 hours were the toughest of this entire pregnancy and labor experience.
I will never regret one second of any of this for it means I get to hold my previous rainbow, but was definitely reminded of some valuable lessons regarding advocacy for your own health.
Stay tuned, these are coming at you in the next post that will apply to not only your rainbow birthing experience but also your fertility journey as well.
Sending you lots of love, hugs, and baby dust my friends,
Liz and Hayden