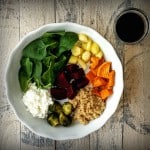 Print Recipe
ABC Buddha Bowl
A twist on a way to eat the rainbow! Get your veggies in with this great Buddha Bowl!
3

cups

water

1

cup

amaranth

1

medium sweet potato

chopped

2

medium carrots

chopped

2

cups

of Brussel sprouts

½

teaspoon

garlic powder

optional

½

teaspoon

sea salt

optional

2

whole beets

cleaned and peeled

1

cup

distilled vinegar

8

cups

spinach

2

cups

cottage cheese

¼

cup

dressing of choice

For Assembly:

¼

cup

cooked amaranth

½

cup

cooked sweet potatoes

⅓

cup

roasted carrots

1/2

cup

roasted Brussel sprouts

2

cups

spinach

1/2

cup

cottage cheese

1

tablespoon

dressing
To prepare ingredients:

Preheat the oven to 425°F. Coat a large baking sheet with cooking spray. Spread the sweet potatoes, Brussel sprouts and carrots evenly out onto the prepared pan. Place in the oven and cook for 35 minutes or until vegetables are fork tender. Sprinkle with sea salt and garlic, if desired.

While the oven is preheating, add water to a small pot and set over high heat. Once water comes to a boil, add the amaranth, stir and reduce heat to medium-low. Simmer amaranth until water is absorbed, about 15-20 minutes. Remove from heat and cover.

In a separate small pot, place distilled vinegar and 1 cup of water. Add beets and boil for 15 minutes.

Remove from heat and cover for 20 minutes.

To assemble:

Place ½ cup amaranth in the bottom of each bowl and add ¼ portions of the sweet potatoes, carrots, Brussels sprouts, spinach and cottage cheese. Serve with balsamic vinegar or dressing of choice.