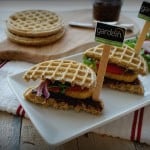 Step up your game day food with these Chick'n & Waffle Sammies topped with spicy Jalapeno Jelly! Bonus, it's vegan too!
Course:
Appetizer, Entree
In a small pot with a lid, add dried plums, chopped jalapenos, apple cider vinegar, chia seeds and water.

Bring ingredients to a boil, turn down heat to simmer and cook for 15-20 minutes.

Stir occasionally to prevent jelly from settling on the bottom.

Remove from heat and cool in the refrigerator for at least 2 hours.

When ready to use, take out jelly and using an immersion blender or blender cup puree jelly to create a smooth consistency.

This will yield approximately 1 1/4 cups of jelly.

Thirty minutes before you are ready to serve, turn oven on to 430* F.

Once preheated, place Gardein Seven Grain Crispy Tenders on a baking sheet and cook for 20 minutes.

While cooking, place vegan waffles in the toaster on high heat until lightly crispy.

Being assembling sandwiches now.

Cut a waffle in half, lather both sides with 1/2 tablespoon of jelly each.

Place one Gardein Seven Grain Crispy Tender on top, adding a slice of tomato, red onion and sprig of cilantro.

Top with remaining waffle slice.

Serve up & enjoy!
The vegan waffles I like are Kashi's Gluten Free!
Nutrition Facts
Vegan Chick'n & Waffles with Jalapeno Jelly
Amount Per Serving (1 g)
Calories 150
Calories from Fat 23
% Daily Value*
Fat 2.5g4%
Sodium 300mg13%
Carbohydrates 26g9%
Protein 9g18%
* Percent Daily Values are based on a 2000 calorie diet.