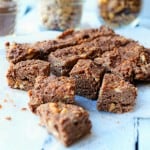 Fuel your workout with these deliciously simple protein bars! A little sweet, a little salty and a whole lotta goodness!
In a food processor, combine cereal, protein powder, powered peanut butter, melted peanut butter and applesauce. Pulse 1-2 minutes. Mixture should be coarse and slightly sticky to touch.

Add in the whole peanuts and pulse 3-5 more times (you want the peanuts to be chopped, but not pureed).

Place raw mixture in a small baking dish (6"x4") lined with parchment paper. Put in the freezer for up to 30 minutes to harden.

Remove and slice into 16 bars.

Store in an airtight container in the refrigerator up to 10 days, or freeze in a ziplock bag for up to 1 month. Defrost for 60 minutes on the counter before eating.