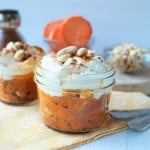 Dive into a slice of Sweet Potato Pie sans the calories, fat and added sugar! This Sweet Potato Pie Yogurt Parfait is the answer to your prayers. You're welcome!
Course:
Breakfast, Dessert, Snack
1

cup

mashed sweet potato

1 cup of canned or 1 medium sweet potato, baked, skin removed

1/4

teaspoon

cinnamon

1/4

teaspoon

vanilla extract

2

tablespoons

powdered peanut butter

optional

1/2

teaspoon

sugar of choice

optional

1

tablespoon

crushed peanuts

optional

1

cup

vanilla or plain Greek yogurt

divided into 1/2 cups
Preheat oven to 375*F and bake sweet potato for 20-30 minutes, or until soft.

Remove and let cool.

Remove skin and whip sweet potato using electric mixer.

(Note-If using canned sweet potatoes, drain excess liquid and beet sweet potatoes using electric mixer.)

Add in cinnamon, vanilla, peanut butter and sugar, if desired.

Stir in 1 tablespoon of crushed peanuts.

Divide into half portions and place in bottom of small jar.

Top each with 1/2 cup Greek yogurt of choice.

Top with crushed peanuts.