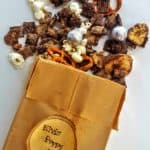 Puppy Chow Chex Mix makes the perfect foodie gift and is ready in no time! Plus, it's filled with whole grains, fiber, protein and lots of love!
4

ounces

dark chocolate

6

cups

whole wheat chex

1/2

cup

powdered cocoa peanut butter

3

tablespoons

powdered sugar

(optional)

1

cup

unsweetened banana chips

1/2 cup more if you prefer a banana in every bite!
Melt dark chocolate chips over a double broiler or in the microwave. Chocolate should be smooth and pour easily.

In a large bowl, add the chex mix and pour dark chocolate over the top.

Using a spatula, mix together until all chex mix is coated with the chocolate and powdered cocoa peanut butter and powdered sugar.

Add in the banana chips and mix again.

Spread on a large baking sheet lined with wax paper and let cool in the refrigerator for up to 1 hour.

Remove and portion into tins, bags or jars and gift or store!

Best when consumed within 7 days.

Store in a cool place!