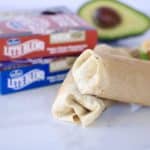 A California treat you can enjoy morning noon and night! These breakfast burritos are loaded with flavor and all the goodies!
To prepare filling:

Heat olive oil in a large nonstick skillet over medium high heat.  Add in the onion and bell pepper, cooking until slightly tender, or about 3 to 5 minutes.

Add in the ground turkey, garlic powder and black pepper,  string to combine.

When half the meat is browned, mix in the Let's Blend™ Mexican Finely Diced Mushrooms.

Continue to cook until meat is fully browned, or internal temperature of the mixture is 165 degrees F.

Remove from heat and place into a glass Tupperware container, set aside.

Using the same pan, spray with cooking spray and add in the whisked large eggs. Cook until done.

To assemble burritos:

Warm tortillas over the stovetop.

Portion 1/4 cup eggs and 1/3 cup of Let's Blend™ ground turkey mixture in the center of the tortilla.

Top each burrito with even portions of chopped avocado, fresh salsa and shredded cheese.

Roll into burritos by folding one end of the tortilla to meet the other, gently pushing back the tortilla and ingredients so that they are tight. Fold outside edges inward, then roll until burrito is closed. Repeat until desired number of burritos is formed.

Storage:

Burritos can be stored in the refrigerator for up to 5 days and frozen for up to 4 months.
*Gluten free tortillas can be used to create a gluten free option. Or, omit the tortilla and enjoy the blended mixture over a bed of spinach. 
*If freezing, suggest to omit the avocado and salsa from preparation.
Nutrition Facts
California Breakfast Burritos
Amount Per Serving (1 g)
Calories 410
Calories from Fat 108
% Daily Value*
Fat 12g18%
Cholesterol 169mg56%
Sodium 470mg20%
Carbohydrates 53g18%
Protein 21g42%
* Percent Daily Values are based on a 2000 calorie diet.