Well-th – Counting the Blessings of 2016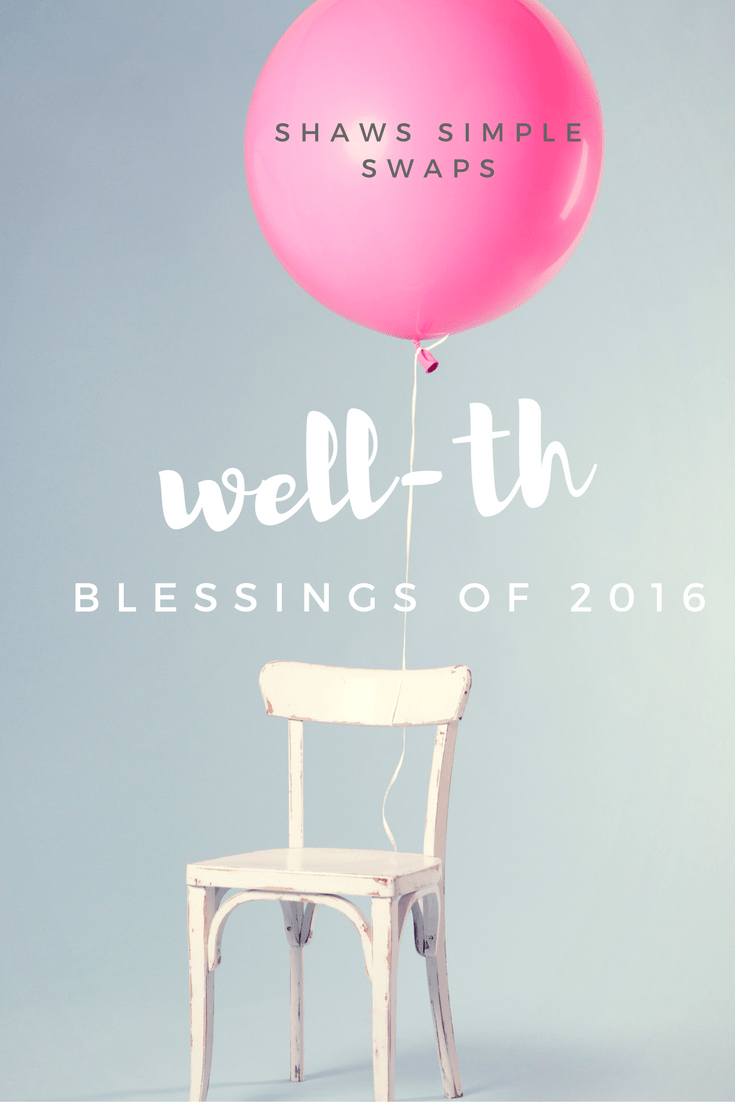 2016— you were filled with so many highs and lows, I'm shocked I made it through you in one piece!
Suffice it to say, I know I'm not alone. And, with the new year on our heels, I know it's time I take a look back and reflect on the year and focus on the bright blessings I know I am so fortunate to have experienced.
Being this was the first official year I went full time solo in self employment, I can say with all my heart I learned the value of Well-th!
Is that a Lizism?
Nope!
I credit this to a book I saw sitting on a coffee table at an appointment I was at last week. I never thought about the term "Well-th" in the fashion this context presented, but, the more I got to pondering the term, the more I LOVED it!
To be honest, I didn't even pick up the book and can't even tell you the author. My mind entered Lizism world and I began thinking about the wonderful "Well-th" I've experienced this year!
So, in my final farewell to 2016, here are my greatest blessings of "Well-th" from the year!
♥ First and foremost, I am unbelievably grateful for YOU!
You are the reason I've been able to channel my love for nutrition education and turn it into a full time career! This passion project would not have morphed into the community it is today without your continual support. I sincerely thank you for your continued interest in your health.
♥ Becoming a freelance author & nutrition communications expert. 
I honestly am still in disbelief when I see my name in print or clip from a segment. I truly am so blessed by the wonderful opportunities I've been blessed to participate in this year. Don't get me wrong, I work my tail end off, but I know the early mornings are worth it when I help bring sound nutrition to public!
♥ Writing a book!
This year was a year of many firsts that's for sure! When Sara Haas and I embarked on our passion project to tell our experience with infertility and the powerful role food can play in this situation, I never knew I'd meet my long lost best friend. Not only did we manage to knock out 100+ recipes in less than 5 months, but we've also tacked on photography to our resume and have a beautiful arrangement of drool worthy photos to share with you when Fertility Foods debuts in May of 2017!
♥ Connecting with colleagues & friends. 
Truly, one thing I can't stress enough is the power of NETWORKING! I would not be where I am today without putting myself out there and connecting with others. Blog Brulee, The a2 Milk Company, Nutrition Entrepreneurs, NACUFS and The Recipe ReDux are all fabulous networks I've joined and become active in to help build this blog into a business!
♥ Kickstarting the Love Always Campaign! 
Never would I have thought the passing of my Grandma would ever be considered a "Well-th", but, in the darkest hours sometimes light appears. And, truly, that is what I have found through this campaign. Seeing the joy brought to the individuals blessed with the spirit of my Grandma is something I know we will continue to carry on in honor of my Grandma. She truly will always be a living legend!
♥ Giving birth (figuratively) to BumpstoBaby.com! 
I won't get too deep here, but that energy to continue the community to help others struggling with infertility find a sense of peace, hope and companionship on the long road to baby has found a home on this new website. I hope you'll join me there if you or someone you know is struggling with this too.
I can't thank you enough for the many blessings of 2016, and, the enormous amount of "Well-th" I've been gifted!
Check back soon for the THIRD BIRTHDAY PARTY we'll be celebrating here on Shaw's Simple Swaps!