Swiss Chard Coleslaw – Mayo free!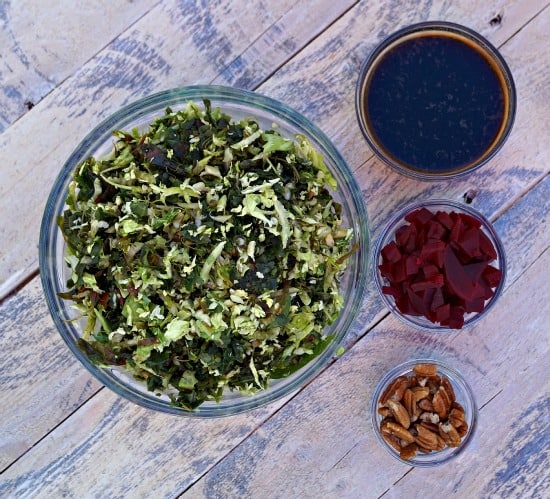 To ring in the New Year and celebrate the 54th month birthday of The Recipe ReDux, the RR team decided to play a very creative game with us. We were asked to choose a cookbook and open it to page 54 or 154; then create that recipe, redux style of course!
Well, low and behold page 54 of the Taste of Home Everyday Light Meals Cookbook had an Asian Coleslaw staring straight at me. Score! I've still been dreaming about coleslaw since I whipped up that Vegan Jalapeno Slaw earlier this fall, so this was a no brainer for me.
I had picked up some Swiss chard, fennel bulb and Brussel sprouts the week before to try a twist on a new salad after I was inspired by Delish Knowledge's Shredded Brussel Sprout Salad. Bingo, I had it! My Recipe ReDux this month was going to be a Swiss chard coleslaw featuring my new friends fennel and sprouts and a surprising guest, the pickled beet!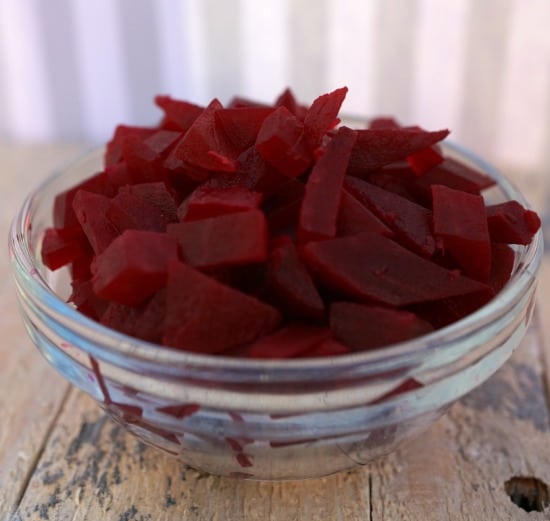 Why did I invite the beet?
To be honest, since we returned from our New Zealand adventure I've been swooning over beets. I had the best pickled beet slaw on a sandwich and washed it down with a pickled beet hummus so suffice it to say I'm head over heels for the purple produce.
This recipe really could go two ways which is why I love it so much. It finally hit a cooler temperature here in San Diego so I went with option two, which was heating the greens and creating a hot side slaw.
This Swiss Chard Coleslaw went perfect when topped with some crunchy pecans and even better day two when I added some cooked quinoa to it!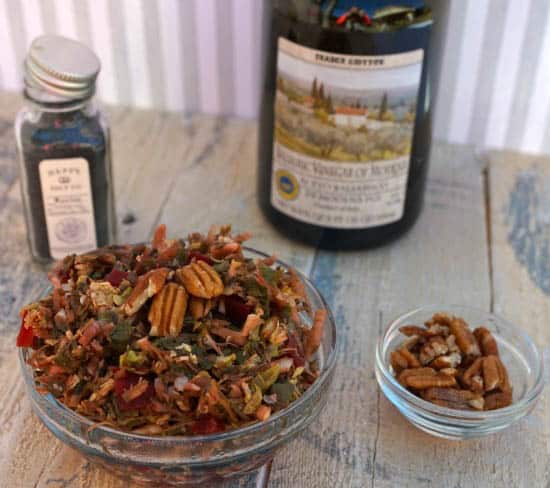 However, option one is amazing as well! This is perfect if you need a cold side and want that added crunch.
Cooking the greens definitely drained their water content and made their cells weak, whereas leaving it raw will allow that crunch and texture to remain present.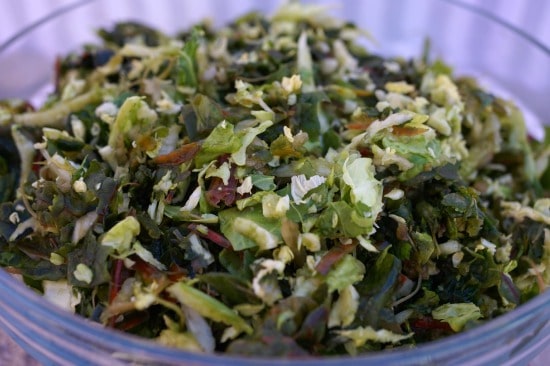 Either way, you can't go wrong! It's all about preference and what you are serving it with.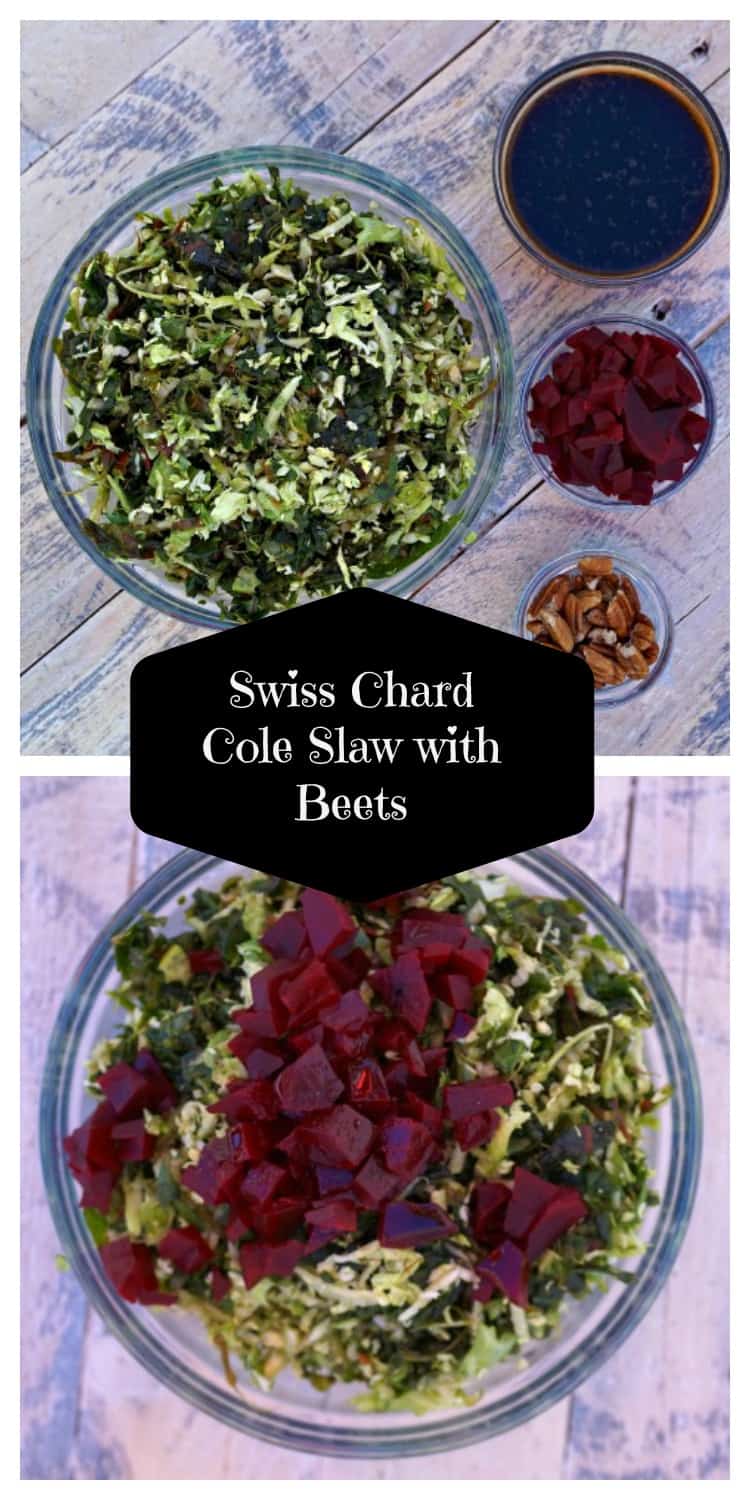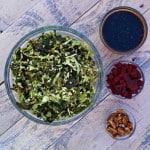 Print
Pickled Beet and Swiss Chard Coleslaw
Servings
4
-6 servings, 1/2 cup
Ingredients
3

oz

Swiss chard

shredded

3

large Brussel sprouts

shredded

2

oz

fennel bulb

shredded

1/4

cup

pickled beets

diced

1/4

cup

rice wine vinegar

1/3

cup

balsamic vinegar

1

teaspoon

olive oil

1

teaspoon

garlic powder

1/2

teaspoon

Nektar

or sugar of choice

1/4

teaspoon

smoked sea salt

1

tablespoon

chopped pecans

*feta cheese

optional
Instructions
In a food processor, begin by shredding the Swiss chard, Brussel sprouts and fennel together. Drain any liquid and place in a large bowl.

Add diced beets to the greens.

In a separate bowl, combine vinegar, garlic and sugar and mix. Set aside.

Here you have two choices depending on your mood.

- Serve cold as a stellar side, or top with cheese and quinoa to amp up the protein. Use the salt to toss salad once the dressing has been applied. Garnish with pecans.

- Heat greens and beets with salad dressing over medium heat in a skillet. Remove and drain excess liquid. Add salt at end to taste. Serve as a side with added grains for increased texture. Garnish with pecans.

Either way, I promise you'll enjoy!
This salad as is is gluten free and vegan, but if you really want to amp it up a notch, follow The Spicy RD's advice and add some feta cheese. Flavor explosion, yes please!
Be sure to check the link below to see what wonders other RR peeps created from their discoveries on page 54/154!