I received coupons for free samples of Davidson's Safest Choice Eggs mentioned in this post. By posting this recipe I am entering into a recipe contest sponsored by Davidson's Safest Choice Eggs and am eligible to win prizes associated with the contest. I was not compensated for my time.
Have you heard the latest scoop? Eggs are back in fashion; well, not that they ever went out of style for this Registered Dietitian! But, needless to say, eggs are once again being recognized as the nutrient powerhouse that they are. I mean come on, what other food has over 13 essential vitamins and minerals for just 70 calories a piece?! Plus, its perfect portion is a great asset for those who have difficulty with moderation, and the upside is you don't have to pay a pretty penny for its packaging!
Though scientists used to boast that the cholesterol content of eggs was too high and those at risk of cardiovascular disease needed to limit their consumption (especially of yolks), recent studies have revealed this is not the case. Researchers have shown that the dietary cholesterol of items like whole eggs do not raise blood cholesterol levels in the majority of people. Phew, thank goodness we got that one settled!
The other negative vibe often that surrounds eggs comes from fears regarding Salmonella, the bacteria that when found in food items can lead to a potential deadly food borne illness. One way to prevent your risk of salmonella poisoning is to make sure you purchase pasteurized egg products.
Pasteurization is a process that involves heat, not chemicals, to kill any potential bacterial contaminants in products. In-shell eggs that have been through the pasteurization process are safe to consume without cooking for the majority of the public. Certain populations, like the elderly, infants, those that are pregnant or others with compromised immune systems, should refrain from eating uncooked or undercooked eggs and eat them only in their fully cooked state (160*F for combination dishes with eggs). Lucky for me, Davidson's Safest Choice Eggs are pasteurized, available at my local store and was the perfect go to for the new Simple Swap creation I came up with this weekend.
With summer here, I don't know about you, but I do not want to spend endless hours inside slaving over the oven. Salads are a must but when Mr. CEO isn't around to grill, I need a quick protein to top off my summer salads. Thank goodness I have found refuge in Davidson's Safest Choice Eggs cooked over-medium! The protein and healthy, delicious fatty flavor of the undercooked yolk is the perfect addition to my spinach, tomato and red onion simple salad.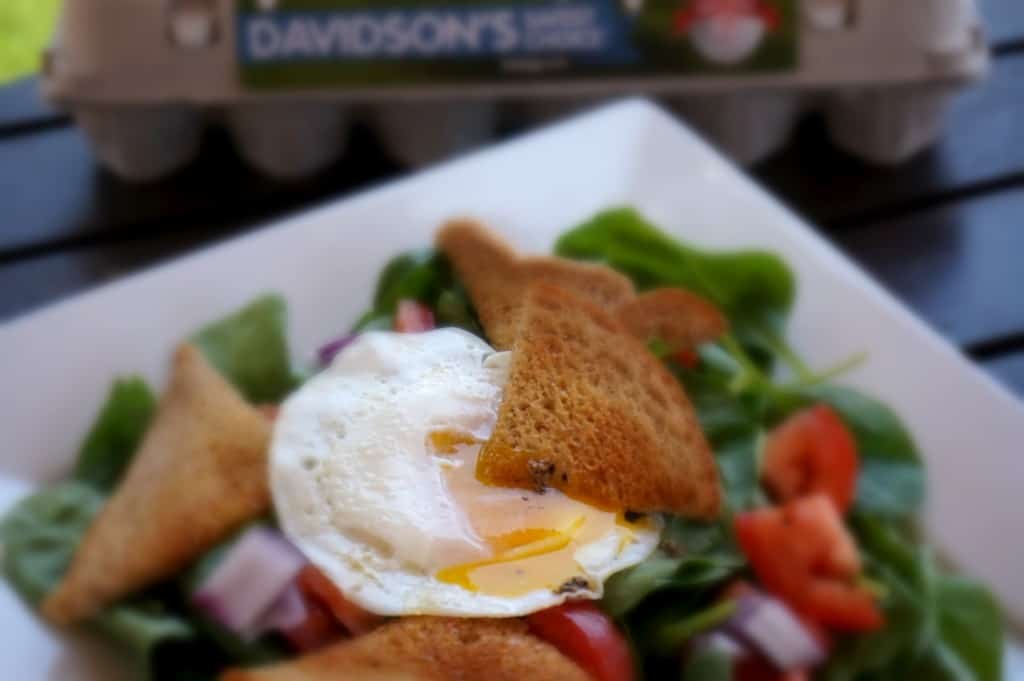 Paired with 100% whole wheat triangle toasts, this Simple Swap original recipe is truly a #mealinminutes that will leave your tummy satisfied and your guests in awe thinking you slaved over the delicious summer brunch you served up!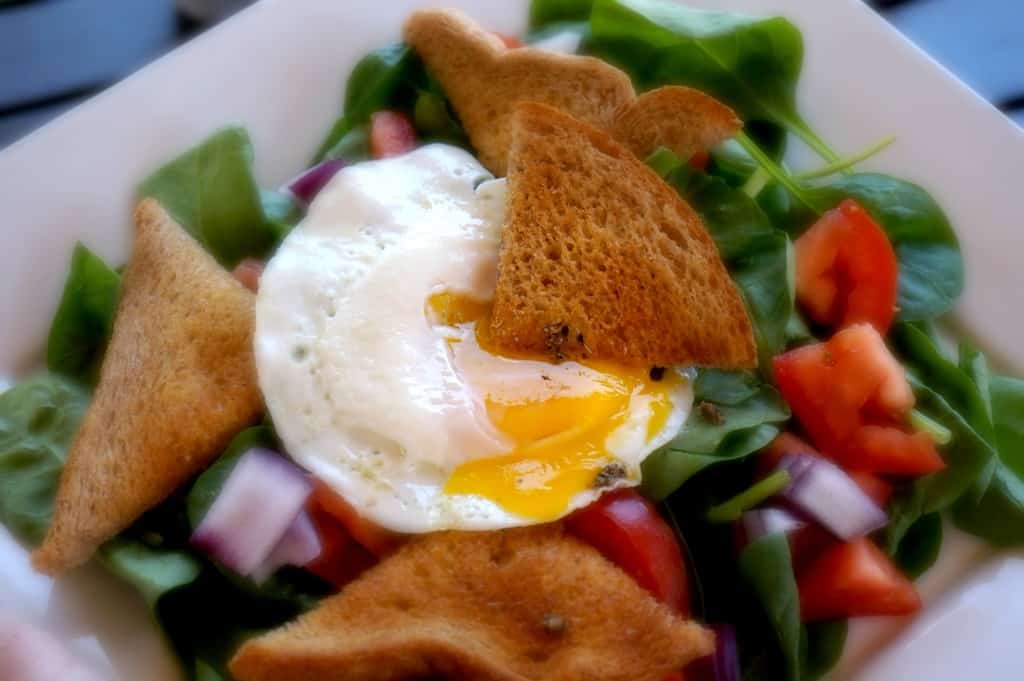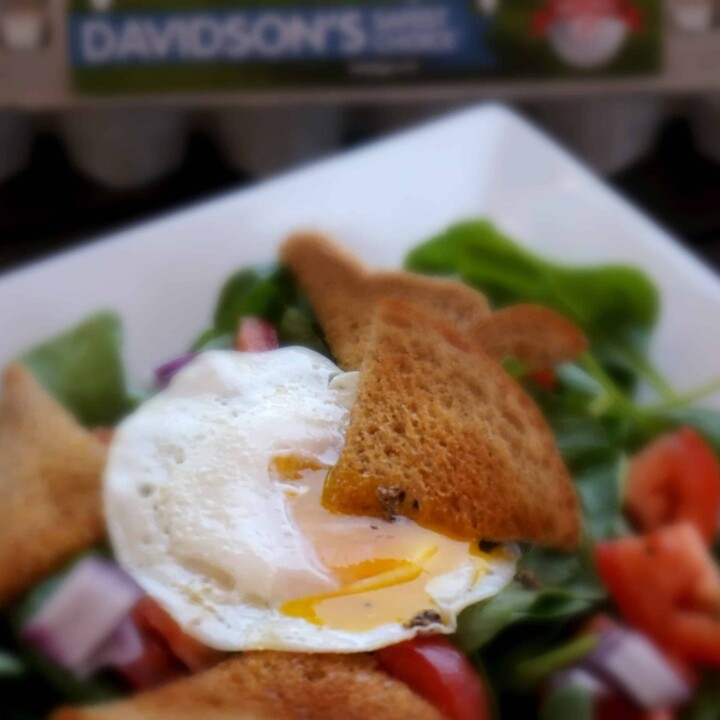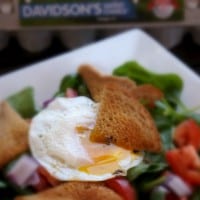 Spinach Eggs Nest Salad
We love a simple and balanced breakfast. Spinach Eggs Nest Salad get your dose of greens early in the day!
Print
Share by Email
Ingredients
2

cups

washed spinach leaves

1/2

cup

chopped roma tomato

1

tbsp

chopped red onion

1

pasteurized egg

1

slice

100% whole wheat toast

*black pepper

sea salt and garlic to taste
Instructions
In a small pan sprayed with cooking spray over medium-low heat, crack a pasteurized egg.

Allow the egg white to harden (usually about 2 minutes), and flip gently with a spatula.

Cook for 1-2 minutes longer, removing from heat so the yolk stays fluid.

Toast 1 slice of 100% whole wheat toast in the toaster.

Quarter toast and sprinkle with black pepper, garlic, and salt.

Assemble salad with spinach, tomatoes and onion on a large plate.

Center the egg in the nest of spinach, and place toast triangles on the sides.

Enjoy!
Nutrition
Serving:
1
|
Calories:
171
kcal
|
Carbohydrates:
20
g
|
Protein:
12
g
|
Fat:
6
g
|
Saturated Fat:
2
g
|
Cholesterol:
164
mg
|
Sodium:
228
mg
|
Potassium:
745
mg
|
Fiber:
5
g
|
Sugar:
6
g
|
Vitamin A:
6849
IU
|
Vitamin C:
33
mg
|
Calcium:
126
mg
|
Iron:
3
mg
Prefer egg whites instead? Don't worry, sometimes I do too! Simple Swap's Southwestern Egg White Frittata's are a great way to get a nutrient packed breakfast in on the go!