Hi there folks! So, for those who don't know me very well, I am a bit OCD when it comes to completing projects 150% before pushing them live. However, recognizing I needed to take Simple Swaps into 2015 with a new look to improve the quality of information presented to you, I have embarked on a new endeavor of teaching myself web design.
Please pardon the mess while Simple Swaps is under construction, but I promise you once the kinks are worked out there will be an arsenal of wonderful information for you at your fingertips!
With that said, you can still access Simple Swaps from www.simple-swaps.com, www.shawsimpleswaps.com, or www.shawssimpleswaps.com. WOW, that's a lot of access!!! Yes, I will not be quitting my day job as you can tell…but I will be making sure all of the Simple Swap recipes are updated in a format you can use. After all, Simple Swappin' should be easy, right?
As I truck along in this "holiday project" (yes, us Shaw's can't seem to sit still), I promise I will still shout out tips to continue to help you Indulge without the Bulge. Since this year I have been given the challenge to take on Christmas Day Desserts, I will be baking up a storm in the kitchen using Simple Swaps. I was told though, "No Simple Swappin' everything Liz", so let's just keep this between you and me…
Here's a quick look at my "mise en place" (aka mess in place) before I let my culinary creations take hold of me in the kitchen!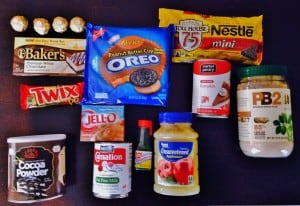 Before you begin to discount all of my credibility as a dietitian seeing the Oreo's, cream cheese, assortment of chocolate chips and plethora of nuts, remember it's about balance and moderation. So, here's the top 10 Simple Swaps to use when baking to lighten up your desserts without your guests even knowing! Enjoy 🙂
Top Recipe Swaps for Healthy Holiday Baking
Adapted from Purude Extension
1 large whole egg

Swap: 2 large egg whites or 1/4 cup liquid egg substitute

2% or whole milk

Swap: nonfat or unsweetened vanilla almond milk

1 cup chopped nuts

1/2 cup roasted nuts to enhance the flavor

Heavy cream or half & half
Evaporated whole milk
Cream Cheese

1/3 less fat cream cheese (don't go for full fat free, your desserts won't set)

Butter
1 cup chocolate chips

1/2 cup of mini chocolate chips

Oil

applesauce or fruit puree

Peanut Butter