Are you ready for this?! Well, buckle up and get ready because Simple Swaps is about to BLOW. YOUR. MIND!
Okay, maybe I'm exaggerating a little bit, but it's time I kick Simple Swaps up a notch wouldn't you say? Habaneros, jalapenos, serrano's, I've never met a pepper I haven't liked. There's something about the immediate sensation that hits my lips and tantalizes my taste buds when eating spicy food that I can't get enough of!
Come on, you remember how you felt when you tried the Habanero BBQ Sauce  or the Jalapeno Plum Pulled Pork , right? I'm sure Mr. CEO does… let's just say an extra napkin or two was needed to wipe those tears sweat from his face.
Needless to say, it's time for a spicy addition to the Simple Swap arsenal. Craving my PB2 Pad Thai but knowing it needed a step up on the Scoville Scale, I enlisted the help from my Nourish Snacks. Enter… Holy Habanero to the rescue!
Not only is this bad boy gluten-free, vegan, non-gmo and free of all artificial ingredients, it has a spicy kick to it from the habanero pepper the crunchy corn is coated in. Plus, it has 3 grams of protein and 3 grams of fiber all for only 140 calories, #score!
With my Holy Habanero in hand, I entered the Shaw Kitchen with my mission in mind to recreate my PB2 Pad Thai with an extra crunch of flavor and texture this time. Though I still love the original version, I missed the crunch that comes from the peanuts in a traditional Pad Thai. Using the Holy Habanero kernels not only satisfied my desire to have that nice crunch, it also allowed me to decrease the portion of PB2 while not sacrificing the flavor.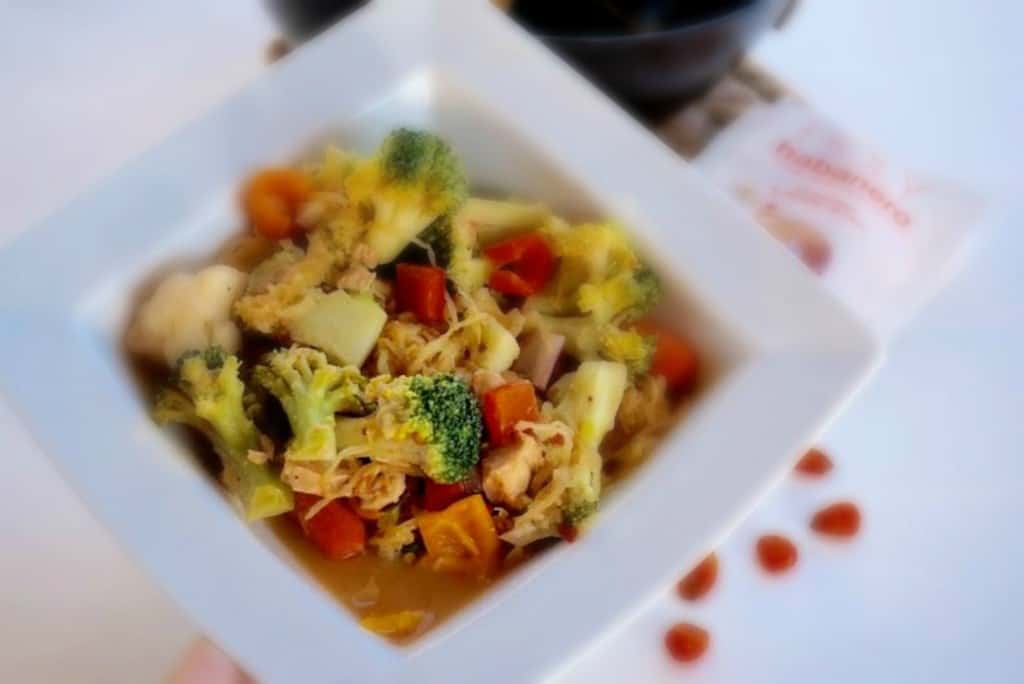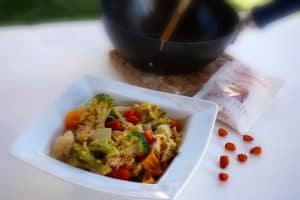 Enjoy!
Print
Gluten Free Habanero Pad Thai
Ingredients
6

oz

chicken breast

1

oz

habanero corn nuts

I used Nourish Snacks Holy Habanero

2

tbsp

PB2

1

tbsp

gluten free soy sauce

¼

tsp

red pepper flakes

2

cloves

garlic

1

tsp

garlic powder

⅛

cup

chopped onion

1

tbsp

. rice vinegar

1/4

cup

water

1

tbsp

. lemon juice

1

cup

broccoli crowns

¼

cup

red bell pepper

¼

cut chopped carrots

1

can water chestnuts

1

small spaghetti squash
Instructions
Combine garlic cloves, onion and chicken with ¼ cup water in wok.

While doing this, zap your spaghetti squash in the microwave. If you have the time, cook it in the oven.

Toss in chopped carrots, bell peppers and broccoli when chicken is almost fully cooked.

In a separate bowl, combine all liquid ingredients with spices and PB2.

Poor liquid spice mix over cooked chicken and vegetable blend.

After squash has cooled so you can touch it (be careful, it's hot!), gently fork the strings of the spaghetti squash out into the wok.

Combine the squash and your mixture of veggies and lean protein, stirring thoroughly so all of the liquid coats the squash blend.

Simmer on low for 5 minutes, then top with the Habanero Corn Nuts!

Enjoy!
Notes
Tasty Tip Thursday:
Save your hard earned $ and forgo the 4 hours at the gym and make your own delicious Pad Thai! Heading to PF Chang's Pad Thai will cost you over 1160 calories and 28 grams of total fat.
Nutrition
Serving:
1
g
|
Calories:
190
kcal
|
Protein:
20
g
|
Fat:
4
g
|
Fiber:
12
g