With football season right around the corner, I tried to throw in a few fan favorites to show just how versatile an avocado can be in swapping some of your mainstay recipes.  I have to admit this was not a creation of my own; all credit for this AMAZING take on a traditional 7 Layer Dip goes to my Sous Chef.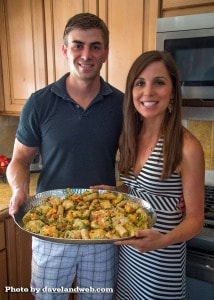 Wayne's 7 Layer Pizza
    I know I've mentioned before we have a big heart for pizza over here in the Shaw Kitchen, but we also have a true passion for Mexican flavors and spices! Thinking outside the box, Wayne concocted his own Simple-Swap creation using his infamous pizza dough recipe, a ripe avocado, fresh veggies and a few other ingredients we had lying around.  It's a running joke in the family that since Wayne is an engineer he should be able to "fix anything"; I would say this pizza definitely proved to even the pickiest of eaters he truly can "FIX anything"!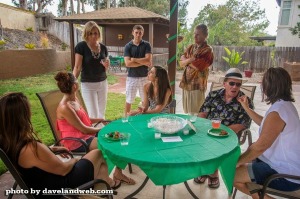 Take a look on the right as Marian (my mom) helps John (my dad) polish off the last slice of 7 Layer Pizza!
       Looking back at this recipe, I think the best part of the entire creation process was when Wayne came in one night beaming over his "Simple-Swapped" dinner.  Not only did he significantly decrease the saturated fat from a traditional pizza and 7 Layer dip by using a part skim cheese, he also increased the amount of GOOD FAT (aka monounsaturated fat) by incorporating our fabulous friend, the avocado.  Check out LoveOneToday for more reasons to love avocados! 
  
Although I did receive financial compensation for writing this post, all recipes, views & opinions are my own! Simple-Swaps supports the use of avocados as part of a healthy meal plan, so go ahead & love one today!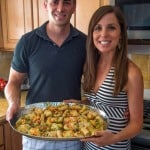 Print
7 Layer "Pizza"
Ingredients
Crust

1

package active dry yeast

1

cup

warm water

125-130*F

1/4

tsp

salt

1

tsp

garlic powder

2 1/2

cups

flour

50-50 whole wheat/white mix

Toppings

3/4

cup

fat-free cheddar/mozzarella cheese blend

3/4

cup

part-skim mozzarella cheese

1

avocado

mashed

1

can black beans

mashed

Garlic

cumin, spices to taste!

Tomato

Bell Pepper, Onion or Veggies of Choice

1/4

cup

Greek non-fat yogurt

1/4

pound

lean ground turkey

optional
Instructions
Assemble pizza dough.

THIS IS THE KEY STEP!! Heat water to 125-130*F to activate the yeast just right. Once water temperature reached, add to bowl of yeast with salt and garlic already mixed in and stir gently with a wooden spoon.

Once combined, gradually stir in flour and continue to mix thoroughly, roughly 2-4 minutes.

Cover with saran wrap and let sit in a warm area of your kitchen for at least 4-8 hours to rise.

When ready for pizza assembly, uncover dough and gently push down 2-3 times into the pizza pan you wish to use. Fold up outer edges to get the nice doughy crust (this is my favorite part!).

Now..

Place pizza dough in pan. Cover with thin layer of avocado/yogurt dressing.

Add black bean mixture with spices to top of avocado layer.

Toss on all clean and cut veggies of your choice.

Cover with cheese mixture and top with sliced tomatoes and cilantro.

Cook at 425* for roughly 15-20 minutes.

Let cool for 5-10 minutes before slicing!
Nutrition
Serving:
1
g
|
Calories:
115
kcal
|
Protein:
7
g
|
Fat:
2
g
|
Saturated Fat:
1
g
|
Polyunsaturated Fat:
1
g
|
Fiber:
3
g