Running and Fertility – Wise Words from Heather Caplan, RD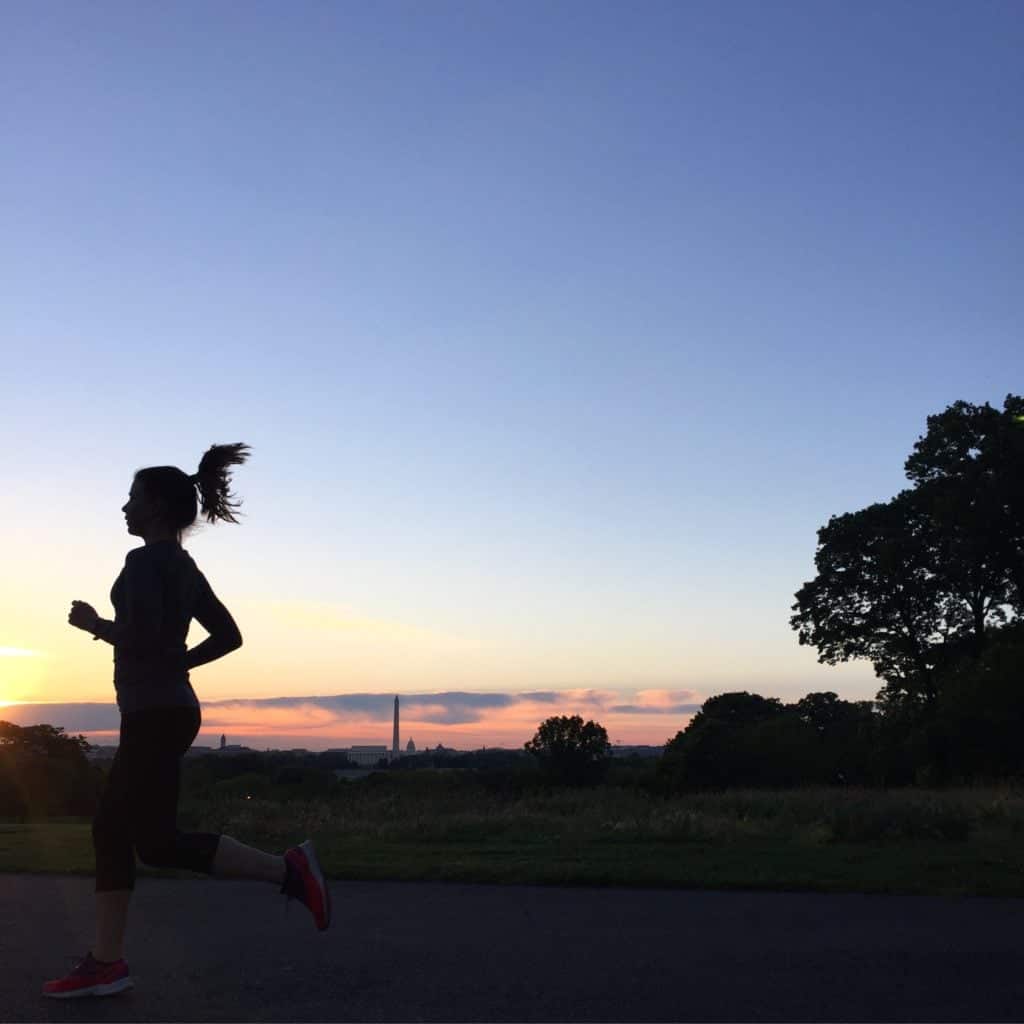 Hello friends!
I'm so so excited to introduce you to a wonderful woman who continues to inspire me daily. Meet Heather!
But, truth be told, if you read about the Lane 9 Project here, you've already met her.
She's doing amazing things in the field of fertility and fitness, and I'm delighted today to welcome her back to Bumps to Baby to share her personal journey.
Please join me in welcoming Heather back!
Running and Fertility – Wise Words from Heather Caplan, RD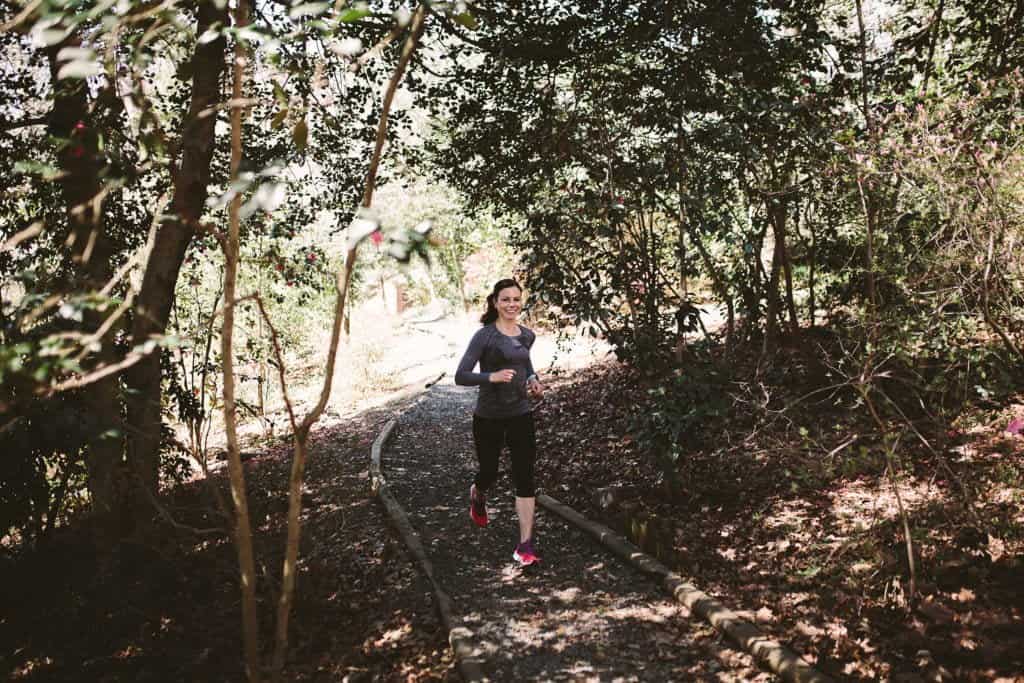 After taking months off to heal a mysterious foot injury, I ran right into my first pregnancy.
Before we started trying to conceive, I wanted to run a marathon first. Well, before that I wanted to have a pregnancy-free trip to Cape Town for my best friend's South African wine-country wedding. Once we had her wedding date, we had our baby timeline.
I also had a marathon on deck; I wanted it for myself. I have no idea if I personally could run a marathon while pregnant, at any stage, but I wasn't particularly keen on experimenting. So I decided that we would wait until after the mid-October wedding, then after I ran my eighth marathon on my favorite day (and race) in DC—Marine Corps Marathon.
This wasn't going to be a fast or otherwise special marathon to me. I had convinced one of my best San Francisco friends to join me, so there was that. But I was in no shape or place to run a personal best; I wasn't kidding myself with goals of another Boston Qualifying time. I just thought this might be the last long distance race I could run for a while. Rather, I convinced myself that was true. (TBD.) Which is to say I put way too much emotional pressure on this marathon, without even bothering with a time goal. Instead of savoring my training, I layered it with "what ifs."
I managed to completely psyche myself out mid-July, after a rough training run—as I would describe ALL July runs in DC. I didn't account for the high humidity or hot sun; I didn't care that I had just returned from my tenth cross-country flight of the year. I didn't acknowledge that I was also a little weirded out by turning 30 in a week. What I did manage to do was convince myself that pregnancy would CHANGE EVERYTHING (of course it will), and I'll never run the same again.
What was really happening?
I was frustrated in that moment, because I wasn't in fast running shape, because I hadn't bothered to dedicate myself to really training, because I was focused more on my job, traveling, and enjoying summer happy hours. None of the above has anything to do with pregnancy, but everything to do with realizing that, should we get pregnant on our timeline, next year this will ALL be different. I couldn't process that potential change in a rational way—especially not after a long, hot, challenging run. (Amateur tip: Best not to try and process anything after a long, hot, challenging run.)
I was also nervous and scared, because I was amenorrheic for six years in my early twenties. I had an eating disorder for six years. I'm recovered, as is my menstrual cycle. But I've always wondered if any long term damage was done. What if I actually can't have kids? What if it's not in our biological cards? I wouldn't know until I tried to get pregnant. That wasn't easy to process, either.
My husband's reaction was full of patience and empathy. He said, "Okay, we can wait if you want to. We can talk about it after the marathon. Try to not worry about it now." It felt like I could let out a deep breath. I would later realize I just needed to get that out, to hear it outside of my own head, to realize it's actually not how I felt about trying to get pregnant. We all moved on.
We had an incredible trip to South Africa, lots of wine included. Molly and I ran Marine Corps Marathon in times that didn't break any records, but we were proud of ourselves for getting it done on a hot Sunday morning at the end of October.
Two months later, at the start of a new year, we were ready.
We were trying to conceive (TTC).
Two weeks into January, twenty minutes into an easy run, I felt a sharp pain in my right foot. It startled me to a stop. I hiked my foot up on a curb and held it for a minute, as if that might help, as if to ask, "You OK, foot? What the hell was that?"
I've never had a stress fracture, or any severe running injury that couldn't be cured by a few weeks off and a few sports massages. Was this a stress fracture? Is that sharp, unexpected pain what it feels like to have a stress fracture? It wouldn't make sense for me to have one. My periods were regular; I was "training" at a very low volume; I was building up time and mileage very slowly, with no major goal in mind; I was otherwise healthy. WTH, foot?
Many confusing (unhelpful) appointments, eight weeks, and a few attempts at swimming later, I could run again. I could hop on and off my foot without sharp pain, and that translated to about six to eight minutes of running, pain-free. Then ten. Then fifteen. Then twenty. All clear!
Meanwhile, we were TTC.
By the time I was running again comfortably, it was the end of March. We were three months into the process, three periods had reliably showed up (much to my chagrin). I had been swimming, walking the dog, and doing some yoga, but not much else in terms of physical activity. Being able to run again was to have my meditation back; my mornings spent in fresh air watching the sun rise; my outlet. To me, running couldn't have been a hindrance to getting pregnant or not getting pregnant. It's just part of me and I was glad to have it back in action.
One month later, we were pregnant.
I ran right into pregnancy. I knew we were pregnant because I had light cramping for days in a row, which is an unusual premenstrual symptom for me. (Lucky, I know!) My running felt the same. My body felt the same. I just had some light cramps, and that turned out to be our sign. We had four positive pregnancy tests. (Then a few more I took the next week because it was fun to see the line show up so quickly!) I kept running.  
There are a lot of fear-mongering messages around what women should and shouldn't do during this very personal phase of life.
You know yourself best. The only thing(s) you should do is what serves you. Some people can run right into pregnancy, others take the time off. You do you. (And consult with your physician, too. That's usually a good health practice.)  
I can turn off my competitive brain; I can enjoy slow, easy runs. I can appreciate running as an outlet, as a part of my day I'd rather not do without; as a time to reflect on life and all its changes. I don't need it to be a way to prove anything to myself. It doesn't cause me stress, it releases stress. This hasn't always been true, but it is now. I didn't need to stop running to get my period back; my cycle has always been just fine with my running routine. (It was not okay with my underfueling and severe restricting.) So I hoped that running could be part of my pregnancy, too. So far, this is true. It could change at any moment. I'm ready for that.
We just entered the second trimester and I'm still running.
I'm one year out from that July-2016 pre-pregnancy freakout, almost to the day. I'm not running fast, which is all relative and doesn't matter right now. I'm not training for a marathon; some days it's hard to run three miles, so I run-walk them instead. Some days, when DC graces us with something less than 80 percent humidity, I feel completely fine. I keep my heart rate low, my effort easy, and feel as if nothing is different. My sports bras are a little tighter, my shorts a little stretched, and my stomach is starting to poke into my tank tops. But we're all okay. The tiny human and I ran into pregnancy, and we're going to run through it for as long as we comfortably can.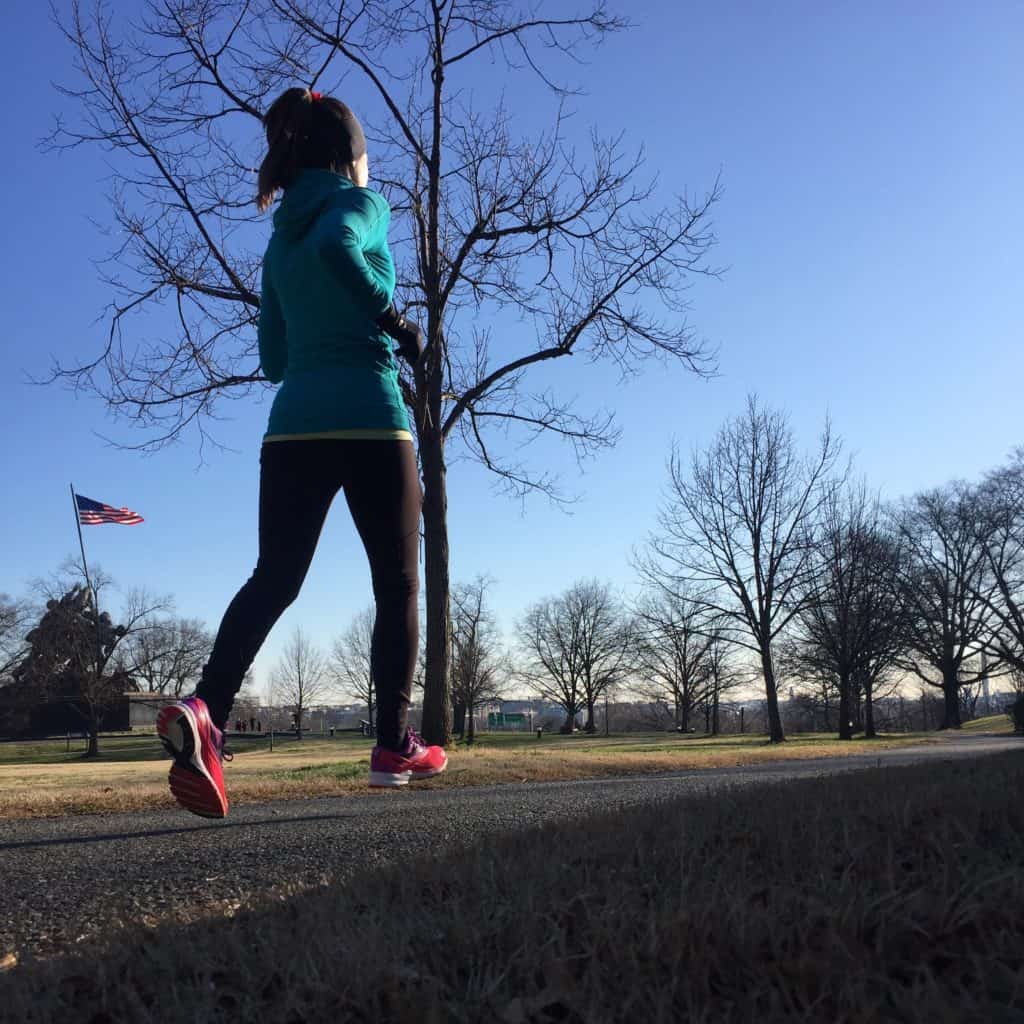 Heather Caplan, RD
I work as a registered dietitian and freelance writer in the Washington DC area. I'm also a certified running coach and have completed yoga teacher training. Unrelated, but also true: I have a pup named Banana, have been known to commute from coast-to-coast, and drink iced coffee all year.
My clients are primarily active women and female athletes (of all ages) who have (or had) disordered eating patterns, orthorexia, or changes to their menstrual cycle due to stress, nutrition, and exercise. I've had similar experiences—which I'm open about—so I'm passionate about helping restore health through nutrition, mindfulness, and fitness.
I started my private practice in January 2017, a process I've shared on my blog to help fellow budding entrepreneurs navigate the early waters. (TBH, they're not always smooth!) In February, I founded a nonprofit called the Lane 9 Project with Alexis Fairbanks and Samantha Strong. Lane 9 is a community for female runners who have or had an eating disorder, with a mission to raise awareness of the Female Athlete Triad.
Twitter — Instagram — Facebook — LinkedIn — Medium

Heather Caplan's RD Real Talk Podcast