Amp up your metabolism with this Amaranth Beet Carrot (ABC) Buddha Bowl!
Amaranth Beet Carrot (ABC) Buddha Bowl… did I just make that up?
Nope! I wish I could take credit, but according to my friend, the Buddha Bowl concept has been around for a while. It's basically a bowl filled with so many ingredients that it looks rounded like the belly of a Buddha.
I'm not how sure PC (politically correct) it is, but I definitely can get on board with the fact it's loaded with so many veggies you will surely hit 3-4 servings in one meal. Can't you?!
I decided when I saw this months Recipe ReDux theme, A New Ingredient for a New Year, I had to make something that could not be searched within the archives of Simple Swaps. Originally I had planned to make something with rutabaga because of Teaspoon of Spice's great 4-1-1 on how to cook with it. But, as the story goes, I ran out of time and had to come up with something quick on the fly.
Enter, those darn delicious Buddha Bowls I had up at OSU!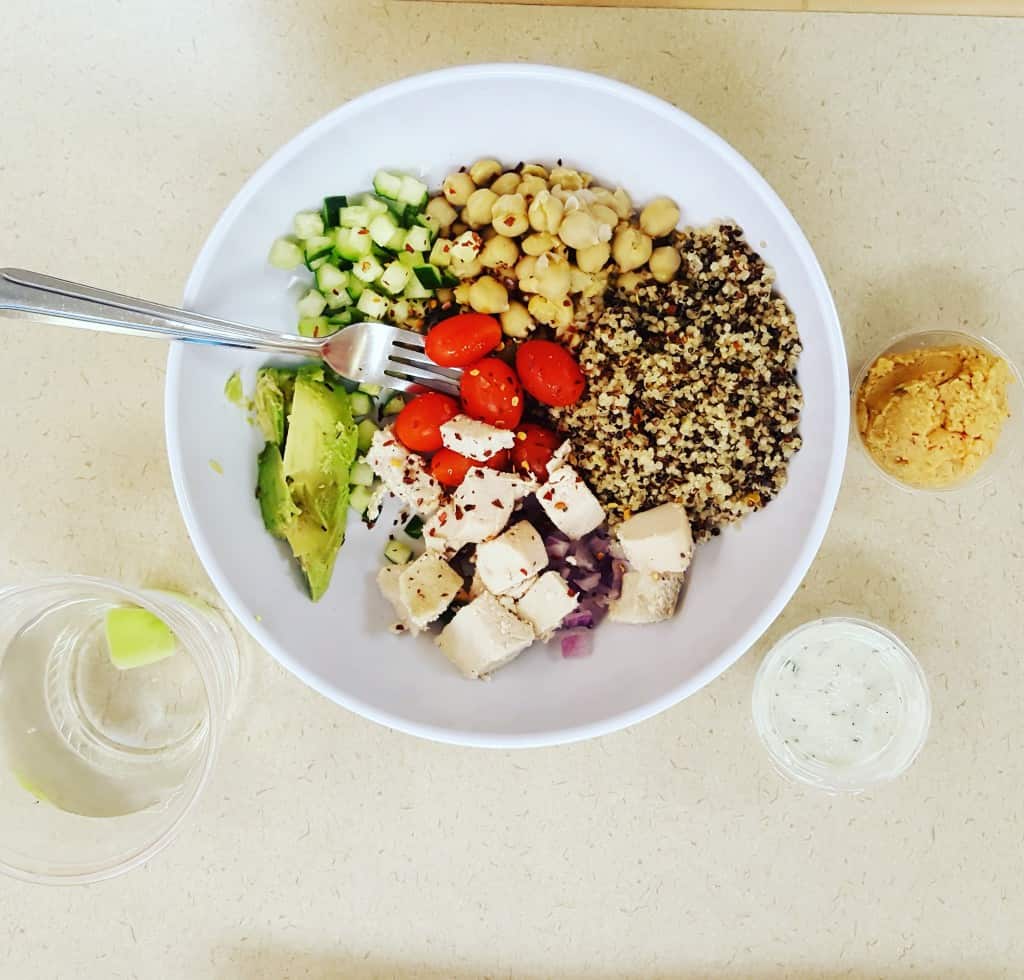 My mouth is still watering and I just can't get enough. I thought heck, let's see what I've got on hand and whip up a Buddha of my own. I had been saving my amaranth that was gifted to me from my bean fairy (I should really call her my harvest fairy) for over two months and knew this was the perfect occasion to give it a whirl.
Have you ever cooked with amaranth? It's an ancient grain that's chock full of fiber and protein. Amaranth is gluten free, vegan and pretty much my new best friend. It's native to Peru and common in many of their staple dishes. Adding amaranth to your diet is a great way to lower your cholesterol and improve your cardiovascular health!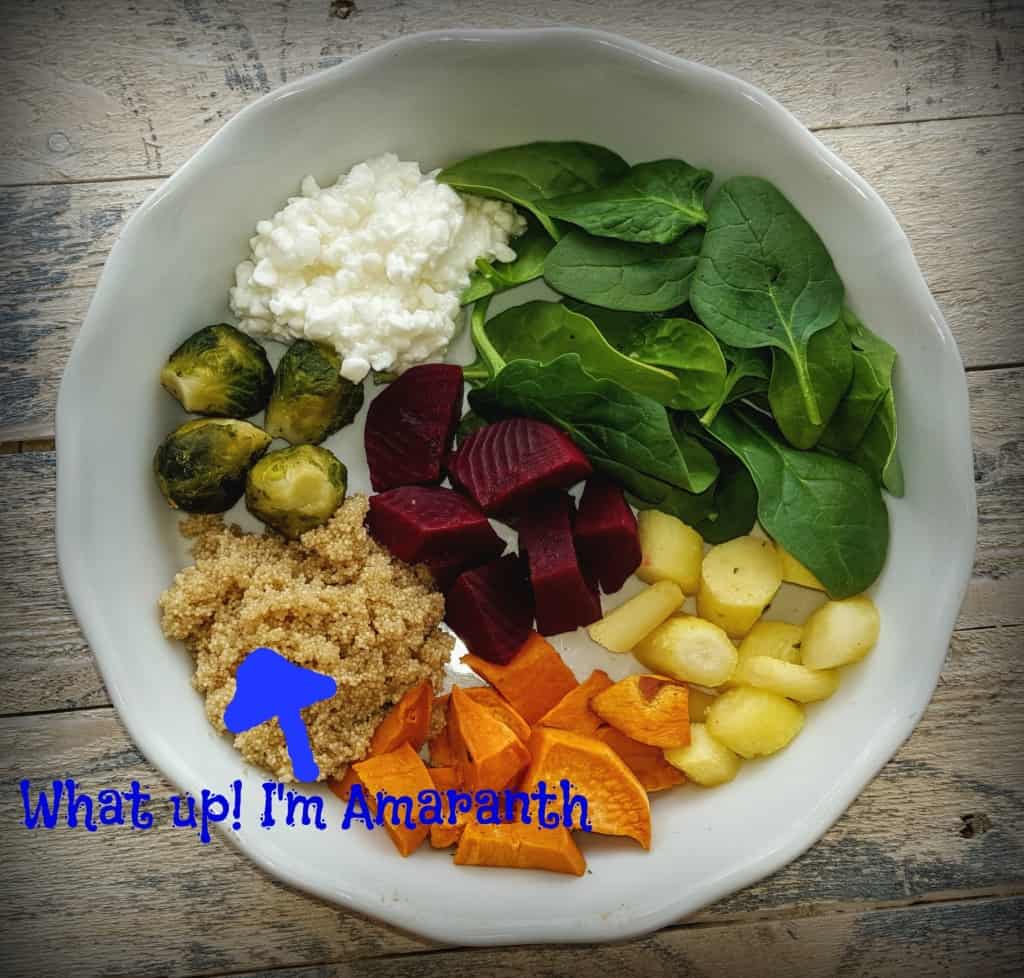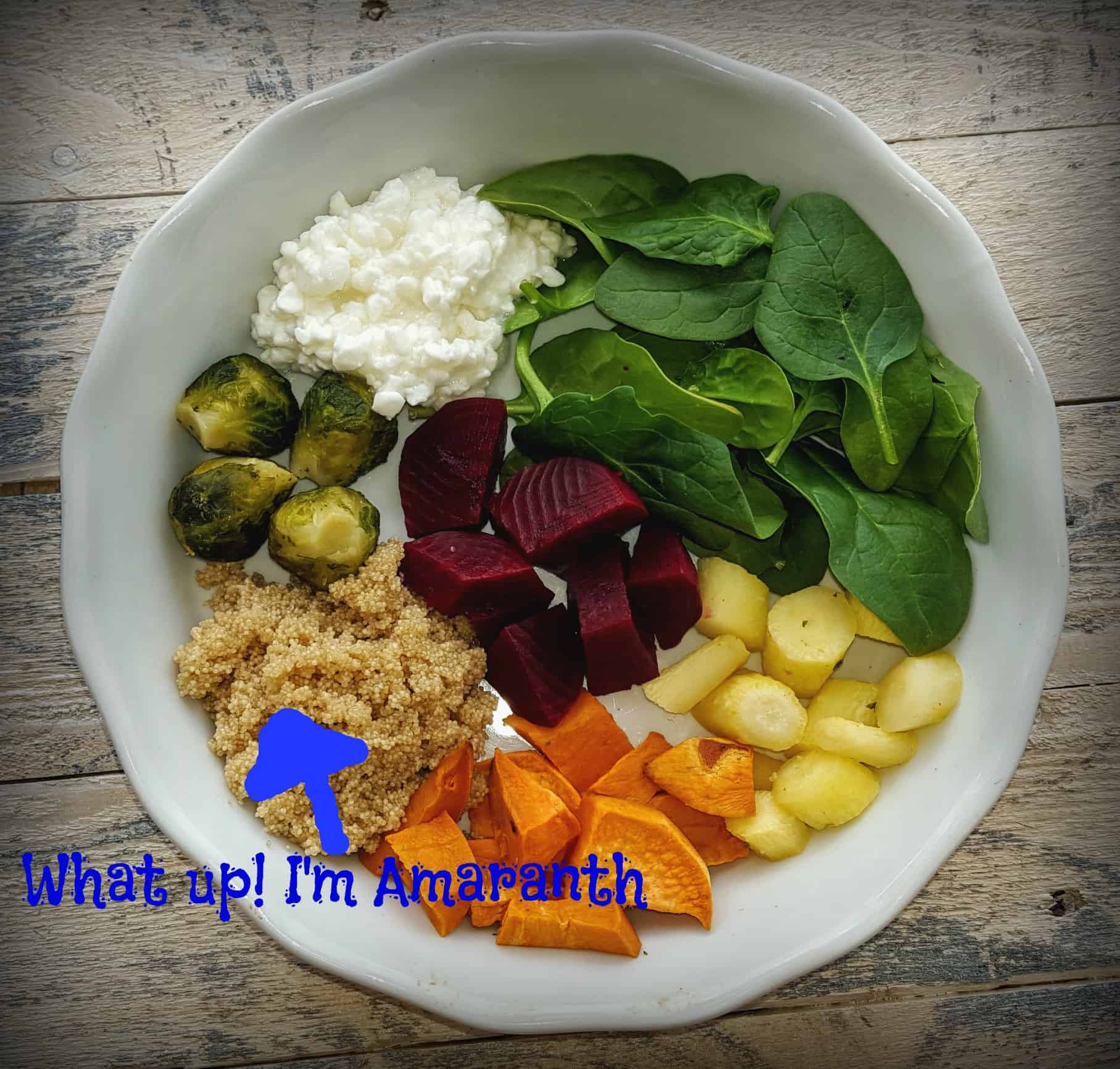 Amaranth is super simple to make. Simply pour 1 cup of amaranth into 3 cups of boiling water. Stir for a few minutes then turn down the heat and let simmer until all the water is absorbed. Season as desired and serve up with other veggies you have on hand.
For today's post, I chose to pair it with beets, Brussel sprouts, carrots and cottage cheese! Not only do you get to eat the rainbow with this Buddha Bowl, but also your "abc's"!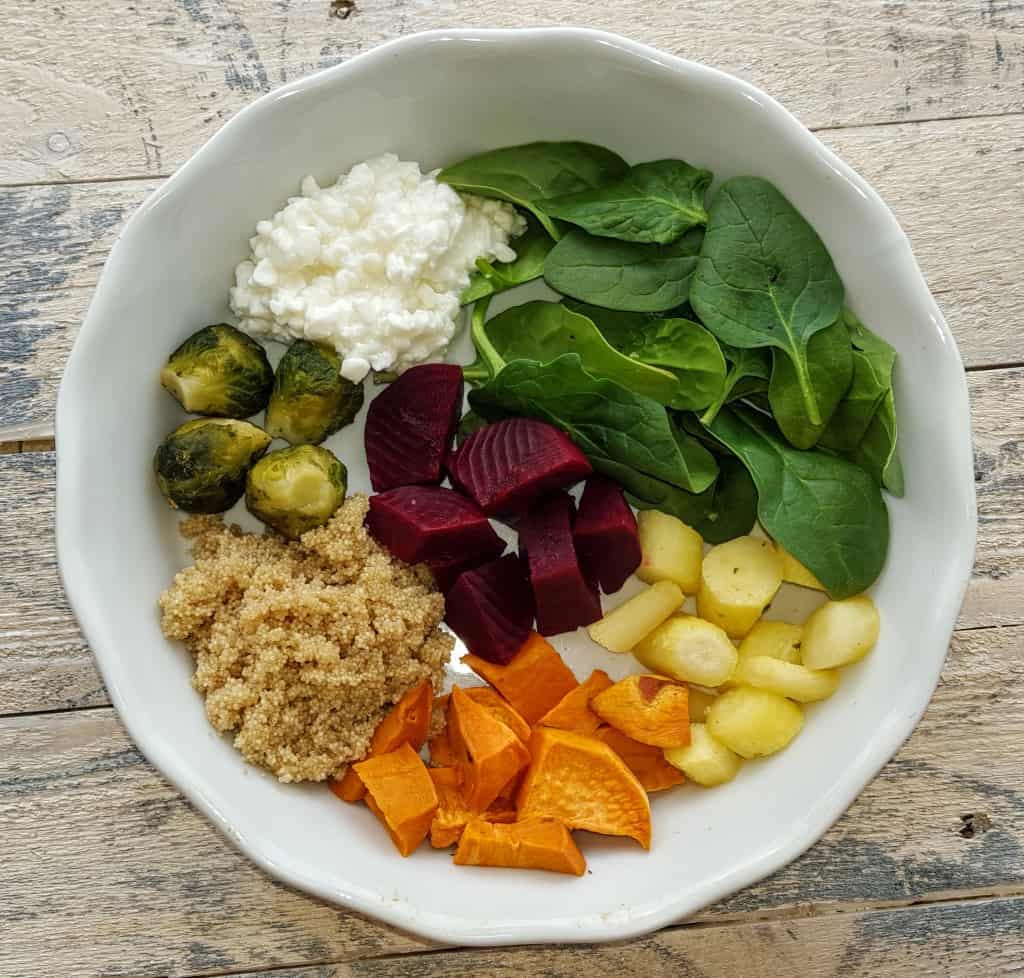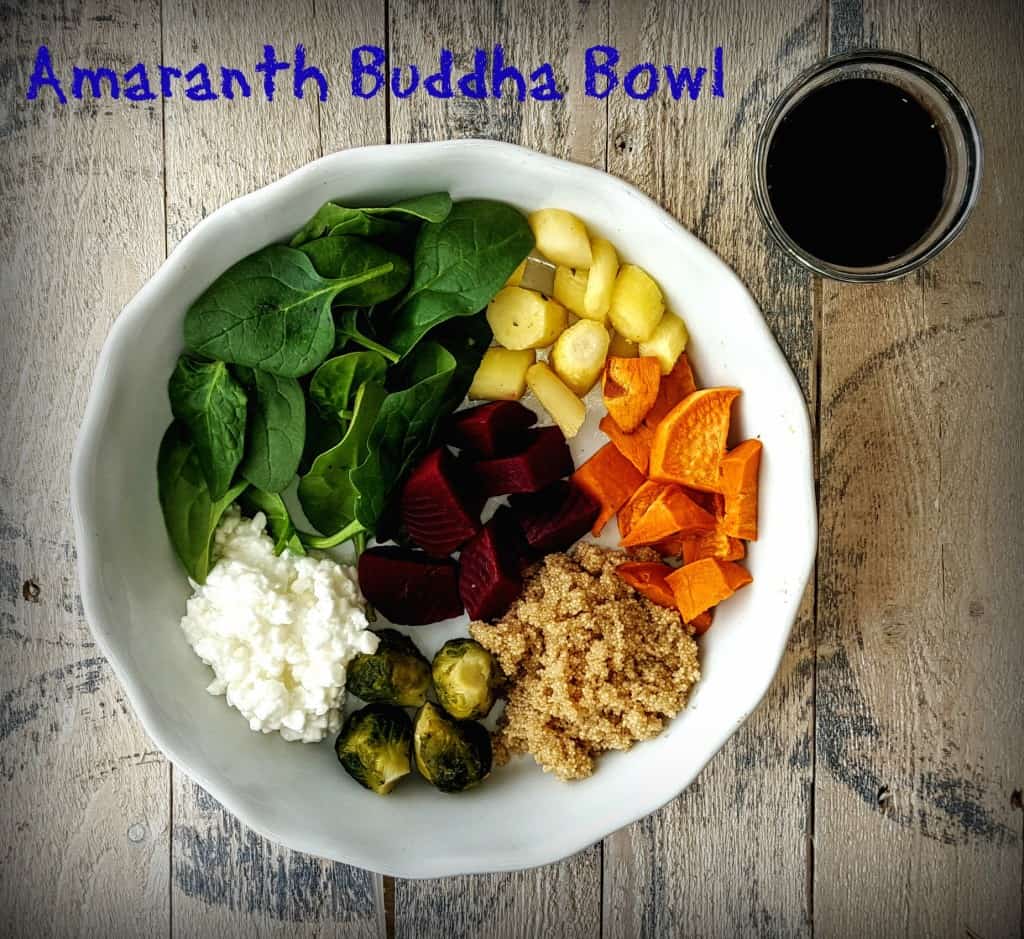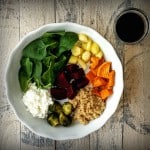 Print
ABC Buddha Bowl
A twist on a way to eat the rainbow! Get your veggies in with this great Buddha Bowl!
Ingredients
3

cups

water

1

cup

amaranth

1

medium sweet potato

chopped

2

medium carrots

chopped

2

cups

of Brussel sprouts

½

teaspoon

garlic powder

optional

½

teaspoon

sea salt

optional

2

whole beets

cleaned and peeled

1

cup

distilled vinegar

8

cups

spinach

2

cups

cottage cheese

¼

cup

dressing of choice

For Assembly:

¼

cup

cooked amaranth

½

cup

cooked sweet potatoes

⅓

cup

roasted carrots

1/2

cup

roasted Brussel sprouts

2

cups

spinach

1/2

cup

cottage cheese

1

tablespoon

dressing
Instructions
To prepare ingredients:

Preheat the oven to 425°F. Coat a large baking sheet with cooking spray. Spread the sweet potatoes, Brussel sprouts and carrots evenly out onto the prepared pan. Place in the oven and cook for 35 minutes or until vegetables are fork tender. Sprinkle with sea salt and garlic, if desired.

While the oven is preheating, add water to a small pot and set over high heat. Once water comes to a boil, add the amaranth, stir and reduce heat to medium-low. Simmer amaranth until water is absorbed, about 15-20 minutes. Remove from heat and cover.

In a separate small pot, place distilled vinegar and 1 cup of water. Add beets and boil for 15 minutes.

Remove from heat and cover for 20 minutes.

To assemble:

Place ½ cup amaranth in the bottom of each bowl and add ¼ portions of the sweet potatoes, carrots, Brussels sprouts, spinach and cottage cheese. Serve with balsamic vinegar or dressing of choice.
Be sure to check out the links below. I promise you'll be inspired by these other great recipes!