"A new year, a new you!", right?! Okay… okay, maybe it's not the start of a new year yet, but it's safe to say in the Shaw Household "a new year month, a new you" is in order.
Why?
Well, since the lovebirds (Mr. & Mrs. Zabel-Wirdak) said "I Do" on May 16th, Mr. CEO and I have thrown caution to the wind and indulged in nearly everything in sight!
Nachos, check; burritos, check; ice cream sundaes, check; Doritos, check; oh and then there was the impulse purchase of a Costco pizza (right at closing mind you) because I had to have the crust! Oye vey, #ilovecarbs!
Nonetheless, it's time for us to shape up and get back at our lifestyle. Sure it's fun to let loose, but to be honest, I am so much more happy, healthy and productive when I am fueling my body with the right kinds of foods. Thus, Mr. CEO, I apologize for my irritability and moodiness these past two weeks- I blame the Nacho Cheese Sauce! Just kidding!!!
So, how does this dietitian begin a fresh start? Well first, I decided to change my look! Needing a facelift, I bit the bullet and said sayonara to my long locks. Ten inches of the brown beauty was chopped and donated to Locks of Love. To be honest, this was a pretty invigorating and humbling start to this new month for me :).
The second step in this process was to make sure our kitchen was equipped with lots of fruits, veggies and lean protein sources.  It's one thing to stock up on these items, it's another thing to use them over the course of the week! To get ahead of the game, I whipped up a new Simple Swap recipe, Banana Flaxseed Waffles (still in development :)) for Mr. CEO; #spoiled, he knows!
Then, multi-meal time! I chopped and diced a plethora of tomatoes, peppers, sweet potatoes and onion to have on hand for a quick salad, oven baked french fry or pasta during the week.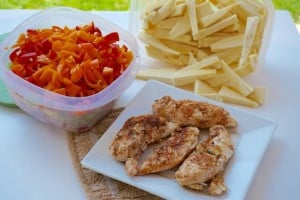 I also know I need some "fun foods" in there too, so since portion control has been an issue for me, I planned ahead and picked up portioned baked chips, light ice cream cones and granola bars.
I have to say, I am quite impressed with Luna Bar and their new flavor… Chocolate Cupcake! It tastes fantastic and is the perfect pick me up for my afternoon snack with over 9 grams of protein and 4 grams of fiber.
Third step, put this fresh start into action! Monday's can be rough, but setting the tone for the week is important for success. Plan ahead and pack those snacks, make those lunches and have dinner prepped to make your life that much easier because we all know life is going to happen!
How do you start fresh?! Comment here, share on Facebook, Pinterest, Twitter and/or Instagram tagging @shawsimpleswaps! I'd love to hear your suggestions too.